It's a nice Friday.  My new CPAP machine is working great, thanks.  With a good night's sleep, along with a forecast high of 74F today, what could possibly go wrong?
As it turns out: plenty.
Long-term?  Dismal
Being a self-centered, greedy, semi-retired scrooge, let me huff on the whiteboard marker and begin with the market outlook which – we have every reason to believe – will look like we're "channeling" the slide into the Great Depression over the next couple of years.  Because, at least for now, it's lining up like this: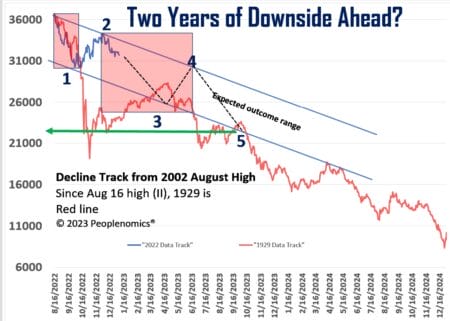 I know – it's not a very charming outlook.  Popular terms like slowflation don't even begin to cover how it will be experienced. Think Great Depression with a Civilian Vaccination Corp, with 87,000 more taxifiers to make sure you pay your reparated's.  Love ending scenes of Civilization.  Few nukes, more clueless True Dope's…get Cecil B. DeMille out of the ground for me.  This will be epic.
---
Now the Bad News.  When we get over it, the likely War with China for ruling the world, ought to be "game on." Window's open.  America needs a terrible adversary, or our economy implodes.  Thus, our bent to war and expansionism even if it means open borders to make up growth…and nuking it all for freedom.  Ahem…
See, we have been telling you that "Downscaling is our Future" – and in the upcoming Peoplenomics report Wednesday, a useful view of "Spiral Economics of Industrial Systems" offers some real insights into Life-Planning.
I've saved the "worst for last."  Ure's not the only one who sees something dreary as this emerging from our spreadsheet models.  Even the Wall Street Journal hints toward this kind of outcome.  See Corporate Insiders Aren't Betting on a Market Rebound for additional insights.
Realize that the evidence is there – if you're brave enough to look  – as we begin to see stories like Home sellers are offering more concessions to buyers, as market stalls.
Don't be Misled Over Time
The Housing reports will likely show the roll-over of Housing was evident in December 2022 data.  Average people, though, won't be clued-in to this ultra-long-term outcome for another month or two.  Reason being that there is hysteresis in the data.  Big word for time lag. Events to realizations takes time.
The "net to seller" began to decline promptly as the Fed's Big Rate Hikes took effect in late 2022.  Now, they are peeking out from the rocks and crevasses of news flows.  Still, officially, the deals going to closing this month won't be aggregated into figures until February, March, and April.  Closings can be quick, medium, or "Can we just get the g.d. house keys?"
90-120 days from now, we will wake up to a Case Shiller Housing Prices index that will begin to let the cat out:  Times are tough and about to get tougher.
The "trick" to happily everaftering is?  (Not all at once, please!)
Get debt free.
Own 2-50 acres of land that can support your family outright.
With that land, become a producer.
In short, live for maximum gain and independence by minimizing loss exposures. Not paper-grabbing. No mortgage if you can swing it.
In my corporate warrior software-turnaround days, I remember any number of corporate poseurs who came along.  High-end car (typically a BMW 6 or 7-series or a Z 06) with just the right (slightly above everyone else) brand of clothing.  You know the kind:  corporate suck ups.
When you've been in the outfield bleachers for 70-odd years, you begin to notice these people get hopelessly screwed when the job picture turns against them.
You get the mostest by needing the leastest.  (You already know this stuff, but the odd new kid will wander across this site, from time-to-time.)
Back to Chart Context
I told you a year ago where the Wave 3 down would lead and it's doing very much in line with our forecast ever since:
The Wave III Possibilities being met is what we're looking for next.
Go back to the chart (above this table) and follow the green line from the bottom of our proposed Wave 5 over to the left.  That's a kind of "real good case" outcome.  As you can see, with a low under 16,000 in our proprietary Aggregate Index (truth telling on markets) things could be much worse.
My forecast numbers are NOT inflation-adjusted.  Which means (since I did this in early 2022) that by the time we get to a significant Wave count low, inflation for two-years at 9-percent would drive our 19,786 up into the mid 23,000's.  Suddenly, the look-ahead right arrow axis is not unreasonable.
Along the Way: Crypto Collapsing
We told you from Day 1:  This is all a Ponzi scheme and sure enough.
There are four dandy "indicator stories" we think you oughta read:
It's a little early to be hitting the sauce, but a double-shot of hooch may be needed to understand why on God's green Earth BTC is still $16,729.  (Privately, I'm thinking it has something to do with literacy rates and racialized math…just what the data points to…)
Back to Present! 

Job Data
The Federal jobs report was just released.  So, with our long-term outlook pretty clear, this is where the "rubber meets the road" on how evolving Future looks when it shows up.
Verbatim fairytale time, kiddies.  Have some Kool-Aid and read this:
Total nonfarm payroll employment increased by 223,000 in December, and the unemployment rate edged down to 3.5 percent, the U.S. Bureau of Labor Statistics reported today. Notable job gains occurred in leisure and hospitality, health care, construction, and social assistance.
Rally on!!!
Time to smash them rose-colored glasses.
Only two numbers matter in this parrot-training material handed out to Crooked Corporate Media.  The first being "How much of this jobs report was simply made up?"  The answer to this lies in the CES Birth-Death Model.  Which estimates how many new jobs (and gigs and whatever) were not captured in more formal processes.
The number (from here) is -56,000 jobs.  Which means the official report was actually above  and better by some distance. Which you can assume to be a good thing, unless you like living with more homeless people.  (We don't, thanks.)
The ultimate Truth Leak is how many people in America are working in any particular month.  With more than a million illegals border-jumping in, remember we need to add at least 50,000-new jobs per month just to keep the long-term data honest in a "population inflation" sense.
In other words, in a country of 329.5-million in January 2020, and earlier is statistically different than this morning's 334.25-million admits to population gaining 1.44 percent in 3-years. So about 4-10th's of one percent annually?  Something like that.
But now another shadow falls over the Visual Cortex Numerical Visualator (VCNV):  If we lost how many people to Covid, how come this number is up?  Well, because SloJoe keeps the border wide open and today we'll read a buttload of specious hype like Biden toughens border, offers legal path for 30,000 a month | AP News.  Look up what SSDD means.
This is not to slur The AP.  Fine news reporting outfit and made many a stringer fee off 'em.  But they can only report the allegations.  It's up to sensible readers to infer:  Biden has not had a "Come to Jesus" on borders lately.  Unless it's Ukraine's, benefits the defense contributors and such.
Biden is going to "prove" (to the really stupid) that he's trying to Do Something – which is the often repeated lie since (lemme think, now…) Clinton, Bush, Obama, and our current policy Tortoise.  Biden will predictably blame republicans for the whole mess.  The Cartels will continue the transition of Mexico into a narco-state.  And the money flows all around will continue on their merry, well-greased, ways.
One embattled Texas politician has sensible timing for Biden's visit: Texas AG sues Biden admin over illegal immigration rule 'increasing burden' on taxpayers.
SlowJoe, meantime, continues to downplay the democrat party open and Sanctuary reality.  Coming off like a cheap two-bit doublespeaker as 'Do not show up,' Biden says to Haitians, others entering US at border.  Racist? After all the caravan promotion?  My, oh my. We're sure he'll return to his misguided ways, shortly.  Or, when the 10%'ing dries up.
Worth noting in our narco-state notebook: Mexico captures son of 'El Chapo'. We expect the Cartels to counter, and maybe begin a "selective harvest" of Mexican officials. Watch for it.
(Whew, gotta pause for a sec to get the blood pressure down…)
"Soap boxer! Was there a further Economic Point, Ure?"
Oh, sure.  Sorry.
What matters to future historians will be what Total Working population shows up in the database.  Which is this:
This circles back to the intelligent use of statistics:  In order to be really useful, they need to be normed to present surroundings.  Remember, since 2020 we are up 1.9 percent population-wise.  Which means take the total working high in 2019-2020 and times the 1.01.9 for what a genuine 100 percent recovery from Covid impacts would need to be for current employment to be equal on a per capita basis.  Not there, yet.
Too much work for most people.  Lazy doesn't pay well, until you figure out how to feather your own nest with it.
Which brings up another point:  Since News has turned into Press Release ReWrite (done with tools like "Spinner Chief" (You do have an A.I. assisted paraphraser, don't you?), and history moves to slowly, a later-retirement days career as a "News-History Processor."  (NHP)  Which works, as we do around here, watching the (mostly made-up) PR spun lies as they are woven into data sets that are later negotiated into agreed upon history.
We circle back to hysteresis. Housing decline slope began with the first Big Fed Rate Hike. (BFRH)
But the hysteresis (between actual RE closings to data aggregation and PR distribution) is where the public mood swings take place.  Obvious to power mad spendocrats (George Soros) the least-cost leveraging of Future control and dominance is in its formative stages which is why political manipulation in America is so much fun.
Average People don't move their thinking along past and future timelines enough and are therefore predictably (losers). Time-agile thinkers are the only ones truly able to own Future.
It's work.
Dicklock Tales
How many egos does it take to confirm a Speaker of the House?
Seriously, House Freedom Caucus: The right-wing nuts upending the House Speaker vote are right about one thing.  Should running government be this hard?
Poetic justice, we suppose: McCarthy is being consumed by the MAGA politics he helped push. This monumental mess should have "ended with seven for Kevin" and gone on to the next contestants.  Bye Kev.
Ah, politics.  Last refuge of the ethical defenders of America?  Nope.  If you believe that, consider attending an intervention. And tell us why Adam Schiff is still in office after reading 'We don't do this': Even Twitter's censors rejected Adam Schiff's censorship request. Damn democrats and rotten republicans.  Hell of a foundation for a Nation based on "ideals" ain't it?
As we wake up to J6: January 6: A Day That Will Live in Alchemy.
Bad News Bared
It's J6 Monetization Day!  Another economic sideshow to behold?  This Happened—January 6: U.S. Capitol Attack. Trump is still free and when will the political dissidents be released?  We ever get all the details on the fed plants in all this?  (Nope….)
The West is jamming up the story about how Russia's Vlad Putin is going to die shortly from (cancer, whatever).  Fine.  Let me ask you to think about something for a 'sec. If you were going to die, would nuclear war be much of a threat to you?  The reason for asking is the U.S./West/NATO keep sending in arms US, Germany to supply Ukraine with fighting vehicles. Somewhere between dying and dead, seems to us, Putin will have a nuclear WTF moment.  Anyone who doesn't see that ("WTF Moment") nuclear risk is either and idiot or one of the neocons at State. But I repeat myself.
In from the propaganda department:  Surovikin unlocked the Ukrainian defense: Russians took Opitne and entered Krasnaya Gora – Bakhmut-Soledar link broken."
Something's Missing…hmm.. Oh! News to fit in with less enlightened Americans!  Kim Kardashian & North West Dance To Taylor Swift Song On TikTok. There. We don't want to stand out too much for repeated deep thinking.  So, yeah, a lil Hollywood, maybe to lighten  the mood.  Average our brains down a bit.
Mercury, Woo, Hank and George
Woo-woo we wonder?  Hanks Private Mercury:  Reader Hank out on the Big Island (of HowAhYa?) might want to see how his astrological charts work for Mercury Retrogrades.  Just in the last week, he comes down with Covid (and doing much better) and this morning up the road a ways Hawaii's Kilauea volcano erupts again, summit crater glows.
Our Old Man Observation (OMO) is that most people have a "personal offset" from retrograde.  Which Mercury officially exits on January 18th.  20-day window.  Everyone has an "offset" and mine is +20/21 days before entry date.
Upcoming windows to watch for?
April 21 – May 14
August 23 – September 14
December 13 – January 1, 2024
Looking over Life, in my case, the Winter retrograde seems most significant.  I seem to get an opening Bad Event (Dec. 8 bad knee sprain which just now is leaving).  Then a "near-closing bad event " – the recent passing of long-term cat pal Zeus fits sadly well.
We'll be interested to look for Hank's comments to reveal whether he's noticed any particular relation to (winter) retrograde windows.  Especially pairing of events.  Which is another "thing" as you learn the "reading of people."  They tell you things.
Around Here
One of today's Big Projects is to negotiate with Elaine over where to place the autographed Gilligan's Island cast picture.  It was a marvelous surprise gift from reader LOOB who is a frequent commenter with tons of neat experiences to report on his life "in the wastelands of a flyover square state up that-a-way".
In our redneck spin on an imagineered home, Gilligan fits ideally with the motif.  Tiki- Trader Vic's vibe to it. A heart-felt thank you.
At this rate, I may even get the seatbelts on the bar stools re-installed.  I hear Elaine's (80th shh!!!) might benefit from them being 'vailable.  Ambition is a wonderful thing.
Say, is 2,400 words too long a column for Friday?  More here with Shoptalk Sunday and our weekend column on the Peoplenomics.com website with over a dozen market charts…
Write when you get rich,
George@Ure.net