With Black Friday almost upon us, I wanted to warn you off from a lot of useless "frou-frou" stuff that makes the rounds at this time of year.  Especially when comes to men's toiletries.
I will only cover three hygiene tips from living on a boat and living off in the woods now for a couple of decades, but they are very useful. A lot of "young bucks" may have never heard this advice before, so feel free to pass it on to anyone under 50.  Kids today are slower learners. Doubt me? Young Adults Are in Severe Cognitive Decline.
Matching Food, Matching Breath
I may have a pleasing personality, and an even more attractive bank account, but that's not how some old geezer like me ends up with a bunny for a honey and living happily ever after. (For however long that is, anymore.)
No sir, the answer is eating precisely the same foods and even in roughly the same quantity.  Because, like everything else in life, I try to approach things logically.
Food breaks down according to the same laws of chemistry, regardless of who ate it.  Given similar gut biome and paying attention to a few other details.
Therefore, logic screams, "bad breath" is most likely to occur when there is a clash of chemistries.  As an example, if I have a very garlicky chicken piccata con lemon, and Elaine were to have simple bland soup and (non-garlic) bread, she might notice something about my breath going off to Sicilian, Capis?
MFMB – Matching Food, Matching Breath!
On the other hand, if I eat like a mafioso kingpin, and her as my mol, then with the same food, same wine, and so on, it's a match made in heaven, or at least Sicily mearby.
If you eat the identical foods as your partner, even the bathroom smells (that time of the morning, eh?) won't be all that diverse.  Because (repeat after me) "Chemistry is chemistry." (And besides, mine never stinks, what can I say?)
Fine points to this protocol:  We have our teeth cleaned on the same day by the same hygienist. We brush, close as I can motivate myself, at about the same time morning and night. This includes flossing, too, even when out. (Never at the table, though – eoow – Gross!)
About the only difference is I will do 2 six-ounce glasses of Paisano and me lady has one bottle of Wicked Orchard hard apple cider.  Close enough!
And so now you know our secret.  Well, besides her meowing like a cat and me barking like a dog when we get into emotional exchanges of any sort.  Much nicer way to communicate feelings because you can express emotions without the long-term damage of words.  Besides, as she reminds me: All men are dogs.  And her nickname is "Puss."
Perfume is fine – so is a good aftershave. Don't overlook the mouthwash! But if you do a Water-Pick, get the kind made for a family or buy one for each.
Shave Like You Mow
The old farmer has – for several years now – been shaving like he handles field work. The twice-over.
I begin with a rough cutting of a field with a bush hog.  Finish mowing, if needed (depends how dressy we want the grounds to look) is a follow-up with the 54-inch riding mower set to golf course height.
When I shave now?  I go over the face with something like either a Wahl beard and whatever trimmer.  Then a finishing cut with the Norelco triple-header.  By itself, the Norelco misses if you have runaway beard growth and it can pull a bit.  But the trimmer is not as smooth.
The answer is two passes – just like a field would be managed.  The results, my breath-matched partner assures me, are more than satisfactory.
Super Showers
Similarwise, there are some great ways to improve the "average" shower.
I like a shower just like the "car wash." Lots of water, high pressure.
Beginning with a hose wand.  If your shower head is fixed and up in the sky somewhere, how are you going to adequately rinse the privates? Pressure washer paradigm rules. Answer is leftover soap and a less than thorough job.
Go read the reviews and take a look at some on Amazon (here). But remember, the keywords for us are "high pressure" and long enough to reach the flood from the place where it connects on the wall.  Because if it ever leaks a bit when you shower at night, the drips can make you crazy(er).
So that's the shower set-up.  Just like you were going to pressure wash the patio. Wet it all down, high pressure on the bad spots (ahem) first.
Step 2 is a good quality soap with an agreeable smell.  We don't use anti-bacterial soaps much anymore. Because they can have chemicals in them we wonder about.  Even Ivory or a fragrant "going out" soap…all work. Because there's another step to go.
Step 3 is where you take a pump of Hibiclens (yes, the "use before surgery to reduce infection risk" hospital soap). I will use one pump for the pits, and one for the privates and do that area front-to-back.
I can't think of anything worse than "old man smell" and this stuff not only knocks off skin bacterial like a mobster shorted in a heist, but it also can reduce or eliminate the need for deodorant.
(Oh, yeah – Step 5 rinse (pressure wash on high) like hell until you feel clean then get out and get the biggest fluffiest white cotton terry towel you can afford and towel off.)
Why am I down on deodorant? Well, some people are actually sensitive to its effects on BLOOD PRESSURE.  Yeah, no kidding.
Last point:  Both Elaine and I put something on our skin after showering to lock in moisture.  Some dermatologists have told us over the years olive oil is good.  A drop, or three, is all it takes.  Coconut oil, too. I use some special eczema creme (triamcinolone, thanks for asking) and Elaine uses a woman's moisturizer lotion. She has a half-dozen choices.
Point is, you can sort of figure out why we don't have many wrinkles, don't smell, and like being around each other.
Hell, we should write a book about this, but I think Bunney wrote the book first. That's Joan Bunney not Elaine, bunny.  With luck a few hints like this will ensure holiday joy is just ahead. Check out "Sexy in Your Sixties." But if the most exciting thing on your couch is the television, um….remote, you got some shop work to do!
The Mass Ham Radio Project
A made a decision this week to update the stable to replace the DX-60 Heathkit AM and CW (Morse) transmitter on the low power level of the Grand Radio Operators All-Time Dream Station which should be done by, oh, Christmas.
By then, I should have material for one of the most technically dense, boring, electronica compendia every written.
Similar power level (90 watts, plus or minus) but this new transmitter also does single sideband (voice). Meet a Hallicrafters HT-46.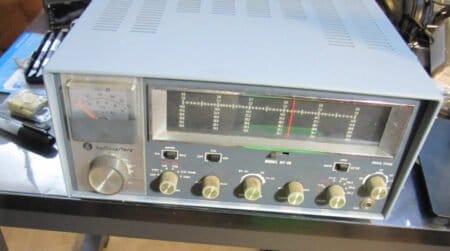 Needs tubes checked, probably replace the electrolytic caps and clean it out a bit while inside it, lube, oil, and filter.  But eventually, I might mate this to the SX-146 receiver, and it will be another Hallicrafters pair.
Now, for the CW low power station, plan is to pair it with a one of the Drake 2B/BQ receivers which is one of the best CW receivers ever built.  Sure, modern designs with steep-sloped mechanical and crystal filter features are nice.  So is all that processing you can stuff into a DSP box.  But, when comes down to pulling signals out of the mud, ease of listening for days on end? Old Drake receiver is hard to beat, unless you have dialed in an old SX-101 Mark II or III.  Reader Ray, I'm guessing would agree.  Hank? Well, maybe not as readily, lol.
The finished gear? Ready to go into the dream station? All the conventional stuff is lined up on the gun table in the guest/George2 room and getting closer to installation by the day:
Classic gear: Icom 761, TenTec Jupiter, Icom M-710, Drake 2B which is actually a better receiver than the SX-146… The Heathkit Dx-60 and HG-10 don't really belong in such august company…
Antenna Madness Resurgence!
Something about Turkey, or Holidays, perhaps?  Whatever…
Outside, the big beam antenna – with either a broken coax cable up topside, or a lightning zapped trap, is just BEGGING to have the drone fly over with fishing line and have me back-haul some 700-pound paracord so we can get the "secret antenna" project in the air:
Honestly, with almost no noise out here in the woods, talking anywhere in the world became far too simple as a "point and shoot" exercise with 1,250 watts SSB (out) and the beam. No particular skill to that.
Wire antennas (cooked with Secret Sauce like linear capacitors) and 50-100 watts out, on the other hand?  Now you move from brute-forcing a contact to actual operator skill.  That's the hot ticket, right there.  Remember Morse capable people are The Original Digital Humans.  No neurolink implants.  Just a set of old (Telex?) earphones.  Which have gotten hard to find, so open-back Sennheiser's will do.
Wire antennas – and my new linear capacitor antenna – should work out dandy.
But there are always distractions to contend with. And the effing clock.
Solar Gain? Ha!
Happened to be watering the batteries in the solar power center and noticed not as much power as I would expect.  Going outside – even though it wasn't yet 3 o'clock in the afternoon, here's where the sun was – lost in the trees about 140 feet south of (and 6 feet of elevation lower than) the panels!
Seems those trees need a haircut, I'd say.  But, before I cut down anything, I need to have that chat with G2 about whether he really wants to buy a Harbor Fright sawmill and cut enough wood for him to build a house. They make a reasonable sawmill, but doesn't come with enough track (have to add 8 feet to be able to cut 16-footers) and electric starting.  Old men leave that for the under-50 set.
Ure point? Look what the damn trees do to the front panels, now!
See how there's this "chain linkage" between everything, out here?  Makes me nuts.
Good news is?  The "Drone Stopper" tree that previously kept the greenhouse shaded far too much of the time (the death of which we covered previously) is still in the sun. We covered technique in Drone Logging (2).  Promising results, uh huh…
God plants 'em, I cut 'em down. After the drone marks them. That's how resource stripping works?  Couldn't find any biblical references on Sustained Yield Forestry.  I try to keep logs out of my eyes, already…
I'll see if there is any logging advice in the Tibetan Book of the Dead, Urantia Book, and the Sutras as time permits. You can help with some of the forestry research here. May be something to Buddha sitting under a tree – have to look into that, too…
Great Greenhouse News
Wow – right now – with just a few days until Turkey – the greenhouse tomatoes are setting fruit like crazy.  Kid you not!
I've had lawns that couldn't produce that many dandelions – all thanks to the cheap lean-to greenhouse and the reliable heat (knock on wood) from the Chinese Diesel Truck heater repurposed for diesel-fired tomatoes. New "fool line" doesn't leak.  Now if I could just stop over-filling….
I could go on with the greenhouse adventures all day long, but ever more to do around here, so best be getting after it. The new super greenhouse plans (and website) are coming along nicely.
Consigliere lands Tuesday, Turkey Wednesday, that way we can all BS all day and not do anything approaching real work on Thursday. Prime rib on Friday and for Saturday?
Been working on temp control for the stovetop of the tent heater on the makeshift but useable patio (another ShopTalk adventure).  I think I should be able to make up a passable burgundy and mushroom beef stew.  God knows, no shortage of wood around here.
Too much heat is the real problem, even with a small stove like this "hundred dollar marvel." A piece of leftover flattened-expanded steel will do the trick. Heavy duty trivet. And give me an excuse to haul out the TIG rig and argon bottle…
Back to the process best described as "Balancing the Ark" – too much on the radio side, not enough on the power side, lots of stored food, need more fresh, then the water supplies… Yessir, always tuning and pruning to do.
For a second opinion on how nuts the world is? See Kit Webster's site: Home | Contemplating (contemplatingoutloud.com).  And Jim Kunstler's latest, too. Leaving Blobtopia – Kunstler.
Theory discussions about the Future abound.  Our preferences run more toward actually doing something about the outlooks.  The difference is between reading; "While driving, use caution to avoid…"  and hearing the actual driver yelling "HOLD ON!"
Here's to a happy turkey for all – Yes, the annual refry of the S.S.T. Sandwich/ Hot Brown recipe for leftovers will be along one of these days, too. Chill some white Zin.
Write when you get stuffed,
George@Ure.net