Report from Iron Mountain (on the accessibility and desirability of peace) laid out the problem brilliantly.
Essentially: What is the incentive of nominally free people to give away between 25 and 50% of their labors to government?  You need big sticks if you're in the "governing business."
The Big Sticks are:
War (actual)
War (threatened)
Disease/Pandemic
Massive Goal (the book undershot on this one, in our view)
And Aliens are coming.
About the Undershot
Privately, while brilliant (leak or satire, makes little difference) Iron Mountain was a generally good treatment of the "keeping 'em down on the farm" problem faced by all Ruling Elites.
But it seriously missed in terms of strategic goal-setting.  Because America did magical with the Kennedy "To the Moon" agenda.  (We can debate the reality of that all day, but that's not the point…stay with me here…)
The Big Goal for the World – the only one that makes sense (and notice brother Musk has signed in for it) is getting "Off Rock."  Whether we go to the Moon, Mars, (and did you know the laws are already in place for asteroid mining?) the category killer in "Control 8-billion people with relative ease" is still War (Actual and Threatened).  Which is our viewport into this otherwise rational Tuesday.
Three Crisis Monte – Card 1
Financial markets in Asia got their asses kicked overnight.  Not the lead story in most media (which this is not).  The two numbers of consequence are that Japan was down 1.64 percent overnight and worse, the Hang Seng was down a whopping 2.69 percent.
Flip over to yesterday's column here and scroll down to The Economic Fractalist's remarks.  Especially the part where he says…
"The Nikkei is following a 17 August 2023 x/2x/2.5x/1.5-1.6x :: 6/1215/2 of 9-10 day four phase fractal series which mirrors the Wilshire's 18 August 2023 x/2.5x/2x/1.5-1.6x fractal series of 6/15/12/1 of 9-10 days. (The Nikkei is a trading day session ahead of the Wilshire.)
This will place the low on 12 or 13 October 2023."
Yes, even if the economic house of cards doesn't blow over in Asia, another (serious poker-playing) reader (D'Lynn) makes a pertinent observation about the course of interest rates and crisis-to-come in Europe at the same time:
"The Euro dropped below 1.05 to the dollar.., intraday the Dow dipped below it's 280MA.., the 10 year went up 11 basis points to 4.68 % [ That's gonna break something – real soon.] Gold took another hit and closed at $1,844 – this is one big pig of a market !
.
… and for your edification – the U.S. is currently involved.., material, combat troops and advisers in fifteen different private wars around the globe. Don't you feel more secure now ?The Euro dropped below 1.05 to the dollar.., intraday the Dow dipped below it's 280MA.., the 10 year went up 11 basis points to 4.68 % [ That's gonna break something – real soon.] Gold took another hit and closed at $1,844 – this is one big pig of a market !
.
., and for your edification – the U.S. is currently involved… material, combat troops and advisers in fifteen different private wars around the globe. Don't you feel more secure now?"
Let's simmer and reduce to simplest terms:
Fractal clock is running and global market entrainment could collapse at any second.  When it does, assets will be sold off in panic mode (as in Hang Seng last night).
BUT with the US rates high, the Dollar has been rising.  We are willing to pay whatever bribes are required in order to keep the dollar "powerful" vis-a-vis the emergent BRIC-buck. Oil, gold, and a growing supply chain.
That might all seem fine, but when the dollar is super strong, it doesn't take as many Dollars to "buy an index."
Say the Dow was at 40,000.  Now, increase the relative value of the Dollar by 25 percent.  Suddenly, on world markets (flooded with dollars) the Dow is only able to command 30,000 because it's a "stronger dollar".
Not much happiness to be found in this world, is there?
Bottom Line: Inflation is tricky, makes people work more and harder to break even.  Tax indexing increases proportional government revenue without a tax hike in a pre-election window.  And in theory if inflation persists, its a reason for stocks to hold at absurd levels, until the consumer utterly collapses in a heap.
Three Card Monte – 2nd Card
The War (Actual) card is being played all over the place.
The main event promoted by the neocons embedded in our State Department are about to register a huge failure.  The Ukraine war may well be lost – something the corporate media is trying to soft-sell – because it's the major economic stimulus package being used in the Biden administration.
Of course, reports like Russian armies move towards Kramatorsk: 106th Division captured Orikhovo Vasilivka – Crushing Ukrainians north of Bakhmut are quickly branded "communist agitprop" by defenders of the (neocon) faith.  But when you look at their track record, it hasn't been exactly, oh, you know, inspiring.
But how will the world react when, perhaps in one or two months' time, when Russia really does take their border to the Dnieper River and Europe tries to figure out how to handle the orphaned real estate?  Things could be read that way in V.Putin's plan for further partition of Ukraine: He divides Transcarpathia into Hungary & Slovakia – R.Fico: "Not a single bullet in Kiev – The Nazis started the war".
Of course, denial on the west's part as Russia Allocating 'Huge Resources' to Divide Ukraine's Allies: Kyiv is blamed. Thing is, could it be working?
I swear, there must be billboards around the White House "Don't confuse us with Facts." Joe Biden vows to support Ukraine, despite US budget fiasco – BBC News – YouTube. At least with the Marielito's, we got a clean windshield about every third traffic light in the Gables back in the day. (BTW I hear Christy's still rocks…)
Three Card Monte – the River Card
(OK, should be the fifth card, but this is a 3-card game, right?)
The next two days, say "well informed sources" are key because both the U.S. and Russia are "playing at war."
"So today, 3 October, Russia is having its first nationwide civil defense drill since sometime during the Cold War. Their underlying assumption is that 70% of the nation's housing will be destroyed by US nuclear strikes. They'll be exercising how to deal with that.
Big ask. Major goal, that, but given Russia's centralization of population clusters near war focused production sites, makes sense. They've done regional exercises more recently, but not simultaneous national level exercises. Primorsky Krai, the Pacific Ocean facing area including Vladivostok, and bordering China and North Korea, did an evacuation exercise back in 2017 that focused on pulling Russian civilians away from the Russia-North Korea border area, for instance. This as tensions and probable additional nuclear tests were building. So, it's a Russian thing to do. But the national level scope is a huge deal.
The next day, Wednesday, 4 October, the USA will conduct a nationwide test to make sure the government can text your phone (everybody's phone, in fact) and tell us all how screwed we are. That's about all we can do, you realize. We (the USA) haven't had a civil defense program since July 20, 1979.
Yes, Virginia, FEMA is NOT a civil defense program. It's a contracting agency specializing in making disaster recovery happen by waving money around. (More realistically, in funneling taxpayers' money into the pockets of selected general contractors and sub-contractors who in turn are asked to provide post disaster services. That should work wonderfully following a massive Russian SONF (Strategic Operation of Nuclear Forces) counter-force nuclear strike and a Russian joint nuclear, conventional and cyber SODCIT – Strategic Operation Directed against Critical Infrastructure Targets. (I'm sure FEMA will get those contractors paid promptly….)
The US government has no plans to try and defend American civilians from wartime hazards, (blast, immediate radiation, fallout, the works) and hasn't since just prior to Ronald Reagan becoming President.
Russian evacuation and post-strike civil defense operations were once well studied and understood.
https://www.cia.gov/readingroom/docs/CIA-RDP80M00165A002300110030-5.pdf
https://apps.dtic.mil/sti/pdfs/ADA061616.pdf
https://apps.dtic.mil/sti/tr/pdf/ADA118240.pdf
https://apps.dtic.mil/sti/tr/pdf/ADA100134.pdf
We translated their fundamental manual into English.  I have a copy on the shelf behind me. It's still available, although maybe not through the US Government Printing Office anymore…
https://www.amazon.com/Civil-Defense-Soviet-Military-Thought/dp/B00AGMNK0O
Also available at: https://www.abebooks.com/book-search/title/civil-defense-soviet-view/
But that was long ago.
Something to think about when your cell phone tells you Uncle Sam is thinking about your well-being this Wednesday. Just sayin…"
Having well-informed sources like this, we have mentioned several times in recent months how we have been readying for this period.
Topped off the freeze-dried food stocks.
Seeds for a garden next spring (fall garden was a train wreck – more on that one of these days).
We also got a fresh copy of Kearney: "Nuclear War Survival Skills Updated and Expanded 2022 Edition Regarding Ukraine Russia and the World: The Best Book on Any Nuclear Incident Ever … New Methods and Tools As New Threats Emerge."
Oh, and we got another Geiger counter. (Q GMC-500Plus Geiger Counter Nuclear Radiation Detector Monitor Dosimeter, White) $135.
Plus, more Dräger X-plore 1750 C N95 respirator mask made in the US.
(Didn't want to label myself an extremist by listing the CheaperThanDirt or Natchez Shooter's Supply orders or the new 4 KM Drone that doesn't rely on wifi…or any of those measures…because, well, that'd be plain crazy, right? Or expanding of the solar powered wireless surveillance around here?)
We figure, at least for now, that nothing will go wrong.  At least less than a 2 percent chance of anything going wrong and this being a big fake-out.
Still, as Pappy used to ask "What is one percent dead like?"  Point taken, money spent.
Now to study for my drone license biennial flight review which is overdue…
Ready for the JOLTS?
10 AM Eastern time today, Labor Department Job Openings, Layoffs, Terminations and Separations.  Foreshadow to the ADP Jobs Report tomorrow and the Challenger cuts report Thursday and the Offishul Shit Friday.
Are you feeling lucky, punk?
Web Grinder
Time to de-confoozelate you.
He's Black, he's a democrat, so of course, he won't be charged. Still, useful to see how special people get away with bullshit in America.  As in How Jamaal Bowman Tried to Spin the Capitol Hill Fire Alarm (nymag.com).  Not that it's without contest, since House GOP leader circulates resolution to censure Bowman for 'theatrical attempt to cause panic'.  Course, that weighs nothing.  We fearlessly forecast nothing will come of it.  Equity is Equal Treatment under the Law under the bus. Did you not get the Special People Playbook?
Similarly, if sexual orientation doesn't matter in a government job, why are we seeing the Big Hard Sell on the lesbian angle of this story? Laphonza Butler: What we know about Gov. Gavin Newsom's pick to replace the late Sen. Dianne Feinstein.  Because it's all about 'set design' honey.
Can the McCarthy be ousted?  Republican Matt Gaetz files motion to oust US House Speaker Kevin McCarthy.  Ask me in a few months how that plays.
Does the nut fall really close to the tree?  US President Biden's son Hunter to appear in court in Delaware over gun charges. Duh.
Does High Office attract nutjobs?  Trump civil trial continues for a second day in New York City.  Why no, of course not.
A congressman who knows "jack" Henry Cuellar: US congressman carjacked at gunpoint in Washington DC.  Watch closely to see if his (democrat) feelings on crime, guns, and illegals changes, shall we?
Put Biden back on the picket line!  Strike against US automakers causes $3.95B worth of losses in 2 weeks: Report.
At the Tables
Because this is gambling, not investing, anymore.
Bitcoin was down to $27,500-ish at click time today.  Which means someone is unloading assets to cover losses elsewhere to our perved way of sensing things.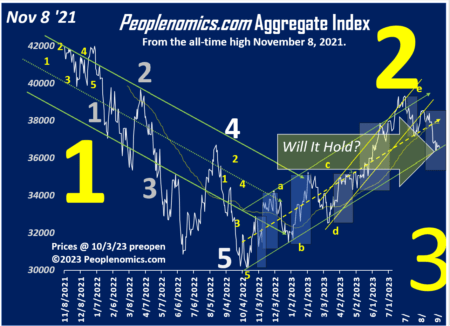 As you can see, with the lower market action – before something like 3 billion hit the OBV to the upside in the final hour of Monday, we are really (in our view, not trading advice) walking the line of disaster here.  The odds of really good news are low and that leaves the specter of dropping below this long-term support level and then everything going ka-blooey.
We shall see, right?
Around the Ranch: Night in the Realms
Two dreams in my terribly vivid dream work are worth noting.
In one, a commuter propjet with about 10-12 onboard – T-tail on the aircraft – was involved in a crash.  But no one was killed because the mishap took place at very low altitude.  Was trying to land on a runway that was too short in very hilly country.  Weird – must have been a long-repressed flying adventure.
Second dream should have been a movie, though.
In it, Elaine and I were driving south over sage brush in a Baja 1000 kind of vehicle.  Rolling country. but then we headed right and out towards the coastal mountains.  Picked up a road south along the coast (trees began to appear, so like the Oregon-Cali coast in some ways).
Got an hour south and came to a combo lighthouse and old Catholic church which had been turned into an AirBNB kind of place.
There was excavation work being done under the lighthouse tower, and so I was asked to come in an help retrieve a hidden "book of the dead" kind of document.
While doing that, turned out the real reason for the dig was there was something like the Mt. Neahkahnie Treasure buried on the property.  What? Not aware of that one?  Apparently, you haven't spent as much time treasure hunting as I have, so go read Is There Buried Treasure on the Oregon Coast? | Portland Monthly (pdxmonthly.com).
Short answer is yes.  The rest of the answer is that after looking over the documents found under the (Spanish light) I was able to decode that the trove of buried treasure had originally be buried in one place when the mission was small, but as it expanded over the years, the Church decided to bury part of the gold in the foundation of new mission buildings (some of which were AirBNB rentals in this odd dream).
The rest of the gold was enclosed in the beams for the roofs of a couple of the mission buildings.  Which were then mostly forgotten to time.
Treasure hunting adventure in a dream?  See why it's so much fun to do dream work in The Realms?  It's like a whole Second Life, sometimes.  Well, except no taxes over on that side.
But this side has better tactility (taste, touch, sex) than Dream Realms, so it's all a trade-off, ain't it?
Off to await the JOLTS report… Chinese pot stickers for breakfast – yum!
Write when you get rich,
George@Ure.net