I don't like to write sour columns. But we had a newsroom saying back during the anti-war protest days of the Vietnam War which current events hark back to.
"Who wants to play Demonstration Roulette?"  Upon hearing this, the other reporters at Gallows Humor Central would pipe up.  "I'll take the one at the Federal Building!"  Another offered "I'll take the U-District March…"
Pretty hardened folks, big city real news journos back then.  Last of the breed though.  Current generation can't think without a press release in hand.  Ask 'em to come up with a hardball question for someone and they are at a loss.
The cynicism never leaves, though.  From the formative years, you never forget the reality of the street. Always a balance. Hard to stick a mic in someone's face and ask "How do you feel about losing everything in your house fire today?"  Stains the soul.
Or sensitizes it.
Every so often a story comes along that opens that sore.
The one today is Israel 'days away' from hostage deal, Hamas pushes for five-day truce. Some reports make out that it could be 70-hostages for five-days. Other reports aren't so sure on the count.
My late mentor B.R. did a schtick once called "News Roulette." Sometimes, the pain of being a real human turns to "newsroom humor" to cope with the inhumanity of it all.
"Do I hear 75 hostages? Anyone give me 75 for five days?"
We should know shortly what is "sold."  All that's missing is Monty Hall in this sick f/u world.
All that's left now – in this greed driven world – is for Dirtiest Jobs to do an episode on negotiators who work these things out.
"I'll take septic tank pumper and whatever's behind curtain #3, thanks Monty."
NFIB Bummer
With Reality on the run, we do have good news and bad from the National Federation of Independent Business.
The good news is they've been around 50-years now.
The bad is their October report just out:
"This month marks the 50th anniversary of NFIB's small business economic survey," said NFIB Chief Economist Bill Dunkelberg. "The October data shows that small businesses are still recovering, and owners are not optimistic about better business conditions. Small business owners are not growing their inventories as labor and energy costs are not falling, making it a gloomy outlook for the remainder of the year."
The (Buy'ed 'em, smoked 'em, and posted the video) economy is doing what for us?
Twenty-two percent of owners reported that inflation was their single most important problem in operating their business, down one point from last month.
Owners expecting better business conditions over the next six months was unchanged from September at a net negative 43% (seasonally adjusted).
A net negative 17% of all owners (seasonally adjusted) reported higher nominal sales in the past three months, down nine points from September and the lowest reading since July 2020.
Forty-three percent (seasonally adjusted) of owners reported job openings that were hard to fill, unchanged from September and remains historically very high.
Seasonally adjusted, a net 24% plan to raise compensation in the next three months, up one point from September.
The frequency of reports of positive profit trends was a net negative 32%, down eight points from September.
The net percent of owners who expect real sales to be higher increased three points from September to a net negative 10%."
Usefully, the NFIB has filed an amicus brief in a suit against runaway California edicting business closures during Covid. There's nothing in any Constitutions we can see either, that cedes power to States or the Feds.  The make-up powers and once used (in the event of an actual emergency) hang on to excess power in perpetuity.
Need the "Patriot Act" as an example, as well?
Ghost Channels
Normally, in our (not financial advice!) comments on markets (using meta data so as not to infringe and thus having to suck up to anyone in particular) we include three trend lines in our charts.  A top or bottom line and it's next visual stopping point. A mirror of that.  And smack in the middle, a dashed "mid channel trend line."
Today, we're going to tell you about the Ghost Channel.  This is what happens when you copy the (dashed) mid-channel and paste it (near as you can eyeball it) as the next line above, or below the major trend.
Applying it to this (turd of a) market: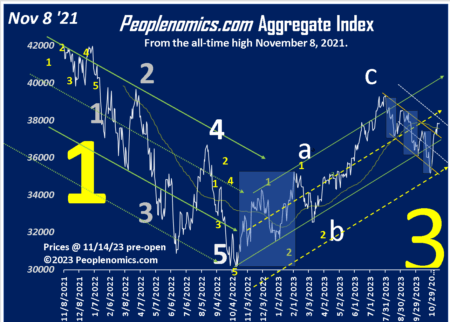 See how the "Ghost channels" work?
We continue perplexed (or is that bewildered?) by daily moving average crossings (dma-x) charts.  We would have anticipated that it should have rolled to the downside already. But, no, stubbornly, it's trying to pretend its spring, flowers are coming up, and brotherly love embraces the planet.  (WTF?)
In the interest of reportorial integrity, we will pause long enough in our caffeine loading to check the…
1500 Mile Front (of WW3)
Let's start with Egypt and work our way north along this sick-puppy rerun of WW1 trench warfare with different languages and no archduke, shall we?
While the Mayor of NYC has questions to answer about cash from Turkey, we're beginning to wonder how many (supposedly) American politicians are essentially "owned" by foreign countries. Which has what to do with Egypt? Senator or secret agent? How Robert Menendez is alleged to have been Egypt's inside man.  Also, making the rounds on the web, is the claim that Secretary of State Blinken holds dual-citizenship. Which may have something to do with why Turkey prez Erdogan gave him the cold shoulder in the past week. Meantime, we've never been able to find how many of Hamas hostages are dual passport holders.  Sheesh.
Israel, meantime, seems to be doing what it can to keep Egypt from going to war on its southern flank.  How? Well, see if you can dot-connect this: Israel-Hamas War: Israel Gas Flows to Egypt Set to Increase. Which means Egypt will be able to resume energy exports and that means….money!
Moving north up the front, you're wondering about Hezbollah, right?  Keyword here is "escalation" Hezbollah Says It Is Introducing New Weapons in Ongoing Battles with Israeli Troops | Military.com.
Meantime, the American (anti-gun) Left is trying to reconcile the reality on the ground in Israel where Israelis are arming up in the aftermath of Hamas' attack. Some are worried it is playing to the far right's vision for the country. Why, next thing you know, owning a gun will be OK.  (Not here, but there.  Here owning a block of .22 longs is enough rounds (500) to earn you headlines, I'm sure. Say, you're not a White extremist, are you?)
Lemme see: Paying off Egypt, up armoring, Hez…uh, next stop Syria on the tour. US conducts airstrikes against Iran-backed groups in Syria, retaliating for attacks on US troops.
Next stop Turkey!  Hearts and stomachs pre-op? Syria allows UN to keep delivering aid from Turkey.
What's more, we see how Tayyip Erdogan is using the old political playbook "If you don't want something to happen, give it to congress…" As in Turkish parliament commission to debate Sweden NATO bid Thursday | Reuters
(The U.S. mastered this technique as we see here in Remnant America has a Possible government shutdown sets up nightmare scenario for Thanksgiving travel. Holding America hostage…yes sir, politics is also on our Dirtiest Jobs list.)
Ukraine next: Which is running out of ammo: EU struggles to produce and send the ammunition it promised to Ukraine. Then there's the little matter of Polish border tensions because Ukraine Says No Progress in Talks With Poland Over Border Protests (usnews.com).  How does life get easier than this for lazy reporters like me?  "Stories, stories, everywhere and not a bit of think."
Xi Whiz!
The media has fallen in love with the visit of Chinese president Xi who will be meeting with Slow Joe in San Francrisco.  Where the temporary walls will prevent Xi from witnessing what an American "shit city" looks like.
Although there may be talks of treaties involving AI and nukes, that's a "who cares?"  As Xi Heads to San Francisco, Chinese Propaganda Embraces America.
About the only thing we expect is? Biden, Xi to Announce Deal for China Fentanyl Crackdown. Even here, we have to be skeptical. Too much money for China to walk away from.  So likely just a routing change from "via Mexico" to "via Canada." With such open borders it could be a showcase deal.
The other thing that nags is remember when Xi was having dinner with Donald Trump (remember him?)?  And Trump came back to the dinner table after launching some cruise missiles?
Xi is a shrewd political operator.  What would happen if they were to "reunify" Taiwan while making nicey nice with Joe? We couldn't exactly arrest Xi on the spot, could we?  And it would make Biden look the fool, Xi to look all-powerful, and it would give America a taste of its own medicine… Hmm.
Serious Health Stories
With Elaine and I scheduled this week for doc visits (we have the same PCP so we can check-one another…not a bad strategy we think for aging couples), we have become very attuned to health-related stories making the rounds.
For example, Elaine's spending too much headspace on our herd of feral (Siamese and Burmese) cats in my view.  Substantiated now by Why pets don't really bring humans happiness nor improve their well-being (studyfinds.org).
Here's one for Chris Tyreman to comment on: Scientists Warn of Parents' Soaring Melatonin Use (newsweek.com).  I'd comment, but I've quit using melatonin because my resting heart rate at night is down in the mid 40s and sleep is not an issue.
Up medicating and down medicating, are we?  I mean as a nation? Can't Think, Can't Remember: More Americans Say They're in a Cognitive Fog – DNyuz
Last health note involves using A.I. for what now? AI could predict heart attack risk up to 10 years in the future, finds Oxford study.  Hell, I don't need Oxford OR A.I. or that. In most cases this high-tech device called a scale can do a ballpark for you…
ATR: Which Retirement Track?
Elaine and I had a good chat last night about what we want retirement to be like when we grow up. (Me almost 75, she's almost 81 – neither appreciably aging and no similarities to grownups.)  Three major tracks seem to be open from present times.
For one, a new Peoplenomics series, website, book, and physical product has appeared out of nowhere. As soon as we get past Thanksgiving (click to eat) and our consigliere's back in the office, we'll figure out if we want to launch a new business.
The second track is "Why bother, take lots of downtime, and don't worry about thinking, doing so much.  Relax.  Live longer. Maybe even do a few trips…"
The third track is more a placeholder. Start a new "thing" (like prepping was when I turned that on 25-years ago. This does have that kind of potential (and more). Travel, relax, do some volunteer stuff, work with Elaine more on her book, do our artsy stuff, chill, fade to background…"
But there's so much else we can do.  Build a new house. Additional education. Learn musical instruments. (Turning on a mixer and our amateur level musicology doesn't count, yet.)
Or…(fill in the blanks).
Problem we have is the dilettante mindset. That is, a couple of people who understand and appreciate that life (lived well) is very much like going to a Sunday morning Brunch Buffett. There's so much there that we want to sample all, or at least most of it – the stuff that catches our eye.
Thing is, we sort of know that laser-like focus and singularity of focus is what my friend Larry Coffman explained years ago was my personal problem.  "You know, Guru, you just do too much. Focus more."  Never forgot that advice, just never really acted on it. Too busy.
World's too big, changing too fast, and might not even be around as long as us to narrow down too much.
If you have some strategies to resolve the multitrack aspect of life, feel free to share in the comments section.
For now, let's both be bored with this and go do something else.
Write when you get focused,
George@Ure.net