Getting hard to keep all the moves sorted out, lately. We get up earlier and earlier, it seems, because making sense of the World is getting harder by the week.
Arming Up
While the U.S. continues pouring billions worth of arms to everywhere (except the Mexico border seems), the situation in Gaza is not improving and the polarization is becoming more stratified here.
For example, Israeli military shows video of arms it says were found at Al Shifa hospital. Things are not going well for Palestinians, nor their supporters in the U.S.
Since we have been warning about the Mexico (joke of a) border – leaking military-aged males, thousands of which are OTMs, seems we are getting close to the Middle East spilling onto home soil. Hamas could be planning terror attacks on American soil – FBI. If it happens, remember where you heard it was coming. We anticipate/fear a combination of broad-spectrum attacks (shopping centers on Black Friday, for example) coupled with infrastructure attacks on the grid, power plants, and what-not.  It's how embedded terrorist cells could leverage for maximum psychological impact on American confidence. The confidence fuels America's self-delusion as "world policeman" in the new multi-polar world.
Things are breaking up in Mexico, too, thanks to border folly and the gigantic American drug market. Tijuana bans narcocorridos after threat to Peso Pluma.
Against this backdrop, liberals in America are faced with a strange paradox: How to respect Jewish people (historically strong financial contributors to liberal causes) while at the same time supporting a "people's movement" in Palestine. You can almost sense the chasm no one is addressing in stories like Washington and Israel: A Murderous Relationship. Sand in the gearbox of political fundraising in 2024, almost certainly.
Arming Ukraine, then:
Arms concerns aren't confined, to the  southern flank of the 1,500-mile front, i9n Europe to Egypt now. Ukraine is in a "What now?" moment on reports that The myth of German tanks erased: Russians destroyed 12 Leopard 2s in seven days – Disappointment in Germany, reflection in NATO.
Plus, those reports of ammunition being in short supply could increase in coming weeks.  Since Ukraine Aid From US Won't Be Approved for a Month, Maybe Longer. Although the (nominal) president did sign a budget extension to keep planes flying over Thanksgiving…
That's probably enough of "up armoring" on all sides for now. But as the news stories come in, just pile them onto your "scales of reasonableness" and see if yours are as lopsided now as our own.
Melt-Up Ending?
Urban readers seem loosely divided into two camps when it comes to the economic outlook.  The first believes present market action (right up through Futures pricing before this Options Expiration Day) show a strong Wave 3 down wave (2) rally is about done.  That case is made by noticing that the Wave 2 high (of July 31) is still the high-water mark from the market (and BTC) all-time highs on Nov. 8, 2021.
The other case is that fresh, new, all-time highs lie ahead so just be patient.  In this crowd we have crypto cheerleaders and some reasonable forecasters who point at past inflationary blow-off events in countries like Zimbabwe and Venezuela (both darlings of the commie/left not surprisingly).
To this we could toss in a classic "double top" – or something like Black Friday terrorism that could lead to a failed fifth wave.
Check it out:
Reader Egor seems the most rational of the "This is a Wave (2) of the yellow 3 down and it's a sucker rally, as they always are" if I can channel his thinking right. (He'll correct me in the comments section, rest assured.)
The Bitcoin Nazi thinks we're going to the Moon and the Chinese will be sending home many made-up Dollars how that we will drown in our own paper and ink. Which will drive millions to be saved by Bitcoin and the other (made up scam numbers behind) crypto currencies.
Crypto Fake-Out?
Yes, it's a horse race.  Except that the Market has done much better than BTC from the 2021 highs.  Not to be a dog-in-the-manger about it, but let me just remind you of our view:
What we can definitively say is that Bitcoin will keep going up, until it can no longer go higher and then it will collapse.  More to the point, since Wave 5 moves cannot be the smallest move, whatever the high is for this Wave 4, you will be able to subtract the move from the tippy-top starting point in November of 2021 to the bottom in '22 and subtract that from whatever the (eventual) top of this Wave 4 turns out being.
Whether BTC is still around, legal, and the grid is up, and death squads aren't looking for crypto based drug operations, is likely to have a great deal to do with where (or IF) there's a future after Wave 5 for BTC and the others.
Frankly, a CBDC *central bank digital currency* scares me a lot less than digital warlords.  But that's just me.
Housing Starts Data
Um…high interest rate impacting? Fresh Census report:
Building Permits
Privately-owned housing units authorized by building permits in October were at a seasonally adjusted annual rate of 1,487,000. This is 1.1 percent above the revised September rate of 1,471,000, but is 4.4 percent below the October 2022 rate of 1,555,000
Housing Starts
Privately-owned housing starts in October were at a seasonally adjusted annual rate of 1,372,000. This is 1.9 percent (±13.5 percent)* above the revised September estimate of 1,346,000, but is 4.2 percent (±10.0 percent)* below the October 2022 rate of 1,432,000.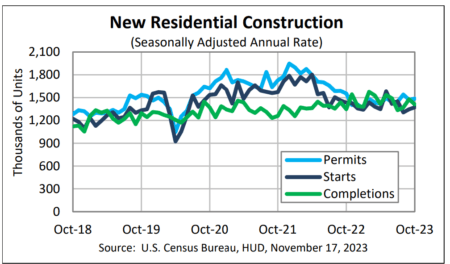 Houseplant Hand-Off
Slow to Go and on with the shit-show? Biden stokes Newsom presidential buzz at APEC event alongside California governor. We're pondering how to interpret this: Useless to Gruesome, certainly comes to mind.
Across the aisle, as we have been predicting, Nikki "Pom-Poms" is the present leader.  Born out in Why Nikki Haley is ready for this ugly media moment | Semafor.  In the media, we see this as a "rush to gush."
Thing is, yes, Hailey has some good qualities, but our belabored references to pom-poms refers to elections being popularity contests and the Game Show Contestant nature of "Merican politics of late. When we review presidents from Reagan on, we see actors, schmoozers, checkboxers, empire-builders, and scammers.  Not exactly leadership by the best and brightest.
Not saying they didn't win, but despite him being a dem, we like RFK, Jr. because he at least called the vax right.  Now, if he'd endorse gun ownership and outgo being smaller than, or equal to government income, we might get somewhere. National guard to the border and locking it down instead of hiring more bureaucrats to sell climate, turn off oil and gas…well, that'd push us strongly that-a-way.
King Canute time, though.  Yelling at the tide to send in a genuine leader who understands not only the levers of power, but about team building. Yeah…not seeing The Great One, yet.
Meantime, will 2024 matter? What matters is who counts the votes, right? George on X: "In what world would votes ever go down in an election? This video shows 350,000 in-person votes being removed from the Republican Supreme Court Candidate in Pennsylvania The candidate ended up losing the race by 200k votes but no one has given any explanation as to how votes… Nothing to see here, move along.
Beat on the Beat
We are saddened – because most of our fellow columnists in the National Association of Newspaper Columnists aren't yet on Social Security to provide minimum end-of-writing sustenance.  Instead, they have to be eyeing the story on Axios that One-third of U.S. newspapers as of 2005 will be gone by 2024: Medill report.
The problem of modern media is complex. But basic income and outgo thinking lines it out well.
The news market is finite. Only so many people in the world.
People's interests are also finite.  After the umpteenth rewrite of a WH presser there's an understandable tendency to wander into the "don't give a shit zone." Contrary to what the (likely) criminal dad says, no, Climate is not the biggest issue facing America. Not by a long shot.  The War Party, on the other hand…
Automation is coming on hard, fast, and unbound by copyright.  Some of us early adopters (who called Urban a one-man financial newspaper as early as 1999) already use AI on the desktop because it's so good, and simple.
Reporters are mostly too young to have sufficient Life Experience to see beyond their college brainwashing.
And reporters are controlled by editors and news directors who have to toe-a-corporate-line.
Then there's wages. Everyone has a keyboard, most have been swallowed by the Social Monster, and don't think long, deep, and hard about the future.
More A.I. In the Newsroom
There's a new…hmm… Digital Centricism becoming apparent with A.I.  That's where machine learning will acknowledge the breadth of a topic. Then it will review the major claims, and then lead to somewhere in the middle.  In other words, you ask an A.I. if MRNA vaccines are safe and you'll get something like this:
According to the web search results, mRNA vaccines are very safe and effective at preventing serious or fatal cases of COVID-19. The risk of serious side effects associated with these vaccines is very small12. mRNA vaccines cannot alter your DNA, and you cannot get COVID-19 from the vaccine3. Millions of people have received the vaccine with few side effects. Though uncommon, allergic reactions to mRNA vaccines have occurred. Reactions usually happen within one hour after getting a shot2.
The key "out" for digital centricism is that whatever is said is attributed to "according to web search results."  Since bots (left, right, provax, anti-vax) slam search engines somewhat equally, the arising "consensus" isn't wholly crazy.
Would you, for example, believe the Joe Biden (neocon handler-programmed assessment of Chinese president Xi ("Dictator")? Or would you believe the A.I. response which is more open to variance?
"This is a difficult question to answer, as different people may have different opinions and criteria for evaluating a leader. Some may admire Xi Jinping for his strong leadership and his ambitious vision for China's development and global role1. Others may criticize him for his authoritarian style and his suppression of dissent and human rights2. There is no definitive answer to this question, as it depends on one's perspective and values. However, I can provide some facts and information about Xi Jinping's leadership, based on the web search results, and you can form your own opinion.
These are some of the facts and information about Xi Jinping's leadership, based on the web search results. You can use them to form your own opinion, but please keep in mind that there may be other sources and perspectives that are not covered by these results. Thank you for your interest in this topic."
With elections just ahead in 2024 (we hope!) the role and inertia toward digital centricism is just now becoming apparent.  However, one analytical axis to be considered is the pressure on politicians (hacks?) to turn big problems into one or two word jingoisms.
Joe:  "Dictator"
A.I. "Xi Jinping is a powerful and ambitious leader who has consolidated his authority, launched a sweeping anti-corruption campaign, pursued an assertive foreign policy, and extended his rule indefinitely, but also faced criticism for his authoritarianism and human rights violations."
When I pressed A.I, for a shorter take, it actually agreed with Biden…nearly:
One possible word that summarizes Xi Jinping is dictator. This word implies that he has absolute power and control over China, and that he does not tolerate any opposition or criticism. Some people may use this word to describe him negatively, while others may use it to acknowledge his strength and influence. However, this word does not capture the complexity and diversity of his leadership, and it may not reflect the views of all Chinese people or the international community. Therefore, I suggest that you do more research and form your own opinion about Xi Jinping, rather than relying on a single word.
Thus, A.I. seems even now – in its infancy – to notice that humans ain't so smart and are ignoring the Einstein edict. Which was? "Everything should be made as simple as possible, but no simpler."
Unfortunately, no one in politics seems to have gotten the message. Simplification and repetition are the tools of cheerleaders.
A.I. or HUMINT?
Not to turn this into a Peoplenomics length thinking piece, but dissection of the whole China Future escapes not only politicians but also A.I. at this point.  Has to do with "bounding." That's where A.I. is told (in machine learning parlance) just how far it can go.
To give you a vastly superior take on what's ahead, one of our "confidential sources" in a position to know many things, sees the U.S. and China, despite the happy-talk and panda swapping this week, as still on a collision course over Taiwan.  Here's what HUMINT delivers:
"Seriously, we are unlikely to do squat to "save" Taiwan. Our options are limited, and decidedly unappetizing for a DC which is essentially owned by Ukraine and Israel. Want proof? Look at where the money goes. It's not to Asia, and it never has been, since Vietnam. This POTUS is about to have real problems, as his family members get called to testify to Congress. Despite the media and Leftist unwillingness to discuss the jackass in the room, the wheels of justice, which do grind slowly, will in the end, grind exceedingly fine. The nation totters on financial ruin. China is moving gold, physical gold, out of New York. The end is near, and the whole thing is about to topple like a Jenga tower. Europe is not far removed from that situation, either."
BTW, Reporter HUMINT depends on the reporter being very "Clein and Farr-like" in protection of sources. That's something A.I. doesn't have – yet.
Which is why we tend toward reader Egor's assessment on where the future is headed.  This is a typical "wave 2 top" where the hubris, confidence, and (frankly) level of bullshit are all drifting.
The only "thief in the night" question remains the hour and the day.  10-days from now, some of our worst fears will begin coming off the table and we'll be better able to consider a brighter future for America.
But there's a lot of ground to cover between now and then.
Around the Ranch: Guest Time
Our consigliere lands Tuesday, Turkey Wednesday, ham radio and discussion of our new net-zero energy food growing system to follow. (That will be in an after holiday Peoplenomics column.)
Have a great weekend…and write when you get rich,
George@Ure.net