Since people who read this website are very "financially aware."
I shouldn't need to remind you that this is Index option expiration or that tomorrow the equities (underlying stock options) expire.  Volatility looms, though in the early preopen today, it was very little different from the Wednesday close: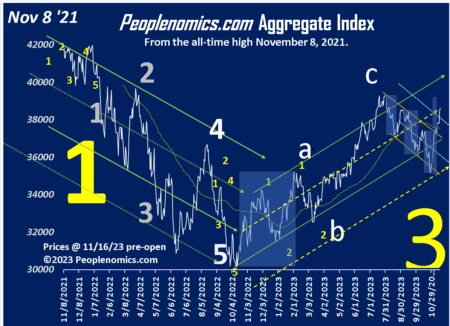 Even if you're not an optometrist (or sniper instructor) you should see something is terribly amiss on the far right of this chart.  Parses into a question like "WTF is driving things higher?"  You might also toss in "There's still corruption, pedos, crooks, wars breaking out, and scammers in the media" if you insist.
We don't have all the answers, but here's a useful ideas to ponder:
Aggregate Index level previous Options close: 36,044.20
Aggregate Index Wednesday close: 38,642.14
Approximate gain between option expirations:  7.2% in a single freaking month!
Annualized rate of increase at present trajectory: 230%
I have to be straight with you: this is absolute poppycock.
Except, it's not, really.  Because money has to go somewhere.  Let's compare some of the choices are, shall we?
We could invest in Silver and Gold.  But you can't eat those and they don't heat the house (at least directly).
Oil then?  With this clown posse in D.C.? Sanctions-crazed buffoons who are lighting up war in the Middle East? Hardly a reliable place in the short-to-intermediate, you think?
Housing?  For (name the new buyers?) all the low-income, government-dependent illegals this incompetent administration has welcomed with open checkbooks (paid for by you)?
Hot new growth industry of physical goods?  Naw, that's chips and code. Now you're talking Taiwan (which China is getting, maybe Xi's told Buyed'em already). Along with South Korea and places like Mayanmar which could be seized by China to keep "order in the Chinese Century.
Make up imaginary numbers and call them real?
Invest in Europe?  I mean in addition to a developing 1,500-mile war front and the infighting to hornswoggle the next batch of Tax Chattel into the EuroCon?  Naw, we'd pass on that, too.
Put money is Asia? Not without inside pals in the PLA, sorry.
How about pharmaceuticals?  Mean like those f(ck-you-up vaccines that made that industry rich? How are you going to beat that, short of dropping another bioweapon?
Buy a small Farm?  Sure, people got to eat, but corporations and the billionaire's boys club beat you to it.
The rot (and coming clot) was already clear when, back in 2020, Tom Burgis wrote a book about Kleptopia: How Dirty Money is Conquering the World.  Echoed just this week in the release of Seamus Bruner's new book "Controligarchs: Exposing the Billionaire Class, their Secret Deals, and the Globalist Plot to Dominate Your Life."  Like Bill Gates' appetite for power and farmland.
If you still believe things are going to get better from here, let me read you in on what happened overnight.
First Cisco guided lower and now Burberry 'unlikely' to meet financial goals as luxury goods slowdown hits sales.
Pressure on Pepsi? New York AG James Sues PepsiCo Over Plastic Pollution Along Buffalo River.
And make your own damn coffee: Largest Starbucks strike in history is planned for Thursday. It shows US labor unrest isn't over yet.
Any surprise I just got this from Challenger, Gray, and Christmas?
CEO EXITS CONTINUE RECORD CLIP
Fewer CEOs Leave Their Posts in October; 1,530 CEOs, Highest YTD On Record
CHICAGO, November 16, 2023 – The number of CEO changes at U.S. companies fell in October as 105 CEOs left their posts in the month. It is down 34% from the 164 CEO changes announced in September, and up 48% from the 71 CEOs who left their posts in the same month last year, according to a report released Thursday by global outplacement and business and executive coaching firm Challenger, Gray & Christmas, Inc.
So far this year, 1,530 CEOs have left their posts, up 47% from the 1,040 CEO changes during the same period in 2022. It is the highest total in the first ten months of the year since the firm began tracking in 2002.
"Take the money and run" in play?
Finance Droppings
Industrial Production and Cap utilization are due from the Fed momentarily.
Import Prices improved:
U.S. import prices declined 0.8 percent in October, after increasing 0.4 percent in September, the U.S. Bureau of Labor Statistics reported today. Lower fuel and nonfuel prices contributed to the decrease. Prices for U.S. exports fell 1.1 percent in October following a 0.5-percent rise the previous month.
Imports
The price index for U.S. imports fell 0.8 percent in October, the first monthly drop since June 2023. The
October decrease was the largest 1-month decline since the index fell 0.8 percent in March 2023. Prices for U.S. imports decreased 2.0 percent for the year ended October 2023."
Philly Fed Manufacturing is out and it remains weak:
The diffusion index for current general activity increased 3 points but remained negative at -5.9 this month (see Chart). This is the index's 16th negative reading in the past 18 months. Almost 18 percent of the firms reported decreases in general activity this month (down from 35 percent last month), while 12 percent reported increases (down from 26 percent); 70 percent reported no change (up from 38 percent last month). The index for new orders declined 3 points to 1.3, while the current shipments index more than offset its increase last month, dropping sharply from 10.8 to  -17.9.
Preliminary good news: Long Beach container cargo was up in October, and we'll see how L.A. looks, but a reasonable to good Christmas could be in the offing – we'll just have to wait and see.
Experience of Unemployment? Which was up a tick in today's report? 1.3 percent from 1.2 percent last week, State impacts:
Xi and the Houseplant
China is taking over the world.  Sending pandas back is a distraction for stupid people. The Chinese ditched (overt) communism only long enough to make some money and develop an economy so as to have an economic leg to stand on for conquest.  While at the same time developing the Belt and Road scheme to lock up resources and supply chains. Then set up an alternative economic model called BRICS.
We respectfully refer to the houseplant from the Oval because his gaffes make any international relationships iffy at best.   In fact, our favorite dual-passport h0lder (says the web) expresses concern at times, too: Watch Blinken Wince As Biden Calls Xi a Dictator After APEC China Meeting (businessinsider.com).
They are building coal plants, planting more nukes than corn some places, holding us by the supply chain goanies, and we're sending in this cheap knock-off of our A-game?  Can someone please, for God's sake, tell me how to write the happy ending to this.  Because even with a dozen books, a novel, and 20-million words under my belt, I can't see a plot line to write our way out of this mess!
Especially seeing the neocon handywork paying off in a study of this: This Is the Newest American Military Base Overseas.
World War 3 Travelog, Redux
U.S. three-letter agency controlled media lies aside, the reality at the north end of the 1,500-mile front of WW3 continues to paint a grim future for eastern Europe: Russian advance towards Chasiv Yar unstoppable: VDV swept Ukrainian positions in Bogdanovka- Defeat with lowered hands for the Ukrainians..
Meantime, we're thinking when this is all over (if not in a flash) that the UKR prez may not want to embark on a future career as a corporate strategist: Massacre of Ukrainian reserves in Avdivka on suicide missions – Ukrainian MP: "It became a second meat grinder – Tragic mistakes Zelensky".
Next stop on our tour is Turkey, where prez Tayyip Erdogan is polling everyone about jumping in the rack with Iran: Iran Keen to Increase Bilateral Trade with Turkey: Official.
Meanwhile, Turkey's parliament is meeting about now on whether Turkey should let the Swedes into NATO – which Erdogan (slick poker player he is) holds as leverage to get a better deal from the (arrogant pricks) of the Ure-a-peein-Union. Soon as all the Best Offers are in, he will pick who Turkey goes home with, but our money's on Russia/Iran because Muslims see Biden-Blinken and You-hoo as the reason Gaza's now flat.
Syria? You bet, all out for a tour here as More U.S. Precision Strikes in Syria (voa.gov).  Not that it makes much difference, since dead is still dead, precision strikes or not.
By the way, see how the Biden cartel is keeping the money flow on to Iran during all the footwork? Biden keeps billions flowing to Iran. Trying to understand how making turning down domestic energy production to bolster mullahs makes sense, but guess I'm not stupid enough to be a staffer.
Lebanon's our next stop: Republican Warns Hezbollah Could Have 'Huge' Drug-Dealing Market in US (newsweek.com)
Now down to Israel/Gaza where urban renewal is underway: Israel search of Gaza's Shifa Hospital yet to reveal Hamas base | AP News.
Finally, our tour ends in Egypt. Where we see the payoffs to Egypt to look the other way and not engage in war with Israel are spreading.  You remember, Israel turned their natural gas flows to Egypt on previously, which gives Egypt some money coming in (which would disappear if they were to take a swipe at Israel). So, this morning we see another kah-ching for Cairo in EU Speeds Up Plan to Bolster Egypt Amid Israel-Gaza Crisis – Bloomberg.  Meantime, more of your tax dollars at work as US secretly boosting weapons supplies to Israel. Whee!
Then there's the lost children of the 'Merican Left trying to come to terms with how to support Hamas and giving massive support to Israel.  Well, we just knew that was going to blow up: Anti-Israel Violent Protest Erupts Outside Democratic Party Headquarters in Washington, DC – Algemeiner.com
From clicks and bricks to mortars and money, statecraft is now simply state terrorism with its makeup on.
And all of us, everywhere, owns it for allowing fools crooks to hold power.
Not Offended Yet?
Keep reading…
It's all fake: More than $1bn worth of fake handbags, shoes and luxury merchandise seized in US bust. Old reporters notice things, though. Like when the feds don't say where it came from, gets us to wondering if (you know, Xi in town, right?) they were on a string… Or, if reporters covering this were too dumb to ask origin questions.  It does matter, of course.
Free spending republicans, anyone? US Senate passes stopgag order to prevent government shutdown. When blows, at least for a while, any chance of using real leverage.  In fairness, though, turning down air traffic during the holiday next week could be ugly, so yeah, I get it.  On the other hand, that might have forced the representatives to hang around DC where there is always real work that needs to be done.
Around the Ranch: Electric Fencing?
Here's a real survivalist idea for defending your place in the Outback someday when the hordes of city people are going zombie-like into rural areas to steal.  Which I will specifically NOT articulate lest our legal department sets her hair on fire.  See if you can figure it out, though, from reading Taiwan hunter killed by power line day after installation.
Electric fence, huh?  Billions of years ago, my parents took us kids (1950's, right?) down to the banks of the Puyallup River to visit family friend Walter Clark and his family.  The men-folk decided to walk down to the river and wouldn't you know? Along the way I had to take a pee.  "Over there" said Pappy, pointing at the woods off to the side of the field. (They grew raspberries. Land was cheap, pre-Boeing). Anyway, I did my business, peeing on a fencepost.  Which I hadn't noticed, had an electric fence line. I aimed at the insulator.
Didn't kill me, but women in my life have probably wondered "Why are you checking me for wires?"
Speaking crudely: Wednesday saw Ure's truly get one of the more miserable of home maintenance tasks done: Tightening up the toilet bolts in the guest bathroom.
Not a big deal?  Well, yes, one of them broke.  So that led to the (no fun at all) one-man job of pulling the toilet, replacing the wax ring, putting in new stainless hardware (which should outlast both of us).
The Revelation from this (miserable effing) job?  I figured out (about halfway through it) why I had been postponing the job for several weeks.
Because while I was doing the work, I couldn't get out of my head the listing in excruciating detail who had taken a poo in that toilet I was "all over" in this project.
Mind you, the toilet was spotlessly clean.  We Windex the hell out of everything around here.  But the mental playback and imagery damn near drove me to distraction.  Leading, in reality, to a double ration of red wine (after re-Windexing the room) and cleaning up – tossing the third pair of nitrile gloves from the project, and so forth.
Just thinking back on it, has me looking forward to a vodka water tonight at cocktail time.
OK, off to commit linguicide for an upcoming Peoplenomics report. Have a great day and just think: Only four more working days until Monday!
Write when you get rich,
George@Ure.net