The stock market has a certain eau d' fraud going on, presently.  There is no rational reason for anyone to put money into markets when there is this amount of global uncertainty about the future.
Yet, at the early pre-open check (about 6 AM Eastern) we were surprised to see futures attempting a run up to the mid-channel zone of the long-term (Yellow scale) Wave 2.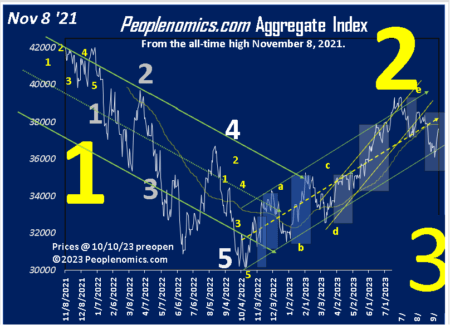 There are any number of ways for this to work out – which is why we never offer financial advice!  
When we look at this chart, however, there is a labeling sequence that could imply that Wave 2 was not really over July 31st.  Instead, we may see the re-animation of Wave 2 into a five waves affair.  In this instance, the a-b-c-d sequence would be 2(1) as a 1-2, 1-2, which then makes the previous count 5 into a 3 which means the present market did a 4 down and now we could go to the top of the Wave 2 channel for a (5) to really finish the larger 3.
Unfortunately, though, it could be that our earlier count is right and we are still in (yellow scale) 3 Down, where we have done i-ii-iii and are in a minor iv now, which could drop into v down (to complete a larger 3 (1) down, as a i-ii-iii-iv-v at any moment.
More interesting, though is how our "crossing trends work" is presenting:
This remains our favored count, for now. Although when the winds of war are blowing through manipulated markets it becomes kinda like visiting a crooked casino that everyone knows is crooked. But since there are still occasional winners, and the drinks are OK, we all keep going back…  The Ures included.
Mapping a Vexing Future
Most people listen to the news in an "in one ear and out the other" manner.  Pretending that it doesn't personally impact them.  In the immediate mode, that happens to be true.
However, from the zoomed-out perspective, we WILL be impacted by all this ill-mannered warfighting over time.  When Taiwan is "reunified" China will have a most powerful "dog leash" on America's future.  The shortages of grain from Ukraine in future years could easily 'feed' global famine's development.  And the Middle East?  The House Plant in the Oval has environmental extremists who are trying to shut down gas and any liquid fossil fuel use as hard and fast as they can.  But face it: The Middle East is the critical production up for grabs and the Organization of Islamic Countries knows this very thing.
All a rational person can do is evolve a "Future Map" (using some of the flow chart symbols) where diamonds are "decision points" and then playing the IF-THEN game through many iterations.
When we do exactly this, the manipulation of stock markets becomes very clear.  Any rally now is likely the rich working through a massive "distribution" phase.  See, over time, there are basing periods to securities pricing.  Then comes the mark-up phase, let's assume we are in distribution now, so the final act is the mark-down.
Tony Plummer wrote (in The Psychology of Technical Analysis) that the biggest action constraint (at decision points like this) is doubt. Doubt, as it turns out comes in a Baskins and Robbins assortment of flavors.  We have currency doubts, government doubts (BTW Biden underwent questioning by special prosecutor in the 'secret documents' case), war doubts, corruption doubts. and insider information doubts… the list is impressive.
One way we try to cope is modeling out page-after-page of IF-THEN's.
Literally, like in the movie Pi the iterations can make you crazy.  Instead, about all you can do is try to keep up, and not go more than a decision point or two forward from present.  Beyond that, reliability of outlooks drops quickly.
NFIB Dims
Economic Data in Hand is not particularly encouraging. Here's a press release just out:
WASHINGTON, D.C. (Oct. 10, 2023) – The NFIB Small Business Optimism Index decreased half of a point in September to 90.8. September's reading marks the 21st consecutive month below the 49-year average of 98. Twenty-three percent of owners reported that inflation was their single most important problem in operating their business, unchanged from last month and tied with labor quality as the top concern.
"Owners remain pessimistic about future business conditions, which has contributed to the low optimism they have regarding the economy," said Bill Dunkelberg, NFIB Chief Economist. "Sales growth among small businesses have slowed and the bottom line is being squeezed, leaving owners few options beyond raising selling prices for financial relief."
Key findings include:
Small business owners expecting better business conditions over the next six months deteriorated six points from August to a net negative 43% seasonally adjusted, however, 18 percentage points better than last June's reading of net negative 61% and definitely at recession levels.
Forty-three percent (seasonally adjusted) of owners reported job openings that were hard to fill, up three points from August and remaining historically high as owners can't hire enough workers due to few qualified applicants.
Seasonally adjusted, a net 23% plan to raise compensation in the next three months, down three points from August.
The net percent of owners raising average selling prices increased two points to a net 29% seasonally adjusted, still a very inflationary level.
The net percent of owners who expect real sales to be higher increased one point from August to a net negative 13% (seasonally adjusted), still a very dismal posture.
For us, this is very much like a recession is still out there and the happy talk to make it materialize is having a hard go of things.
The IMF hints the Happy Talk is wrong: IMF outlook worsens for a world economy left 'limping' by shocks like Russia's war.  It will take the policy wonks a while to figure out the impacts of Iran, Hezbollah, Israel, Hamas and the rest of the dance company in the Middle East.  But in a week, or two, things should come into focus, depending on whether Iran can goad Hezbollah into attacking Israel from the north.
Meanwhile, the West was played into depleting arms supplies in Ukraine resupply efforts.  So, pardon us when we read how The joint US-Israel plan for full-scale warfare has been implemented: USS Gerald R. Ford deploys with reinforced battle group! (vid) there are lingering concerns about how well we will be able to cope with two war fronts!
Don't forget that we could have two more fronts opening at any time: The Koreas and Taiwan. Keeping your powder dry seems like a good saying to remember.
One for the road?  Picture a war between the Philippines and China… Chinese coast guard claims to have chased away Philippine navy ship from South China Sea shoal – ABC News.
Third Party and More
True confession time?  I used to vote for democrats about half the time when the world was still (more or less) sane.  At least compared to now. Old line democrats like Scoop Jackson and his ilk were liberal in good ways, yet strict constitutionalists at their core.  And they understood budgets.  Which I think the current sham of a party has completely betrayed.
But here's the thing:  While he's still too liberal on too many topics, I won't rule out voting for RFK, Jr.  RFK Jr. declares independent 2024 presidential run, raises millions more.  We don't need a rerun of the House Plan and Mr. Ego while great on policy will likely not be on enough state ballots to make it. Democrats are almost Stalinesque in how "their machines" work. Since both of the parties now have been usurped by corporations, is this the year that a Third Party – centrist with a Constitution and Borders would make sense?  Ah, we can dream…
Also on the political front: Will Hurd drops out of 2024 GOP race, backs Nikki Haley | The Kansas City Star.  Honestly, if it came down to Haley or RFK, that'd be a tough choice. It's not likely to, though.
You didn't get it – and neither did we: Powerball jackpot up to $1.73 billion as lottery losing streak continues.
Around the Ranch: Shopaholics, Health Note
Shop until you drop reminder:  Amazon's Big Deals for Prime members is on.  Hmm… what don't we have that we really need at this age?  There were actually several things we did order:  Mint chocolate Soylent meal shakes (programmer food, lol) and more voice remote switches for Alexa to deal with. Several surge protectors, too. Normally, I'd go with a higher spec item, but these are fine since they are in low-risk positions.
The Associated Press health notes in this story are interesting: Meds that can harm seniors' driving skills; Plus, toddlers may "grow out" of their autism, and more health news (stltoday.com).
Not only is Tuesday garbage day, but this week it's when we make a food supply run.  While we don't live "high off the hog" the monthly cost for two of us to eat well has been running just over a thousand a month.
Today, Wal-Mart locally had USDA prime, prime rib in stock which only happens now and then.  We loaded up with three of the little beasties for "special events" around here. $200 bucks worth.  They freeze well, and as long as you thaw them out well ahead of time (bring up to almost room temp) they come out great.
You will want to slather such pricey delicacies with a half a stick of melted butter.  Putting this on the roast first means that when you sprinkle with garlic powder (not salt!) and fresh cracked peppers, it will stick.  Given a final dusting with Herbes d Provance and flashed at 450 for 20-minutes before turning almost off to cook through, there may (or may not) be enough leftovers to make an outlandishly good stroganoff the next day or three.  Fat side up when roasting, of course.
The mood around here has definitely turned to fall.  In fact, as a personal treat for keeping the weight off, I've added semi-sweet chocolate bits into the shopping list, again.  Time of the year when breakfast gets a "dessert" option.  Nothing like a cup of rich cocoa with a shot of peppermint schnapps in it.
Another sign of fall?  The cats are getting a lot more friendly. Love is food and food is love out here.  We're keeping our fingers crossed that the world will return to rational, while it can.
Write when you get rich,0
George@ure.net