Ah, time of the year when the really important stuff goes on the menu:  Remember to pick up the catered turkey dinner.  Thaw out the monster Prime Rib in time for Thursday (doing turkey Wednesday).  And then?
Big decisions, too:  Glenfiddich or Glenlivet?  See why my head hurts?
What trip to Texas for our consigliere would be complete without the obligatory char broiled steak?
And that's where the problem was this week. BBQ went lame.
BBQ Problem Solved
When the weather gets cold, and you still can't get enough BBQ Beast, it's time to figure out why – when it's 38 F outside – why the BBQ after a 30-minute preheat was only getting up to 375 F.  Less than half what a steak requires!
Und zo... turns out it was the regulator.
However, before installing that, new burners went in.  Slipped over at the front of the grill and then seated in the back and clipped in place.
As long as I was at it, the new flame tunnels (so other burners can light) were installed, too:
But the biggest performance improvement was made by adding an adjustable regulator.
A Short Gas Regulator Rap
Propane BBQ regulators come in two types:  Fixed at the factory and their evil twin, the "Oh, God, don't let George near it" adjustable sort.
Nothing wrong with fixed set points – after all, product liability insurance is a bitch, and we get that.  And we know someone has to write those cheques.  BUT once out of warranty, and once the little vent hole has gotten enough water in it, fixed regulators are about as reliable as a politician the day after an election.  In short, they may never work, again.
What comes to the rescue?  The adjustable (20 pounds max) output variety:
It's that BIG RED KNOB that is the secret sauce to winter BBQ'ing in the Texas Outback, where beauty is common and steaks are rare.  (Sort of the opposite of most urban cesspools in 'Merica, right?)
To install (and to the likely horror of the American Gas Association), we cut off the gas fittings so that we can just double-barb connector on, then DOUBLE CLAMP the new regulator to the old feed hose stub.  Like this:
Yess, that's right!  Anyone who has ever lived on a boat knows that you keep the double-clamped hose clamps out of being in pure alignment in order to reduce risks.  (When you've lived on a sailboat for 10+ years, concepts like double clamping EVERYTHING becomes ingrained to your mien.
Before reassembling the grill after updating burners, turn the BBQ on high for a few minutes (flame tents in place) and turn the BBQ on high and adjust the gas so it's just starting to sound sketchy.  Or, with flame tents off, the flame lifts away from the burner a half-inch, or so.  But you don't want to go so far as to have fire leaping all over the place.  (OK, that's fun, but uses a lot of fool…)
With the modified flame throwing done, our warmup has gone from 30+ minutes to get to 375 F to 12 minutes to 650 F plus ("…and you got the Elmwood Fire District number up on the phone, just in case?")
Yes, when I wrote earlier this week that we wanted to be able to melt aluminum scrap when not cooking, we're actually getting close.
Ah…
Youngest daughter suggested we might like the video game Stardew Valley because it's become very popular in her circle.  Very addictive video game which looks, for all the world, like the video game version of what we've been working through out here in the woods for a couple of decades in real life.
Seriously – go check it out.  Available for Steam as well as PC.  Takes 3-weeks to ship, but we have enough shit going on out here in the real farmerly woods that we have plenty to do before it shows up.
"Wait, old man!  You say you've been living what has come out as a video game for 20-years with an ex bunny?" 
Wull, yeah, bubba, that's about the size of it…
If you want to stay in town, have your plumbing checked, your guns grabbed, and eat processed foods all day, have at it.  Leaves more clean country air for the rest of us.
But listen to how close the "game" highlights fit reality out here:
Create the farm of your dreams: (check!)
Learn to live off the land: (check!)
Explore vast, mysterious caves: (Well, uh, no. )
But if you have a drum of diesel and an excavator on the tractor you can sink in a partially underground home which is equally cool, you know?
Foodifications
Walk with me.  To that slap-dash greenhouse lean-to we cobbled up last December (when G2 moved down here).
It got cold this week – down to freezing.  Yet the whole time, the Chineseum diesel parking heater has kept all the plants at a perfect 60F (or above for a while in the afternoons).
Yum – fresh greenhouse Romaine for turkey day!
Here's the impressive part:  We not only have peppers coming in…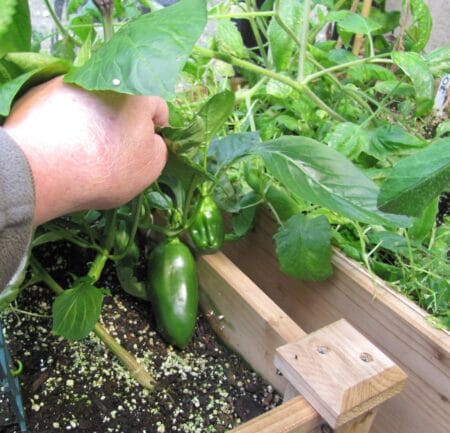 But we also have (gimme a hallelujah now) BLOOMS meaning more are on the way.
Later today, Ure himself (himself and herself being the only pronouns used in rural Texas) will be putting up stainless steel cables because I finally broke through the "proof of concept" part (Earthship Ure's solar, rain harvesting, and burning just enough diesel to keep our right-wing memberships active) greenhouse, that I've loaded up on more grow lights.  (Whew! Was that a run-on sentence, or what?)
On that note, off to see if the Stardew Valley people are going to borrow concept from some of the other ranches out this way.
I mean, there's one good-sized spread down Farm-to-Market 315 called "Dead Cat Ranch."  Which is not only an awesome ranch name, it just screams to be the next crossover video urban/farm RPG (game).
Imagine a cross between Stardew Valley, Castle Wolfenstein, COD, a Stephen King novel, and a heavy metal tour video… yeah, that'd be a hit.  Maybe opening with an action scene from GTA…and a side of Mario barrels at the equipment barn!  Hell yeah…for PS4 and X-Box.  Shipping Christmas 2023?
Now, don't bother me, kid.  I gotta go see if the trademark holder on Stardew Valley has thought to include a real farm in their claims…  Uretopia Ranch might be, um, ripe for rebranding, get it? (We don't want to infringe, of course!)
Instead of dying eventually, maybe we could merge into the video game?  Stardone Valley?
Write when you get rich,
George@ure.net
P.S. Don't you dare beat me to Leisure Suit Larry – Down on the Farm!