Before we get into Retail Sales, I want to announce the kickoff of the UrbanSurvival voicemail comment line.
903-740-0596
Go ahead, call. We love reader feedback, but sometimes you just don't have time to write a comment online. You know, driving, between meetings. We get that life is busy.
Now, that's no problem.  Just call our voicemail comment section.  Start by giving your name and then tell us what's on your mind.  When you do, your comment will be reviewed – and if appropriate, it will be posted like this:
All you need to do is supply the comment.  To record, call the UrbanSurvival voicemailbox:  903-740-0596
Go on now, give it a try. Leave a comment. For someone like Andy, who has interesting comments, I figure it will be easier to do voicemail while grabbing gears rather than texting.
We'll post audio comments a couple of times per week if enough people call in.  Think of it like being a guest on talk radio. But with no host, no hold time, and no ads.  Yeah, baby…power to the phone-in people.
Attention Elon Musk.  This is how you will save Twitter, too. Call for where to mail the consulting check.
OK, Retail Then
Got the statistical confusalator warmed up? Time for the morning spin?  Alright now…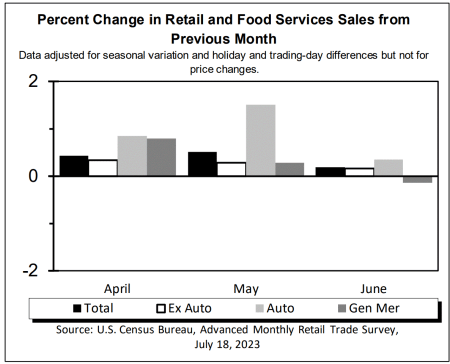 "Advance estimates of U.S. retail and food services sales for June 2023, adjusted for seasonal variation and holiday and trading-day differences, but not for price changes, were $689.5 billion, up 0.2 percent (±0.5
percent)* from the previous month, and up 1.5 percent (±0.7 percent) above June 2022. Total sales for the April 2023 through June 2023 period were up 1.6 percent (±0.4 percent) from the same period a year ago.
The April 2023 to May 2023 percent change was revised from up 0.3 percent (±0.5 percent)* to up 0.5 percent (±0.2 percent).
See, here's the deal with retail.  Had retail come in higher, the odds of the Fed raising a 1/2 point would have gone up.  More spending equals more economic activity and they of the Fed are trying to dial it back. Following?
Of course, the Fed's going to raise anyway. Because the day after that decision next Wednesday (tje 26th) we get to Av 9 on the 27th (or 29th by the traditional Jewish calendar). That's like a very, very bad juju day historically.  Seat belts and barf bags ready?
Market reaction?  With our short-term trading indicators rolling over half and hour before the close Monday, we are in position where a decline of some distance might be along right in this area. Maybe down a percent by Thursday?
Our Aggregate Index rallied to the top of the Wave 2 trend channel Monday to close at 38,742.  Realizing that last month options Friday closed at 37,708, there's an implied one-month gain of 2.7 percent. Which, honestly, seems a little hot.  We still have an economy – but is it hotter than 3-months ago? Naw.
Manic rallies like this allow some clowns to simply buy a buttload of index options and make almost 3 percent in a month.  Missed is that this also drives the annual rate of increase for the market (compounding the present monthly) up around 37 percent.
Which is so stupid, I just want to spit.  We have the same (doddering) president, the poison pill VP, a split congress, and we've given up on the "Debt Ceiling Lie" because that blew up.  (See where this is going? Hand me a skepticism pill.  No, make it two.)
Truth on the Docks
"On the Waterfront" – remember it?  1954 classic Marlon Brando flick.
Not as pertinent to modern financial engineering as, say, the Port of Long Beach container cargo stats for June, maybe:
Not quite as much drop-off in the Port of Los Angeles numbers, but we wryly (really) take these numbers as not presactly screaming Growing Economy!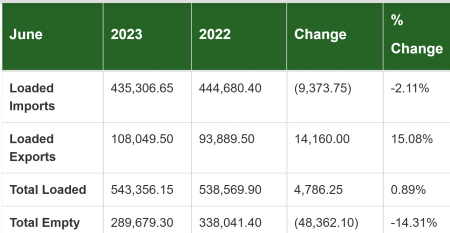 Naturlich, we are incapable of drinking enough of the Modern Monetary Theory Kool-Aid to understand how markets go up 37 percent with this kind of shit-for-numbers.  Maybe I go on a magic mushroom tour with Janet Yellen, you think?
The Fed's Industrial Production and Capacity Utilization will be out 15 minutes before the open.  Thrills, chills, and spills?
Roll Me Some Snews
Dooby what-er's?
See the article in GQ a few days back? How Dr. Dre and Hip Hop Helped End the Crack Era | GQ.  They did? (Hmm. Gotta get my eyes  and ears checked, I guess.)
Kerrying on the Climate Farce: Tackling climate crisis requires 'new definition' of China-US cooperation, John Kerry says. Yeah, sure, my butt. At least Greenpeace is in our (semi-rational) corner: China has already approved more new coal in 2023 than it did in all of 2021 — Greenpeace.  And that was as of APRIL this year.  What the floody buck is Kerry doing to us? Selling us out? "New definitions" is the left's stock-in-trade.  Means bait and switch.
Secretly I think I know the answer: He's prolly confused by all this "equity" horseshit. See in equity speak, it's OK to coal-shame the USA.  Under EQUALITY, we would match China's reductions on some set 1:1 (equal) level.  If no ChiCom reductions, no consumer pain for us foreign devils in America.  Nope, looks and smells like woke dopes at work, brothers and sisters. Kerry on.  Nothing to think about here.
Which the Ameri-Left panders with stories like U.S., China discuss curbing coal usage and methane emissions.  TALK IS CHEAP!  It's been all talk with China on climate for years and years… Jesus, people, get real!  All China has to do is keep the Chinese food tours going and let us talk ourselves silly as they keep approving news Coal Plants. F8ck that. See how stupid 'Merica has become?  Any sweet song with do, here lately. FMTT. Disgusted with Kerry and Buyed 'em.
Pin the Label on the Donkey becomes Donkey pinning on labels? The Biden Administration Plans To Combat Cyberthreats In Smart Devices With A New Label. We're not sure anyone who reads 2600 will give two rips about this the U.S. Cyber Trust Mark. Just more code to work. Where are we? Um, Volume 39 current and the polo shirts are back? 2600 POLO SHIRTS BACK IN STOCK | 2600.  Ahem.
Speaking of data insecurity: Chinese hackers took email data in breach hitting U.S. government, cyber agency says – Washington Times. Surprised? Nope.
And no, you're not invited: Coinbase CEO to Meet US House Democrats to Discuss Crypto. Half a satoshi bet on the side says the crypto peeps will tell the Dems how to make bank in return for…(come on, you ain't stupid, are you?). Meanwhite BTC is in danger of slipping under $30,000 this morning. Equity markets to follow? Uh-huh, but a rally into the weekend maybe?
Side of War with That?
Leave it to Newsweek to untangle How Russian Forces Are Fighting Ukraine's Counteroffensive. We balance this against reports like NATO planes land Ukraine to pick up dead and wounded: Russia bombed mercenaries and Western officers in Kharkiv and Ukrainians to launch massive attack on Crimea: British underwater robots blew up the Kerch Bridge – They knocked it out for months!.  Expecting to get it back in operation (one lane) by September-ish. Criminy in the Crimea this fall. Stay tuned. Googles at the ready?
Around the Ranch: SMT Training Kit
Heathkit – which was the America electronics kit maker for decades is continuing its return. Got a note from them Monday that my Surface Mount Technology training kit should arrive this week. Picked up a pair of LCR tweezers on the cheap, too. ($2o on the Zon)
Been an interesting 74 years seeing the changes in electronics.  Spanning from the period when single sideband (voice) was new stuff to now when literally a dongle and SDR++ or SDR# and you have a good radio.
Thing is nowadays, the components are getting so tiny, I'm using a 7-inch soldering microscope and – depending on how this actual training stuff works I may upgrade to a 10.1-inch scope.
Well into the second cup of tea, it strikes me that there has been a huge amount of progress and it just keeps compounding. 200-years ago, people could live a life in America where the biggest change might have been a new courthouse building going up.  And that was it for local change.
Just here in the past hour I've got three new updates to roll into my various platforms. So, from a life of black and white TV to color to cable to streaming to phones to Starlink to whatever the next CES shows off.
A summer's morning reflection on what's it's like to be older than microwaves and older than remotes for devices.
Yet despite the progress, is the air cleaner? (No)  Is the food more nutritious? (No). Are the leaders of America any better? (Hell no)  And are we more at peace? (Duh)
Sure, people 200 years ago didn't have the same life expectancy we have today. But, when you back out 2200 hours per year of work plus another 250 hours of commuting time, do we really have any more "Personal Thinking Time" than we did in the shorter but more privately lived times?
Sure, we've added a ton of interesting trinkets, let no one doubt. I keep coming back to the idea that Humanity may have passed Peak Human Life in about 1960 in America – with other countries (where resource extraction is on a roll) and now going through the Big Quality Rollover. Stand by to slam violently into the edges of the Petri dish.  With a side of famine, as well.
Certainly, something to think about, isn't it?  Trinkets, pollution, taxes, ESG nonsense and social. All to live in a more dangerous world among less trustworthy people than days of yore.
If this is progress?  I'm going with Ned Ludd. More time for soul work and less time for software, thanks. Except here I am rolling out voice-to-web…which is all about software.  Go figure! Damned we all are with internal contradictions.
One for the road: See the berberines for weight loss discussion in the comments of yesterday's column.
Write when you get rich,
George@Ure.net