There is a reason our Peoplenomics report Wednesday focused on the light-up (into World War 3).  Because the waveforms are screaming odds of a replay of 1929 are materializing before us.
Consider this view of the pre-Depression Dow and our own Aggregate Index work which is a meta index more suited to widely dispersed modern markets:
We believe (but this is not financial advice) that the run-up and subsequent collapse into the Great Depression is mirrored in modern times.
In fact, if we line up the decline from the likely peak of the modern Wave 2 rally (July 31, 2023) and align it precisely with the decline from the September 3, 1929 high, we are just crazy enough to see what looks like a "rhyme."
The global investment world is much faster nowadays, of course. Inter-market entrainment is faster.  So the informational asymmetries that accentuate declines are not likely to be quite as extreme.
But, having said that, as a late mentor of mine taught, "The markets will still make their targets."  And if that's the case, prices half of present index levels could arrive before "sell in May and go away in 2024."
As you can see, we not only see a halving between now and next May (and maybe before the end of January), but we also can project a fifth wave decline (war? depression?) when the final Wave 5 down happens – if indeed it does at all – ahead of the 2024 (presently scheduled) election.
A More Immediate Problem
We can't say with appreciable certainty that such a future will arrive.  It's more like a geophysicist looking at the seismographs and seeing what has historically been a series of precursors to a major temblor.  In fact, there are real (brilliant) geophysicists like Didier Sornette who uses precisely this approach to "solving markets." Which he laid out in "Why Stock Markets Crash: Critical Events in Complex Financial Systems."
The math in this one was reasonably intense (I waded through it back in 2002).  Much more recent (and approachable) was his "Man-made Catastrophes and Risk Information Concealment: Case Studies of Major Disasters and Human Fallibility" which makes more sense if you have an understanding of "news influence" and some senior management time under your belt.
In our recent discussions of time theory and the various approaches to "knowing the future in advance" it should be evident that Remote Viewing is one, Big Data Set linguistic shifts is another, Dream work has to be in there. As does fractals (which a long-time reader/contributor generously explains on his site The Economic Fractalist over here). Next we have to blend in Elliott waves, Trend Channels, and even successive waves of technology documented by Andrew Odlyzko (An Undertaking of Great Advantage, But Nobody Knows What It Is)  and of course, Cesar Marchetti's work on successive S-curve replacement modalities.
Throwing the whole of it on a wall (which we did as the Internet bubble was collapsing), we noticed the 85-day moving average seemed to be a better long-term investment "long or short" indicator than the more common 50, 100, and 200-day moving averages.
Which gets us to the problem at hand. We just broke under the 85-DMA.  I penciled in a big arrow so you can see the area of the fight ahead:
Having broken the 85 DMA, the next chart (visual logic) support level is the lower bound of the long-term trend.  We expect something of a bounce before the market goes into the weekend, but the odds of panic declines next week, cannot be written off as entirely improbable.
Concurrent with this is the Bank of England, which, like our own Fed Wednesday, held rates in place.
"The Bank of England's Monetary Policy Committee (MPC) sets monetary policy to meet the 2% inflation target, and in a way that helps to sustain growth and employment. At its meeting ending on 20 September 2023, the MPC voted by a majority of 5–4 to maintain Bank Rate at 5.25%. Four members preferred to increase Bank Rate by 0.25 percentage points, to 5.5%."
We expect central bankers to continue failing to realize that when tax revenues don't keep up with interest alone on national debt, that raising rates becomes a form of financial suicide. In effect the CBs will be charging themselves more when rates are raised.
Except, the news may intervene.  I may be crazy, but I'm not giving this week's winnings back.
Data Day
Philly Fed
Key Current Indicators Turn Negative
The diffusion index for current general activity returned to negative territory, falling from 12.0 in August to -13.5 in September (see Chart 1).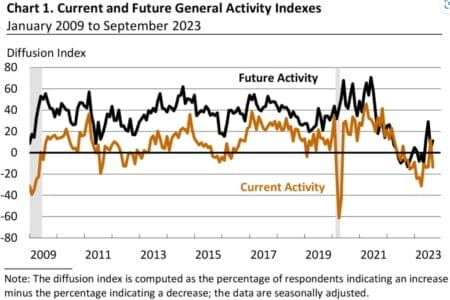 Current Account:
The U.S. current-account deficit, which reflects the combined balances on trade in goods and services and income flows between U.S. residents and residents of other countries, narrowed by $2.4 billion, or 1.1 percent, to $212.1 billion in the second quarter of 2023, according to statistics released today by the U.S. Bureau of Economic Analysis (BEA). The revised first-quarter deficit was $214.5 billion.
U.I. Filings
The experience of unemployment filings:
Little on tap Friday, so a bounce into the close is possible. Next week, though, Housing on Tuesday is iffy.
WW3 – Progress Report
Our Manufacturer's Resource Wars have broken out all over the place.  At least 8 and arguably 10 fronts are active now. Places like Armenia, Ukraine, Syria, Turkey-Greece (pending), Palestine, Gabon, Niger, Taiwan (pending, possibly this weekend), North Korea…(Yoon: Seoul will not 'stand idly by' if Russia and North Korea make weapons deal – UPI.com). And how are India and Pakistan getting along off the cricket pitch?
Ukraine today not only has a problem with Russia, but also Polish Prime Minister: "We cut off the supply of military equipment to Kiev" – Preparations for an invasion of Western Ukraine? Kiev's got a major problem rolling out.
Which then gets to another report centering on the question of when will the Slow Joe administration commit American forces to the fray.  Just now we read Strange incident in Moldova – Farmer finds American soldiers: "Leave, we don't want you" (vid). Sightseers?
Meanwhile, corporate chieftains are slicing up Ukraine after (if there is a Ukraine): Volodymyr Zelensky holds secret NYC meeting with private equity bosses at JPMorgan, Google and Blackstone to discuss rebuilding war-torn Ukraine.
We see similarities with an Optimist's Club meeting.
Oh, not a war front yet, but going on the watch list: Saudi Crown Prince on Iran acquiring nuclear weapons: 'If they get one, we have to get one' | The Hill.  Gee, ain't world wars swell?
Taiwan Tingles
Color us skeptical of China waiting until the Taiwanese election in January before forcing the reunification play.  There are multiple reasons, but the main one is the U.S. arms will be arriving shortly and the Buy'ed 'em administration has the blue coats coming to lock in closer relations (as you'd expect from the war party).  State governors from Arizona, New Mexico seek stronger economic ties with Taiwan. And Virginia has opened a tourism office there.
Meanwhile, China would also edge toward an early (*surprise?) reunification because the western media positioning frenzy is being started up: Meet Taiwan's resistance. If China invades, civil defence groups stand ready. Then toss in the much lower odds of a moderate winning in January: Taiwan's Former Top Cop Wants China Talks If Voted President.
If reason won't prevail, then guns will. And delay just gives more time for arms to flow in.
Everything Else
Stupid distractions abound, don't they?
The American communists are at it again: The US is allowing hundreds of thousands of Venezuelans in the country to work legally.  Borders for Ukraine, but not America? WTF, Joe?
Along those same lines: Mexico has either just overtaken China as leading exporter to U.S. — or it's had title all year – MarketWatch. We assume they mean goods, not people.
Strike movement possible? Stellantis makes a new contract offer as UAW prepares to expand their strike.
BTC tumbled back under $27K with the market's drop Wednesday.  Meantime, Mt. Gox extends repayment deadline by one year (crypto.news).  Kicking a virtual can down the road.
ATR: A Consult with the Dead
This is another in my continuing "woo-woo" adventures resulting from working hard to improve recall of events in dreams and carry them back to the waking world.
Sounds nutty, for sure, but damned interesting at the same time.
The bottom line of his (and we've been on the "knowing future in advance problem" for a couple of decades now) is that there is "entertainment and information flow" in the afterlife.  A message received loud and clear from doing a "news shift" in Dream Realms at what was almost like a radio station would be here in waking world.
Well, except the morning news host was someone I worked with in the early days of KMPS in Seattle, who'd come from  our sister station in Sacramento.  Who (here's the kicker) died in 2007. If you haven't figured it out from your own work, souls in dream realms may be living (still alive in waking) or deceased over here.  All works the same in dream realms.  Which is neat to grok on the shamanic trail.
I could go on for hours about this unique experience, but the main thing I woke with was a rather fascinating question I'd never asked before.
Given that the future is in some way "voted into existence" by the global mass consciousness, is the DAILY NEWS supposed to be teaching us something?
In other words, when we experience or absorb a "news item" is it coloring or instructing on some aspect of pending future?
Whole different way of reading the news, right?
For example: Hollywood studios, writers near agreement to end strike, hope to finalize deal Thursday, sources say (cnbc.com).  What have we learned from the strike?  That human creativity is addicted to change.  We need a constant parade of fresh ideas and notions?  Hmm.
Or is there a teaching to be found in FT World News on X: "'Enfeebled' UN fights for relevance in divided world? Is it a subtle nudge in the direction of "War is coming because ya'll can't get along?"
This was one of those dream-to-waking lessons that will take a few days to process. But the hint and message (is waking state news trying to teach us things?) meaningful or just a side effect of working on lowering my personal noise floor?
Ah.  Grocery run day ($700! Yikes!)  Fortunately, my lunch money day trading addiction has been paying off nicely. Might even reenter a short position after a rally into Friday.  We shall see.
Write when you get rich,
George@Ure.net