We don't usually speak grossly, but we have been telling you since not long after the July 31 high this summer that we were going down into the macro-Wave 3 Down.
We also from last week were pointing with an arrow to the bottom of the ascending trend line.  How we go down and through that on our way to Perdition will be on the subscriber side tomorrow.
Still, with the Dow down more than 400, we wanted to share how close things are to bouncing off the bottom of the ascending trend channel: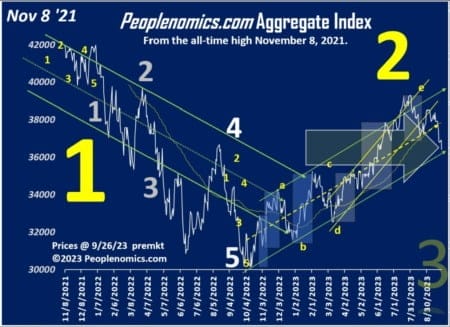 This is not to wish anyone ill or poor returns. It's just a lesson in life that a dime-store MBA can compete with most of the High Dollar cliquey schools where who you know and who sells blow means more than thinking independently.  (Bitter, Ure?  Naw… making a point, though.)
It's just that we may be crazy, but our "sticking to the numbers" seems to pay off now and then. There is (from last night's events) more reality in pro wrestling than in this market.
Here's to short side lunch money!!!
Write when you get rich (and look for much more on the $40/year Peoplenomics.com site tomorrow with over a dozen charts.)
George@Ure.net