Yo Biden!  Ever hear of Jimi Hendrix?
"Hey Joe, where you goin' with that gun in your hand?
Hey Joe, I said, where you goin' with that gun in your hand?"
(Maybe there are some people who shouldn't have guns, huh? )
No doubt, you have seen the headlines floating around with old Joe in Europe doing the jaw-flap:  Biden Says to Expect 'Real' Food Shortages Due to Ukraine War.
Here we were, back in December of 2021 telling you to "Get ready, think about radiation-resistant growing space…"  Doubt it?  Try on the December 26th column UrbanSurvival ShopTalk Sunday: The Christmas Room (Part 1).
See, there is a whole class of human "knowing in advance" that just doesn't get the respect its owed by "modern science."
Hillbillies and Rednecks, Joe
Sadly, president Biden (or, should we say buy'ed 'em?) doesn't know much about real work.  As a lawyer and career politician, he works with his brain and is in the business of "directing others."
What management science teaches us, though, is that exactly this lack of real hands-on is what leads to the pervasive gap between "Working People" and those who pretend to lead.
Two classes of people deserving honor are – in this observer's opinion – the real National Treasures for our future:  Hillbillies and Rednecks.
Let's read you in with a couple  of Wiki snips.  Hillbillies first:
"Hillbilly is a term (often derogatory) for people who dwell in rural, mountainous areas in the United States, primarily in southern Appalachia and the Ozarks. The term was later used to refer to people from other rural and mountainous areas west of the Mississippi river too, particularly those of the Rocky Mountains and near the Rio Grande.[1]
The first known instances of "hillbilly" in print were in The Railroad Trainmen's Journal (vol. ix, July 1892),[2] an 1899 photograph of men and women in West Virginia labeled "Camp Hillbilly",[3] and a 1900 New York Journal article containing the definition: "a Hill-Billie is a free and untrammeled white citizen of Alabama, who lives in the hills, has no means to speak of, dresses as he can, talks as he pleases, drinks whiskey when he gets it, and fires off his revolver as the fancy takes him"
Rednecks are a Little Different
Although Hillbillies are a kind of Mason-Dixon phenomenon, rednecks are a little different, says here:
" Its meaning stems from the sunburn found on farmers' necks dating back to the late 19th century. Its usage is similar in meaning to cracker (especially regarding Texas, Georgia, and Florida), hillbilly (especially regarding Appalachia and the Ozarks),[3] and white trash (but without the last term's suggestions of immorality).[4][5][6] In Britain, the Cambridge Dictionary definition states: "A poor, white person without education, esp. one living in the countryside in the southern US, who is believed to have prejudiced ideas and beliefs. This word is usually considered offensive."[7] People from the white South sometimes jocularly call themselves "rednecks" as insider humor.[8]
By the 1970s, the term had become offensive slang, its meaning expanded to include racism, loutishness, and opposition to modern ways.[9]
The Lesson for Slow Joe?
As that last sentence indicates, the definition of redneck was expanded to include racism.  But out here in the real Outback of America, everyone gets along pretty damn well.  A Black friend (ex-Force Recon) gets along great with everyone (except genuine 100% assholes – which occur in every race).  Great guy.
Same thing with the mixed breeds fellow up at the big intersection:  Part coon-ass Louisianan, part Creole, part Mexican, but just the nicest damn human being there is.  Delightful to listen to, as well.  Imagine listening to a French-Canadian with heavy South-Texas spilling into Mexico drawl.  Ear candy to listen to.
Biden's crew – the ones trying to paint everyone a racist – and "keep us all stirred-up" – is sadly the same as the GOP.  Like him or not (and Donald Trump IS up to his ass in legal troubles and on offense now) at least Trump had the good sense to make son Donald Jr. work every position in the building trades.
The "Right Medicine" for America these days is not to wave racial flags and capitalize (on) racial identity.  It's to get back to being what America does best:  Being a melting pot.
About the only area where this country has succeeded in The Big Melt has been food.  In the Divisive States of America, Asian, Black, Italian, Mexican, and Whites are called racist all the time.  BUT that's only in the crooked, trouble-monetizing media.
When you get into restaurants, or in the chow line?  Won-ton soup, and some pot-stickers, some hickory smoked BBQ, slice of pizza, a steak fajita, and ice cream for dessert all works.  No EEOC, no Constitutional Crisis, no non-stop freaking emails wanting to raise money using the awful hate online toolset.
Climate?  Sure, we read stories like Colorado mountain project offers vision of green housing's future.  But everyone out here has rolled up their sleeves and gotten-right with the land somehow.  Backwoods cultural expropriation as a monetized movement?  GMAFB.  We are green out here – long before the slickers jacked the way.
Biden, Congressional, and GOP Disappointments
The whole lot of them – the Gang that Can't Think Straight – need to have a "Come to Jesus moment" please, on behalf of an entire nation.  Stop dividing and start thinking, goddamit.
America needs a National Future Office.
Where Biden – and his ilk, including the worthless GOP – fail, is they don't offer a single damn solution when they issue dire bullshit like "Food shortages – real ones – are coming!"
If UrbanSurvival and Peoplenomics readers could see it coming late in 2021, we have to also mention – and this is Biden's epic fail – he didn't offer any ACTION PLANS.
Here?  Well, we have been actioning our asses off.  We know hard times are coming.  We've referred you to great books that can tell us what it might be like again.  "The Hungry Years: A Narrative History of the Great Depression in America."  While in economics, perhaps the best of class from the Depression (the one before this) might be Richard T. Ely's "Hard Times – The Way In and The Way Out "With A Special Consideration To The Seen and Unseen."
Preppers Also Know
Although Biden may not see it, it was obvious to a lot of us more than 20-years ago. "Old men of the web" – the likes of Gary North and Jay Hanson – who read the same data we did and began to sound the alarm.
Fact is, Howard Ruff – who I interviewed first in the 1980s – may have gotten there first with his Ruff Times and insistence on buying bags of "junk silver coins."
But even Howard followed a path; widely held today among the Later Day followers from Salt Lake.
Preppers, as a lot, have tended to front-run history.  History is written in the future and we can all sample – and see what's coming – when we choose to.  A lot of people simply won't, though.  Too uncomfortable. Real work may be involved.
Flashback to the early 1980's and an interview I did with Gray Cardiff on "The coming real estate crash."  He was early – way early.  But, he was dead-to-nuts right.  Like that Housing Crash, did you?
Not to put too fine a point on this, but a fellow named Chuck Marunde came out with a book (end of last year) with an interesting harmonic vibe that's on my reading list: The Coming Real Estate Crash in 2022: Avoid Buying or Selling At Precisely The Wrong Time.
Not saying he's right, but that's why we get enough years on this rock (generally, there are exception) to figure this stuff out.  We've been looking for a recession (or bigger) to begin in Q3 of this year.
By then, Biden's real food shortages ought to be here.  We're just hoping there's not fallout with it.  Though recent stories like Biden says U.S. would 'respond' to Russia if Putin uses chemical or biological weapons have us thinking this will be more than high tea and crumpets.
What are the Takeaways
First and foremost is the dollar delusion is still in play.  The market futures were up another hundred.
A week, or so back, I worried on the subscriber side that the ENTIRE decline from the November 8 market highs in late 2021 to the recent market low notched March 14th in our Aggregate Index was a Wave 1 down.
Since then?  No exaggeration to call it "Crack Baby Markets" when you look at how just over a week of trading has blown us skyward:

In the Mind's Eye?
Our Aggregate Index work let's us see how the "fix is in" pretty well.  A highet open this morning on hype out of Europe and whatever passes as financial news, but our "What If Modeling" already tells us:
Early futures place the Aggregate around 38,860.
Our target zone?  Well, see the Wave 2 targets that have already been met if – and this is not advice – the Wave 1 down was November to the 14th of March:
As you can see, there is a case in the yellow-circled area that we could hit the 50% retracement – almost on the nose – at this morning's open.
However, as the question marks under that emphasize, we could go even higher.  a 0.618 (Fibonacci) retrace could  drive us as much as another  500+ Dow points up from even these absurd levels.
Might happen.  Might not.  But for now, until the market highs of last November are bettered, the Elliott Wave rendition of things offers caution: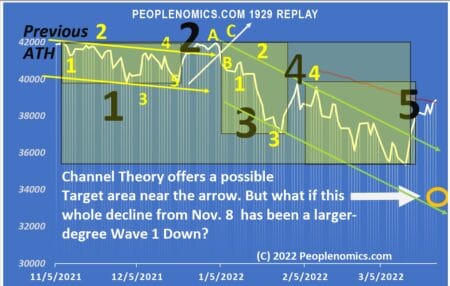 I can't speak for you, but seems to me, this is a fine time to be cautious.  Absent a real breakthrough in Ukraine (and no, Zelensky at the Oscars sure as hell ain't it).
For now?  Off to work in the garden (at 73, this is my take on "retired").  Might even test HHC this weekend to see if it's a better pain reliever for old folks than CBD gummies.
All while this here song is on the sound-card in my head:
(*Thank you Hank, Jr!)
Also from the heart on G's tune-stack upstairs:
And lest Joe f*ck this up, too:  The outback ain't about anyone's supremacy, except God, Freedom, and Country.  We either ALL got each other's backs or we're going down.
Communist China and their left-wing puppets worldwide are banking on it.
Write when you get rich,
George@Ure.net
P.S. No word back from the Major and his wife in Mexico – will pass it along in the next column…but sincere thanks for all the prayers and well-wishes!