How long ago did I tell you?  We are likely in a large Wave 3 down now.  Hold that thought.  Couple of hot economic numbers to deal with before we go deep.
Breaking: Housing Data
Or should we call it "partly broken?"
Key part:
Building Permits
Privately?owned housing units authorized by building permits in December were at a seasonally adjusted annual rate of
1,330,000. This is 1.6 percent below the revised November rate of 1,351,000 and is 29.9 percent below the December 2021 rate
of 1,896,000. S
While we're at it, a side order of hashed Philly Fed outlook, with that?
"Current Indicators Remain Weak
The diffusion index for current general activity rose from a revised reading of -13.7 in December to -8.9 in January (see Chart 1), its fifth consecutive negative reading and seventh negative reading in the past eight months.* More than 33 percent of the firms reported declines in activity, exceeding the 24 percent that reported increases. The current new orders index rose 11 points but remained negative at -10.9, and the current shipments index climbed 12 points to 11.1 after turning negative in December. Nearly 30 percent of the firms indicated increases in shipments compared with 19 percent that indicated decreases."
After yesterday, don't look surprised at the market preopen being down.
Now to the Point
Why, I even went so far as to warn that we could imagine a "Big Yellow 3" back in October of last year. Here we is.
Wave 3(2) Over? Personal Income and ECI.  Sadly, we were EARLY on the completion of Wave 2, but swing and day trading is much for "Vegas-like" than long-term (read: boring) position trading.
With the fall from the nearby overhead resistance trend (declining green line below here) we can now see a case where the long-held expectation of a 30-40 percent decline from present levels could be along by, oh, the Fourth of July.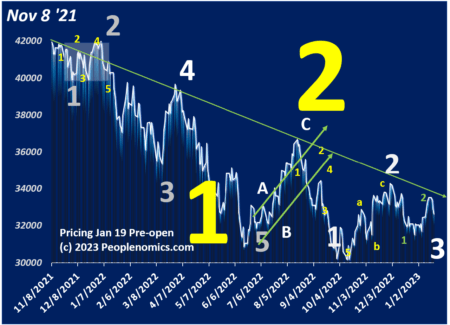 So, to wrap it up, we are still LIKELY in the Big 3 Down.  And the yellow 3 down began with what might be more formally written as 3 (1) down (*the large white 1 down to early October).  Then we did the LIKELY 3 (2) up (*the big white 2 lower right) and we have now (as of yesterday) probably done the 3 (3) (i) down (small green 1 down), a suitable rally 3 (3) (ii) which could put us at 3 (3) (iii) down which is I THINK where we are now.
In other words, we are now out on the quicksand area where the Bears (let's just say it was a green Wednesday around here) have their way with the Bulls.  Love markets that are strongly trending.
What's Going Wrong
If you don't have a list of a dozen reasons, you need some remedial schooling and a Wall Street Journal subscription.  We have more problems than you can shake a stick at.
Not the least of which is WW III which the Biden administration is sleep-walking into.
U.S., Germany head for showdown over tanks for Ukraine.  The decision on this is a forgone conclusion:  Biden needs a war to light up the defense industry and get some Big Money support for his planned rerun in 2024.  Crass, but that's how it looks in the Outback.  And if it goes nuclear?  Wrap it up in a flag and rerun Joe on the theory "Don't change horses in mid-stream."  People are stupid, plain and simple.
While we already know which cities will likely be Russian first-strike targets, six of which are listed in the article Nuclear-Bomb Targets in the US Include 6 Cities That Aren't Prepared earlier this month, we figure it's an incomplete list overlooking Seattle (Bangor's subs, Bremerton Navy yard, and more software than you can shake a cruise missile at.  And Phoenix didn't make the article, but that's where the U.S. is pitching its new TSCM fine-pitch chip plant.  No, no, no.  Adds up to eight places.
Our thinking is that the only thing keeping Russia from first use of nukes right now is public relations.  Vlad Putin is probably awaiting Israel's likely use of a glowing "bunker-buster" to take out Iran's quickly increasing number of uranium=based bombs.  Which has emboldened Iran: Iranian general threatens US, Israel: 'Soon the Great Satan will be destroyed' | Israel National News.
Too late, of course, because the first Obama administrations screwed the pooch by sending fair-game war money to Tehran, but in the Obama continuation administration, there's a realization that giving mullah's pallets of cash was maybe a first-class boo-boo.  With the pivot seen in Blinken says Iran deal no longer a priority, warns Tehran of 'consequences' | The Times of Israel.
…and the hits just keep on coming….  Try the take at Russia-Ukraine War at One Year: Congress should not offer another dime until these 4 questions are answered to get a feel for how Biden backing Ukraine borders but not America's is playing in the Real World.  Last week, Mexico's president grimly reminded us there are as many as 40-million illegals here in Uncle Country.  Thanks Joe and Kam!  Well screwed!
Biden War profiteers stand ready to make a "killing" (so to speak) by selling advanced jets to both sides of the upcoming Greece-Turkey war over (what else?) energy off Crete.  Turkey Asks US for F-16 Jets Amid NATO, Congress Rows, while the US is also selling F-35s to Greece.  Who was the former head of Raytheon, again? Lloyd...uh…  Foxes get to count the sheep with the neocons running interference.  Great! Nothing to see here.
Think we're a tad on the pessimistic side?  Well, consider Putin ally Medvedev warns NATO of nuclear war if Russia is defeated in Ukraine.
Ah, we could wax on for a good long while on point.  But we are only the tiniest of media pipsqueaks.  And we do understand collapsing ROI.
American Distraction Day
Debt Ceiling hits today. U.S. gov't touches debt limit amid standoff between Republicans and Democrats.
We are not in the least surprised.  And we figure at the two or three week mark into the insanity the "sit on Social Security, military and federal worker retirement checks card" will be played.
Here in Texas, we have enough cattle that bullshit is fairly predictable.
The News Compactor
New Zealand steps back from being a totalitarian state. Sort of. New Zealand Totalitarian Prime Minister Jacinda Ardern Announces She Will Resign and Step Down on Sunday.  We have many readers there and they remind us that this is the woman who called "free speech" a "weapon of war" at the United Nations.  Again, Texas and stockyards is noted. Sane people don't "do war."
The flip side, good policies but with some personality flaws: Donald Trump preparing return to Twitter, Facebook and Instagram this month. We're still trying to figure out why CNN wasn't at Biden's Corvette Show like happened at Mar-a-Lago…
The problem with liars is you can never tell when they're telling the truth.  Here's a fine example story:  George Santos denies taking $3,000 intended for disabled veteran's dying dog.
Is there a doctor in the house?  Dr. Martens Shares Dive After Profit Warning – MarketWatch.
Cue up "Another One Bites the Dust" for me?  Crypto lender Genesis weighs up bankruptcy amid bruising liquidity crunch.  "...And another one bites, and another one bites…"
Crypto Apologists please note:  While we are entertained by the notion of some post-democracy role cited for cryptos, the reality of real-time-crime money just keeps being supported by the data.  Two examples of Ure's long-held "Don't do it!" are seen in Bitzlato owner arrested & charged by DOJ over illicit funds (paymentexpert.com) and oh, my: US nabs China-based Russian crypto boss over alleged money laundering.  If you think owning crypto is a drive toward freedom, remember in the previous depression, gold and silver was seized by the FedGov.  And in this one, made-up money will likely be seized (or directly outlawed) as well.  If you can't see that, remedial financial history is in order.  Might we suggest a book like "MILLENNIAL APOCALYP$E: Why You and Other Millennials Are Tracking Toward Financial Disaster and How You Can Avoid It"?
And there goes another country coming to its senses!~ French crypto firms to mandatorily seek authorisation – ThePaypers
ATR: Digital Scrying 101
Before I head off into another day of being the High Priest of Living Below Your Means, a word, or three, about scrying.
To scry, is defined as "…foretell the future using a crystal ball or other reflective object or surface. "a mirror used for scrying"
Which we obviously don't do, since we are biomass farmers, not mystics.  Still, however, we can use computers and digital inputs in much the same way.  It's less messy than Nostradamus' oil pot.  (Which reminds me I have to ask G.A. Stewart one of these days to do a big write-up for our Peoplenomics side on all the nuance of technique used by Nosty in seeing ahead.)
To attain, and get some sense of future, all you need to do is read a news item and then ask yourself some basic questions:  (Example story in brackets)
Knock-on:  "Will this story cause or trigger something?" [Ukraine-Russia]
Escalation: "Will this story escalate or deprecate?" [Debt Ceiling]
Reaction:  "Who does this story impact and how will they react?" [Climate change]
Urgency:  "At what speed will this story lead into the future?" [Covid]
Identification:  "Will this story appeal to a subgroup or tribe, and what are their interests?" [Reparations]
Propagation: Do the media controllers (rich pricks) want this item to grow in the public mindset they manage, or would then just as soon see it dropped from the public discourse? [Trump vs. Desantis]
Monetizations:  "Who's going to make money?  Who's going to lose?"[Crypto]
One of the nicest things anyone has asked me in a long time was when George Noory wondered on Coast-to-Coast-AM recently words to the effect "How did you learn to think like you do?"
The answer – and a long-delayed thank you to George (for the Dec. 26th visit) for asking – is (I will try to keep this short) that most people have "high internal noise floors."
It's like static on the radio.  Takes a while to get all those "pre-programmed voices in mind to shut up.  Hard work, but over time you discover "self-talk" is not really yours so much as it has been fed into you by others.  Parents, teachers, friends, people you look up to, and so forth.  Anyone you remember has imprinted your thinking.
[Another book is swirling around in my head this morning:  "Managing the Voices Within."]
My "style of thinking" (as it were) is it's the result of telling internal voices to shut up and listen.  Sure, you will still have all that embedded "programming" available for recall, but it's a matter of imposing some will power, self-discipline, and forcing all the voices to stop interrupting when listening.
Try it sometime: Imagine you are an interviewer of the next three people you meet.  Ask them questions, hear what they tell you, then ask logical follow-on questions that are prompted by what you've just been told.
When you do this (and being a long-time reporter/anchor was key) it becomes the "art of interviewing."  Once you really get into the habit of actively interviewing everyone you encounter, you'll be amazed at how clear the world becomes. That's why Noory is a damn good interviewer.  He listens to his guests and then asks the questions people in his audience would ask, if they could.  Joe Rogan – same thing, a few saltier word choices.
Actively question everything.  Life is about discovery, not tripping. Every assumption you make, every ad you hear or see, every book or email you study, and every voice you hear in your head: conduct them like a symphony of learning.
Eventually, something changes.  You deemphasize judgement and roll into an interviewer/moderator role.  Seekerhood.
What happens is that the voices in your head become almost like a studio audience.  You are the moderator/interviewer.  And there is ALWAYS an important NEXT QUESTION to ask on the path to Deep Understanding.
Don't mean to ramble, but this is analogous to the Activex or COM layer in computing.  We all have a database and tons of relative data to share.  But if there's "noisy code running" you miss the HDR experience of life.
Then simple questions emerge:  "Why should I give you MY money?"
Notice when you listen-talk to people, too.  Are they interrupting?  Voices are screaming in their heads?  Are they asking follow-up questions?  Or selling you someone else's ideas?  If they drop into "selling something," are they really paying attention to you or just going through the motions because they're working a monetization or soldier-gathering operation?
Makes getting out in the world (now and then) a lot more interesting.  Turns every event into a "classroom session."  And people do respond.  They can tell when you're genuinely interested in them.  And that matters deeply to all humans.
A word from my "onboard audience."  They think the market will drop today, but perhaps turn up a bit late into the close.  A good rally is sensed early Friday as possible but fading toward the Friday close.  The big declines are still ahead, they murmur.  Which is pretty damn rude of 'em.
Your voices may speak a different future. But the aggregate quantum observer consensus will be the most likely future when it gets here.  The really bad future is still out there a ways.
Write when you get rich,
George@Ure.net