I've been doing a lot of work on Ure's personal taxes this week.  It's the time of year when a collection of red folders come out and various tax forms go into the folder after being entered in the "tax working directories" with backups, data dumps, and the odd spreadsheet.
The best single tool anyone can have is a first-rate scanner set up in such a way that everything crossing the desk is almost automatically scanned into the right folder.
To the point?  I think a lot about taxes this time of year.
I've also been thinking a lot about crypto currencies (and taxes) ever since the Fed and Office of the Comptroller of the Currency and the F.D.I.C. issued their statement a week ago on how the Crypto's pose a threat to Central Banks.
Which (fast-forward to this morning in Europe) is likely why Jerome Powell decided to appear at a forum on Central Bank Independence.
Sure, everyone is looking for Powell to say something Market-Moving.  But we're really much more interested in any mentions about Crypto because (as three agencies have just warned) that fast craps game in the alley out back poses an existential threat to traditional Nation Banks.
We try to "connect the dots" and our thinking point this week has been on "Tax Leakage."
Specifically, the Federal Governments of the world, don't hate Crypto except for a handful of reasons:
Cryptos attempt to enable "secret transactions."  For example, when that Russian merchant ship made an unscheduled drop-in at a South African naval bases this week, was there a one-for-one trade (in something bad) going on?  Or – as would be expected if values weren't nearly pound-for-pound equal, might there have been a Crypto side deal?  Hard knowing who the bad guys are, if you don't know what they are spending their money on.
Cryptos wreck National monetary agendas in several specific ways.

First. they neuter a nation's ability to "make up its own money" and thereby influence (in very specific ways) the direction of relative international currency values.
Second, they have a much different "turnover" function.  Just as in electronics, where power is stated in Watts as a function of Volts times current in Amps, the analog in economics goes like this:  Power in economics equals Number of Currency Units times their annual Turnover Frequency.  In other words,  a $1-trillion turnover (units/turned over per year) may run well on a money supply of $1-trillion which is "turned over" a single time annually.  But, a $1-trillion valued competing "currency" turned over 10-times a year is a wildly different kettle of fish.  Highly inflationary.

But the BIG issue even above these is that Crypto transaction – given a multiplicity of ledgers and clearing schemes – is far more prone to Tax Leakage.  Which Central Banksters feel is important because governments want their "vig."
This is all pre-Powell speculation, but now that governments are considering their own ledgers and their own crypto schemes, what we are likely in the beginning stages of is the Official War on Cryptos.
Updated: Powell's remarks might as well have been delivered by Caspar Milquetoast.  Said the Fed would not be a climate policymaker and how they needed to be independent.  Blah, blah, blah.  Such as:
"But without explicit congressional legislation, it would be inappropriate for us to use our monetary policy or supervisory tools to promote a greener economy or to achieve other climate-based goals.7 We are not, and will not be, a "climate policymaker."
Way to go, Caspar.
Which (don't look now) is likely one item I.R.S. was planning to be involved with having planned a massive hiring program.  As of this morning, the republicans have made good on a campaign promise to attempt to stop the hiring plans (House Republicans pass legislation trying to block new IRS funding).
But as so often happens in this journo-scribbling space, there is the matter of tax avoidance (leakage) and the illicit businesses (drugs, sex trafficking, arms sales, bioweapons) that came along with Cryptos.  Which were, you'll remember, a reaction to tightening of tightening offshore tax haven rules including the line of lawsuits that required banks with a branch in the U.S. to open records of offshore subsidiaries to American authorities.
You can read some first-rate detail, about (among other things) how the Cayman Islands would return to being a small country with a few fishing villages were it not for offshore domiciled private banking.  Read the 2001 Role of U.S. Correspondent banking in International Money Laundering (circa 2000) for some useful insights.
Then, a nickel's worth of Ure perspective.
The problem of Cryptos is that they are specifically non-state Actor's money.  And in global politics, individual nations are expected to keep their own citizens somewhat in check.  That is, the Russian mob is tracked and used by the Russian government.  Duh. Just as the Triads in Asia…but you know all that.
The problem is what happens when large segments of a society go rogue and beyond simple tax tracking; sinking ever deeper into the morass of illegal and immoral activities (like human trafficking and fentanyl) that are on the rise?
Crooks hate taxes.  However, we don't mind them at all.  Keeps the riffraff in line.  And gives governments something useful to do.
Al Capone was a 1920's populist in Chicago.  Who, surrounding himself with the best accountants and lawyers that money could find, was only eventually removed from his role as the leading criminal scourge in America by a tax evasion conviction.  We rather think, when comes time to clean up a rhyming period of history, that forcing government money back into its sole role as "money" will go a long way toward cleaning up America.
Both gold and silver were "called" by Executive Orders in the Great Depression and what's you're seeing now will likely be a set-up to a "calling" (and culling) of the modern Crypto secret money analog.
News organizations may not emphasize this larger game but losing Crypto could be a killer in The Swamp.
We're still astounded at BTC holding $17,260 again today.  But the front lines are feeling the preheat.  Coinbase to cut another 20% of its workforce in the second wave of layoffs.
NFIB Data
National Federation of Independent Business report is out.  The press release, please?
"Inflation remains top business problem for small employers
WASHINGTON, D.C. (Jan. 10, 2023) – The NFIB Small Business Optimism Index declined 2.1 points in December to 89.8, marking the 12th consecutive month below the 49-year average of 98. Owners expecting better business conditions over the next six months worsened by eight points from November to a net negative 51%. Inflation remains the single most important business problem with 32% of owners reporting it as their top problem in operating their business.
"Overall, small business owners are not optimistic about 2023 as sales and business conditions are expected to deteriorate," said NFIB Chief Economist Bill Dunkelberg. "Owners are managing several economic uncertainties and persistent inflation and they continue to make business and operational changes to compensate."
Rather unsurprisingly, the markets don't like this kind of thing. Dow futures were down 130 early with more jitters to come with the open and J. Powell remarks pending.
The Cynic's News Grinder
With all the recent Trump bashing on classified materials at Mar a Lago, this is cute:  Classified documents from Biden's vice presidency found at think tank. Be prepared for an onslaught of "This is different because…" stories.
Passings: Diamond of Diamond and Silk dies at 51 at her home in North Carolina. She was a huge DJT supporter.
No, despite the massive hype about the 2020 election being set aside, it's not happening:  Supreme Court Rejects Case Seeking to Overturn 2020 Election. Color us unsurprised. The system will always save itself, first.
Another election not being overturned is Brazil's.  Former Brazilian President Bolsonaro in US hospital; 1,500 supporters detained after Brasilia riots.
Student Loan flim-flam, anyone?  Education Department announces plan for 'transforming' student loan repayment. The real issue (with regard to student loans) is that runaway costs in higher education have been a suckling teat of the liberal establishment.  See, I ran accredited schools and know how the "jacked up tuition" game is played.  It costs more for a degree now (by a long shot) than before "money-saving" teaching methods (like computers and online content) came along.  The government is getting this all totally wrong as we see it.  It's not about forgiving the Debts on the back-end.  It's about reducing the costs on the front-end.  But, the reason you don't read about that is that it's a liberal monetization.  What's needed is a program to challenge degrees directly using self-study and online learning tools.  We need to take the bullshit about "accreditation" out back to the concrete wall and bring a pack of smokes.  It's a sham and a shame.  People either "know the material" or they don't.  But there I go, again, being logical in the face of a massive monetization. Kids and parents ALL fall into the crooked "hallowed halls" and reverse sales techniques ("Why should we accept Jimmy into this grand institution, Mrs. Jimmy's Mom?") which (sadly) I taught to "admissions officers" (who are just salespeople).  There have been a number of people who've tried to get rid of, or change, the Accreditation Game.  Read up on Dr. John Bear's work, sometime.
Regional Communist Summit Conference?  Well, not quite:  Leaders of US, Mexico and Canada to Hold Mexico City Summit. Functionally similar.
Let's Visit the Propaganda Front!
Ure is still running around with welding glasses in his shirt pocket, waiting for the nukes to fly.  As the Propaganda War could escalate any old time:
The low adjectives version of events may be Live: Russia's Wagner Group fighting 'heavy, bloody battles' in east Ukraine, founder says.
The Zelensky give us support or give us death side claims "Over 110,000 troops lost by Russia Ukraine war and a Russian ship sunk.
And the pressurized Putin is dealing with Putin ally Patrushev says Russia is now fighting NATO in Ukraine.
Meh.
Cal-WX
Still raining: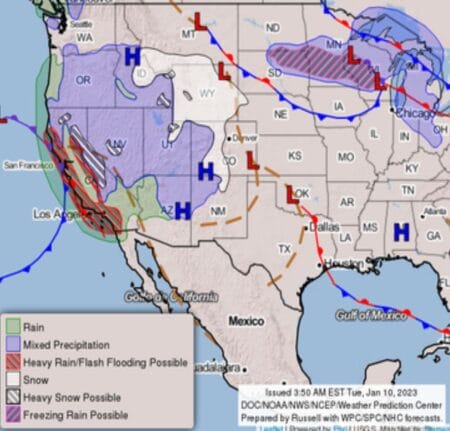 Move over, Seattle, huh?
To-Do Tuesday
Biggie here: Microsoft ends Windows 7 extended support today — install all updates now to fix all known issues… and gain Secure Boot support.
And if you thought Cortana was a PITA: Microsoft has a new text-to-speech AI tool to wow and annoy us.
Don't mind me, I'm stuck back at trying to figure out why there's so little Xeon support in Win11.  (If you say because Zeon didn't have TPM 2.0 I'll have to slap you.)  There are some Xeon processors supported (list is here, scroll down).  But so far, none of those Big RAM, refurbs on Amazon seem to fit.  Damn.  Guess my media server will be Linux-based, huh?
---
Almost down to the 30-day window ahead of my 74th B-Day!  Yee-haw.  If you think having a "workstation for each hobby" is strange (let alone an old geezer building a media server) you may have skipped over the Washington Post article How hobbies may help gird against dementia a few weeks back.
Things like grown-up computing, writing, 3D printing and CNC, high-speed Morse code, and too much yard (and greenhouse) work along with several supplement stacks a day can't hurt, can it?
90-minutes to the open. Dow futures down 160…
Write when you get rich,
George@Ure.net