Before we get started on SDR school, a few quick notes on the new nearly noise-free air conditioner unit.  It was on sale – part of Amazon Prime Days – and it works as advertised.  Quietly.
Over time you learn that the best a/c installation is where you get air moving as freely around your unit – inside the home – as possible.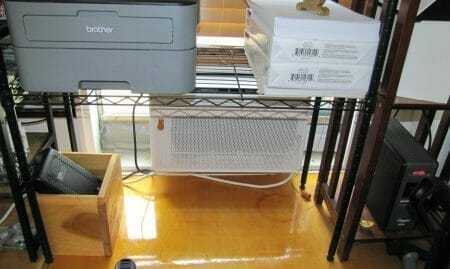 In my office, in front of the window, a laser printer and paper sit over the a/c area.  Leaving a good flow of air.  Failure to make sure the machine is in the relative "wide open" can result in hot and cold spots in a room.   Before I made these changes, the electronics bench in front of the a/c but 10-feet out, was already Alaskan cold.  Now, it's much more even.
Second detail on the install is paying a lot of attention not only to the window sealing but adding to it – if you don't mind the look – with some additional air sealing from duct tape.
All we had on hand for this was regular (cloth) duct tape, but when I get around to it, some caulking along seams and then some metal-backed commercial duct tape.
Seems like a lot of effort, and to an extent, it is.  However, even small amounts of air exchange through cracks will have an impact on your cooling bill.  So, think of this part as "Paying Attention to Money."
SDRs and Survival Shortwave Listening
We recently offered a two-part article on the ATS-25 shortwave radio. Because in a survival situation, having access to as much [unfiltered] news and information as possible just seems like a good thing.
You will want to at least scan the two articles because there is a lot of information on frequencies, for example, that will apply to ALL shortwave radios.
Why and How of SDR?
(S)oftware (D)efined (R)adios came about because of a device called an RTL Dongle. To follow here, we need a kind of "Adam and Eve" discussion.
Understand that "in the beginning" there was Radio which begat Television. And over time, TV entered the digital age, Digital Video Broadcasting (DVB) because digital is so useful.  The old broadcast standards (NTSC and PAL) just didn't quite "cut it."
The DVB's framing structure supported CSA – common scrambling algorithm – for security (and Pay-per-View). And as everyone knows today, without encryption, you can't sell things (like video) for profit.  So, one "flavor" became DVB-S (for DVB for space-based use).  The other development leg was optimized for Terrestrial use, as DVB-T. Ah.
And then came Realtek.
This is a Taiwanese company (and the kind of thing the U.S. and Mainland China would both love to own) which came out with an inexpensive chipset which does DVB-T processing rather brilliantly.
As one site explains: (Their) RTL2832U is a high-performance DVB-T COFDM demodulator that supports a USB 2.0 interface. The RTL2832U is compatible with NorDig Unified 1.0.3, D-Book 5.0, and EN300 744 (ETSI Specification). It supports 2K or 8K mode with 6, 7, and 8MHz bandwidth. Modulation parameters, e.g., code rate, and guard interval, are automatically detected."
You don't say?
Invention Begins Here
To my simple-minded *(arguably addled) thinking, you don't really "own knowledge" until you have played Detective.  When you know where a tech "came from" you can get a better sense of where it's going…
The Detecting begins with Analogizing. Rip that PC open, would you?
On the inside of a computer, I want you to think about the data buss for a minute. It can be very fast (measured in megahertz and going giga).  Which, when you think about it, it almost in the loosest sense, is how a radio receiver works.
What IF, for example, instead of plugging an RTL chip into the computer buss, we instead insert a length of wire (as an antenna) and then letting the chipset output something to a receiver that could be demodulated in software? Block conversion like the satellite block converters in the LNBs…
Exactly how: Software Defined Radio came to be invented.
Evolution of Radio Traced
There was a period, from roughly 1990 to late 1998 when the military was interested in a series of projects grouped as "Speak-Easy" phase 1. Radios were already coming with computer control of frequency. Which was becoming massively better with the advent of direct digital synthesis. Wiki along:
"From 1990 to 1995, the goal of the SpeakEasy program was to demonstrate a radio for the U.S. Air Force tactical ground air control party that could operate from 2 MHz to 2 GHz, and thus could interoperate with ground force radios (frequency-agile VHF, FM, and SINCGARS), Air Force radios (VHF AM), Naval Radios (VHF AM and HF SSB teleprinters) and satellites (microwave QAM). Some particular goals were to provide a new signal format in two weeks from a standing start and demonstrate a radio into which multiple contractors could plug parts and software."
In this period some interesting things happen – all pretty much at once. My employer at the time was SGC, an American HF radio manufacturer in Bellevue, WA.  Radio internal topologies had already begun to change as more and more aspects of computers were being installed inside radios. At SGC, we hadn't gotten to full-on software-based middleware of radios, IF sections, which is what the modern DSP middle of HF radios are – but the techniques of digital (frequency) synthesizers were improving quickly. With it came computer frequency control.
The military had signed onto the FS-1045 ALE standard, too. Frederick Electronics in Virginia (look surprised) had developed a box called an Automatic Link Establishment controller. This unit's computer processor looked at the audio signals (and tones) coming out of the speaker end of a radio. Then made tuning decisions based on signal to noise measurements (LQA – link quality analysis scores) which in turn told the microprocessor (already in the SG2000 radio at the time, where to tune next.
Frequency-agile HF radio was channelized and radios would try different bands (depending on time or day or night) to keep the best LQA's possible. When signals dropped, the ALE controller went into signal hunting. Change bands and try there, and again as needed.
Damn neat stuff.
Think of this as almost a halfway mark between a single chip world (which RTL-SDR moves toward which we'll come to presently). At this point the signal transited radio front end, computer-controlled synthesizer, then back to a conventional intermedia frequency.  The computer was in the radio frequency section partnered with one in the ALE controller.
In true software defined radios, the signal path is antenna to mixer (downconverter and/or RTL device) and from there it's all in your computer.  The Intermediate frequency is now digital so "later days" for the old-school intermediate frequency transformers and problematic noise sources of electronic black magic. It was just "software."
Over time, we've been doing less and less "radio" and more and more "computer." The hottest modes on ham radio are digital. Like personal texting worldwide – but with no Internet needed.  Typing to pals in Central America, for example.
Which was great for the military.  Interoperability between on-the-fly configurations became possible.  And as the "migration" from radio to "extended input computer" continued, the military was able to invent a modulation waveform on the fly and then push it out over networks.  Really interesting stuff! Nuclear survivable, in a manner of speaking.
<WebSDR>
There is one more hip shot (which came out of Speak-Easy phase 2 earlier).  The world of (configurable, on-the-fly) radios could also be "time-shared" by many operators.
A dandy example of modern (but just for now) WebSDR (web-based, software defined radio) allows many people to use a common interface.  You can take it for a spin right now on your home computer by clicking over to WebSDR at EM84an (lumpkinschools.com) and give it a try. Turn your speakers up.
On the left side of the menu, hit the 20-meter band.  Leave most of the rest alone.  On the center/right, in the frequency area, dial in 14.050 MHz with the big >>> arrows.  Then tune slower with the >> and > arrows.  Welcome to my world!  This is the calling frequency for SKCC – the Straight Key Century Club (which I of course, belong to, ahem). Morse with a hand key art hangs out in here.
The antennas on this publicly accessible SDR are pretty good. If you buy and hook up an SDR to your computer, this is about what you will be able to hear with a reasonable antenna. The time of day may be different, though, depending on your location.  Just remember, if you're in the city, the noise floor is likely to be higher if you go SDR on your own.
If you've decided that you want an SDR radio of your own, and you have a computer, there are several steps in the decision process to run through.  You will need to figure out which Interface you like, then which radio you prefer.  And even how many radios you want to operate at one time.
We'll grapple with these one at a time, starting with the Interface.
SDRPP
The real name is SDR++ but since in some operating systems the "+" has reserved uses, SDRPP is the file to find and download to get started. Get thee hither: SDR++ (sdrpp.org)
On the web, you will also find SDR Sharp, and a number of other programs and more ink splashed on this than I would have believed possible.
Now, having said all that, on SDR++ make sure to set the Audio tab on the pulldown.  And I might have recorded a few samples except, when I put my NESDR-Smart (V3) into Q-Branch (no, not you, 007 – the other Q branch!) the HF sensitivity sucked.  So bad, I couldn't hear bupkis from the Big Ham Antennas which is simply absurd.
Of course, the first step was to fire up the big Rhode & Schwarz SYM signal generator and there was nothing until I got up to 2 Volts of signal at 11.260 MHz in the HF band.  "Well, hell, that cain't be right!"  So, the cheap DDS meter was brought up.  Yep, still 2.1 volts on the same frequency.
Which resulted in Ure pissing away a good chunk of the day Saturday trying to find where all the signal was going.  Replaced cables, load different SDR platforms, look for fine print on Q branch settings.
This is an area of pretty intensive interest (SDRs in general) but for now, those systems that advertise "tunes down to 100 KHz and up to 1.7 GHz" may be accurate, insofar at the tuning goes (on the display dial). But, in terms of a competition-grade receiver?  Sorry, the SDR-Play SDR (from Ham Radio Outlet and other radio retailers) runs circles around the plain cheap SDRs in Q branch mode.
Or may…just maybe I have a bum Nooelec NESDR-Smart.  As a test, I took a different manufacturer (cheapo eBay ADSB – aircraft tracking oriented unit) and put in on the 10-meter ham band.  And promptly got down into the 50 millivolt range.  Not great shakes by any stretch.  An old HR-10 tube receiver was better – by a long shot.  BUT SDR works – to the degree you define "works."
On the other hand, with the Ham-It-Up, things got better – but not great. Around 20 microvolts. Is it a "smoking hot receiver?"  Not yet.  And the Ham-It-Up doesn't help much above 25 MHz.
Then I swapped cables.  Things got distinctly better!
Even so, at best – at least in my experiments – it's like an old (legacy) radio.  Not even the modern vintage of tube gear from the late 1960's.  The Collins 75-S3B receivers from that era regularly clock in -146 dBm sensitivity numbers.  In fact, if you really want to get down and rock it in the noise floor, jump over to Rob Sherwood's site (Receiver Test Data (sherweng.com) and here's where radio Gospel is written and double-checked.
What you'll see is my Kenwood TS-590S is down in the -138/-139 dBm kind of range.  So, if an SDR isn't able to at least get close (try -131 dBm or better) they are a time sink.
Son G2 (also an extra class ham, remember) has a similar viewpoint.  "Unless you really need SDR for specific missions like mapping SCADA traffic or things like that, why bother?  It's all about tactical radio…"  Someone taught the kid well…
As I worked the problem: turns out I'm not the only one skeptical of SDR performance.  RTL-SDR v3 Kit: Strategies to Increase Signal to Noise Ratio when Mounted Indoors? : r/sdr (reddit.com).
Yes, I Got it Working.
Was there any doubt?  Hell no.  Here's where we got to (about) the signal being about 6 dB above the noise floor on the Rhode:
This was eyeballed.  Looking at the 5 db divisions on screen of SDR++ and adjusting the signal generator to pop the signal 6 db above the peaks of noise.
OK, useable, useful, but do we have to think it's all that grand?
Lookie here: Apples to noise: The ATS-25 was giving a better signal to noise at -131.2 dBm – about 2-10ths of a microvolt.  THAT's what I'm talking.  See why SDR skepticism reigns on the range?
The Interface Overload
Power Systems World back in 1998 or 1999 (time blurs) I did a poster paper on issues of Complexity at the MMI (Man-Machine-Interface).  It was all about getting the job done in the most direct ways possible (in terms of button presses and menuing, and so forth; back then, this was new tech, right?).
One of the problems with SDR is that people get wholly overwhelmed with the interface and the data.  
Not to hurt a bunch of people's feelings, but spending hours and hours looking at flight data and tracking ADSB reports from aircraft is not nearly as interesting as flying with ATC on your speaker and CAVU conditions with the yoke in your hand.
See, in the real world, ADSB is just a tool.  The same radio as before, a new encoding transponder and a nifty-neato display overlay on the tracking map. But to spend hours and hours?  Well, no…
And all those controls in software?  When I want to communicate, I want it right freaking NOW and not 3-menus, a software restart and 2 new driver updates later.  See where my fascination with older style – great working gear – comes from?
Same with our airplane. We were early adopters with ADSB – and really loved it.  Totally.  But people networking and spending hours with ADSB receivers and listening to pilots?  Nope.
The real fun is down at the airport washing the plane and sucking down cold ones.  That's the essence of flying, in addition to being able to slip on final and nail the numbers every time.  THAT is the difference between doers and spectators.  But don't get me rolling down that road…
You only need a selection of a few controls on any radio.  In order of importance, maybe it's tuning, volume and the mode of listening (AM, FM, Morse/CW, Single sideband…etc.). Making me "minimize menus" to keep from brain implosion in a forest fire of pixels isn't what ADSB is (speaking as a pilot, former R&E mechanic, and ham…yada, yada…).
What made certain radios (old school) so popular was in how the controls were arranged and how the oldies but goodies ended up sounding so AMAZING.
Go back to your childhood.  Can you remember how similar every transistor radio you ever used, was?  Right – much of the "best software for SDR" flows into this mold. A little different form factor, but a radio station coming out a speaker. Volume and tuning dial.  And even today, on a cold winter's night, an old GE SuperRadio is still a gem. They're all over eBay around $60 bucks. So's the Hallicrafters WR-4000 on the bench for restoration…another ShopTalk for another day.
OK, not being a Luddite here, but there's a damn good reason we did the simple, reliable, easy to use (comes with battery) and no computer needed radio (ATS-25) before we got into the SDR discussion. They work better.
SDR-Play makes good gear.  That my NooElec isn't sensitive (to my specs and liking) could be a computer power supply issue, like a low 5-volt rail, or something else.  We'll track it all down. But if you want ADSB, I suppose, yes, SDR has its place.  Sort of.
EXCEPT  IF you get into SDR: these being computery items, the more bits? The better!  An SDR using a 12-bit front end dongle would underperform 14-bits which would pale in front of 16-bits.  We could dive into this digital deep end, but to what end?
IF you have a choice, buy more bit depth. Spend more money.  A to D (and D to A) conversion has been getting better over time and it's still on path to do Moore's law up to some point in the future.  Bet on more bits, not less.
Here's an idea: Rather than sit on your ass and listen to pilots and ADSB talk, spend the time and money to get an introduction to flying lesson at the local general aviation airfield.  You can build your own Light Sport aircraft and actually do some adventuring.  Sitting at home listening to (us/we) pilots isn't nearly as cool as the balls of steel that go with actually doing it.
Whew…moving along…
Introduction to SDR++
I could spend the rest of your day going through what to do next. (Listen to foreign shortwave and the 20-meter ham band with a cold one on an ATS-25? Works for me…)
Instead, hit YouTube and follow this tutorial. https://youtu.be/bbgf1eQk778
Basic settings are explained.
Last point, before we go coffee-stalking:  There IS a difference between SDR's using Q-branch direct conversion versus using a dedicated up converter. Below 25 MHz, that is.
The "stock" SDR dongle inputs from about 25 MHz and up into the gigahertz range.  While some RTL-SDR dongles can use Q-branch to extend listening to lower (more interesting to us) frequencies, the Ham-It-Up upconverter takes the HF radio signal and converts it UP to the native 25-MHz and higher conventional SDR input range.  This results in somewhat better signal to noise performance.
There are many converters to choose from.  I have both the SpyVerter and the Ham-It-Up.  Love it all.
Barebones, as in no case, the Ham-It-Up runs $45 on Amazon.  Very similar in price to the Air Spy SpyVerter which you can order from AirSpy here. I ordered a new SpyVerter (liked it for its purpose).  But like G2 said, it's only got one mission and that's in a SHTF situation, running continuous scanning of whole banks of carefully screened channels (GMRS, Marine VHF, CB, etc.) that crooks and clowns of the cleverer stripe will use when things go south.
SDR is down the list after a ton of other prepping agenda items.  Got food, rounds, meds, been on a 100-yard range with iron sites, lately?
Where's the Horizon?
You get to a point in life where you're wondering what you're really after.  Especially, in something as complex as SDR can be.
As a survival radio? The ATS-25 and a small plug-in solar charger (like the not terribly spendy ones for a cell phone) will be easiest to use – and keep using – in the event of an actual emergency prepping case.
That's because what?  All of the SDRs of this high-performance stripe require a computer.  I like SDR++ because we can get it for all three major OS around the ranch.  G2 is a Mac guy. I'm Win10/11 but migrating to Linux…so the one thing software wise is three flavors counts.
If you have robust home power, and computing, and you want to run multiple radios to gather intel, then take a look at RSP Radio's RSPDuo here. Two tuners (and supporting diversity) all within one app.
Sidebar: Diversity here doesn't have anything to do with ESG (thank God!). Diversity in radio receivers means two complete radios right up to the audio section. Voting over what amounts to LQA scoring and selecting that source. Way cool and helps in specific signal conditions.
This gets into another key computing question – maybe to tackle in next week's ShopTalk: Should you have a "survival computer" platform (or several) anyway?
IF you are just looking for a quick hit of dopamine (trying something new) an hour or three of the online WebSDR may sort you out.
On the other hand, I'm tinkering around with "portal" instrumentation and (hold onto your hat, this will get weird…) working on signals down in the Earth Sounds range of extremely low frequencies for possible concurrent indicators.
This is the spectrum – 1 kilohertz and up – where the electromagnetic waves take on some interesting personalities and sounds.  An audio collection earth sounds may be found here. Look for the one "Whistle echo trains. They result when the radio wave bounces back and forth between magnetic conjugate points." Neat stuff.
It occurs to me, that while trying to "light" portals here, we MIGHT be also looking for coincident 1.6 gigahertz signals (using a standard SDR as the spectrum analyzer) AND in addition seeing if there's any concurrence with Earth sounds.
Sure, it's a low probability of finding anything, but above zero compared with no one bothering to look at all.
Which circles us back to the "Where's the Horizon?" question.
If I want to bang out 20-30 words per minute Morse on the 20-meter ham band, a Kenwood TS-590 and 2 KW amp are always at the ready. "Alexa: turn on Echelon."  Focus matters. Does an SDR help?  Not so much – but that's me.
Once you get through the "thrill" of talking anywhere in the world with Morse, you look for new horizons.  Logging contacts via ham radio with 100 or more countries, and so forth.
Which is how I work up to warning you of the inherent dangers of SDR's.  Ask before jumping-in headfirst, "What's the problem you're trying to solve?"
If the SDR solves it, you'll have a dandy time buying and listening – and it's a superb cold winter night hobby.
EXCEPT an old school tube type radio like my Hallicrafters Super Defiant SX-25, or the SX-100, are really much more esthetically pleasing, not to mention warm from their vacuum tubes for winter listening. Though sure, at the margins, unable to compete for deep in-noise signal retrieval like DSP can.
Alas! As in Life, clarity of purpose defines usefulness and reward level of goals achieved, if you follow.
Our next Ham Radio adventure will be G2 learning Morse code.  We're building up a couple of $15-dollar Pixie2 kits next week, or the week after.  Learning Morse puts the digital conversion in your head. Useful forever.  But not for the lazy.
Not as many sparklies as SDR. A volume knob, tuning knob and a key.  A few feet of wire.  But they are two-way radios and the receivers are surprisingly good for a chip, or two. Better than some HF SDRs except the few good ones.
Write when you get rich, or just get more dialed in… off to chew the fat on 3806 with the Tejas boyz…
Write when you get rich,
George@Ure.net, ac7x