Huge personal insights have been arriving almost daily since I started a course on accessing past lives. Schlepping gear through southeast Africa in overgrown bush like a rail right of way in 1925? A newspaper (like this one) was somehow involved. Me? Safari local laborer?  What the…???  (The George life 1798 story on the Peoplenomics site is also interesting…)
More useful is the "new spin" this kind of self-discovery puts on present life as well.
A "Biggy" insight this week is that my childhood (when men get socialized/home trained and house broken) had a HUGE influence on my shop organization style and work styles – later in life.
It's a damn interesting perspective that you (and relatives & spouses) may find enlightening. I expect my son (George2) will find this interesting, as well.  Because it explains so much about the differences between our workstyles.
Ruined by Electric Trains?
Part of the past life regression work in this program involves answering some very tough personal questions about yourself.  One of the big stumpers is "What am I here to Learn in this lifetime?"
I won't go through all the ins and outs of the program, but between my son's frustration with my "everything, everywhere" way of working – plus the regression work – a lot has fallen into place. In my case, my workstyle was mainly formed by Lionel 027-gauge electric trains.
I can hear you now: "WTF? How did you get to THAT?"
Trains and Behavior Training
It all started in that 6–8-year-old range when every boy (well, at least back in the day) wanted an electric train.  Pappy had his eye on this possibility and he was willing to mover his small shop out of a separate wood-walled room in the basement of the folk's place. It was about 8-1/2 by 11 feet.  Something of an awkward size for a conventional train layout, but the Ure Family over-engineering genes are a well-known trait.
Pappy figured he would use 2-by-4 framing and that there would be an operator center "hole" in the middle of the layout.  Following?  You had to get down on your hands and knees, crawl to the middle of "train layout" where the "engineer" could lord over his burgeoning rail empire for the middle – seeing all sides!
Of course, Pappy and a favored uncle, did this all-in semi-secret. Until one night, I came downstairs and there was whooping and hollering from the basement.  They had put the room together in a few hours (firefighters are hellishly fast when they get focused on an outcome!). Bare walls to train layout with a command position in the center of it in under six hours.  1/2-inch plywood decking.
The cutout area was all of 2-feet by 3-feet.  One grownup and one child, or three children, though usually just The Major and me.
The only design flaw?  It was high enough from the floor that a grownup could crawl in easily.  But that meant the Junior Engineers ended up needing a platform to stand on, otherwise they couldn't see the whole layout. Some 2-by-6's on edge and more plywood. Big platform and good to go.
Pappy usually had longer-range plans, too.  Moving out of his "small shop space" he went on to commandeer most of the northwest corner of the basement.  Where we would later build an 8-foot plywood pram.  This was 1957, or so.
"What Does This Have to Do with Shop Organizing?"
Just coming to that.  As part of my "self-work" recently, it became clear that when I was standing in the center of the train layout as a kid, everything was right where I wanted it, all around me!  If I needed a boxcar, turn around and there were a couple on a siding. A switch (over yonder) could be thrown as needed. Reach across and there it was.
(Though The Major's standard O-gauge (slightly larger than 027) had a couple of electric switches, the three-rail Lionel manual switches looked more like the ones in the local train yards. We made notes on such things.)
The key is?  My thinking and working styles were defined in no small measure from having "all the trains I'd ever need surrounding me."  Even now, I'm in that "workstation mentality" in no small measure.
I never built a pop-up train layout for my son. Long one across the back of the garage – 21 feet of HO trackage and a damn fine mountain.
He would do an activity in one place, on the layout, pick up tools and whatever, then move on to another activity. Strangely normal progression.  Comparing father and son 43-years into the adventure of Life, it's all clear how childhood train layouts influenced our thinking.
Surrounded by everything has served me well.  It's how I managed to live happily on a 40-foot sailboat for more than a decade, too.  Surrounded by everything one could ever need for sailing, which is the (hidden connection) between successful sailing and success at model railroading. Keep all your shit close at hand, as a place for everything and everything in its place. Need a snatch-block for rigging? Aft lazarette, left side, under the bucket of mooring lines.
Hell of a concept, huh?
Real World Application
10+ years in less than 200 square feet on the boat. Now we're at 22-years on 1.24 million square feet of dirt. The human factors (and programming) have not changed.  I still like things in a place and right where I can get at them. Each of my "workstations" tends to be surrounded by as much of everything as can be reasonably obtained.
Like a big train layout keeps growing, no matter what.
The Magnetic Crap Collector
Most operational shops have one, or more, of those magnetic strips you can buy for $20 bucks or so.  Over time, kinda like the train set, bits and pieces of doodads magically fill them.  (Anyone else remember Lionel electric train track pins? I had these everywhere. The layout was never done! )
70-years on, the magnetic strip on the righthand side of the main shop bench was really getting loaded down with stuff:
It was time to Organize!
This was (blushing to admit this) very much like those "dust collecting knickknacks that old people had" when I was young.  Useful tools being involved doesn't change the problem.  So, off came everything and it was sorted into piles.
There were some keepers for the magnetic rack. That self-adjusting multipin impact socket – yeah – that's useful when you have a small one-off kind of issue.
But notice the (neatly) folded up cloth 60-inch measuring tape?  That and a few other things in bench piles needed to be sent to the Layout Department (right next to the Measuring Department, adjacent to the Leveling Dept.).
The Layout Department is a whole world of hands-on design.  That folded-up purple zigzag thing inside the plastic box?  That is a sewing device used by tailors and seamstresses to space buttonholes evenly.  With one of these around, in mere seconds you can evenly space up to 7 holes at a time.  And it really gives a job more of a finished look about it. Evenly spaced fasteners just look more workmanlike.
Another pile of tools were the splined screw impact driver wrenches.  God knows I've seen only a handful in my life.  Torx and star drives have really taken over the market. Maybe because of lawyers and intellectual property – who knows?
But this gets us to another interesting spot in the (surrounding the main bench) equivalent of the train layout: This is the "stuff cart."  All those impact spline shaft wrenches when to hang out with a wide range of "no one has that size" kin.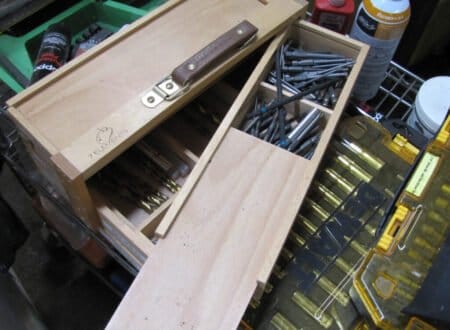 The wooden box?  Ah!  Cheap from Amazon – you just need to spend some time looking for wood artist boxes.  U.S. Art Supply has all kinds of things useful for a shop and many don't require art skills…
You take the box in the picture.  Yes, I bought it.  $35 bucks now and at our age, you can't build it in $35 bucks worth of labor time plus parts.
The Big Secret  to all this stuff is?  Spend time defining the problem you're trying to solve.  Then figure out the best solution/price that migrates well into the future.
I was almost delirious when the weeding process was done:  The magnetic strip was considerably thinned out and looking more like someone besides a tool slut/doodad hoarder (or pack rat) was running the show:
Yeah… That now looked like it will support G2's penchant for clear working spaces.  But he will have no idea where to find a 13/64th's splined impact driver bit.  Train layout versus 4 desks, I guess.
Clean Counter Decisions
Here's another peculiar mental illness of having a nice shop.  You often will get something (like a wire shelving rack) that came with 4″ wheels.  Why these were included was something of a mystery. Buy, there's no place for them to be used, so out they went.  Galled me to toss them, however.
This week's column may seem a bit odd.  But how many spouses and children have asked "Why isn't dad's shop more like a surgery center?"
Well, people don't drop off fresh body parts often.  And besides, the big Rule of Tools that no one taught me as a child was "For every 10 tools you buy, invest in tool storage as you go."
Why that's not in the Big Instruction Book of Life is beyond me.  However, since Life is like a big escape room, I figured this one out, but I still don't know if that's the Big Key, or not.
Happy Wife – Happy Life Dept.
Learned something from my old friend Bill Brock, back in the day that was useful.  Always keep a few small gifts around the house that you can spring on your wife when she is least expecting it.
You don't need to be in the doghouse, to hand them out. Just spring one with a glass of bubbly some evening.  A remarkable "get lucky" strategy.
This week's Elaine toys included a 1,000-piece crossword puzzle.  (Elaine's somewhat puzzling at times…) And the coup d gras is an inexpensive electronic violin. (I'm stringing her along?) (rim shot).
Fire Box
Next time you see a cheapo (large) plastic toolbox at the Dollar store, buy it.
For the fire patio, I had one and so in it went a stove thermometer, a hatchet for making kindling, half a dozen propane BBQ lighters, and a plastic tub of fire starters.
I don't like to think when comes time to using something.  Like all the tools in one pile.  Maybe I sustained brain damage crawling under the train table so often as a child?
Let's see if I can start a fire now…Big Nor'Wester coming down through Texas today. Ham nets talking about 26 in Amarillo around 6 AM.  High here is right now – 73 – and it will be upper 30s tonight…
---
One other 1925 note: (which clarified when I went to research the regression…)
Let me just mention, though, there is on page 9 of the PDF file from East Africa, 1924, a most interesting account of action involving a German ship (Koenigsberg) and the wooden Pegasus.  Which sounds like a movie plot of a flick I had once seen. Very archetypical kind of stuff… And yes, more than slightly odd to pop out of a past life session, I'll admit.
Better stick to trains.
Write when you get rich,
George@Ure.net