Trifecta of marvelous topics to wend our way through today.  Our headline, of course, is the tiniest view of today that's possible.  Like looking at Earth through the Webb telescope from halfway across Everything.
The details when we arrange by time of occurrence, So, if you're set to reverse-rendered Pomodoro with us…
Retail
Goldilocks Economics it is!  Because like her three ursine pals, there's a too hot, a too cold, and a just right number hidden in here somewhere:
"Advance estimates of U.S. retail and food services sales for August 2023, adjusted for seasonal variation and holiday and trading-day differences, but not for price changes, were $697.6 billion, up 0.6 percent (±0.5 percent) from the previous month, and up 2.5 percent (±0.7 percent) above August 2022. Total sales for the June 2023 through August 2023 period were up 2.2 percent (±0.4 percent) from the same period a
year ago. The June 2023 to July 2023 percent change was revised from up 0.7 percent (±0.5 percent) to up 0.5 percent (±0.2 percent).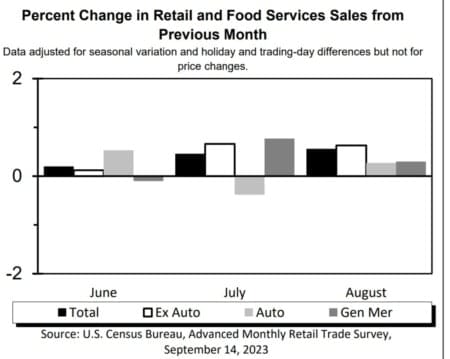 Unemployment new filers were little changed this week.  The "as experienced by states" report:
Up We Go…
The market futures had been up ahead of the reports. Despite this being Options (of the index sort) Thursday:
Tomorrow, equities settle. I might be tempted to short at the close today if it runs up well.  Nothing like having a high index and being able to cover the deliverable with discounted stocks tomorrow.
As you can see off to the right, we are nowhere near the upside breakout area.  That isn't until we get through some serious overhead resistance. Simply: Going too slow on the upside.
In the meantime, though our "crossing moving averages" work is warning us that the present market dance could be over at any second.  With one of the dance partners suffering foot injuries!
In other words, the blue line is a 2-day moving average (and because I'm lazy, it's the S&P 500).  While the red line is a 13-day moving average.  Obviously, when the 2-day is screaming higher than the 13, the market is on something of a bull run.  When the blue drops under the red, hide under the bed.  Unless you hang with Goldilocks, as that's when the Bears come out.
We're just waiting for the 2-day to fall under the 13- before putting ("Big Money! Big Money!" as Vanna called it) the Bears.
By the way, this is NOT financial advice.  Ravings of a fool who lives in a trailer in the woods while tinkering with time machines, ham radios, and organic gardening where electroculture experiments are running adjacent to a 100-meter gun range.  Come on, don't tell me you'd pay any attention to someone like that would you?
Lost in Fed Speak
The reason for the rally (up to the retail sales figures today) is that the CME FedWatch Tool – CME Group is presently giving a 97 percent chance of the Fed taking a pass on a rate hike.
We have to roll with the 3 percent underdogs in our thinking, though.  Because (if you thought about what you read above) the two-day average is failing (so far) to "pull away from the 13-day average."  Which feels to us like a market with fear of a surprise.
The "surprise" says my consigliere may be that the next war will not be a Banker's War.  And that real leaders with solid agendas will advance to the "runaway war with its own moods" and totally out from under control of The City or Wall Street.
One insight – a system developed by Joe Granville called On-Balance Volume – can give a long-term sense of whether money is coming into or fleeing the markets.  With a few clicks over to Yahoo Finance, for their excellent charts, you can add technical indicators live OBV and maybe understand why we're so skeptical of Costa Rica Party Boys who are talking up the rally.
A bit of study of Granville won't hurt you.  "Granville argued that when volume increases sharply without a significant change in a stock's price, the price will eventually increase rapidly, and vice versa."  Wikipedia is one place to begin, but a better option is just reading one of his books. Early ones were good but this one was very good.  Two years ahead of the 1987 flash crash.
Radioactive?
Worst word-choice when we're talking about consumer electronics.  Because most people conflate "radiation" – of the Fukushima/Nagasaki sort – with "radiation" of the "ionizing radio waves heating skin and inducing DNA damage type."  Touched off by noticing Apple disputes French findings, says iPhone 12 meets radiation rules.
Now, this may not seem like it's worth your time to drill down into, but we strongly recommend that you read this 10-page PDF on how radio "radiation" works: Handbook section 22_3.pdf (arrl.org).
Once you are done with it, you'll find that many countries (like Russia) have stricter rules on RF (radio frequency) emissions than we do.  Transmitter power is cheap, better receivers is more the artform.
If you are really sharp, you'll begin to wonder "If RF has such potential to harm – and we have no long-term studies of the impact of RF on human thinking and behaviors which might be influenced over time – why are all the studies on cell phone (and 5G) OK?"
Well, they're not.  Radio wave heat and the more discrete frequencies transmitting all at once, the more net radiation heating.  And that's not good for us.  The reason you don't hear about it is that the cell phone mega-industry does not fund industry-critical radiation research (kind of like Big Tobacco didn't out itself, right?
We only use a cellphone rarely when off the ranch because our old, addled brains are delicate enough, as it is.  No point holding a Vitamix up next to 'em. That's not paranoia, just increasingly (un)common sense.
Less Depressing?  Well,  er…
'US has no right to lecture us', says Russia after Putin-Kim meet – India Today.  Except we do, of course.  Slow Joe funding a War we didn't see a vote on for more than two years.  Seriously, WTF and where is the loyal (more like stupid) opposition party?
Meanwhile, in the war "we" are losing: Air raid messages in Romania: "Stay in shelters" – Geran-2 burst 15 km inside Romanian territory – The biggest Russian provocation so far. Neocons are cheering an expansion of the war but rational people are not.
Flee to Be on the lee of Lee key? Hurricane Lee Zeroes in on Bermuda as Wide Swath of New England Coastline Braces for Looming Cat 2 Storm.  Updated storm tracks are here HURRICANE LEE (noaa.gov) and if you live in the extreme Northeast (I mean another than Bernie-ville…)  or the Canuckian Maritimes, stock up and be ready goes on today's do-list.  (Yeah, I do-rag. So to speak.)
Where to Hang
Found this to be interesting: Best Places To Live In Canada: Top 5 Cities Of The Great White North, According To Experts – Study Finds.
Calgary, Alberta came in #3.  Which really should have been #1.  Because who would want to live in the shadow of trucker-buster TrueDope in Ottawa?  Quebec City at #2 was unsurprising, given the cuisine arts practiced there.  (Did I just put in a plug for Cuisinarts?)
The real point I was getting to was that Vancouver is #4 on the best list.  Other than needing to change the name of the city to Chicouver, it's a great place.  OK, VanAsia?
Around the Ranch:  Tax Day
Taxing Thursday: Well, officially it's tomorrow for those of us who elect to file quarterly taxes with IRS. Estimated Tax date on the IRS site.
There was a time when I resented paying income taxes.  Yet, as I have matured a bit, I have come to think of it as the ticket price to a clown show.
Rains have returned. Though whether the burn ban in East Texas will come off today is another matter.  I'm getting skick of cutting up cardboard.  A burn barrel is so much easier.
Sore right hand today.  Elaine and I popped in a new storm door onto the screen porch Wednesday. Carpentering at 74 is a little different than 55…ya think?
Ham Electronics Bench: Still waiting on parts but I hope to have both the old Icom 761's back in operation, shortly. A lot of my ham pals question my choice of radios.  ("If you can have anything, why them?"  The answer here: ICOM IC-761 (eham.net). 4.9 stars.  Even later equipment like current generation and all-round great radio the IC-7300 rated a 4.6.    Sometimes, oldies really are goodies.  Our 2005 ES-330 purrs,  too. And Elaine…er….
Remember when the U.S. went through its industrial zenith making cars like the Cornet and New Yorker of a certain vintage?  Or Steve McQueen's BRG Mustang?
There it went!  See it?  Youth going by?  Go on, remember the time…
Did you focus on the BRG Mustang or Ali McGraw?   (*Most of our readers will admit the car…I wanted mags like those! Just not on a Ford product by then...GT40 exception clause applies.  Can you tell I still hold a grudge over that 1970 Maverick Grabber package.)  A   time when roads still had signs by 'em.
No more muse,
Time for chews,
Write when you get rich!
(Or you buy us booze,)
Thursday – shave!
If you are under 50, there are two decoder rings available for this last bit of nonsense. 1 is here. The better choice here. Depending how much of your time in life you actually own (to the point of controlling…and enjoying a good book).  Late for something, are you?
George@Ure.net  /ac7x/