After Joe Biden's well-delivered but wholly insufficient speech last night, the markets are poised to drop early today, and should there be a rally into the close, we might be among those buying short positions.
We will get into the whys and wherefores in a minute.  But let's deal with some facts.
There are two wars ongoing of major consequence and a third looms in Asia.
The U.S. response has been financial and military – all fine and good – but the fundamentals have not been addressed.  Russian speakers in territory of Ukraine, Palestinians without food and water, and the matter of reunification in China.  Nothing has been fixed.
There are multiple methods that hint at financial stress next week of substantial proportion:

Gaza conditions are the same as before Biden traveled and spoke.
Russia continues to prosecute its war to (re) claim territory.
China's in the wings off Taiwan.
…any of this could TILT this weekend.

G.A. Stewarts work on Nostradamus, The Economic Fractalist, and our own meta data charts all suggest things will not improve any time soon. The week ahead is rocky, at best.
And our chart techniques in particular are waving red flags.
There's an old saying in stock trading that "You never crash from the top."  I laugh when pundits do that – with any market awareness you can spot BS'ers.
Our layperson concern today is that we are at the bottom of a long-term trend channel rally (from a year ago to the July high).  If wqe bust hard lower here?  Life in 2024 is going to plain suck for a whole lot of people. That's how the market is "voting Future" right now.
A Run Through
Markets are driven by psychology, to some degree.  A lot to be studied and learned from "herd behaviors."  The way human minds work, more recent events have a slightly stronger impact on us that something from, oh, say two weeks ago.
That's one reason we look at markets and consider "differential moving averages."  In this view, we look at how this "Yesterday versus a couple of weeks back" works out as a market directional indicator to be considered.  Note, we don't offer trading or financial advice.  As I have admitted in the past, our personal returns are in the low 30 percent per year range. We only trade a couple of times a week. It's just not that useful to put a lot of focus on "making zeros" when the larger issue is ensuring forward survival.
Using the early 5 AM futures pricing, however, you can see how the market sentiment (far right of this chart) is in position to "take a major dump" next week.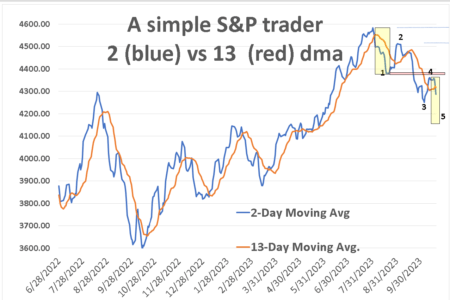 When I developed this "differential moving average" concept it was a simple personal trading tool.  When the red line was above the blue line, I would be in cash or short positions.  When above, a bullish/long position (or cash) was OK.  There were plenty of mistakes made (costing me literally thousands of dollars. But my personal gambling (what I do is not investing!) rules say things like "Blue under red, be short or be dead."
Gambling?  Yeah, I should explain that.
The Time Base of Investing
See, there's a simple enough way to get rich (or at least pretty damn sufficient).  It arises from understanding the time base (or timescale) of what you're trying to do.
A lot of "investors" (who are really unacknowledged gamblers) try to "pick the next Microsoft or Apple."  So far this year, we have seen more than 130 initial public offerings which is actually down more than 20 percent from a like period in 2022.
Their style of gambling (we hold it's not "investing" any more than a trip to Las Vegas is!) would make one to five bets and believe they have a good chance of "striking it rich" that way.
And it's true, they might.
When I looked at things, however, it occurred to me that it's far easier to pick a high beta stock (lots of price movement) or an exchange-traded fund (ETF) and make money on the trading noise, as much as the underlying "goodness of the company."  Frankly, I could give a rip it all spends the same.
So, instead of "investing" and trying to find the "magic bullet" single stock, I reasoned that I might be able to make one-half of one percent per week via "noise trading" which exists in all markets.
One half of one percent is shit for returns, no doubt.  At least in week one. By the end of week 2, it's now 1 percent.  OK, still not great, but compare it to Big National Bank passbook savings…
After the first quarter of this delusional approach, it begins to look less crazy.  You're up 6.69 percent in one quarter of a year. Not bad, huh?  At six months it's up 13.84 percent and things are compounding nicely now.
A year into such a regimen?  Theory says it ought to have grown your "nut" 29.6 percent.
In actuality from the end of October 2022 to present, my account balance is up more than that. Because there's another level to the mystery (because this is gambling, not "investing") and that's money management.  Which is why I think of myself as the Parimutuel Investor.
Streaming quotes is nothing more than the off-track version of the totalizator board (tote board).  We will share more details in next week's Peoplenomics.com report.  It's $40 bucks a year.
Look, I am NOT encouraging you to turn away from managed accounts and long-term strategic decisions.  Some of our investments here?  If you'd been reding UrbanSurvival in 2004 you'd know we entered silver at $6.94 and $7.03 an ounce. This morning, it was $23.40. That position has been good for 19-years.
That's just a stupid inflation hedge…government is addicted to printing up fake money, so run off off a few while you're at it…
It's just like having a paid-for home – which is like having a free place to live for the rest of your life.  Not a hard decision to make.
But it's like that in Life.  You just need to "know your time base."
Markets at Rhyme Time
I'm giving away too much, I suppose.  I'm a theory guy, not an advisor.  I'm a writer and researcher.
Still, there are useful techniques that can – from time-to-time – give insight into what comes next. Two such techniques are Elliott Waves (Bob Prechter's work excellent – any of his books are worth reading).  And then there's the Regression Channel work.
When combined with an Aggregate (meta, or multiple markets) view, of lot of "noise trading ideas" become visible.  To wit:
Our view has been that a (likely) top of Wave 2 (yellow scale) occurred July 31 of this year.
On the right side of the chart, notice that we have dropped under the long-term trendline of the ascending large 2.
What we have seen many times is that the market will break below a key trend line, rally to "kiss the trend" and then fall on its face.
Which is why we are concerned about a "mini crash" early next week.
Searching Through Noise
I've been an extra class ham radio operator for decades.  Love the art of weak-signal Morse code (on the bottom of the 20-meter band, thanks for asking).  When you get to a level of code proficiency, you stop "copying letters" and instead "hear whole words" at speeds above 25-30 words per minute.  The onboard brain is good for 35-40, but I can't write much faster than 20 by hand, and even then, it looks like doctor-scribbles.
Point is that technical analysis is like this.  When you start off your visual cortex will be "seeing the letters" and not modeling (testing plugins) of various wave counts.  It takes work.
But what really helps is to read the daily news and play some "logical exercises" that might drive charts firmly – one way or the other.
There is a chance of a strong bounce next week. The large yellow scale Wave 2 could have one more wave up which might be the larger Wave 2 (5) meaning this decline since the end of July is a 2 (4).  But you see, it's a risk-taking decision.
The only reason after doing a long-time as a professional news reporter I've found any ongoing interest in "the news" of the day is that the people who own stocks (and something like 54 percent of Americans have some exposure directly or through retirement funds) is to consider the "scales of finance".
The idea here is that every story is like a small weight that goes on a delicately balanced scale.  This in turn impacts mood in the casino (Wall St.).  Let's get through this morning's list, shall we?
News for the Scale
Definitely a negative seen in US issues worldwide caution alert to Americans abroad | Semafor
A positive in Biden speech reviews: Fox News' Brit Hume Lavishes Biden Speech With Praise (mediaite.com)
(I was going to score the Biden speech in detail, but when he didn't address the underlying energy problem, I just threw my hands up and have pretty much given up on D.C. There was a positive short-term in US lifts trade sanctions on Venezuela in return for reforms. But like everything else in D.C. it's a short-term answer to a long-term problem.
The bright play 3D chess; the minimum for office should be 2D chess. While the present cast is playing tiddlywinks while focused on the latest one to fall on the floor!)
Positive to mixed seen in EU-US summit to stress unity amid Israel-Hamas and Russia-Ukraine wars.
Negative to mixed in Biden trying to pivot Hamas Playbook: Biden tries to make it a foreign policy election – POLITICO
And everyone has their own scale going. Including president Xi of China: China building nuclear weapons faster than prior U.S. projections (nbcnews.com).
At the high level (biggest weights) it's a mixed bag.  But project a president now who has been under amazing stress, not to mention travel, and wild cards all over the Middle East and chart which have an ominous look to them… well, extreme caution seems like a reasonable headline.
Lighter Weights to Scale
Look at some of the "small weights" for investors, though most of these have little potential to move markets far off track:
Adventures in the Orange Aftermath roll on: Jury Selection Begins in Georgia Election Case (politicalwire.com)
Dysfunctional republicans (who might as well have declared war on themselves as a party) still can't group their poop: Rep. Jim Jordan will try again for House gavel, but Republicans won't back the hardline Trump ally | San Luis Obispo Tribune.
We again have to congratulate Elon Musk for, in effect, charging the policy-jacking social bots for manipulating the public agenda: Elon Musk: X, formerly Twitter, to launch two new subscription tiers (cnbc.com). There's so little about the genius of this (at cleaning up social) it's amazing.  Ever wonder how many FB accounts would just Poof! out if they charged $10 a month?  Money can be used as a social disinfectant, it seems.
Bitcoin will likely roll on up above $30,000.  In part because of SEC action in the Ripple case (XRP price gains 7.6% as SEC dismisses lawsuit against Ripple (crypto.news)) and partly because with high war risks about, digital money away from government's prying eyes….
ATR: Cementitious Weekend
(Around the ranch, if you're a newbie).
Our new patio/woodstove is coming along nicely.  More in ShopTalk Sunday. A column we love writing because we have this "hands on" approach to life.  We just can't do it in a small box. Not to diss box-dwellers….
I think about that square-footage thing sometimes; How Elaine and I got married on a 40-foot sailboat which had 120 square feet of inside space.  And now we live on 1.25 million square feet, I think a lot of it has to do with "how you range."  Some people are just born with a very small "tumbleweed gene."  They are wide-ranging adventurers.
The boat square footage was tiny compared to the ranch, but the ocean is HUGE.  If you've never been offshore, let me assure you that the ocean gets bigger the farther out of sight of land you get…
Hard knowing how a person like to range.  I used to ask in job interviews "Do you prefer an automatic transmission or a stick?" Hands-on people prefer the stick (a new Z06 around it would be nice…). Or they're agnostic.  Automatic transmissions can mean a person who doesn't need to be as involved in the details. Gosh, I could write a whole column on that…
Way more detail on the market and long wave economics of all this over on the Peoplenomics side of things in the morning.
Chicago Fed numbers Monday and little but a Purchasing Manager's report mid-morning Tuesday in the week ahead.  If Hamas, Hezbollah, and Iran can all just take a chill pill so we can ignore the wires for a while, the cementitious board can go up as a heatshield on the fence, the gutters will be cleaned, and we can practice drinking hot Apple Jack by Sunday quitting time.
Write when you get rich,
George@Ure.net