"Buster" will be on the Cyclops (the one-eyed monster called big screen) tonight at 8 PM.  However, we will be fading the happy talk going into the weekend.
Why the irreverence ("Buster")?  Because his trip to the Middle East was really a BUST. If anything, it made it clear to the Arab-Islamic side that the U.S. is firmly "all in" on Israel's defense.  Nothing new there.  But we believe that Biden has changed America's global leadership role into a second-rate wannabe.
Credit where due, however.  Biden has managed to state the obvious: 'You are not alone': Biden tells Netanyahu in Israeli war cabinet meeting. No getting anything past him, no sir. Or the headline writers…
The Saudi's know damn good and well that they were going to piss off SecState Blinken by first delaying, then totally blowing off, a meeting with him.  "The Boss" came to Israel, anyway.  Someone should have taken the hint.
Then, when it looked like a diplomatic trip to Jordan would be a high-risk game, that was cancelled, and Biden flew home with nothing to show for his efforts. (Except the jet fuel on the taxpayer's tab…)
In our half-century plus of covering news, it is clear to us that whatever Biden does now will likely be wrong UNLESS:
He unleashes American Energy Independence.
This is not likely.  Too many of his handlers are dyed-in-the-wool "environmental defenders" who can't see that by locking in energy, we have bent the country over into the "self-screwing" position. What we have seen from Hamas is just foreplay.  Want to live in a "sub" country? BOHICA!
The Saudi's aren't so stupid.  Russia (and China) are buttering up the Middle East and are expanding influence in the region.  We have all but lost.  You want a nightmare, figure out how much in the way of taxpayer assets was squandered in the previous "Buster buster" – the hastily conceived debacle/exit from Afghanistan.  Imagine how materiel left behind could be used to throttle U.S. interests in the Middle East…
Biden's energy misfeasance is at the core of what's going on right now.  By holding our own energy sources hostage, the Bidenista climate junta is selling out America.  And it's just getting worse as Climate activists rally to halt new U.S. exports of natural gas.  While the Energy Department roaches out restrictions on domestic use?  Uh…HELL NO. GMAFB.
"Buster" needs to ride the bipartisan "coming together of America" horse.
This one is tougher.  Because we aren't. The republicans have lost all hope of real leadership. Being unable to pick a new House Speaker (House of Representatives stays in limbo after Jordan fails on second vote for speaker ).  The "ready-fire-aim" party continues.
I'm genuinely sad the lamestream has kept the third party Kennedy ticket invisible. We have jokers to the right and fools to the left presently.  Nowhere for thinking people to go.
Buster might still find a "ride that bipartisan pony" if someone in his administration had half a brain.  Find a republican to policy-partner with. (Chuck a republican) Grassley praises Biden's defense of Israel, but criticizes policies (desmoinesregister.com).
OK, that horse is lame.
"Buster" needs to take $6-billion off the table and tell Iran to F.O.
We continue to be impressed from time-to-time with a very few level-headed democrats – which frankly we thought were extinct.  Apparently not, though. Sen. Manchin, colleagues introduce legislation to freeze $6 billion to Iran. Manchin's the rare democrat – with American interests first still front and center.
Biden needs to Act Global.
Hospital horrors aside, we still have a NATO (de facto) war in Europe.  Biden needs to be sending strong messages both to the Kremlin's Vlad Putin and to China's Xi. Because Russia has weaponized energy in the Ukraine conflict while China's out shopping for more.
China needs to be reminded of who we are. (Or, are we the paper tiger?) China air force harassing US planes, Pentagon says – Taipei Times.
There has to be more than just United front Energy in Biden's speech, though.  He needs to talk technology in a major way.
Let's slow up a bit so the whole class can keep up.  See China has designs on Taiwan and that's all about the future of A.I. Own A.I. and it's like the next Manhattan Project. Big and hugely going forward.
The ground under tech is changing.  Word that TSMC ditches Longtan chip fab site will impact coming 1.6 nanometer chips.  Pull quote from this:
"TSMC had planned to build a factory in Longtan to produce 1.4-nanometer chips, which would be its most advanced chips. Its 2-nanometer chips are scheduled to be available in 2025 and its 3-nanometer chips are already being used in Apple Inc's latest iPhone 15 series."
Like it, or not, Biden took America – a somewhat peaceful country when we took the Oval – into a country with three hot messes in progress and threatening to meltdown.  (There's a reason we call democrats "the war party" around here. Data speak and politics reeks.)
We might anticipate today a buy the rumor, sell the news event.  Biden's traditional liberal Northeast base had already started to swing the market positive ahead of tonight's speech in the pre-market.  Typical "running of the shorts" is the Spidey sense of today.
Having pioneered "Parimutuel Investing" our thinking is that we're working up into the mother of all Sell the News events. Maybe over the weekend ahead.  That would fit our views and those of The Economic Fractalist.  A second blow of steel would riff on G.A. Stewart's Nostradamus work as well.
Thing is, we will get a last gasp of Hypeleum before Friday's close? Depends on "Buster" as we figure it.
We may be verging on a new phenomenon in the world: The transition of television to something called telefission.
We will do the postmortem on Buster's Telly talk tomorrow, but here's our scoring plan:
Biden Speech Scorecard
Does the Biden speech:
[___] Begin even close to on time? (We can't respect the Office if the holder can't respect the clock.)
[___] Come delivered in a cogent and gaffe-free way?
[___] Was it highly presidential-like?  Polished, confident, or should he have taken another day to rest and prep?
[___] Limit U.S. acceptance of Gaza refugees to not more than 50,000 in two-years and include serious background checks and screenings? (Let the Arab world take care of their own mess! As I've suggested earlier, "American is not the world's shit-fixer.  Clean up your own regions – don't come wreck ours!)  [Even so, Canada is self-destructing under TruDope and socialism, but that's an off-mic convo for another time.]
[___] Does Buster admit open borders were wrong and we're now planning to go after OTM (Other than Mexican) infiltrators from non-Latin nations?
[___] Stand with Israel BUT! Use American forces only inside Israel (we've been invited from how it reads). Venturing outside only in hot pursuit of attackers and their supply chains.
[___] Speed up American Energy Independence through resource development? Our nuts are on the blocking block and if we don't call our own energy futures, Oil Masters will be Our Masters sooner than later.  Energy is food don't forget.
[___] Does the American stance have a genuine air of bipartisan support behind it?
[___] Does Biden have the balls to take away the Iranian $6 billion money that would pay for additional anti-American and terrorist efforts in the region?
[___] Does he warn Russia off from further adventurism in the Middle East?
[___] Does he have an actual plan to save Europe (whose energy scrotum is already being viced)?  What is it?
[___] Announce improved plans for Taiwan technology partnerships and import more Taiwanese (very smart people at chip development, and (look around) we need smart people as much as destitute people with low skills, don't you think?)
Last, but not least:
[___]  Does he do a great wrap-up? How about something like:
"America has a big role in the world. But we are not made of money.  As a result, I am changing my role as America's Commander in Chief.  From now on, I will direct the world's finest military to achieve our objectives on the most cost-effective basis possible.
We notice with concern that Russia has made motions to rescind their participation in the nuclear test ban. ( You did see where the Russian parliament moves to rescind ratification of global nuclear test ban?)
In this new role, our military will be tasked to deliver specific measurable results. The means will be up to professional military leaders at all levels of command.  We will no longer micro-manage means from State or here in the White House.
When other countries abrogate terms of the Geneva Convention, we will not abide by those terms, either.
Understand that America is always has been – and always will be – about freedom. We are also fully committed to Equality. If you are a terrorist, if you screw with us, of if you're a nuclear power, or threaten our closest allies, be ready for the most cost-effective – equal response – the world has ever seen.
God bless these United States."
I think even Vlad Putin would take that kind of bold, don't jack with us and delegation of means, very seriously.
Putin and China's Xi already have decided to gang up on us: With Putin by His Side, Xi Outlines His Vision of a New World Order. It's not very much like ours.  More government, less freedom, but who is paying attention here at Narcissism Central?
---
It won't happen, of course. But something to think about as the Buy the Rumor plays out today.
I tend to be hot-headed, and outcome focused.  In short, not the kind of person you'd want in government. But the right medicine in most corporate positions for action is needed and the clock is running.
It doesn't work that way in government.  I have a hard time listing a major national problem of political issue that has actually been solved and I'm quickly coming up on 75-years of looking for something.
I don't see us as significantly smarter, healthier, prosperous, better educated, more equal, more loving, more sharing, or more giving as a country than back in 1949 when we were the only actual superpower. Sadly, we have continued to lose ground. Because we keep following the same issue-beating Piped Pipers of Bullshit who can't think in straight lines useful in coming to honest conclusions.
This is the #1 Global malaise, whether you live in Georgetown or Gaza.  Dallas or Disneyland. Beijing or Boston. We need results on some core issues while there is still time.
If not?  To be expected from a bunch of ill-mannered apes who tend to pick up a stick instead of picking up our thinking.
Sheesh.  Where was I?
Money Minutia
Philly Fed report is just out: Mixed bag…
"The diffusion index for current general activity increased 5 points but remained negative at ?9.0 this month (see Chart 1). This is the index's 15th negative reading in the past 17 months. Almost 35 percent of the firms reported decreases in general activity this month, while 26 percent reported increases; 38 percent reported no change. The index for new orders rose 15 points to 4.4, and the current shipments index rose from ?3.2 to 10.8.
And as for this week's take on the new unemployment filings for the week?  Here's how it played out around the country:
No states reported a decrease of more than 1,000 in UI filings.
Five regional Fed chiefs speak today.  U.S. Balance Sheet this afternoon.  And in case you missed it, the U.S. Industrial Production numbers this week revealed that real goods making was down (year on year) 8-10th's of a percent.  Mining was up 3.4 percent, so foreigners are buying our resources out from under us. Then making goods elsewhere. Dandy, huh?
Ports Data
Long Beach longshoring sucked last month:
On the other hand, a little overtime in Los Angeles: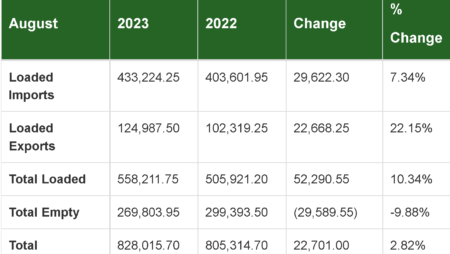 Adding a zero to the LA figures (no idea why – ask them, LA is larger than Long Beach) We see total imports for the two ports were 6,675,704 loaded imports this year, versus loaded last year of 7,581,305.  Which to us sure looks like total imports down almost 12 percent.  How you get a "growing economy" with that kind of move at the nation's two largest container ports, well, I don't do that for a living…
Rip 'n Wires
Funny Money and all: 30-year fixed mortgage rate just hit 8% for the first time since 2000 (cnbc.com)
You mean like Oxy Air?  Amazon will start testing drones that will drop drugs on doorstep.
Wait – time's up.
Must click.
Write when you get rich,
George@Ure.net