We will jump cut right into the Cost-of-Living report just out.  Because this will temper how the Federal Reserve Open Market Committee looks at a potential rate hike at month-end.   (ready?)
"The Consumer Price Index for All Urban Consumers (CPI-U) rose 0.4 percent in September on a seasonally adjusted basis, after increasing 0.6 percent in August, the U.S. Bureau of Labor Statistics reported today. Over the last 12 months, the all items index increased 3.7 percent before seasonal adjustment.
The index for shelter was the largest contributor to the monthly all items increase, accounting for over half of the increase. An increase in the gasoline index was also a major contributor to the all items monthly rise. While the major energy component indexes were mixed in September, the energy index rose 1.5 percent over the month. The food index increased 0.2 percent in September, as it did in the previous two months. The index for food at home increased 0.1 percent over the month while the index for food away from home rose 0.4 percent.
The index for all items less food and energy rose 0.3 percent in September, the same increase as in August. Indexes which increased in September include rent, owners' equivalent rent, lodging away from
home, motor vehicle insurance, recreation, personal care, and new vehicles. The indexes for used cars and trucks and for apparel were among those that decreased over the month."
A table to ponder and compare with your life:
We're thinking the 4.1 percent in the bottom All Items line may help moderate Fed Fear and that could keep the rally alive a few hours. Dow futures were up 150. But beginning to fade.
We worked on charts before the news of inflation dropped, but let's consider the bigger picture in here:
Yes, we might take a short position ahead of events.  For now, we're out of markets waiting for a rally to the middle of the trend channel (and a possible wave 4 rally of (1) down of the Larger 3 completes.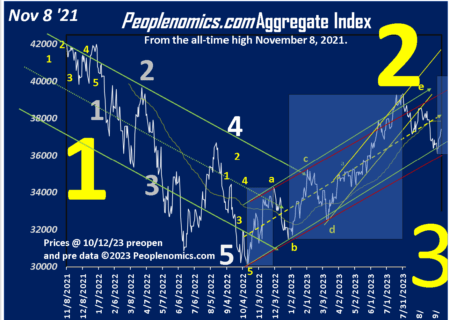 We did lay out an interesting alternative count for Peoplenomics subscribers Wednesday.  Long shot up as a wave (5) extension of the previousl buried Wave 2 high back on July 31st.
If you look closely, you can see where we still haven't crossed above the 85-day moving average, yet.  And after that, there would still need to be an advance over the (extended) Wave 2 (yellow scale) channel, so color us skeptical to put it mildly.  This is why we don't offer financial advice.
There is no investing, it's only gambling. And Everything is a Business Model.  It's not like the casino rules aren't posted!
This Week's Experience of Unemployment 
Looked like this in this morning's UI report:
(Don't mind me, I'm still trying to wrap my head around the market remaining in rally mode against emerging reality.  Maybe humans are less aware, and less smart, than I gave them credit for…)
Swinging Toward War
Our biggest concern about this lifetime is the present risk of nuclear war that has wheel back into foreground after a much-appreciated mid-life. respite.
Many of the readers of this site are "grownups" (often only insofar as the calendar reveals) who lived through the Cold War when it verged on Becoming Hot over the Cuban Missile Crisis.
The present time has this kind of a vibe to it.
World War 3 Outlooks
The horrible progression began with Hamas forces breaking into Israel bent on murder and mayhem.  Beheading babies on live Tv is freak teevee. When It Comes To The Atrocities In Israel And Gaza — There Is No Victory In Causing The Suffering Of Others.
Hamas owning the subhuman violence space seems to attract a boatload of anti-American groups. In addition, events are showing the duplicity of the socialist left as SPLC silent on whether BLM, Dem Socialists' pro-Hamas activism raises 'hate' concerns.  Double standards, as we've said, are foundational for "equity propaganda and agitprop."
As for actual hate-mongering, we refer you to BLM chapter sparks outrage after posting pro-Palestinian cartoon referencing Hamas terrorists.
To eye-for-eye on this one, Israel is invading Gaza. Satellite images show Gaza ruins as Israel retaliates after Hamas attack.
Anthony Blinken (nominally SecState) is in Israel now, but Israel is not likely to buy any Biden-back mollycoddling of terrorists.  Israel Aims to Dismantle Hamas as Blinken Tries to Prevent Wider War is likely a gentler version of events than I could write, giving no quarter to enemies of peace of any movement.
It Will Get Worse
Because the media has – as always happens in war – been turned into the propaganda tool of those who kill.  And whose bloodlust is not yet satiated.  As seen in Hamas Calls for Global 'Day of Jihad' on Friday the 13th (breitbart.com). Or reading Hamas kills 40 babies and children — beheading some of them — at Israeli kibbutz: report (nypost.com)
The problem is that tomorrow is, indeed, Friday the Thirteenth and it doesn't get less lucky than this date.  For example, at the superficial level…
"One source mentioned for the unlucky nature of the number "13" is a Norse myth about 12 gods having a dinner party in Valhalla. The trickster god Loki, who was not invited, arrived as the 13th guest, and arranged for Höðr to shoot Balder with a mistletoe-tipped arrow. Dossey: "Balder died, and the whole Earth got dark. The whole Earth mourned. It was a bad, unlucky day."
In another cite, the role of the number 13 is amplified:
" The superstition seems to relate to various things, like the story of Jesus' last supper and crucifixion in which there were 13 individuals present in the Upper Room on the 13th of Nisan Maundy Thursday, the night before his death on Good Friday"
Yet, for us, it was the events of Friday October 13th back in 1307 that held special meaning for the "going East" crowd.  Explained in a very good article from Alabama.com explaining…
"According to legend, the Knights Templar, a powerful religious order that served as early bankers for all sorts of powerful people, were arrested on Friday, Oct. 13, 1307. The arrests were done on the order of French King Philip IV, who wanted to get his hand on the Knights Templar's cash (and avoid paying then back money he'd borrowed.) Phillip accused the Templars of heresy and had some of the order were arrested and reportedly tortured.
The Knights Templar were essentially out of business.
Notwithstanding, hate is in the air. Guards at the eastern door?
Sequential Trip Wires
War propagation is something else in the air.  Carrier-based fighter groups as Israeli Major General: "We are falling into an Iranian trap in Gaza" – US mobilizes 26th Marine Expeditionary Unit with two ships.
With the entry of Hezbollah, all but an accomplished fact now, we can already see the trip wires going off and a grimly modeled future results.  Because thisi weekend would be an ideal time for Israel to employ first use of nuclear weapons and decapitate the snake's weapons cache.  Here's how this is become foreshadowed today: The Way To Stop Hamas and Hezbollah Is To Punish Iran | The New York Sun (nysun.com).
This, in turn, might in coming weeks, allow for Russian use of "tactical nukes" in Ukraine. And now we're into the spiral into World War 3 with few cut outs along the way.
There is Still Other News
And some of this could percolate into our future, as well.
Wasn't us, wasn't you, either: $1.765 billion Powerball jackpot goes to lucky lottery player in California (thestar.com).  Their luck had to turn. Living under Gruesome after all, lol.
Republicans are locked, seems, in perpetual battle to figure themselves out: Scalise is GOP's pick to be the House speaker but he faces an uncertain path. What happens next? | MPR News
Maybe some of those 87,000 newbies at IRS could help a bit: Microsoft receives $29B IRS tax notices for decade-old transactions | CIO
And keep an eye on Bitcoin with the latest market upheaval – might break one way or the other ahead of events. Bitcoin (BTC) Price Latest: BTC/USD Chart Mixed as 200-day SMA Stands Firm (dailyfx.com).
Priced at click time around $26,848 which hints the market rally may be "insincere" would be a nice way of putting it…
Around the Ranch:  Thank you, Roger
You'd like Roger.  80-something now, is it? He's led a dandy life of adventure and self-learning.  Many side trips into the non-local world and its associated attractions like remote viewing and UFOs… Machinist up in Boeing country for years, now in the Phoenix area…
Point is Roger sent me details about a multiple part, online, past life regression series that started yesterday.  My take on it?
Wow.
There are No Words for getting in touch with a past self, is the short version.
There's a 4,000+ word article, documenting the experience, which will be our focus piece in next Wednesday's Peoplenomics report.  Incredibly useful stuff.
I just wanted to pause and publicly thank Roger for telling me about it.
OK, off to face Thursday.  Like Pappy used to say, "Means only four more working days until…Monday!"
Write when you get rich,
George@ure.net