Famine is coming.
Yeah, sure, Roe, Wade, demonstrations, hype.  Have fun with that.
The larger reality is there's no caloric payoff to any of it and damn few people will have noticed the recent Newsweek story Gathering Storm of Famine Looms Over Many Nations.
What Preppers Miss
Most preppers I know have never done a "dry run" of survival gardening.  "I have stored food, so I'm good."
No, not really.
Unless someone tells you to get Ace 55 tomatoes – which can produce in a little over 2 months in reality – you are in for an ugly and hungry surprise.
Most crops take 120-days, or so.  Which means if you have 120-days of food stored, you'll only be alive four months while society finishes burning out.
At some point, you will have to wean off the freeze-dried and get back to survival food sourcing.  Eating squirrels shot with the .22 are going to depopulate quickly, too.  Along with other meat sources.  Why do you think beans were so important in the West?
At best, you might get three gardens in per year: spring, summer, and fall.  But, what about the water supply for them?  We can tell you from experience that our rainwater collection system was emptied last month and we're on the second mains refill now.
Tomato Crisis
We were, as preppers very pleased with the "early results" of our tomatoes.
Why, we could almost taste these delicious fruits.
But a few morning's later, a trip to the garden revealed this:
Birds had eaten our fledgling tom's and as the blue arrow shows, it doesn't take a "rocket surgeon" to figure out who the perps were.
REALITY CHECK:  Have you really figured out how to garden when society collapses?  Because right now – in our misadventure into self-sufficiency, we can get on the web and load up with all kinds of "scare tape" and bird netting on the cheap.  It's all on the way.
When EMP or surprise first strike comes along (or just descent into general anarchy because people are SOOO stupid!) recovering from this kind of gaffe won't be an option.
Ground Problems Too
And what about Ure's prized cantaloupes?  Same story, different culprit:
And do remember those sugar pumpkins that sprouted from the 30-foot runner we let escape from the raised bed?  I mean, this looked just dandy!
Until along came squirrels.  Then, a pumpkin half again the size of a soft ball was eaten overnight by some kind of ground critter.
In our prepping inventory, the only quick option was a large sticky trap designed for rats and such.  We'll see how this works when the blooms turn to edibles in the next week, or four.
Point is?
If you don't have absolutely everything in stock and on-hand to get serious food production online again within 120-days year-round, your prepping efforts are likely just a one-way ticket to hell. Sorry to report.
The good news is that rather than piss away time into media distractions, you can be container gardening like crazy.  Building that lean-to green house and doing all kinds of other basic food production work.  Hydroponics, for example.
Just thought you might want to know – if we were forced to eat ONLY what we have grown here, we'd both be thin as rails.  For now – short of famine knocking – skinny is Elaine's province, not mine.
Cold Air Idea
Want a free 2-degrees cooler from your air conditioner?
I got to looking at the window mounted units in the shop and my office this week.  Did some "wet finger testing" to see how the air flows were doing.
And made the useful discovery that air tumbling was causing the a/c units to work less efficiently.
See, when cooled air comes out of the a/c unit, it tumbles – air turbulence.
This already cool air – at least some of it – drops down and recycles into the intake area.
Naturally, it's obvious that if 100 percent of air was moved away from the cooler, it would be more usefully employed in cooling the room!
The solution is two small pieces of thin plywood though you could use some duct tape and cardboard, too: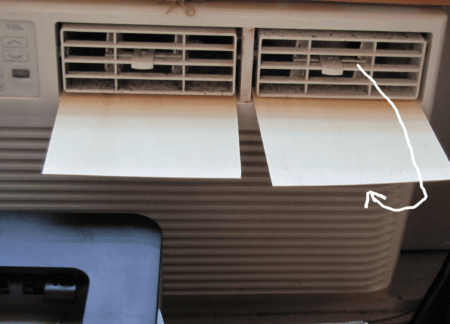 These make the return path (from outflow to intake) much longer as shown by the white arrow.
Thanks to 100-degree days this week I was able to do some serious testing.  The overall improvement (because a laser printer is close to the a/c (as you can see lower left in the picture) was about 2-degrees.
That seemed like a pretty good payoff for literally 4-minutes of thinking and doing.
Ham Radio Field Day
This being the last weekend of the month ahead of the Fourth, it's Ham Radio Field Day.
The event is held twice a year and is sponsored by the American Radio Relay League.  Contest rules are over here; Field Day 2006 Rules (arrl.org)
The basics of ham radio are not difficult to learn.  With the Morse Code requirement being dropped a couple of decades back, robust citizen radio with global reach is widely accessible.
The best way to play at field day – is to use low power, a suitable antenna, and an off the grid power source.  Batteries or solar – whatever is at hand.
A low power radio is good, too.
We usually have several, including the USDX(plus) which son G2 has with him on whatever mission he's out on (doesn't talk about it).  You can find these radios on eBay for between $120 and $150.  Be aware of gougers, though.
The radio I'm thinking about putting on line today is my uBITX.  This radio can be had for just over $200 from HF Signals.com.
The uBITX is a much more capable radio mainly because of better power output at 12.volts and a much more mature receiver.  Still, any radio in a storm, huh?
The best antenna for these kinds of exercises (I mean really portable) would be an off-center fed dipole.  135-140 feet of wire, with a balance to unbalanced transformer (4 to 1) because the antenna will be around 2oo ohms of impedance (AC resistance) and the coaxial feedline will be 50-ohms, or so.
William at the Radio Ranch is partial to the one other good antenna for such events:  An End-Fed Half Wave (EFHW).  These use a higher turns ratio for antenna matching (often 9:1) and they work quite well.  My problem with them is you need to get two ends as high as possible.
The Off-Center Fed Dipole (OFCD) will work well in an "inverted vee" (think droopy ends) off a single center support.
Whichever way you go, great weekend to look in on public parks and such.  If you see a collection of people (often looking up into trees for no obvious reason) those are likely hams.  Go say hi and tell 'em AC7X sends 73s.  *(my call sign, and 73 is the Morse abbreviation for "best regards").
On that note, still some phantom rain in the forecast to time to fire up the riding mower and prune 3-acres of time sink.
Write when you get rich,
George@Ure.net