Oh, boy. This morning's report will be a "two cupper" – and maybe three cups – if you study the ideas, problems and pictures of today a little bit. There is so much going on around here it's, well, amazing.  This writing less and doing more is turning out to be most agreeable.
We'll get to our first work – the Ladder Rescue Project – in a sec. What happens with time (and goal) management, though, is really interesting.
Doing More – By Doing MORE
If you remember, I vowed to take a little "extra time in the shop" and cut down my writing a bit.  Less chair time.
So, a near book-length outline of an improved (and practical) system of Pomodoro-based time-management is in the works now – with respect to Francesco Cirillo (The Pomodoro Technique: The Acclaimed Time-Management System That Has Transformed How We Work) and Cal Newport  who wrote Deep Work. I'm hitting productivity levels of a "man possessed" i30-years younger.
The magic (at least for me) has been using a modified Pomodoro approach (Cirillo) while honoring Newport's Big Things take real.
I'll get into that (when other things are less pressing) over on the Peoplenomics.com website.  I will say that ever since I found more joy in work – by wrapping it up in a spreadsheet to randomly organize everything in a complicated life – which Peoplenomics subscribers can download in spreadsheet form from here – I have been maniacally focused on getting more done in less time.  And having more fun!
Going Deeper…
This gets around to a fundament thought-into-action concept called iWAMP.  That's short for the continuous question: "Is What's Around Me Perfect?"  Because to find out what's really important to do at moment, all we need to do is look around and spot areas of "imperfection."  World's an imperfect place.  Unlimited opportunity for improvement, right?
Since we can each do anything, but life is too short to do everything, we need "Search Criteria" for personal management.  My favorites are Important, Impactful, and Interesting projects to improve-living.
Important because ideally, our projects and works should result in a meaningful change in how the Universe expresses itself in our presence.
Impactful because these "works and projects" should not be "organizing the angels on the head of a pin" (minutia, meaningless).  Rather they should make things better both personally and for others in our vicinity. Big acts seem to net Bigger Results.  (There may be time lags, however.)
Interesting because, as I wrote in my book Packing to Die, a LARGE part of living this Life is about the "game film playback around the time of dying. Which is in the literature (medically) analyzed as the Life Review Process (or Experience).
Never, ever forget that our Lives are like a huge video -and our brains have a miraculous GoPro logging system. A late friend of mine used to end his radio DH show with "You can't turn your back on your Face."  
To live a great life there are three critical alignments:
As above, so below – Incoming:  We start life with the choice to work with Creator/Universe or fight it.  (Hint: Go with the flow!)
During: We need to align our lives, while living, with what we consciously know as our highest purpose.  Fun – do what you love.
Exit, Stage Up: And WHILE doing front-end alignment and while "driving through life" alignment, we also need to remain cognizant that we are constantly "rolling game film" with our onboard "dash-cams."  Playback (with commentary of Others) when you kick it to the LRE.
Life cannot, therefore, be genuinely and deeply experienced sitting still. Doing Big Shit is key.  Little stuff can wait.  Really.
Which is why, when we're not slicing off small (but semi-regular -;)) day trades, we are really focused on turning our home into a creative Mecca.
Maybe next weekend we can talk about one of the core concepts here:  Workstations for Success!  We have "workstations" for every major task-group in Life around here.  Or, they're in development…
Whee!  Long get-started discussion, but useful in the longer haul.  Trust me on this.
Ladder Rescue
20-years ago, or thereabouts, we moved to the Outback of East Texas.  For the massive remodel, I bought a wooden ladder.  Stndard 6-footer. And we have just abused the hell out of it.
This week, the paint bucket fold-down fell apart.  It was time to rescue the ladder to ensure it remained useful.
Solution-Scaling
You can see the problem, clear-enough:  Ladder was old and "beat to shit."  But now came the 2-cups of coffee "thinker" on this one:  What is – to channel Frederick Winslow Taylor -the One Best Way to get the repairs made?  Let's review some choices:
Replace and Upgrade:  Yes, the ladder is 20-years old. Could I update and get a better platform?  Yes.  Only takes money and time.
Repair:  This offers a who list of approach choices:

Glue:  Use modern adhesives.  Clamp and use in an hour or less.
Screw:  Pretend the world has ended and there's no more epoxy.  What is the lower-tech solution?
Re-Do:  Take the assembly all the way apart and put it back into amazing like-new condition.  Recut all broken parts.
Re-Do looked interesting.  But, on closer inspection, the original paint shelf was applied using long-ass staples which we don't stock in our shop:
Screwing the project together?  The wood was beginning to split, so at least two pieces of wood would be needed.  Thing is, they are riveted to the ladder as pivot points and now we would be back into a mechanical engineering process.  Color me skeptical of rivets.
The right answer led me to the Glue department where we are reasonably stocked.
But please note that Loctite has a couple of "flavors" of 3-thousand pound epoxy.
The Big Project tubes don't come with two "mixing nozzles."  (See arrow above).  Make SURE to get the kind for small projects with the mixing nozzle and cap so you can get two small projects if you don't do a lot of epoxy glue-ups.
In gluing, there is a theory that using Saranwrap can be a useful thing: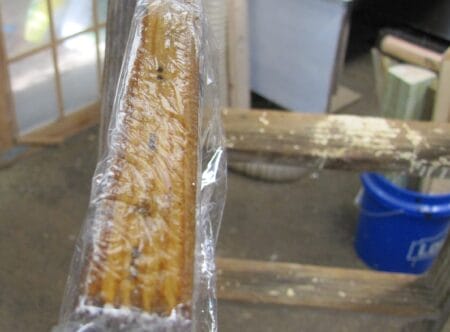 It's all a lie.  While you can try it (as I did), better off using nitrile gloves and just dealing with the fact that gluing is messy no matter what.
When you've got glue all over everything, clamp it up:
Come back an hour or two later, paint the repair (and remember not to leave the old wood ladder outside, as much.
Last step:  Old wooden ladders use long "threaded rods" to hold the steps in place.  If your ladder is the least bit wobbly (side to side) odds are tightening up the threaded rods will fix you right up.
Manpack HF Radio
Having had the joy of talking from Texas up to Wisconsin on 3 watts of SSB on the 20-meter ham band, son G2 and I decided to take this portable QRP (low-power) hamming to the next level.
This week, we assembled all the parts needed for a serious HF manpack radio: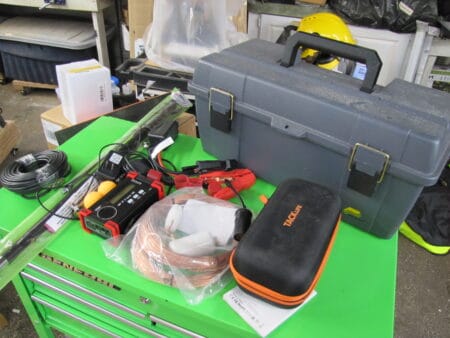 About the only thing not shown?  An aluminum framed backpack.  You can find something useful for under $40 online.
The one odd-ball part is a 10-inch UHF (SO-239 female each end) bulkhead fitting.  This 10″ section is pipe-clamped to one side of the backpack.
I also did some antenna modeling and found there's an inexpensive 2-3 dB of antenna gain possible by just putting on a "radial ring."  This will be at the top of the bulkhead connector, and will allow 4 to 6,  3-foot sections of aluminum welding rod to be bent onto screws as base ground radials.
Not a fan of having RF right by my head (care for the void, right?).  But can't be worse than country cooking with 5G, right?
More pictures and notes in a following edition.
Super Booth Project
Going with this "workstations: approach to the shop (and house), I mentioned several weeks back that I was going to clean an area of the shop and put in a "small tools with chair" section.  Big tools are used standing up and small tools can be safely used while seated.
This "small maker's area" will be optimized for multi-function use:
Small square and angle sawing:  Place for our old Dremel Table Saw.
Freeform sawing:  Places for the retro Dremel MotoSaw and the larger Skil 16″ scroll saw.
Small wood lathe:  There's a tiny 8X12 Wen mini-lathe that needs a home here.  Wen is discontinuing it, but it's very good on smaller projects. Pens, models, and such.
Metal lathe?  I'm still debating if the small Taig metal lathe should live in this area or stay over in the metal workstation area.  May not move it.
Air Brushing Booth (finally, to the point, huh?)  Now we're into the meat of it…
You see, this week, I decided that a three-sided U shape would likely result since we also need some work/assembly space.  And I came very close to "pulling the trigger" on this (nice) air brushing booth.  Then I saw the $20 shopping charge and moved back into thinking mode. Money matters.
Thing is, it occurred to me we could do this booth thing as a Community Project.  Because what I REALLY want is a dual-purpose booth.  Something that could be used for BOTH airbrush painting AND also has a dust booth for the small CNC machine.
See the problem developing?  Either I need to get a real efficient design going OR I need to have this split into two workstations.  Airbrush supplies alone look like this laid out on the small projects sit-down bench:
By the time I add in all the other small tools (Dremel drill press, router, tool stand and flex shaft, the table saw) and then toss in the small lathe and the scroll saw, this whole "single workstation for small stuff" begins to bump up against dimensioning limits of physical Reality.
For the Booth project, I ordered four booth filters and a 4-inch inline fan for less than $50 and I can make the rest from scrap and build up the filter box and print it on the Creality CR-10.  I might even post the .STL file so others can borrow the idea…
Ranch Tour
Everything in the Garden Room is going nuts.  Wde have more than a dozen yellow squash flowers popping: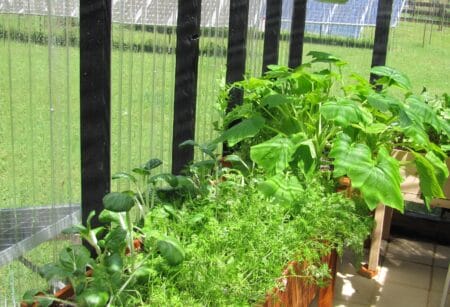 Elaine's happy with the radishes that are nearing edible size:
And out front?  We may be in a national drought, but East Texas lawns still have that "let's play golf on this" look to 'em:  View from the dirt garden:
One Last Thing: Oil Painting
I decided this week to try and do an oil paint.  Elaine's already got a "paint station" out on the screen porch…and now there are two easels and sets of paint and….
Why paint?  Well, the process intrigues me.  More to the point, though, I am working on trying to "bring back some view of Dream Realms" and this seemed like a simple way to do it.  Installing a USB port into my brain stem didn't seem like a "home small shop weekend project."  Know what I'm saying?
Not really worth showing yet, but it begins to rough-in something like this for the first painting I have in mind: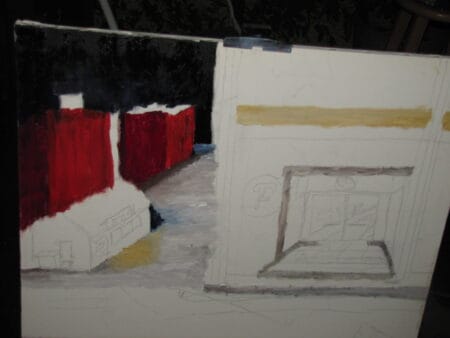 Might be fun to put a picture of progress on this up, now and then, to see how it "condenses to the physical plane" as I paint in coming weeks.
OK< nothing to do around here, no sir…
Write when you get rich,
George@Ure.net
P.S.  Click the comments label here to send in your ideas on this multipurpose booth project…