Sheesh.  Not a fun week for Ure. Turning 74 this month, I thought the Sun was supposed to come out, not go falling apart on us.  And golden years?  Pah-leeze!
Got up at 3 AM (*brain on fire, couldn't sleep) Friday morning.  Wrote column, futzed around, ate and then my neighbor showed up and in a half hour we got the tractor tire fixed.  Me supervising, him doing the heavy lifting.
Getting it to hold air was a venture.  Finally solved with a shot of WD-40 and something else (another six pack of WD is forthcoming…).
Walk With Me
Off behind and east of the tractor port is this corner of the front yard where all the big trees ended up. This will need about four yards of topsoil to return to right.  And somewhere I have a drainage culvert to dig out and clear, but the look of fresh forestry is gone…
Now, thanks to my neighbor's big brush machine (and 16-inch hydraulic stump grinder on the back) we not only punched in a road directly down to burn pile #1, but also turned it into an access road down to where G2 wants to build some of these days…
As I was walking up to the other collection of trimming and logging debris, I happened to look up on the roof of the shop and this caught my eye:
Yes, right!  High power 4:1 balun (balance to unbalanced) antenna matching unit and the remnants of Super Antenna IV which wasn't up to the ice storm.
Off 130 feet in the distance, you can see where the big limb came off the top of the "antenna support" – looks baren and lopsided now on the left side of the top of the right tree:
Which also was carted off to burn.  But not before a snap of how other limbs came down in a spear-fishing for humans manner!
That upside down tree branch would have hurt – a lot – and it's why after being lucky for 20 years, I have finally been reduced to wearing a helmet when deadfall is falling.
A little detective work (though it wasn't hard) suggested that the antenna had become overburdened with ice (I designed for that) but somehow the big limb was not in the calculations.
Which means 55-feet up in the sky, the halyard for wire antennas is hosed…
That piece of angle steel keeps the antenna and feedline a respectable distance from the tower resulting in a bigger signal (What's called a Texas Kilowatt-sized ham radio signal!).
Tower comes down or we rent a bucket truck.
The Garden Now Gets Sun
!
Any idea how much crap comes down when you drop trees?  Yee gads.  Gone refers to a now-gone big pine and "topped" is overhead 30-feet, or so.
Which was too far from burn pile #1, so we made a second pile down just past the shooting table for the 100-meter range:
Our property runs well past those far trees and you can't see the backstop from this angle, but you get the idea.
On the way back to the shop (doing a big circle tour, right?) we still can get on with the 3806 group this weekend because of the north-south OCFD antenna: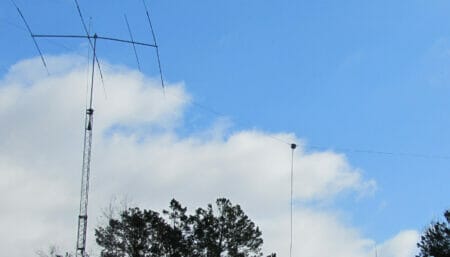 Being lower, it's OK for CONUS/Stateside but no great shakes on 20 meters, like the other one was.
Yard Recovery Plan
We'll get a four-yard load of mushroom farm dirt for the garden and four-yards of topsoil to reconstruct the torn-up turf in the front.  Not in a hell of a hurry to lay it in, though, since it's still a little cold for seeds and no point putting dirt down until we're ready to water and patty-cake it to death.
I'm thinking mid-March because in April, my buddy "the Major" will be down for a week, or so, and we'll set right all the antenna issues then.  I love working on antennas, but single handing (with a tractor) the lowering of a 55-foot tower with 20 feet of pole on top for the beam isn't a good idea.  Wasn't at 60 when I did it and damn sure ain't at 74.  If nothing else, having someone around who can do last rites….
CW Interest
Only one business point this morning.  A couple of people have wondered about a slow speed Morse code class on the air for the hams who either have lost their way on Code (the major needs a brush-up for example) and there are a lot of technician class hams who don't know that yes – they DO have HF privileges, but only on CW/Morse.
The 40-meter band looks like the best bet – because the privileges run from 7.025 MHz up to 7.125 MHz, so lots of room.  We'd steer clear of the FISTS and SKCC calling frequencies and the digital cowboys on from 7.065 up to about 7.085.
This could be either a one night a week, or more but honestly, if you're not working on code 2-3 nights a week, you're not going to improve very quickly.
It would be great to see who is interested and I'll put a page up for the UrbanSurvival Code Net if people have an interest.  As well as WMotRR's notes on 3.999 and 7.299 (LSB) on the quarter hours with no net control, just a meet-up place in case it all hits the fan.
My interest in getting involved in this is that I have a "cootie" key that a fellow handmade for me.  Also called a "side-swiper" there's a lot of radio history behind them. A look at WS1SM CW Page, Telegraph History, Morse Code, Key Collecting, Operating CW, CW Links & More is a good starting point.
The only speed that's "too slow" is not sending at all or making no effort on receive.  Digital code decoders are pretty inexpensive these days (and actually built-in to some radios).
Let me know if you're interested, but low power Morse is very unlikely to be monitored widely, it's reliable all over the country with less than 100 watts and a fair to better antenna.
People talk about prepping all the time.  And how many of us have a small fortune in freeze-dried, right?  But how are you going to get a message from one coast to the other if the balloons go up?
Write when you get rich, or 73's but nearly 74…
George@Ure.net /ac7x, FISTS/SKCC