Everyone has a messy shop, to one degree, or another.  I'm just more guilty than most because of my youth.
See, my Main Hobby was ham radio.  When you work on a radio, you do whatever repairs and adjustments are needed.  Then seamlessly slide into playing with it.  There's no logical "break in the action" to pause and clean up.  If anything, there's a certain "magic" to a piece of tube radio gear with the scent of fresh rosin core solder wafting in the air…No disorganization penalties.
Breakthrough!
This week, staring at a several months-long accumulation on the main workbench leftovers, it occurred to me the Cleaning Project simply looked too overwhelming to even begin.
I'm an ADHD kinda guy.  Like to get in, get done, get on to next.  But THIS was a God-awful pile.  A foot or two high in places, the usual "head down and just fix it one-item at a time" sent me into a panic.
So, I thought about it.  "What's the matter with You, Ure?"
Too confusing?  Too complex?  To…overwhelming?
Yes.  That was it.
Insert a flash from the past:  A CEO of a company I once worked for (guy's name was Bill Brock) gave me two of the greatest personal organization secrets ever.  I'd merely forgotten.
"Now, when you do a walk-through of one of our facilities, pay attention to how NEAT the place looks.  No cardboard boxes on the floor.  If there need to be boxes, are they on shelves?  Same with desks.  Are they messy with papers scattered all over?  Or, is there an organized inbox, outbox, and enough space clear to work on a report with supporting documents and not have it look like a land fill?  Senior managers should at least keep things filed-by-pile….Go over anything noted in the exit interview…"
Then it sank in.  File first by pile.
Within a minute of staring at the mess, I could make out a very simple outline of what my "piles" would have to be:
Lots of tools never got put back.  Partly because not everything had a home.  A new set of screwdrivers, for example, was still in the plastic clamshell waiting to be unwrapped.  But, where would they live?
There were supplies that had landed (even some mail in there, too).  Amazon had gotten things as far as my bench, but I had not put the supplies in the "project piles."
"Project Piles" were indistinct.  This little do-dad here, would go with a project over in the greenhouse.
And empty envelopes and small boxes awaited the burn barrel.  But, it had been either too dry, windy, phone calls and emails intruded, or it was dark, or…(list of excuses here).
After all this, a sweep would polish it off.
Easy solution:  Put all the TOOLS on one flat surface (the table saw).  Put the BURN TRASH on a bench (so I would stand until done).  SUPPLIES went on top of the new roll-around chest, (so I couldn't get to those tools until the supplies were put away."
The mental fog began to clear.  The "cleaning questions" became simple.
Simple Questions, Quick Work
Most of the tool locations were already set.  Sharps (knives, blades, razors, small saws, X-actos, and such live in one roll-around.  Twist-with-wrist (sockets and wrenches) live in another.  Squeeze-to-please (*pliers, diagonals, tin snips and so forth) went in another.  This wasn't too hard to dispense with in a few moinutes.
Still, the new set of screwdrivers didn't have a home and it's while contemplating the question "Where should these live, and how?" that it sank in that cleaning was really nothing more than FOUR projects, not just one.  The Reductionist Ure breathed a sigh of relief.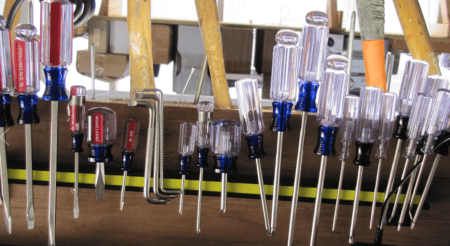 Although not cheap, these 18-inch magnetic strips have been around for years.  Thing is, I'd never before been in the position where the old style storage – made of a few cents of scrap wood and some drill press time – would not fill the bill.
If you're young, this is one of those things where – from the 73-year vantage point – it's better to spend $17-dollars and 3 minutes to solve a problem than a half-hour (or longer) cutting, doing layout, drilling, gluing and nailing, and eventually mounting the old-style holders.
And there are just some things – like drills, Torx drives, assorted impact drivers, where nothing is as good as a strip.
Like they need another selling point?  Magnetic strips don't collect as much dust, either.
Dear Harbor Freight
"I recently decided to expand to a second mobile tool rack which can be wheeled around the shop to whatever bench has caught my eye for the day.  Got one of those General Tool roll-arounds. OK unit.
But here's the thing:  The plastic "insert" ya'll use is pure shit.  The gentlest tug and it rips.  Observe:
Honest, it had moved when I slammed the drawer shut and I made the mistake of pulling – not Goliath-hard – more like old man wimp hard – and it tore.  See arrow (above).
Thank you in advance,
The Texas Tool Slut Chapter.
Whee!  Saw Project
Back during the Covid lockdowns I was keeping a sharp eye on the Craigslist ads because I have always wanted a radial arm saw.  As luck would have it, I found one for $50-bucks just up the road a short piece in Brownsboro, Texas.
After being "seasoned" on the shop floor for a year, or so, it was time to raise it from the floor to the workbench it would sit on.
I got out an assortment of one gallon and five-gallon paint cans and proceeded to lift one side (about 60-pounds a side) up a foot, kick in a can, and then repeat on the other side where this time my stack was two cans high.  Then three.  With Elaine coming by to push the last stack under, I was able to slide it off and into position on a bench.
If you look closely, you'll see there's only one bolt holding on the vertical pillar of the beast.  But that's OK because I'll be doing a ground-up set-up of this according to two books on point.  One is  "Craftsman Radial-Arm Saws: Wood, Plastic and Metalworking Know-How" – 102 pages worth and dated from 1967.
The other book?  A little heftier price-wise: Fine Tuning Your Radial Arm Saw Paperback – December 31, 1899.  Which we think might be an error.  At $219 for the paperback, I didn't just write PDFDrive.com did I?
"Have Ure lost your mind?"
OK…there is a backstory here.
When growing up on Beacon Hill in Seattle, we used to walk through the industrial area about 3-miles dodging by-God steam trains at the time, to pick up mail-order tools Pappy ordered from Sears down on Utah Avenue South.  (Jeff Bezos borrowed heavily on the Sears business model (right down to the Wish Book at Christmas.  Howie Shultz ended up in the building, though).
On the first floor by the escalators up to the pick-up room on the second floor, there were always two demonstrators hawking something, or other.  This one time, there was a radial arm saw demonstration.  The salesman had a 2-foot wide by 14-inch deep hunk of 3/4-inch plywood.
With a dado blade inserted, he ran conventional dados on one side (saw uncle John do that, so nothing new to the kid here).  BUT then he did the opposing face dados with the saw tilted at 45-degrees.  The effect was dozens of finely crafted pyramids dadoed into the plywood.  "By God, some day, I'm going to build that design into something – furniture or a house feature of some kind," I swore.
Like I said, my To-Do list for Life has a lot of legacy items I've been putting off "until I have time."  But, I do want to get this one done for the Life Review Process game film.  (The one many people have at Death where their "Life Flashes" before their eyes.  Need this radial saw closure part for my "film shoot."
New Tool
Yet another hundred-dollar marvel has shown up:  Early Dremel wood lathe!
Came complete with some of the basic tooling, too!
Other Upcoming Projects
Planning a re-do of the metal working area.  Which includes the big lathe, the Taig mini lathe (yes, the Dremel is redundant, but I'll explain in a sec.) and the vertical milling machine.
I would like to get the Taig AND the metal cutting saw on the floor up on a new *(bigger is better) work surface.  Then the other space hog, the metal cutting band saw, could live under as a pull-out.
The existing bench is nothing more than an old bed frame I cut down and welded up to hold a couple of 18-inch-square concrete pavers. 15-years back.
Not sure where the scrap metal bucket (small, ferrous) will live.  But outside the shop about 250 pounds of mostly 6061 T6 scrap kindly donated years back by my friend Jim Lewis at eMachineshop.com has provided a nearly limitless source of "creative solutions to many projects.
This is flexing the mental muscles a bit.
One other project which is likely to get done this weekend is putting in some smart switches so Alexa can turn on the central shop vac.  Not sure how the turn off will work with the vac noise, but all in the name of science…
Off to pencil out a "mini tools" workstation for the Dremel collection. And water the food supply. Have a great weekend and feel free to toss in comments by clicking down below here somewhere.
Write when you get rich,
George@ure.net