(The Origins of this Project are here.)
OK, depending on where you live, this is a two or three seasons deal.  But when we do a little project – like our new 'mini tent stove' patio, cat playground, outdoor bar, sometimes breakfast cooking spot – it's fun to actually show how it works.
World's Longest Coffee
Son G2 being a firefighter, and my own Pappy retiring as one, I thought it would be interesting to do a little civilian "fire school" to light up the weekend.
Let's begin with the basics.  Triangle of Fire – remember it?  Fuel, source of ignition, and plenty of oxygen to feed it.  Which is why – experimentally – we have taken a leaf blower and the plasma cutter – and been able to make a 55-gallon blow torch.  (Safety Disclaimer: Don't try this at home!).
Instead, let's have coffee.
How to Start a Fire
A couple of readers mentioned that they sure liked our idea of having a "fire starting box" handy to the outdoor stove.
To review, this one is inexpensive and has no topside penetrations to leak.  Inside it are all the things you will need to get a fire going.
There is some dry kindling, in two sorts.  The Big Kindling being hatcheted thin sticks or any fat wood that's about.  Slang for "spring cut resinous wood (like our pines) cut early in the year when full of sap. Down low to the ground. Almost ground level, heartwood being best." Then dried at least over the summer.  These are great!  They cackle and spit and are perfect for light-off time.
These go under the working tools in the fire kit.  Giving you in the bottom fat wood sticks, store bought fire starter cups (also in their happened-to-fit right) waterproof tub.  And a big bag of hatchet chips and rough sawdust which we will get to explaining after coffee.  (Can't rush this kind of discussion!)
Building the Base Fire
You will need a "base fire" which is what you'll do every time before venturing off into food specific fires for different missions.
Start with some fat wood sticks, over a handful of wood chips and sawdust, which in turn is on one or two of those little starter cups.  The first, when first started will put out a little smoke, especially if the small branches you toss on top of the fat wood is a little green.  About like so:
As the Great Work progresses (remember, we're working on coffee-making here), you will want to select about 2 to 2 1/2 inch diameter hunks for the cooking stage.  These will burn long enough to make coffee without having to open the stove while you're resting up from all this exertion!
In the meanwhile, the former bunny assistant brings out (for this demo) the smaller of the stainless pots for outdoor cookery and has placed it on the back of the stove.  Once in place, you open the stove door and arrange your coffee logs just so: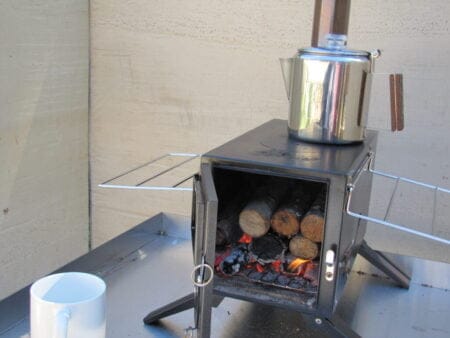 If you like really hot coffee, after the water has been heating for a while (1 while is about 10-minutes in the Ure family) you can place your cup upside down over the glass dome on the percolator.  There's a Federal Law against making overly ornate (French press type) coffee in the backyard.
With the fire doing it's thing for about 20-25 minutes for a small pot, we wander off to the physics and instrumentation part of the course.
This is what you call a "stove thermometer." Useful the first few times you use the stove.  With it, you can get a sense of where the really hot parts of the stove are and where's cooler.
For making hot water in the optional camelback water tank (Amazon has everything) it's generally the area around the flue stack.
You will want to keep an eye on this indicator – especially for the first few fires, because people have a tendency (somewhat human in a hyper world) to overload the firebox.  What this does is cause a smoky fire and it takes longer to heat up.  And ideal firebox is no more than about three-quarters full.
The tent stove we bought for this kind of soirée has a thin 5″ hole in the middle of the stove top.  IF YOU FORGET that the stove thermometer is magnetized, you can accidentally move it around and open the top of what's now a raging fire going inside.
If you do this, don't waste time trying to save the thermometer from the flames of Hell in there.  They are only $7-bucks at the 'Zon and they leave a nifty little puddle of bimetallic metal of some kind melted into the (cheap, cheesy) fire grate which I haven't welded up a replacement for yet.
(Ask me how I learn this shit, right?)
Fire to Coffee
We've been having so much fun confessing to our pyrotechnic sins, that we forgot to mention a few fine points of cooking on one of these bad boys.
You have two controls basically (besides wood type, seasoning, and how maniacally you go about loading the firebox).  There is a draft control on the front of the stove.  Through which you can stare into the fire you've created.
The second control is the "damper" which is like a butterfly valve in the lowest (or second lowest) flue pipe section.
The first lets the air in and the second lets the smoke and hot air out. The main thing is, most of the time, unless you are doing a "long cook" like a stew, or something which cooks for several hours, you won't be concerned with the damper.  It's designed to restrict the fire somewhat but don't try that with a roaring fire unless you like smoke in your face.  See the pamphlet from genuine Penciltuckian wood burners: Using Your Wood Stove Efficiently and Effectively (psu.edu).
Going Properly to Pot
Pretend that the coffee has now started to perc.  I don't like long perc coffee.  Though some people I've seen perc it for 10-minutes there were also people who voted for Joe Biden, following?
You will want to move your pot to a front corner of the stove and put the handle out at a 45-degree angle from the corner. Like so:
The reason this is a (relatively) cooler area for the handle is that infrared tends to radiate perpendicular to big fat planes that are hot.  Like the sides and bends of fiery stoves.  Also, we bring the coffee pot (*and cooking gear) out to the edge this way to keep their handles cool, when cooking.
That First Cup
Ahh!!!  Medium roast, short perc joy.
But even here, the experienced woodsman, backyarder, sailor, and anyone who's done it more than once in cold weather, will only pour half a cup, or so, at a time.
That's enough to warm the cup well (assuming you're pot is perched precariously on a corner) and still burn your mouth if you take too big a swig. Yet the cup is warm for the hands…
The other thing (if you're on a work crew of tradesmen, for example) is if you have a half cup and the boss says, "Back to work!" You can still say "Let me finish my coffee, chief!"
Thing is, if you have a full cup, the Boss might say something like "Bring it with you…we're on the clock here."
With a half cup, they're more likely to let it slide.  I first noticed this as a (card-carrying) union R&E mechanic on flight line for the old West Coast Airlines before Who's Air Worst bought 'em and wanted to move me to Phoenix in 1968. Which sounded too hot which is how I got O4 equivalence on a defense project in Alaska at age 19, but back to topic… (BOQs suck, though. Only partially offset by putting checkmarks next to your name at the honor bar in the officer's club…).
Next Cooking Adventure
By now, seasoned wood will be burning smoke-free, or near to it.  You will have had some coffee and be looking for additional insights.
The first is what we have planned for one of these days when the mood strikes: Going outside, lighting off a fire with coffee to follow (in a half hour, this is a cure for impatience in the world!), Then we will take two eggs each, a piece or two of bread in a plastic bag. And in another baggy, two to four strips of reduced sodium bacon.
We have picked up two dandy non-stick steel 9-1/2 inch skillets, so we can each fry our bacon (just-so) and then toss in the eggs at the last minute for a scramble.  Still working on the bread toasting, though Elaine's Our Lady of Croissants so toasting is not an issue to her.
The skillets are cheaper than getting fancy "camping gear" if you're not too proud to eat out of the pan. (And, if you are, do you have any freaking clue what roughing it means beyond glamping?)
Drizzle excess bacon grease (before the eggs go in) over some dry cat food.  Unless your cats keep Kosher.  (Ours don't. But now that you mention it, Sam the Siamese did ask if that "u" in a circle meant something on People Food and how come his cat food doesn't have one?)
When Done, Reset the Camp
Final step in a firehouse is?  Clean up the rig.  The only thing you can't really clean up after this kind of adventure is the hot coals.  But wood can be split and supplies checked.  If necessary, you can even cut up replacement firewood.
Two kinds of firewood around here.  Deadfall is preferred. This is a limb that has fallen off a living tree and is already dead, so its drying has already started.  Dandy stuff.
The second kind of tree is "Gets in the way of George's drone piloting adventures" and is cut down as punishment.  These tend to be green and will smoke more when burned.
Mark your electric chainsaw so you get the wood about the right size. And remember that beach cart with the fat wheels which is great on soft ground that we recommended a while back?
When you are cutting up wood for your stove, do the cutting using the cart to catch most of the sawdust.  That way, you just scoop out the replacement sawdust and chips into your tinder bag, easy-peasy.
That, dear Reader, is how life in the country rolls out here.
Off to finish supervising Elaine's cleaning up of leaves from where I did all the tree take-apart work.  Country life is about teaming: I cut the wood, make the fire, come up with the crazy plan.  She gets coffee, food, and to help with the clean up…
All women should be so marvelous at 80-something, swear to God. And yes, she prefers her old Red Flyer wagon.  For reasons that I can't fathom.  Mysteries of womanhood?
Ham Radio Notes
Wisdom of the 3806 early morning group.
"Yeah it was fall back last night from daylight time.  I think the further east you are, the worse it is…"
To which another explained…
"I dunno…I think I just need to be defragged…"
Yep; think I need to be trimmed, too….
"Say, what is in them scalloped potatoes?"
To which…
"Dunno – I just buy the box at the store…"
Thus, the evolution of ham radio.  Where'd the DIY go?
Write when you get rich,
George@Ure.net