We can frame today's report this way:
"Open-source intelligence (OSINT) is an intelligence that is
produced from publicly available information and is collected,
exploited, and disseminated in a timely manner to an appropriate
audience for the purpose of addressing a specific intelligence
requirement."
Although Life under Joe (Biden, not Stalin, at least not yet) seems superficially acceptable in "the war" so far, collapse mode this summer (and beyond) is coming into focus.
Losing Ukraine, Nuke Gambit
The severe Russian shelling of a nuclear power station in Ukraine, a subsequent fire, and then the plant's Russian occupation, reveals much about media lies, western agendas, and what's ahead for Taiwan.
From the top: State Emergency Service: Fire at Zaporizhzhia NPP extinguished, no casualties reported (ukrinform.net).
Unfortunately, there are multiple critical issues in play on the war front that seem likely to inconvenience America as much – and possibly more – than Russia:
First, Ukraine and NATO are likely lying about casualty figures.  This suspicion is advanced due to the release – claiming as news – file pictures and footage. Much of it months and years old.
Second: Sanctions of Russian energy and much touted release of strategic reservice are not likely to stop the pain coming our way within 90- days as refinery feed stocks begin to decline: See the US Energy Information Administration's data:
Third: Conflict will drive global food demand. What's more, Ukraine's war will no doubt result in reduced agricultural production in 2022.  We'd suggest a snip and save of their baseline ag production data for 2021:
– Wheat – harvested 7.1 million hectares (ha), resulting in approximately 32.7 million metric tons (MMT) of grain;
– Barley – under 2.5 million ha, resulting in approximately 9.6 MMT of grain;
– Rye – approximately 172,000 ha, resulting in slightly over 600,000 MT of grain;
– Corn – harvested slightly under 5 million ha, resulting in almost 40 MMT of grain, which is a record for Ukraine.
We don't think this last will repeat this year.
Both sides have mis-assessed and mis-reported events:  On the western side, the impact of

sanctions

on Russia has been moderate (at best) and knock-on effects may be expected in North America.  While propaganda offices wish it weren't so, the Russian nuke plant takeover was a precision operation; only a training building was burned.  This gives Russia control of about 25 percent of Ukraine's nuclear power. Western narratives about Russia's military deviate from reported outcomes.
Expect U.S. Stockholder Losses to Mount.  Already, we see how Russian Tech Giant Yandex Says Might Default.  Take a Russian company off the digital stock market and its implosion sounds good only to the naive.  The action not only screws U.S. investors in Yandex, but also passes on losses to Americans with managed money which may have money in Yandex.
Odessa in play this weekend.  We've mentioned how key this is not only for Ukraine internal politics, but also port value: Odessa: Ukraine could suffer 'massive strategic blow' if Russia seizes vital southern port city, says general.  My consigliere is worried this could be a Grozny-level wipeout.  He's not the only one worried – What Putin's destruction of Grozny in 1999 means for Ukraine now | On Point (wbur.org).
The obvious – to all sides – has gotten totally lost in the Fog of War mindset.  As chest-thumping idiots proclaim solidarity (with one side, or the other) – we seem to be a silent majority able to grok that in a highly inter-connected world, war makes losers out of EVERYONE.  It's what linkages does, fool.  No more Detroit iron for the Oli's, eh? Russian-language software?  Poof.  In case you needed more evidence of U.S. delusional thinking on this, we noted earlier this week how U.S. Expects Chinese Tech Firms to Help Choke Off Russia Chips Supply – Bloomberg.  You bet they will, lol.  Sure, uh-huh, You Betcha!
Gone-wan?
Meanwhile, the drive toward global war presses on the Western front, as well.  See where In unofficial capacity, (Mike) Pompeo urges US to recognize Taiwan – The Washington Post?
We continue watching closely to see how much time China will let elapse before they simply go in and take-back the island of Formosa.
Western happy talk will, as usual, we're afraid, let to more flat-footedness from the Sliden administration.  Because they only hear what they want to hear and that includes China will only take military action against Taiwan when victory is guaranteed: Former Australia PM. Not sure which planet he's on…
Biden's Missed Opportunity
Executive overreach is a dangerous thing.  Especially when married to executive under-think – a result of farming out real decision-making to junior ideologues in the OBiden administration.
Specifically, we see a number of ways that America's Future could be modified in productive ways:
55 – Alive and Thrive
Solve oil, greenhouse gases, and Russian shortfalls, anyone?
Immediately Reduce speed limits to 55 MPH.
Lower speed limits worked before. According to the Government Accountability Office back in 2008:
High fuel prices have focused attention on conservation. Congress previously used a national speed limit as an approach to conserve fuel when, in 1974, it provided for a national 55 mile per hour (mph) speed limit to reduce gasoline consumption in response to the 1973 Arab oil embargo. The law prohibited federal funding of certain highway projects in any state with a maximum speed limit in excess of 55 mph. In 1987, Congress allowed states to raise the maximum speed limit to 65 mph on rural interstate routes. In 1995, the 55 mph speed limit was repealed. Since then, states have been free to set speed limits without the loss of federal highway funds."
The policy box the administration finds itself in is that initial implementation of lower speed limits will damage the (self-inflicted) supply chain disaster (esp. California).
As we figure it, announcing a 90-to-180-day phase-in of 55 MPH (accompanied by truck driver accommodations in regulations) could offset both global warming as well as supply side issues.
As we figure it, returning to 55 MPH would:
Reduce the death toll from motor vehicle accidents (MVAs).
Allow reduction of front impact requirements which would decrease vehicle weight, improving fleet economy.
Exempt new vehicles with less than 50-horsepower (1,200 pounds max and under) from certain safety requirements.  (Think of this as George's "four-wheeled -go-ped" regulation.  Regulated top speed of 55 MPH (with governor) and exempted from 5 MPH bumpers.
Result in some benefit to hotels, motels, and eateries as road travel becomes less manic.
Defuse the Road Rage epidemic. 

According to one report

"In 2006, only 80 fatal crashes were related to road rage. In 2015, the number of road rage-related fatal car accidents was up to 467, up 500% in just 9 years."
Provide for a modest increase in demand for new trucks.  This is because at a slower speed, 73.3 percent of previous cargo would be moved (75 MPH vs. 55 MPH).
Gasoline consumption increases about 1 percent mile of per hour over 55.  Going from 55 to 65 increases fuel consumption up to 10 percent and again from 65 to 75 pops it up another 10 percent.
Tax Deduction for Home Ag, Manufacturing
Auditable and with receipts:
Home Food Act:  Grant a 50% tax deduction up to $500 for home food gardening expenses.

Better quality nutrition.
Less fuel demand to move food.
Begins to re-diversify excessively concentrated corporate control of food.

America Prepared Act:  Another 50% tax deduction for certain classes of home/hobbyist/maker machinery, up to $250.  This would increase public understanding and spur development of endpoint based mini-manufacturing.  (Part of our prepping has been preparing a library of locally printed goods along with stocks of both filament and copper-clad PCB boards to CNC route.
The America Chill Act.  Legalized marijuana federal  Because it helps to slow people down a bit and frankly, the whole world is far too manic for relaxed, deeper thinking, unless like us you flee to the woods.  Paid for with a modest tax (like we all pay on homemade spirits, right?  Wink-wink…).  The tax money would fund an amnesty and retraining program for existing marijuana-only offenders.
Not to pick on Slow Joe, here.  But he COULD – if he'd ever held a real job like other people do – see some obvious ways forward.
These modest ideas (this really should have been a Peoplenomics report) should convince you that we are our own worst enemies as a Country.
There are clear actions that any administration could embrace.  They would combine to reduce climate impacts, increase food resilience, neuter Russia's oil-garchs, and spur new development while slowing down a bit to "smell the roses."
America can find its own way.  We don't need self-righteous, arrogant leadership provided by a Leech Class that can't even balance the books with 148.3 million contributing taxpayers kicking in to help.  On top of tariffs, fees, surcharged and things like the Fool Use Tax…
Instead, let's now see how we're REALLY doing with today's…
Jobs Report – OSD
(Open Source Data)
Here we go, kiddies:
"In February, the unemployment rate edged down to 3.8 percent, and the number of unemployed persons edged down to 6.3 million. In February 2020, prior to the coronavirus (COVID-19) pandemic, the unemployment rate was 3.5 percent, and the number of unemployed
persons was 5.7 million.
Among the major worker groups, the unemployment rates for adult men (3.5 percent) and Hispanics (4.4 percent) declined in February. The jobless rates for adult women (3.6 percent), teenagers (10.3 percent), Whites (3.3 percent), Blacks (6.6 percent), and Asians (3.1 percent) showed little or no change over the month."
Before you get all excited (yes, it's a good report), some checks are in order.
For example, in the CES Birth-Death Rate model, estimated jobs accounted for only 156,000 of the newly minted jobs.
On the other hand, we are now only 2 1/2-years of no growth in jobs. How much of that is from open borders and how much from "estimations" can be debated.  So let's stick to the data:
Zero jobs growth can be blamed on Covid, of course.  Or because in a mania, when the fever breaks, a pullback is only natural.  Which is how the balance of year will likely roll as we get into summer and face whatever facts come from there.
Keep an eye on Drought Maps, though: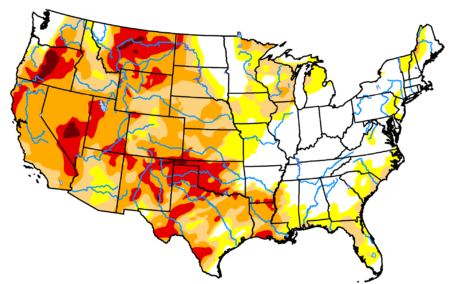 Best investments we can think of going forward?  Robust water and food sources.  A great deal of which you can do something about, right at home.
ATR:

  Busy as Hell

My plans to reduce the workload a bit by reducing writing has been dashed on the rocks of Reality again.  But next week, yeah…you just wait.

Peoplenomics charts will be especially interesting this weekend.  That's when we recalibrate that US vs. Rest of World chart.  Don't look now, but after some morning hype, the U.S. seems likely to be weighed down by 3% losses in Europe.  We're trying to console ourselves with a 1.7% overnight gain and wondering how much to take next…

Speaking of OCD (obsessive-compulsive day trading) – keep an eye on the SEC which is moving to speed up transaction settlement from T+2 days for stocks to T+1 day.  Eventually, it will become indistinguishable from a casino, lol.

G2 is off on one of his "secret missions" but not before getting his EMS-300 certification this weekend.  He'll pull EMS-400 in April.  It promises to be a walk because he's "played all positions" in the past two-years on forest fires and as a Covid warrior.  Don't know if I mentioned it, but he's now on a volunteer fire department board.

Most of today will be spent on the gardening projects:  A 4 by 8 raised bed garden is in the works.  Will try to get pictures for a ShopTalk Sunday article.

The balance of the Veggie Grow room (45 patches of square foot gardening with much trellising planned) will go in today. Other notes on ShopTalk Sunday.

Write when you get rich,

George@Ure.net