Although we are able to snipe occasional lunch money in this pig of a stock market, the amount of real Truth out there is getting harder to find.
Data!
Market futures slipped a bit on this.
Meanwhile: Do I believe Labor Department data "Series Id: LNS12000000"?  Because if you did believe it, you'd be agreeing that in 2022, employers hired more than 3-million additional workers.
Which somehow doesn't quite mesh with how Markets have been doing since their peak Nov. 8, 2021:
As we gaze into this, we see a still ascending trend channel (ghostly up trend on the right) but when that's over, IT is over.  Meaning, we will be in a horrific global Wave 3 down where people begin talking about the Second Depression.
See, this is what happened in the Great Depression (1).  It was a hard market sell-off from 1929, but there was a time (in what was their Wave 2 rally before the bottom fell out) that people were almost as giddy as at the top.
Here, I line up the 1929 trading price of the historical Dow Jones Industrial Average and compare it with our modern analog we construct daily – the Peoplenomics Aggregate Index.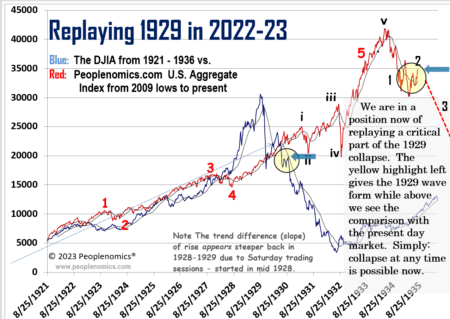 Notice the "wave form" of the left yellow circle (1929 aftermath) and then take a look at the right (present market) wave form. Comparing the 1929 era left arrow and the right present times arrow is not (how to say this?) exactly awe inspiring, now, is it?
We are quickly running out of time to get in the "One Last Rally" and we fear for President's Day and beyond.  Sure, it would be nice to rally to fall, but wave forms argue against it and the resolution of this Wave is likely to set the top of Wave III down's (white) 2 top.  Then shit flies.
Which "Sh*t?"
Let's check the VSI, shall we?  Since I'm a pilot (ASEL and commercial drone) I'm pretty comfortable explaining the VSI is the vertical speed indicator.  This is the "instrument that tells us better (more altitude) or worse (speeding up and going down).  Same process is applicable to headlines.
While labor numbers get pointed to as being good for the national VSI, headlines like these tell me "Ground's coming up fast…"
New (Disney) cartoon features black kids singing a song about reparations that US 'owes' black Americans | Daily Mail Online. Talk to the Mail online about not capitalizing Black, but if you do, remind them to also capitalize White because we support Equality but not equity, following?
Free speech is also a-gonner as Most Important First Amendment Case You've Never Heard Of: Biden Regime Tries to Toss a Young Man in Jail for 10 Years for Anti-Hillary Memes – Revolver News.
Then we roll into how the whole Climate Change deal is being revealed as bullshit (Hmm…sound familiar?) Hot Air: No Global Warming for Eight Years – PJ Media.
Even the much-marketed Ukraine land-grab and punishment of Russian speaking Ukrainians is starting to blow up: It's beginning to look like the establishment will throw Zelensky under the bus to save face – LifeSite (lifesitenews.com).
But we lay a great deal at the feet of corporatized media which, pardon our mention, is looking at the WRONG METRICS of American government!  State of the Union? Congress doesn't fully reflect diversity.  Diversity is nice but we've always supported most qualified.  Put another way, do you want the Best Surgeon operating on you?  Or the most equitable?  (If you answered the latter, you're a dumbshit and welcome to leave, thanks. Around here to borrow the Ford slogan, QUALITY is Job 1. Our keyword is excellence.)
Having lost a balloon, we figure China will be likely to take Taiwan before June 1 as the weather in the Formosa Strait is favorable in May.
Joe Speaks
Laughably, the State of the Onion is at hand. State of the Union: Biden wants bipartisan action despite GOP House (nbcnews.com).  Or, how about State of the Union 2023: Separating fact from fiction on Biden economic claims (washingtonexaminer.com)?
Out here in the Outback, we just turn such crap off and wake up the next morning, check market futures, and conclude whether anything substantive was said other than typical political B.S.
That's because all we can do is print up "Show them the Door in '24" bumper stickers and not upset the American Intelligencia by becoming too popular, too rational, or letting too much truth of the con out of the bag.  Yeah, yeah…know the game, talked with the WH briefers back in the day.
Fact is we razzed the Russians about their gulags yet our political prisoners are still in jail: Exclusive: Jan 6 Defendant Jon Mellis Leaks Footage from Inside the DC Gulag to Gateway Pundit – Prisoners Are Forced to Drink Dirty Brown Water (VIDEO).
Ure's J6 Story
Let me tell you a little story:  Buddy of mine up the road does projects for Audie Murphy's surviving relatives.  You know who Audie Murphy was, right?  Wiki it and you'll find…
"He was one of the most decorated American combat soldiers of World War II. He received every military combat award for valor available from the United States Army, as well as French and Belgian awards for heroism. Murphy received the Medal of Honor for valor that he demonstrated at the age of 19 for single-handedly holding off a company of German soldiers for an hour at the Colmar Pocket in France in January 1945, before leading a successful counterattack while wounded and out of ammunition."
Honest to God American Hero.
Now, fast forward to J6.  My buddy had worked for years trying to get the Greenville TX post office named after Murphy. Birddogging a federal building name change through the maze in DC is no small feat!
Now let me tell you what happened in the final hours of the Trump presidency (while the lefty narrative supposed T was busily plotting to overthrow the country).  Trump signed the bill to rename the local post office in Murphy's honor. Which is how this came to pass in June of '21: Greenville post office dedicated to WWII hero Audie Murphy | KWKT – FOX 44 (fox44news.com).
I have a tough time believing in the hard-sell of the J6 "conspiracy" BS when Trump was taking care of meaningful American business by making sure we didn't forget a hero.
Actions speak louder than words.  And I'm still amazed at how people like Biden reach high office.  And sure, Trump's personal life may have been a Super Fund Cleanup site (as Trump's Hush Money Case With Porn Star Is Back to Haunt Him (vice.com).  But he got policy right and that's the main job description. Need we review the JFK starlet files to balance the ledger?
News Compactor
Aftershocks continue even as Quake deaths pass 5,000 as Turkey, Syria seek survivors – Los Angeles Times (latimes.com).
Quick!  What do you do with no one to hire and less money laying around?  Boeing Plans To Slash 2,000 Jobs In Finance And HR In 2023 (ibtimes.com)
We have to call our kids up in collectivized Washington: Winning lottery ticket for $747m Powerball jackpot sold in Washington state | The Independent.
Crypto Hype-tocracy
You'd think everything was normal: Crypto Prices To Recover As DCG, Genesis, Gemini, Reach Deal? (coingape.com) and BTC is trading early at $23,004. But it's far from normal.
For one thing, Binance Suspends USD Transfers As Banks Withdraw Support (cryptodaily.co.uk) which means regulation if not outright bans are going to spread.
Like we have told you since this fever spread, there is absolutely no economic necessity for governments to offer any exchange for private crypto – a key point in England as UK CBDC: Treasury will make digital pound decision by 2025 (techmonitor.ai).
And in the meantime, all the hype about crypto "security" is still a crock as UN's unpublished report talks of North Korea's $630 million Crypto heist (todayq.com) and SBF Donated Millions to Politicians. Now FTX Wants That Money Back – CNET.
Of course, politicians don't give refunds of THEIR money, but they will piss-away tax money on outrageously stupid (and discrimanatory) antics.
Just a bonus for living in Remnant America.  Check your VSI for similar readings.
"Contact departure on 135.25.  Frequency change approved. G'day."
Write when it all crashes,
George@Ure.net