Oh, God.  This was supposed to be a simple column, few words, and a return to non-destructive pillow testing.  That's toast.  Markets are edging back out on the ledge and for people not clear in the Big Picture, Complexity stands ready – jaws agape – to bite the world on its ass.
Today, some serious market timing indicators, why you'll be lucky to eat, let alone turkey, next year.  From the top…
Market's on "The Ledge"
Even if you don't subscribe to our premium Peoplenomics.com site, there are multiple charts that have changed dramatically since our Wednesday report.  What's driving it is word of a Super Variant of the Covid-19 virus.
Basic details of which are laid out in New COVID Variant B.1.1.529, Which May Evade Immunity, Found in These Countries (newsweek.com).
For more than 20-years on my websites. I have advocated a turn-down in international air travel. Because it provides a super-highway for bugs to spread around the world.  Kills more chances of containing them.
This first rose into consciousness when I was senior V.P. of an international airline.  I was coming into Miami from our home on Grand Cayman and one of our FA's (flight attendants) went through the cabin with something like a DDT spray.  The U.S. didn't want a particular fly coming into Florida, so all international flights from the warm countries (and islands) were being required to use fly spray.  Only lasted a while, but there was a lesson there.
"Modern contagions" are not so easily dispensed.  And the height of insanity is to allow continued air travel without quarantines at BOTH the outbound airport as well as after-arrival.  Yeah, sounds complicated and expensive.  But, compared with killing-off GlobalPop, maybe…just maybe…it's time to set aside convenience and serious-up a bit.  Yah think?
Markets Go Manic
The least surprising thing today would be the Dow falling 1,000 points, or more.  Early Dow futures were down 789-points while the S&P was down 78.
Three subscriber charts are updated and shared because of things.
The first shows where we MAY be if the November 5 high in our Aggregate Index turns into being the all-time-high for this long wave economic cycle.  Remember, these are 42-100 year kinds of cycles, so very large-scale thing to consider.
If you're still in turkey heaven, the red line is where markets open this morning and the blue trace is how collapse came calling in 1929.  Big problems will be here in January, screams this one.  And 2022-2023 could "suck bigly."
Need More Holiday Cheer?
Try this:  The bigger zoom level of the current blow-off cycle with 1929's.
I know…I know:  you're saying to yourself "Ure, you must be some kind of whack job!  Things don't feel anywhere NEAR that dire right now…"
Well, my little lambkin, even though the Fed is tapping brakes lightly, the monetary base over the past year is still up more than 28 percent.  As a result, even since the Second Depression really began (Feb. 2020, Rona-1) the Federal Reserve has been (cue Led Zeppelin) buying your stairway to heaven: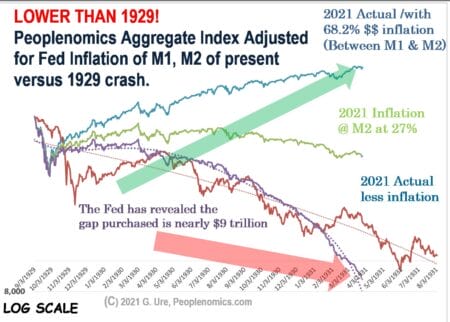 Give me almost $10-trillion and let me mail out checks to people and I'll have the wool over their eyes piled higher and deeper than anything you can imagine.
The problem we have now – ahead of Monday – is if "authorities" cannot gin up some pretty good "false alarm stories" than both the U.S. (*red trace) and Rest of World (RoW) blue trace, will crash through the musical chair's money-printers support line where we see the wholesale collapse of the global economy get organized.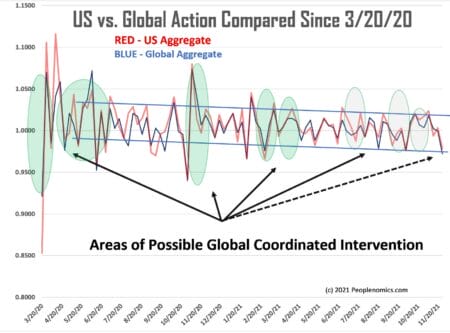 It doesn't mean that the whole global economic system will come crashing down around our ears.  But it will explain why in brutal terms I describe it as complexity biting the world on its ass.
Historical Context
Today, it is not a full-on BITE.  That's still ahead.  Think of this as a "wake-up nibble" though.  And why Mr. Ure has been in something of a foul mood since seeing this kind of workout in the charts as being something to be on guard against.
Can we make money on it?  Sure.  But in regular stock accounts, remember that when things REALLY get sideways, it takes 3-days for a stock trade to clear and then toss in a day (or 3) depending on how crooked your bank is on handling incoming wires.
But what you can do in the meantime is make sure if you want to park some assets in TreasuryDirect or whatever, is make sure those are ready to roll.
Above all, however, remember that systemic Internet risks are rising as well.
This is something I've seen in future for more than a decade.  If your entire life is based on a working internet (and working cell phones and what-not) might want to review how things looked in my 2012 book Broken Web:  The coming collapse of the internet.
Last Turkey II, indeed?
Futuring School
Normally, I don't roll with reader comments as content, but going to make an exception this morning.  Because with events beginning to roll, one of our readers asked a most pertinent question:
"Yes, Cliff High! loved these reports 20 years ago when you all were just starting out. New you were all on to something. Can we still access the old Urban Survival Half Past Human posts?"
My answer?  Long but useful I hope:
"No, sorry. Clif (one 'f' in name, website HalfPastHuman.com) requested I don't make them available and I have no disagreement with him on this. His I.P.
His use of (first) forum spidering and then (later) social media scouring for linguistic shifts was (and is) entirely his baby.
My involvement was minimal (occasionally on interpretation side of things) and then I went off (with Grady M. and Mike, a Msft MVP) and worked on how the language is also telling future through WFA (word frequency analysis).  Even now, I believe a triangulation algo would have higher accuracy than singular approaches, but not my call to make.
Although Clif and I have over time disagreed on some things (e.g. how widespread and dispersed future-telling technology should be, for example, or who should know future) I (perhaps delusionally) think we also have mutual respect on other points.
See, it's hard to put the use of futuring technologies into words, but it's a field fraught with moral hazard. If an aware person is serious about inferring the future, then there are many excellent sources of "key sights" out there including Clif's work.
Studying the future is very much (big math, big data here) like walking into a crooked casino. Because the future changes (sometimes a little, sometimes a lot) when you INTEND and look at it.
So, for example, on the long end of the futuring spectrum there are sites like Stu's https://theageofdesolation.com. That's for the Nostradamus look-ahead fitting.
Also, on the look-ahead side, but much closer-in, there is Gerald Celente's great work in Trends Journal. https://trendsresearch.com. His work lays out trends clearly enough so you can apply basic technical analysis such as trend channels, cycles studies, and make very good inferences.
Then we come to the present-day depiction of and viewing of future. Clif's work remains superb when applying computational horsepower to social media (now that forums have declined).
My own minor nibbles at future are another path (I don't share much of this publicly). But markets are always "perfectly priced" and so we can make inferences not only about the general direction of things (Last Thanksgiving II), but we can also set some timing parameters because even though loose, cyclical economics is semi-predictable.
Finally, as you continue along the axis from the very oldest predictions to very newest, you next stumble into very short-term leaks of mass consciousness which has appeared to some of us as VERY precisely correct dreams about future events.
This is the futuring branch I started back in 2008 with the National Dream Center project https://nationaldreamcenter.com which my friend Chirs McCleary (lt. col. rtd, 4 or 5 masters degrees and I think he bagged his PhD (*ED) as well has been evolving.
Thing, then leads us along the predictive spectrum a good distance in the direction of religious prophesy and contemporaries in this such as Manfred Zimmel's great work at https://www.amanita.at.
Continuing (and expanding) work in this area, as was laid out in Peoplenomics in my Wednesday report.  I describe a coming technology to evolve people approaching death into (think of it as) transmitters and then work on ourselves as being improved "receivers" of information from those who have gone to work in other Realms.
This is the basis of the concept behind my idea for https://spiritualdevices.com. Its business plan was in the subscriber report Wednesday.
I hope this helps with your quest for better and more "aware living."
For each of us in the development of these approaches, it's a difficult task. Not unlike fishing.
Once you have "touched future" (as Clif has) or future has shown itself in dreams (as it has for me many times) it somehow changes you. Makes it difficult to live an "ordinary life."
Dreams Telling Future?
Oh, yeah.  Virtually no question about it.  I don't remember the precise number, but in the Bible (old and new test.) there are more than half a dozen times where "God spoke to so-and-so in a dream…"  Dream messaging shows up in virtually all religions.
Honestly, one reason I wasn't at all surprised by the world of another pandemic breakout was a dream posted on Chris's site 5-days ago:
"11-18-2021, 02:09 PM
"Zam Wesell
Shared with Your friends
Last night, I had an awful, crazy dream. I remember something being said about an Armageddon virus that caught like wildfire globally. Sure, it's probably just residual crap about wuflu and how we've responded to the upheavals.
However.
I did a search for giggles for Armageddon Virus, and I kid you not, this is what I found online. Is it a good info source? Most likely not, but how weird is it that I dream it, and find it? Original date is January 2012, but the online link is dated October 2021, no less."
Link:
https://www.starnews9.com/scientists-beh…5vnn3SDaWY
In this dream, whatever this was decimated world pop and the survivors developed natural immunity. It was definitely hereditary, such that you've have pockets of blood related families survive and their spouses or SO die. It was ugly and frightening. But as I stated above in the FB posting, this simply could be residual reflections of the "pandemic" that was foisted on global pop and gov reactions. Still, it is very odd to find out that this IS a real virus. I had no knowledge of it until after the dream and I did a search on it."
Yep, real time stamp and this dream is on Chris's site here.
Is Future "Religious?"
Should mention that one of the hardest parts of crawling around future is the matter of HOW we interpret what those of us "working future" come to expect – or believe will occur.
Clif's work was (*and may still be, too busy to follow it too closely) respectful of religion but not endorsing an approach. (e.g., referring to Universe.)  Others, such as Zimmel, are strongly Christian in their beliefs.
I've come around now to the notion that one's religious beliefs are sort of like selecting a lure when going fishing.  That is, sometimes the fish bite on one approach or belief set.  But they may not bite on a different day even using the same lure.
Which I think you'll see if you consider the personalities of biblical prophets, then contemporaries (Nosty and Stu's work) then trends after Celente's work, Clif's ongoing in social shifts and mine in markets, then off to the right you have direct dreams and precog events then to Zimmel and people touching future that way.
A final thought.  Several readers have asked what I think about predictions about Covid effectively ending late this year, or early next.
While I would love for that to be the case, mental scaling capacity has me worried.  Because if you think in the "zoom in" mode, then third wave is due.  However, when you zoom out a way, the case appears where the entirety or Covid so far has been only the "first time around the world."
This MIGHT mean that if the South Africa strain turns into an equal or greater scale Grim Reaper compared with Covid-19, that would only be the "second time around world".  Which would then leave the Third time around the world as a likely bioweapon release in the Global War that comes along shortly.
Regardless, last Thanksgiving isn't conceptually far-fetched, as events are rolling.
Latest UK Data
Week 47 Covid data from the UK is out.  Officially:
Several studies of vaccine effectiveness have been conducted in the UK which indicate that 2 doses of vaccine are between 65 and 95% effective at preventing symptomatic disease with COVID-19 with the Delta variant, with higher levels of protection against severe disease
including hospitalisation and death. There is some evidence of waning of protection against infection and symptomatic disease over time, though protection against severe disease remains high in most groups at least 5 months after the second dose.
However, many demographics, the data shows that the odds of getting Covid are more than twice as high with a full vax load, compared with unvaxxed. although for Elaine and me, we're three times more likely to die IF we don't get vaxxed.
Source docs are here, this from page 33.
Self-Assessment Time?
Could I have collected a lot more paper wealth in my lifetime?  OH, sure.
But I'm rather more fascinated with understanding how Life works at levels that are non-apparent and being out of harm's way totally in advance.
Which is why prior to the flashy mushroom farm, we chose that famous movie line:
"A strange game. The only winning move is not to play."
Hope this helps you "get a grip."
War Watch
Gee, the fun never stops, does it?  Ukraine's Zelenskyy alleges coup will be attempted against him next week; Russia denies involvement | Fox News.  You'd expect Russia to admit anything?
And in Asia?   Deliberately pissing off China doesn't seem like a good idea to me.  But, that's why going to Washington isn't on our agenda, either: US Lawmakers Meet with Taiwan President in Surprise Visit | Military.com
ATR:  What Turkey?
Short trading day ahead.  When over, I'll be making a second pass at getting the turkey cooked.
I went to put it in Thursday?  Despite being in the fridge since Monday, our little 10-pounder was still icy.
The pot roast, however, was spectacular.  Besides, by cooking it today, and by doing the charts only after the close for subscribers, I can actually sleep for two days.
Which sounds like a damn-fine idea.
Write when you get rich,
George@Ure.net