Surely, there are not more relevant and useful things sprouting from the Digital Trean of Knowledge, are there?
Jobs: Up (But be skeptical!)
Let's see how the Bureau of Labor Statistics pretends the economy is doing:
"Total nonfarm payroll employment rose by 210,000 in November, and the unemployment rate fell by 0.4 percentage point to 4.2 percent, the U.S. Bureau of Labor Statistics reported today. Notable job gains occurred in professional and business services, transportation and warehousing, construction, and manufacturing. Employment in retail trade declined over the month.
Here's the problem I have within today's report:
See the two yellow highlights?  Alleging more than 1.1 million more people went to work in November?  And more than half a million came off unemployment?  ViseGrips on the forearm!  (We're still only in 2018 total employment levels, however…)
As you remember, we have been assiduously reminding you of how Reality works by remembering The Time Before Covid – which we think would make a dandy TV series, some day.
The three highlights?  Top is the last time we were at the October totally employment level.  September 2017.  Then we got on a roll and weren't derailed until March of 2020 when the plandemic/bioweapon dropped.  And the lower right is where things were in October of this year.
Joseph Stalin's collectivization of the Soviet Union (and into places like Ukraine for their food production capacity) was characterized by statistical lies.  Which, as you will see, figures widely in (so-called) modern life now.
Purchasing Managers data and some factory order data will come later on this morning.  Earlier, Dow futures were barely positive which will ensure an interesting chart discussion on Peoplenomics tomorrow.
Jabanese
Liars can figure and figures can lie, warned American humorist Mark Twain (Clemmons).  Stogie-think, we label that.
Still, here's the latest summary of data out of the U.K. which we think is becoming suspect.  But first the latest data: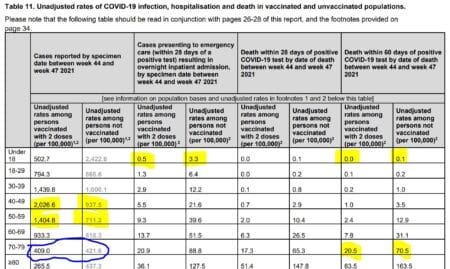 Ure's Simplified Data Discussion by (horz.) lines and (vert.) columns:
Four yellow data are highlight on the top line.  This is Children.   The cases resulting in an ER trip work out as 1 vaxxed child for each 200,000 population.  While an ER trip for unvaxxed is?  One trip for each 30,303 population.  Roughly:  six times more visits for the great unvaxxed.
HOWEVER:  What the data does not tell us is the population n for this demographic.  In other words, is the number based on children within the demographic, OR is it out of the pool of total population?  It makes a difference in the analysis because most people have never been exposed to "lying denominators" in tearing apart statistical claims.  What sigma?
Notwithstanding: The right-hand side is where I get into the Morals vs. Money (grubbing vaccine companies) discussion.  Because, while it's true that zero deaths arose among the fully vaxxed here, it's also truth that there was only 1-10th of one death per hundred thousand (or what we assume is GenPop, not InDemoPop.
Heavy math here:  1 death per million.  Which get's us down to a real nitty-gritty:  Is the vaccination risk for one life – in a million – worth it?  "Insufficient Data, Captain."  Obviously, we don't know because we do not have InDemo reaction data.
Sure, vaccinating all children makes sense IF (but only IF) the vaccines are free, there are no adverse reactions, and we're clear that the cause of death is exclusively and solely CAUSED by Covid.  Not "had Covid when car ran over 'em…"
The case for vaccinating the young flies out the window pretty quickly when money gets involved and adverse reactions (including long-term, developmental) are included.  These are presently unknowable because we haven't really tested the vaccines.  It's the biggest human health experiment in world history.  It's without recourse and without accountability.  A kind of Medical Revolution of Elites (not to be confused with MRE's, see the disambiguation notes here which do not include this definition of MREs.)
Middle Yellow Data
We'll pick up the pace a bit here:  The two middle yellow highlight lines tell us that getting the vaccine will increase in demographic odds of getting the disease.
The data do not reveal adverse reactions, however, and whether the data's n is GlobalPop or InDemo pop is also fuzzy.
Blue Circled Area
Now we come to the real problem and why we think that the British figures are heading into Political Adjustment Land.
The blue circled area this week, claims (InDemo 70-79) that cases per 100,000 was 409 for fully vaxxed, and 421 for the unvaxxed.  In other words, the case is now likely within statistical error of being about equal for exposure.
Here's the problem:  Last week, the fully vaxxed had a 538.2 per 100,000 rate while the unvaxxed experienced a rate of 422.7.
It helps to have some serious statistical understanding to catch the inference.  Let me see if I can explain it for you.
In one week, the data argues that fully vaxxed went from 538.2 cases per 100,000 down to 409 per 100,000.  That's almost EXACTLY a 25% reduction in one week.  And THAT (in my 72-year old view) is BLOODY UNLIKELY.  Rather, it lo0ks to me like someone said "Reduce the 70-79 Cases by 24%.  This would leave 76% still getting the disease.  Again (Law of Large Numbers) the ACTUAL purported in the data (doing the math) is 0.7599405425492382.  What sigma?
Bottom Right Yellow
Elaine and I are still 20.5 into 70.5 =  3.44-times more likely to die IF we get the 'Rona.  However, it's a larger risk than last week.  Then, our odds were 21.1 into 69.5 (scroll down last week's Friday report for the comparable chart) 3.29.
If there has been no jiggering of data on the vaxxed side, the accounting principle in SARs (standard accounting ratios) should prevail and the vaxxed cases should go higher next week.
See, what standard accounting ratios do it allows us to make generalizations and "spot the outliers" like this.  In order for the numbers to drop this much, in a sliding sample window, you don't just drop 130 cases in a week.  Because multiple weeks are in the sample, you'd need virtually ZERO cases in one week.
While we cannot on any reasonable basis begin to call into question the integrity of Her Majesty's finest number-spinners, we can spot the really odd data and ask "How did a 25% drop in vaxxed cases happen when the control group results (421 this week, and a very close 422.7 last week) appear?
Won't go any deeper here, but once statistical results begin to appear, over time they become relatively stable numerical relationships.  The salesman who contacts 50% of sales prospects for half a year, who then suddenly contacts 90% one maybe an artifact.  OR it could be a lie.
Salesman Lie, Too
(Duh!)
Lies in statistical sales management are discovered when "prospects" don't turn into actual fully funded sales, right?
In much the same manner here, the unexpected drop in cases will work its way through the "medical funnel" just as sales work their statistical way through the "sales funnel."
Since only retentive hard-liners like me actually read both sales and Covid reports, the mainstream will miss it.
Thing is?  Once a lie starts, it's hard to contain.  If – within 60 days) we don't see the ripple into dramatically lower ER/hospital numbers, and much lower deaths, then it will be a data aberration (possible lie).
On the other hand, as it moves forward in time, if the "chance of death" in demographic changes (higher) – but remains unchanged in other demographics, then the odds of data-adjustments become much higher.
Weekend thinking piece:  Who is better at statistical lies?  Government, Big Pharma employees, medical professionals, or commission-based intangible product salespersons?
My view for now?  Medical people are amateurs compared with lying salesman.  The finest fiction I've ever read is in sales reports. YMMV. Lying the middle of data is so…amateurish.  Color us skeptical of this one.
Next Friday we should see if the data reverts to the means and accounting ratios, which tell the smarter people WTF is going on.
Need to Know's
Idiocy of Defunding the Cops – a favorite Marxist insurgency chant – designed to take us down Venezuela Road – is really starting to work as the anti-American digital uprisers wanted: Bank of America execs warn junior staffers to 'dress down' as NYC crime surges.  Speaking of crime…
Gun rights decisions to track:  Gunmakers not liable for Las Vegas shooting massacre deaths, Nevada Supreme Court rules.  People shoot people, not guns. Unless you want to register knives, too: Columbia Student Killed, Tourist Wounded In Stabbings Near Morningside Park; Suspect In Custody.    Time to re-watch Escape from New York?  And in the People's republic of California, good analysis in the Merc under Walters: California guns laws headed to Surpreme Court?
The 2022 War is game-on, as we read it:  How real is the threat of a Russian invasion of Ukraine? Spoiler alert: very.  See, the coopted American press has been leaned-on by the Neocons to make Russia the bad guys.  But, in reality, Ukraine has been screwing with the Russian-speaking part of Ukraine since they turned off water from the Dnieper river in 2014.  Just one more reason Putin's pissed.
Where is Boeing going?  Canadian government confirmed Boeing disqualified from CF-18 replacement competition.
Attacking Exceptionalism, Meat
The Global Attack on Protein heats up.  We started covering this in Peoplenomics back in 2006.  See "The Coming Protein Cost Explosion." But, since this is one of those slow-motion shaping operations on society, it's useful to keep in mind when reading stories like Man reveals shocking effect on his body after only eating KFC for one month and others like 11 Secrets KFC Doesn't Want You to Know — Eat This Not That.
All in part driven by We tried KFC's 50th birthday menu, and the Doughnut Zinger Burger was the star of the show.
To me, it all has the feel of a scaled attack on protein, as well as American Exceptionalism. Some of the most recent American fortunes have been made in fast food, Mickey D's and KFC.   Stories coming out now have more of that "mindless socialism driving vegetable-based collectivism."  We'll pass.
Confession:  I still eat KFC about three times a year.
Around the Ranch
Dogs are still here.  Training collars ordered. I have to make a dump run today, though:  Garbage men were run off by 'em.  So, they will be penned up in the garden next week.  Sheesh.
While I will need to make a dump run, it's encouraging to think they look pretty fierce.  Thing is, though, I do want garbage service, USPS and UPS deliveries.  Call me old-fashioned, I guess.
Ground screws for the "lettuce room" off the studio have been ordered.  On sale at Amazon, so I loaded up.  $24 bucks a pop on the 'Zon Mayne 580D-BK No Dig Ground Anchor.
Dog-Naming conventions are difficult.  Frick and Frack is already taken, but recycling of Bill and Ted is under active review…  So is the liability portion of the home insurance policy.
Prime rib roast tonight.  Yeah, they might get some scraps.
Write when you get rich,
George@Ure.net