"Roll out the whiteboard and hand me one of them markers to huff, wouldjah?"
We begin with "refried markets" for breakfast.
In case you slept through Thursday's column, here's the part you could have taken seriously, this chart:
And, what did I tell you this picture of the pre-open gap Thursday might herald?  (I have academics that quote themselves, but it's too early to wake my consigliere and get him to say something pithy.  Besides, lawyers like to "talk for money" and to us, that's a strong case for silence).
At any rate, what I said was:
"What we think of as an indicator of "discontinuity" happens when the Global Aggregate runs off without its counterpart – the U.S. Aggregate – closely in tow.
Right side of the chart, we see how the US has blown upward and is well above trendline of the Global Aggregate.  Four days until the big calendar event from WW II where Russia beat the Nazis.  Could something big, ugly, and mushroom shaped lurk ahead?"
Now, let's look at the ACTUAL GAP TODAY.
Skinwalker Market?
With a nod to the TV series (now in season 3, btw) we seem to have experienced Ure's "disappearing gap" between land of the sukkah-fish *US* and equally absurd European markets.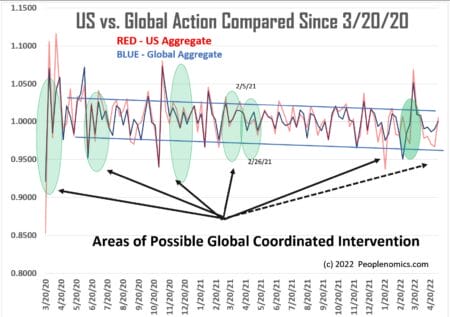 Oh, my, the market is chillin, chillun!
Well, no shit Sherlock, of course it is.  For as we said Thursday:
"I would have figured on a day when the price of Oil was up better than five percent, the Supreme Court leaking "secrets", more money coming for war in Nukraine, not to mention Buyedem proposing the largest family-busting income tax hike since LBJ wending its way through Crooksville on the Potomac, that the market should have been on its ass."
Good things come to those who wait.  Although our 3.7 percent gain Thursday was abbreviated from its potential. Just seemed rude to show up for a cardiology appointment and reveal my maniacal day trading addiction.  So, I sold earlier than later, out of an abundance of caution (on early onset dementia!).
Leaving us this morning STILL headed in the coming month or several to head down to the orange circle in this:
Obviously, I didn't take my anti-self-aggrandizement meds yet.  I'll pop them now while we move on to the Fractured Fairytale called EMPSIT.  And you did see where Productivity decreases 7.5% in Q1 2022?  Go Brandon!
Key takeaway #1:  Markets are sick.  George is not.  Perhaps we can get together for a nuclear stress test in June?  That's when we should see a rally as markets climb a wall of worry expected in there.  And while I climb a treadmill to hit 85% of target heart rate… I've got better odds of making my numbers than this pig of a market, though…
Employment Report
The set up here:  Great ADP hiring report Wednesday.  Layoffs creeping back up in the Challenger Job Cuts report.
Now slap that fellow over there and hand me the envelope for this morning, please?
"Total nonfarm payroll employment increased by 428,000 in April, and the unemployment rate was unchanged at 3.6 percent, the U.S. Bureau of Labor Statistics reported today. Job growth was widespread, led by gains in leisure and hospitality, in manufacturing, and in transportation and warehousing."
To us – and I say this till I'm blue in the face, the only data that matters is the overall, total number of people working.  President Buyedem will be putting the screws on us via income tax increases in the second half of his train wreck.
The Big Lie – and media is complicit – is shown in the official data tables.  You have to be a crack-baby to believe "Total nonfarm payroll employment increased by 428,000 in April"
But, no, it didn't.  In the government data set of total working we LOST 353 thousand jobs in April.
See how the Big Lie works?  By the government's own data in the table, we are down 353-thousand people working this month compared with March.  (Still below Sept. 2019 levels, too.)
In reporting the gains in employment, how many of the new jobs were "made up" – having been estimated into existence by the CES Birth-Death model?  Well out of 428 thousand "new jobs" there were 340-thousand of them simply "made up."
Which we led into this morning with the market trying to turn up before the data.
Employment gain claims like this are so thin and flimsy they ought to be in the Victoria's Secret catalog, ISYN.
It's like my late mentor Robin Landry told me "Be patient, the market usually "makes its waves."  Which is how we made lunch money (and enough for jet tickets to any city for it) in the trading session Thursday.  (Domestic lunches only, based on cheapskate tickets and 2 small appetites, no allowance for a Saturday sleepover…)
We'll finish talking trash about The Street, The Fed, and the Drooler on the Peoplenomics report tomorrow.
Like the TV character Lucifer says:  "Tell me what are your deepest desires…"
Well, er, Let's see if this pig can't get off the ground and close strong into the close today – which could meet our greedy, grubby, licentious desires for more from the Book of Collapsing Human Follies come Monday.
I suppose I shouldn't kick Bitcoin when it's down, but under $36-thousand now and it should be lights out for that mania within 2-3 years.  Called this one from the start and STILL answer the "Did you own a crypto wallet" question NO on the 1040 filing. (Which was 139 pages this year.)
Silly Me, Silly Thee
LBGTQ (etc.) marketing has reached a new pinnacle:  Biden announces Karine Jean-Pierre will replace Jen Psaki as the new press secretary.  The marketing never stops.  Just try to remember the flapper era came to an end as America sank into the Great Depression.  Rhyme time Fiday.  Welcome to the media circus KJP.
Another sign of movement on the cancer front as Chili peppers could be the secret ingredient for beating all forms of cancer. We've added 'em to the grocery list under this song title.
The Coming War with Mexico?  How often do I have to state the obvious?  Low intensity conflicts build over time.  Some people get it (Trump Proposed Launching Missiles Into Mexico to 'Destroy the Drug Labs,' Esper Says), While some don't.
"Let's Play Chicken for a Billion Dollars, Bob:"  Bird Flu Outbreak Nears Worst Ever in U.S. With 37 Million Dead.  As we told you back in December, plant a garden this year or be pissy and hungry.  Ure call.
Yellow journalism meets Social going tits up, perhaps? My big boobs mean TikTok ridiculously takes my vids down for being 'too sexual'.  Not news but click bait is what social is all about.
Meanwhile, speaking of boobs: Nude video latest scandal turning Republicans against US Representative Cawthorn.
Still peddling vaxxing?  How many people have died from the Covid-19 crisis?.  14.9 million.  Out of 7.8 billion.  Odds being, uh, less than 2% or 1 in 50.
ATR:  Follow-Up and Stuff
Main takeout following the meet and greet at the cardiologist's office yesterday?  When I was working 18-hours a day in software, powered by coffee to get up, vodka to slow down, I had some PCAs/PVCs.
Turns out at 73, I still have the same thing.  Except, of course, it only takes 16-hours now.  Why, at this rate, by the turn of the next Century, I will be down to an 8-hour trigger point.
Won't matter, though.  Environmental whackos have us all drowning by then…
This weekend ShopTalk Sunday is super long, detailed and useful.  Show you how to turn out a useful low-power HF radio manpack.
Just the charts on Peoplenomics tomorrow.  A mapping exercise of 1929 news event to present day may be along next Wednesday, though.
Off to prop up the still burgeoning squash plants in the garden room.
Write when you get rich,
George@Ure.net