Ure has turned over a new leaf:  shorter reports. Just not today.
Job Cuts First
Second horse pick in the weekly financial trifecta:  Challenger Job Cuts:
"Job Cuts Rise 15% in March 2023, Up 319% from Same Month Last Year, Highest Q1 Since 2020 | Challenger, Gray & Christmas, Inc. (challengergray.com)
Which then continues with bad news about Tech:
"Technology companies have announced 102,391 cuts so far this year, up 38,487% from the 267 cuts the sector announced in the first quarter of 2022. It is already up 5% from the annual total of 97,171 in 2022. It is on pace to surpass the highest annual total for the sector announced in 2001. The only years during which Tech announced more job cuts than the current year are in 2001, when 168,395 cuts were announced, and 2002, when 131,294 Tech cuts were recorded."
Not impacting the weekly UI filins data, though: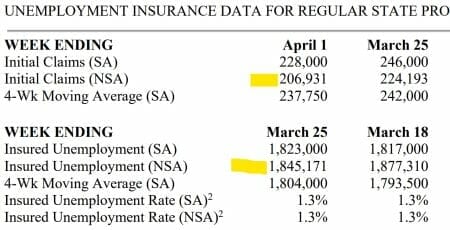 In case you missed it, two other weighty numbers have already dropped this week.  The Tuesday JOLTS report told us that "job openings decreased to 9.9 million." While separations were sort of stable, quits were up and layoffs were down.  Wednesday's ADP job report was an off-note +145,000.  Not the "smoking economy" political hypsters predict.  But, not sailing off the edge of the World, either.
Planning for the weekend and three days of no stock trading.  Not much to move markets Monday except China's CPI data.  Ours will be out Wednesday of next week.  NFIB report Tuesday shouldn't be that big.  We'll just see about that.
Still, Shortages Loom
As you know, inbound West Coast Port container volumes in SoCal are way down. True, there has been some "redirecting" to lesser ports due to off-loading issues.  When we line up the data points, though, the news is bad and worse.
The Association of American Railroads data says intermodal (container) traffic is way down:  "Total U.S. carload traffic for the first three months of 2023 was 2,993,492 carloads, down 0.3 percent, or 9,068 carloads, from the same period last year; and 3,023,563 intermodal units, down 10.3 percent, or 346,349 containers and trailers, from last year."
The U.S. Dollar is weakening.  Although not clear to many people, the effects of this will be disastrous.  Not that we don't like Gold climbing over $2,000 and silver knocking on $25-dollars.  It's that the "metals to paper" ratio is changing. When it "takes more paper" (money) to buy a physical "thing" than experientially (out shopping) prices appear to be going up.  But. this is where you need to update your "Mental Acuity Plugin" to a version of thought-tool that supports prices being different "floating declared variables" than values.
The leading-edge of Future is sensed when these trends are explicitly extended to year end.  If a 3-month decline of containers is 10.3 percent, might a year-end down 20-40 percent be possible?  Sadly, yes.  With that will come shortages. Lots of them.  What we're spending time planning for are overseas made appliances and electronics.  America has vulnerabilities in Japan, South Korea, Taiwan, and emerging Asian manufacturing centers in China's shadow.
Depending on game speed, we can already get a pretty good sense of how Year-End 2023 might look.
Grocery prices are likely to be another 7 to 11 percent higher, based on an eyeball of trajectories and food producer forecasts.
Clothing for next winter might be up 10-20 percent compared with the one (theoretically) ending.  Inflation works through the system slowly.
Oil on a per barrel basis seems likely to be over $100/barrel.  This would be a combination of OPEC+ cuts, stupid energy policy by the Biden regime, and baked in the cake Fed/Treasury monetary inflation plus effects of "higher for longer" the Fed's being forced into by pernicious inflation.  Which – like pregnancy – is problematic once begun.
Spot shortages of electronics may be around as soon as this summer.  While new U.S. fine pitch semiconductor plants are under construction…
Among these, Taiwan Semi has already expanded its plans for the Phoenix area (TSMC to up Arizona investment to $40 billion with second semiconductor chip plant) as of January.  And the talent search is on for the massive Samsung plant at Taylor, Texas which will come to $17 billion before additions, expansions, and inflation.  This plant is near Austin, is measured in square miles, and may take up to 10-years to reach final configuration.
UNTIL these plants come online, and others like the LFAB plant in Utah and others, we are in a "risk window" that deserves some "thinking about."
On the demand side, the supply chain is already sketchy on new products.  And on the supply side, it's nearly impossible to "model ahead" on demand because technology changes along with economic outlooks.  Then, toss in the whole run of the political/leech class upcoming in 2024 and solid action plans are likely to be even less reliable than outlooks early in the game.
A Topology of Prepping Emerges
Very little work has been done on laying out a "tiered prepping" plan.  Upcoming on the Peoplenomics.com subscriber site.  We have multiple models out and about in World; just not too many deep thinkers in the prepping community.  Which is why, after almost 25-years (in September) we have been hugely imitated. Mainly by goods marketers.
Point is topological outlooks vary by which "caste" or "tier" you plan to live in. And that's not nearly as simple (or laden with doo-dad marketing opportunities) as lifestyles analysis, location risks, and supply analysis.
More on that in our Focus section on the PN side next Wednesday.
The Market's Paradox
One way to think about "ahead" is to borrow a concept from language studies and consider the "split-infinitive" design.  Colloquially the most famous of which is Where no man has gone before – Wikipedia.
If you think of "the future" as a "destination" but where the routes to it are confused, disordered, and poorly understood, THEN we can assert (and plan to) and end-point without tripping out over the baby steps to get there. Boldly.
Easy if you have a warp drive.  A little harder with filthy lucre on the line.
A FASCINATING day trading gamble is shown.  In one scenario, we rally into the close today and after some follow-through early Monday (US stock market is closed tomorrow) we get creamed next week.  CPI to drive? For this to happen, though, the market must not rally any higher than recent highs.
After that, a trip down to the ascendant trend channel and that's where we either Crater or Rally like Hell.
Headline writers are stuck with this elsewhere, too.  Bank Failures. High Inflation. Rising Rates. Is the Resilient Jobs Market About to Crack? – WSJ
Federal job numbers drop tomorrow and with no market worries (stock market closed for Good Friday, bond traders will be working for a few minutes) we expect perhaps a dialing back of joy juice.
We'll be watching from the sidelines.  Texas Hold 'Em ain't our style.  Small 1-2 percent per week trades (lots of 'em!) spreads out risk and is more like KENO than investing.  Which (played seriously) might hit 50 percent per year, or more.  It's the stress of getting there.
The good news is that all this "bank sloshing" of late (paying off Bankster greed) has driven the likely End of the Financial World several months further into 2024.  More time to prep but higher prices to do so, if you want and can live with that juxtaposition.
Steamy Thursday
Steam?
As in Stormy Daniels says she doesn't believe Trump deserves jail time over hush money payments?
Or as in China's PLAN is steamy around Taiwan? China deploys warships near Taiwan after its president meets U.S. House speaker.
Or, as in steamed up about vaccines Anti-Vaxx Robert F. Kennedy Jr Makes Longshot 2024 Challenge to Biden.
Say, why didn't we think of this: Facts largely ineffective in countering conspiracy theorists, research says – UPI.com
ATR:  Easter Line Up
Ure's personal game film of this week:
Planned dental work didn't happen due to scheduling error.  Staff booked time for an X-ray, not two units for a rework of an old filling.
Prime rib was in stock at Wal-Mart again (for the holiday) but the ones we stocked up on were tiny.  Like 4.25 pounds instead of the usual 6-7 pounds.
Too much rain to put the belt tensioning spring back on the lawnmower.  We can wait for drier weather. Writhing like a pig in mud ain't my thing. Meantime, though, we have a decent collection of spring-pulling tools now.
Buddy The Major picked up an Icom 9700 to go with his IC-7300.  Wanted to get one before supply chain issues.  I'm still on the list for an IC-7100, but that radio is on the rarium/unobtanium list either due to supply chain issues or a fire at a key plant.  Depends which rumor mill you dial up.
Shop work, a mile deep, looms.
But little sleep last night as thunderstorms rolled through most of the night. Tornado coming east.
And one science project is on tap:  Going to find out if baking bread with distilled water (plus a tablespoon of tap) will improve my bread.  Begun to suspect that pH 8.2 super hard water may be impinging on my work product.  Which,  says the belt, ain't necessarily a bad thing…
If you get the day off tomorrow, enjoy.  If not?  Welcome to Reality.
Write when you get rich (or holidays off),
George@Ure.net