"You're down HOW much on this rally?"
About a Cleveland.  It's old Grover on the $1,000 bill, you know.  Being down a "couple of Benjamin's" ($100's) was a minor irritation, in comparison.
Thing is though, if you don't periodically test your theories with real money, it's all BS.  Besides, the system I have now (if followed instead of anticipating news flow and trying position trading) would have pulled the plug on this trade when it went upside down a single Grant ($50 bills feature his mug).
Until we go higher on a closing basis, I still have money on "unexpected events."
The USS Eisenhower is in harm's way. Transiting the Suez Ca-Ditch.  Just as Axis against Israel: Jordan recalls its ambassador & expells Israeli ambassador – Turkey, Iran threaten 'heavy consequences' & generalization of war.
My (semi) rational mind looks at the Fed rate inaction Thursday and can barely comprehend national stupidity. Fed leaves interest rate as-is, says hike is still possible later (arkansasonline.com) WTF?  Am  I the only one who noticed our national debt is $33,699,580,339,128.49.  Interested a side wager on $34-trillion under the tree by Christmas?
Here we are – in a "crowded theater" and there's the smell of smoke in the air… (Oh, wait, that's C4…) even as Gaza is cut in two: IDF closes the pincers – Two Israeli armored divisions converge from three axes within the Strip (maps, vid). And the market rallies on.  Say what?
Oh, the Suez Ca-Ditch is flanked by? The Houthis officially declared war on Israel: They targeted the Dimona nuclear plant – Massive attack with ballistic missiles, cruise missiles and drones.
Just tossing it all up in the air, it l0oks to us like the belligerents at the Final War are all have massive monetary inflation plans to pay for it.  Turkey Signals Tighter Policy With Inflation Heading to 75%.
Even as B-1B at Incirlik at a rehearsal for massive bombing of targets: Sa'ar 5 and Arleigh Burke Joint Strike Force at Red Sea – Mass attacks by Houthis – we are incredulous with specialist movement of American reservists starting to leave for deployments in theater that the market continued to rally.
Boggles my (*undersized) mind.  At least a Cleveland's worth into the week's end.
I don't trust Erdogan. Nothing would surprise me less than Turkey closing down USA air ops in its region, waltzing out of NATO and finishing the war gathering just as Egypt comes into Gaza with serious hardware. Two day old report (Egypt deploys tanks near Gaza border amidst rising tensions) had them fixing to get ready.
---
Speaking of Egypt:  Not only does their central bank also have a rate decision upcoming today, so bookmark the Egyptian Central Bank website here to check later if you care), but they also are out front using new polymer banks notes. They've got a 20-pound note going.
Not a lot of public discussion in the MSM yet on this but the Wiki entry here is good starting material.  We have to wonder if a central bank CBDC could be threaded into these?
They would likely "go through the wash" better than the high rag rate paper notes… Not that we're expert on money-laundering, or anything.
---
Count Ure In – For Now
So far, my very quick-turn day trading has out-performed the hell out of this position-trading stuff.  The wave count is still open in our dma-x (daily moving average crossings) work for a resumption of the decline if Wave 3 (1) (v) ((ii)) fails and heads south in dramatic fashion.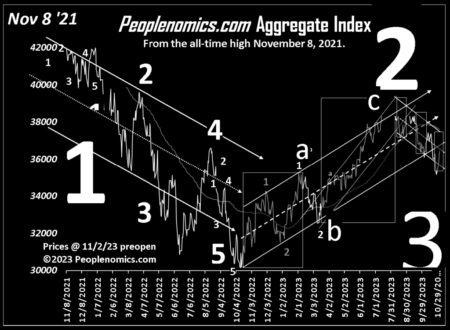 Undoubtably, reader D'Lynn will do better at his upcoming "invitation only" poker meet somewhere on the left coast… Even so, as in poker, this kind of "speculating" we do can be an effective refresher on how Gravity applies to wallets.
Futures are up 160 on the Dow, and another Grover has a shifty look in its eye. I don't like being wrong. But it can't be helped.  I'm a man, after all.
How the World (Really) Works
Marvelous insight from the overnight Comments section (where the best and brightest in geezerhood) speak. This was from Reader Hank who absolutely nails how the World is working nowadays:
"WHEN A FLY FALLS INTO A CUP OF COFFEE 
The Italian – throws the cup, breaks it, and walks away in a fit of rage. The German – carefully washes the cup, sterilizes it and makes a new cup of coffee. The Frenchman – takes out the fly, and drinks the coffee. The Chinese – eats the fly and throws away the coffee. The Russian – Drinks the coffee with the fly, since it was extra with no charge. The Israeli – sells the coffee to the Frenchman, sells the fly to the Chinese, sells the cup to the Italian, drinks a cup of tea, and uses the extra money to invent a device that prevents flies from falling into coffee. The Palestinian – blames the Israeli for the fly falling into his coffee, protests the act of aggression to the UN, takes a loan from the European Union to buy a new cup of coffee, uses the money to purchase explosives and then blows up the coffee house where the Italian, the Frenchman, the Chinese, the German and the Russian are all trying to explain to the Israeli that he should give away his cup of coffee to the Palestinian so there will be peace."
This seems to be making its rounds on the net. Do pardon me if you've seen it before. I tend to get the "good stuff" about five years after it starts clicking the rounds.
Daily Data
Three men are sitting in a bar and some data walks in.
"Hi.  I'm the Challenger Job Cuts Report."
"Prove it."
So, he says…
"U.S.-based employers announced 36,836 cuts in October, a 22% decrease from the 47,457 cuts announced one month prior. It is 9% higher than the 33,843 cuts announced in the same month last year, according to a report released Thursday from global outplacement and business and executive coaching firm Challenger, Gray & Christmas, Inc.?"
Wouldn't you know it? Another data walks in.
"Hi, I'm the Labor Productivity and Costs Report."
"Prove it."
So, he looks 'em all dead in the eye and says…
"Nonfarm business sector labor productivity increased 4.7 percent in the third quarter of 2023, the U.S. Bureau of Labor Statistics reported today, as output increased 5.9 percent and hours worked increased 1.1 percent. (All quarterly percent changes in this release are seasonally adjusted annual rates.)
The increase in labor productivity is the highest rate since the third quarter of 2020, in which productivity increased 5.7 percent. From the same quarter a year ago, nonfarm business sector labor productivity increased 2.2 percent in the third quarter of 2023."
Third data walks into the bar and says…
"Hi, I'm the latest unemployment filing data."
"Prove it."
So, the data holds up a poster reading:
About 10-minutes goes by -deathly silence – and the three dudes and three data points are still just sitting there. Finally, one of the dudes speaks.
"Say, isn't there supposed to be a punch line around here, somewhere?" 
Yeah.  We were kinda wondering about that, too.
OK, Let's Talk Houseplants
Um… Poll: Robert F. Kennedy Jr. takes eye-popping 22 percent against Biden, Trump, – POLITICO.
Fit to be Tied
We haven't hurled many insults in the direction of made-up money (cryptos) lately.  But, if this was really a massive rally forming in the stock market, shouldn't BTC be popping through $40,000 instead of holding around $35K?  We ain't the only ones asking: New BTC price breakouts see Bitcoin traders confirm targets up to $48K (cointelegraph.com)
Green eyeshade files:  US Senate promises to bury Israel-only aid bill | Ukrainska Pravda. We ain't so sure.
Green eyeshades #2:  Donald Trump Jr. testifies he never worked on father's financial statements | Fortune. Exec's don't do the detail work – that's what accountants are for.  Still, it's positioned as a kind of made-up memory loss by the left.
The U.S. House proved (again!) this week it has "turned on the voters" by failing to censure its radical Hamas-cheering ideolog and its liar from New York. Oh, and the GOP still has hollow leadership as Johnson dismisses failed Tlaib, Santos votes: 'It was resolved on the floor' (aol.com). More of the same-old.
Most of SE Europe should soon be level, hints this report: North Korea may have sent more than million artillery shells to Russia, says South Korea's spy agency.
And we're still waiting for the American Corporate string-pulled media to fess up to Russian advances as NATO is slowly sucked into the northern theater of Armageddon: Ukraine war: Russia hits most settlements in one day, says Kyiv. We could be in for a long wait.  When this is done, we figure John Deere will be coming out with a line of unexploded ordinance farm equipment… Inquiring minds want to know: Will it be able to till glass?
ATR: Upcoming Events
Our consigliere will be here for Thanksgiving. If we see a continuing stampede of Grover's, though, it may not be much financial point to it.  Nevertheless, I made a fabulous dinner for 6-8 Wednesday to mark the (upcoming) occasion.  My ingredient list for this epic culinary masterpiece? 9-clicks.
My latest adventure/personal experiments with past-life regression work will be on the Peoplenomics side Saturday.
The Big Feature in news flow Friday will be the official employment report from Labor.
ShopTalk Sunday this week focuses on "backyard camping" in our new outdoor cooking area with a small tent stove.  Which makes great coffee, if you have 27-minutes to build a fire and wait while… (This is in addition to the BBQ deck with a conventional and a nifty propane grill I've raved about.  Can you tell one of us likes hot food?).
Temps…temp…Ah!
Chilly in the Throne Room today.  In fact, 47F in the Guest Room/G2 digs at flush time.  52 percent humidity, too.  (I assume everyone has a weather station in their throne room.)
This got me to Amazon and eyeing a Brondell L60-EW LumaWarm Heated Toilet Seat with Night Light, Three Temperature Settings, Gentle Close Lid, Easy Installation.  A little over one Benjamin.
Butt then ADHD struck. "But you know (self) if you're going to do that, why not use the occasional and put in a bidet, too?  See, here's a…" ZMJH ZMA102 Bidet Toilet Seat, Elongated Smart Unlimited Warm Water, Vortex Wash, Electronic Heated, Warm Air Dryer, Rear and Front Wash, LED Light." Almost two Benjamins.
Then the voice got louder. The one in my head.  "Look, if you're going this fall down the trail, why don't we try to save a little money, since you're down a Grover this week."
"Fine idea."   Pressure Washer Deals at Amazon.
War Count seems to be continuing ?ALERT! WE'RE GOING TO WAR! HOUSE RES 559! US/ISRAEL READY STRIKE ON YEMEN/IRAN, 36 HOURS TO LEBANON – YouTube. And yes, 559 is the real deal, see Stefanik, McCaul Resolution Declares a Nuclear Iran Unacceptable and To Use all Means Necessary to Prevent Iran From Becoming Nuclear Ready | Press Releases | Congresswoman Elise Stefanik (house.gov).
Text of the bill: "This resolution declares that it is the policy of the United States (1) to use all means necessary to prevent Iran from obtaining a nuclear weapon, and (2) to support the freedom of action of partners and allies to prevent Iran from obtaining a nuclear weapon."
Does "all means necessary" mean what I think it does?
Grover's may not leave, yet for the week.
---
There was something else, too, but it will come to me as soon as I hit "Publish".
Gotta go.  Three dudes and three data points are waiting for me in a bar somewhere.  I'm supposed to help them find a punchline…remember?
Write when you get rich,
George@Ure.net