Like an idiot, I failed to play the end of month write down in markets Thursday.  Long story, but the short of it is:  Must be present to win.
Which means no running tractors to offload a yard of prime raised bed composted soil if there's a trade on.  Unwatched money tends to wander off.  Ask me how I know.
Still, the "dead cat" bounce futures are predicting doesn't answer THE BIG  ?? about what's coming next.  Straight up or straight down, given the larger Wave 2 up may be over: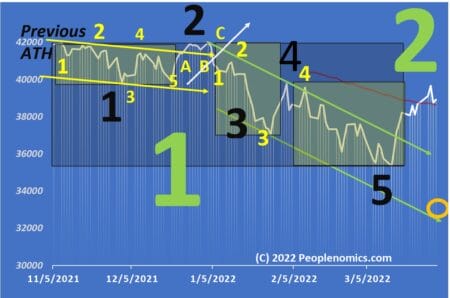 Algorithmic, Dependent Future
A ton of my time is spent thinking about possible futures as though I were still writing algorithms.  Hours of painful "use case" interviews (and incomprehensible emails following) can result in very good code.  However, applying the techniques of grown-up SQL business software use cases only approximately translates to predictive investing.
This is largely because in business use case development, the hierarchy (of rule sets) is pretty clear.  If the #1 criteria for a little gob of code is "Make Money" then all the subroutines (think GOSUBs if it's been a while) hit the "profit check" first.
In modeling futures based on "News" the hierarchy sort of floats around which introduces error rates.
What's Today's
"Top Rule?"
If our task is to "model where the market will be Monday" (opening higher or lower, resulting in obscene profits) every trading day begins with "Who is today's BIG Rule Maker?"  Some nominees, please (or I'll slap you…):
For now, our coffee-fueled algothink goes something like this:
Putin shuts off gas (non-payment in Rubles)

Europe screams "We have contracts!!!"
Putsky responds with "Not in our courts…"
NATO finds an excuse to overfly Ukraine.
Putin blasts a few NATO jets.
NATO moves to secure part of Ukraine. (*Even inches matter on planetary-scale ego reactions).
Putin waits for NATO and then pops an NSNW.
…escalation collapses markets next week…
Side order of context with that?  The Blind Spots of Diplomatic History – War on the Rocks.
Tempering

Algothink
Military affairs contributor warhammer is always looking at the world news flow, but instead of algo's, more in traditional military terms:
"Many concerned folks who are worried about what Putin may do wrt nukes in the Ukraine may be unaware of ways the U.S. and our allies keep track of nuke activities.
The Constant Phoenix WC-130 aircraft out of Offutt AFB, NE, home of U.S. Strategic command, is one such asset which collects atmospheric particles and gaseous effluents to monitor the potential test or use of nuclear weapons.  Their motto is "In God We Trust: All Others We Monitor."
My bet is the WC-130s are 24/7 flying the perimeter of Russia from the Black Sea up to the North Sea.  Russian nuclear threat in Ukraine watched by Air Force lab in Florida.
And it is comforting to know that mission planning and coordination for the counter weapons of mass destruction (CWMD) mission shifted to the Commander of U.S. Special Operations Command (CDRUSSOCOM) from the offensive nuke focused U.S. Strategic Command (USSTRATCOM) back during the Bush presidency.  'Hunt – find – kill' for anything or anyone is Special Forces mission.
You can bet the Crimea, Donbas, Luhansk and L'Viv regions are suitably monitored by special forces for ground and air WMD activity, with strike options at the ready inside the border of Western Ukraine so that, whenever the counter-WMD mission is executed, components are not launched from NATO territory."
I realize, from an economics perspective, the short-term big deal is the employment numbers just crossing.  But, my point is that in teaching yourself algothink you can evolve a way of seeing forward where a few numbers (employment) don't hold a candle to strategic weapons of all sorts, whether nuclear, chemical, or biological.
Remember, Covid was just a small bioweapon.
Speaking of Covid…
Jobs in a sec.  But latest UK Covid Surveillance report is out:
I have highlighted data for you to follow along:
Yellow:  Among 80+ year old's, there were 2,614 deaths within 60 days
Green:  Of these only 145 were unvaccinated.
Blue and Red:  Everyone else had been vaccinated.
There is – to my incredibly feeble and disjointed way of reading data – no reason to get vaccinated.  Of course, (government) statisticians will argue some mumbo-jumbo about the prevalence of disease, herd immunity, and other such reasons why you should still roll 'em up.
But this table says 145 dead out of 2,614 without the shots, or 2,454 with some level of vaccination.  That's what the numbers show. unless I'm suffering a brainfart.  Source data here, page 43 COVID-19 vaccine surveillance report – week 13 (publishing.service.gov.uk)
Stats Class 2:

  The Jobs Data

"Quick as a wink, you're in the pink, with liquid Job-o Dismal…"

Reality check:  Still at nearly identical employment levels compared with July of 2019:
Still, the happy-talk packaged as:
"Total nonfarm payroll employment rose by 431,000 in March, and the unemployment rate declined to 3.6 percent, the U.S. Bureau of Labor Statistics reported today. Notable job gains continued in leisure and hospitality, professional and business services, retail trade, and manufacturing."
On the other hand, a drill down into the CES birth-death model offers that declines have started in business and professional services and in education and health services.
Want to bet this is the tip on the long lead-time Q3 recession to come?
ATR:

Sick of Gardening?

Might want to learn to enjoy it, a bit.  Could be important for years to come.

Well, it has seemed to us since our "forward looks" into 2022 popped with food shortage last November.  And now, it's slowly coming around.  In Spain, for instance, Spain allows supermarket rationing to avoid food shortages (thelocal.es).

Famine is not localized to Ukraine, although Experts warn we may see famine return to Europe after Covid and war.

Instead, it's popping up elsewhere:  Humanitarian crisis in Afghanistan: 9 million at risk of famine, says UN Chief (livemint.com), and Famine looms on doorstep of DRC capital (yahoo.com).

Around here, we're thinning out plants that are coming up now that the weather is warming.  And a hat tip to Texas Organic Soils up in Tyler, where G2 picked up a yard of their premium raised bed soil and compost mix Thursday.

We'll get the wood frame on top of it today and the square foot planting done, too.

Times are serious, and despite the market bounce today, color us skeptical.  The age of paper doesn't taste very good.

Ideally, a good rally into the close today and then next week?  Well, that's always the gamble, ain't it?

Write when you get rich,

George@Ure.net