If you have ever tinkered with any kind of serious welding gear, there's one simple – inescapable fact – that we can't get around.  Stuff's heavy!  You need a cart.
Now, not everyone has a poured and polished leveled concrete shop floor in their home.  Out here in the woods, my shop is a "redneck special."  A 40 X 40 building.  Put up more than 25-years ago, the treated wood from "back in them days" will not only foil any insect or pest of modern times. It will also break or dull anything you throw at it; saws, knives, flame throwers…
Thing is, though:  They did not put in a concrete pad. Budgets matter.  It was a hell of a lot cheaper to find a road crew with some time and hustle-up a 2-3″ thick (or more) layer of asphalt for a floor.
(Now we come to the good part…)  Fast-forward those 25-years and it all still works – great – a testament to red-neck engineering skills – BUT there is one small problem.
Casters Rated
(Go ahead, say it out loud 5-times fast, lol…)
Small casters (1 1/2-inch or smaller) don't roll on worn asphalt for shit.
From trials and tribulations, I have tested and found nothing short of a 4-inch wheel size works here.  5-inch is better. And if it goes outside (You mean like where the welding table is?) there is an ugly door lip to lift things over.
First step, therefore in hot-rodding welding carts here, was to get several caulking tubes of the best concrete filler I could find and get to work on making the doorway less of an obstacle.
I decided to set the plasma cutter and TIG cart right first.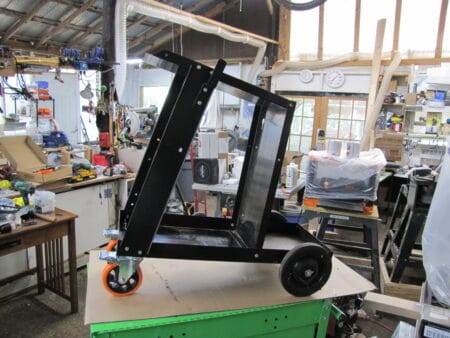 The wheels I chose were vastly more than what I needed BUT the "5-inch Swivel Casters Wheels with Screw Safety Dual Locking and Polyurethane Foam No Noise Wheels, Heavy Duty-550 Lbs Per Caster" was only $31 bucks for four of 'em. Came with hardware, too.
Putting all the gear back on the cart, it all rolled smooth and only one-tenth the effort as the (damn, miserable) small stock casters.  I've seen "Texas hoopties" with less stylish paws:
Now, I ask you, does the first rig look "work-ready" or what?
The "hot rodding" of the MIG rig cart went twice as fast. The only thing taking time was punching in the holes for the new casters.  One existing hole was used, though.
Now, remember the "steep angle of the welder deck?"
Well, it was high enough that (with the machine on) it wouldn't quite fit under the bench where I wanted it:
The fix was very quick and easy:  Lift off the MIG rig, and drop the front support attach point by an inch and a half.  Now the welder deck still has a tiny angle to it.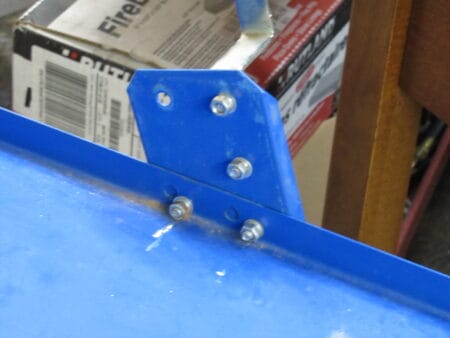 While I was lowering the deck, I also decided to move the left side wire hook bracket over to the right.  It was attached to the rear post.  Now, the ground wire can be "wound-on" in a more workmanlike manner.  And the large MIG feed winds (though not as tightly!) like so:
This "narrows up" the overall width of this cart by almost 3-inches – which means a much nicer fit under the 3D printer and CNC bench:
The wire cart (far left) is the chainsaw rack.  Very efficient use of space.
Lessons for Newbies
No ShopTalk adventure would be complete without an Axiom, a Process, and a Shop Trick.
First the Axiom:  Any really worthwhile project always involves a little bloodshed.  Strangely, the shop "bloodshed" this week was from a sharp tree limb that drew blood during lawn mowing. Then I went after this project.
Next, the Process:  There is a simple trick to drilling steel and not everyone has heard of it.  You begin your drilling (there were six holes on one cart and 12 on the other for the two carts) with a small hole.  Something on the order of 3/32nds or 1/8th.  Not too small, or you will break bits.
Two things happen:  The small hole acts like a pilot hole, so the bigger hole actually ends up where you want it.   Secondly, the small holes are very fast to drill.  You save time and that's always a good thing.
If you want some "bonus points" put a drop or two of cutting oil on the holes while drilling.
Last is the Shop Tip:  We have a big bag of what are sold as "finger cots" on Amazon.  Have $7-bucks ready and click over to the "Jeembay Disposable Finger cots Pack of 220 – Anti Static, and Durable Rubber fingertip Protectors for Cleaning, Repairing and Painting."
These are the "disposables" you use in lieu of the (higher cost) nitrile gloves.  I use them on my index finger when spray-painting.  And look how well they work to cover up all those air hose and argon lines for welding! Keeps the mud daubers out.
While I was putting this one on the argon regulator for the MIG rig, I noticed Zeus the Cat eyeing me.
"Yes. the Cat, what is it?"
"Could I use something like that as a condom?"
"YOU IDIOT!" I thundered.  "You're fixed!"
"Could Elon?"
He glared for a while.
"Chill fatso…marketing ploy, safe sex, all that crap…"
"No! No rubber dams, either!"
Elaine and I aren't sure why Zeus and the new outdoor Siamese are getting along so well, but we do have some suspicions, now.
Over the Toilet Printer Farm Shelf
Worked great over one of the 3D printers!
One of the things that building out a dream shop with a number of "workstations" has taught me is that when you buy something, go ahead and buy the storage for it at the same time.
There are a ton of easy ways to find storage – I like to give Craigslist "Free" a once-over when I need cheap storage.
People will throw out really interesting goods and often you can snag real wood products pretty inexpensively.
All it takes to make things useful again is often just a little bit of elbow grease.  If you're not lazy and put in a little time on things, you can really do well for yourself.  Not just fixing up chests and tables into near custom workspaces, but also restoring tools.  We still have that Radial Arm saw restoration project on the agenda ahead.
Next Week is a Holiday Weekend
And Ure's got a special treat for you – a little commentary and a directory to many of the classic power tool companies that have keep the home handybastards happy for almost a century, for some.  Very useful when eBaying.
Work smart, safe, but not too hard.  Get a machine to do your work. (Or keep the spouse hapoy to be involved!)
Write when you get rich,
George@Ure.net