All three tube-type oscilloscopes are gone.  So's a signal tracer, two full-sized vacuum tube voltmeters (VTVM's). And an early Heathkit Signal generator. Poof.  In a cloud of fury powered by Mrs. Olson. Headed to eBaying in future weeks. (Email me if interested.)
I've decided that for the balance of my seventies, I'm going to focus on perfecting my "Electronic Detective" skills. Plan to finish my workbook for hams – on competencies and skills in tube-based troubleshooting.
To do this, I've needed to come to terms with too many radios, not enough operating time, too small antennas, and many other "boundary issues" that turn life challenging.  So much like choosing the perfect plate at the buffet joint – the task is that daunting.
What Went, What Stayed
The "went" part, well, that's a story by itself.  You see, I am a tool slut.  Somehow, it got into my head that work was always easier with the "right" tool.  Not close enough, but the ONE, PRECISE, EXACT  R I G H T  tool.  Nothing else would do.
Next to the work area is a small tool drawer.
Of course, I can never find the exact tool in this drawer, no matter how many times I place one there.
In which case, there's a drawer of hand tools in my office roll-around:
And if even THIS doesn't yield the EXACT, PRECISE tool, then I'm into the two electronics tool kits: Left is for cable, right is general work (with meters under the pop-up pallet:
These are the "after pruning" collections.
The real breakthrough was installing small trays (drawer organizers) under the shelving.  Notice, please, that a "drawer" may be considered in Maker Land to be a Box plus a Handle.  And some glue:
There are four such pull-outs now.  They are separated logically (to me):  Screwdrivers are in the TWISTIES (rt. above) while pliers are in the SQUEEZIES (left above).
Other drawers include SHARPS for the box cutters, wire strippers, razors, and anything else that could really hurt you.  The fourth drawer is PICKS.  Which includes dental and soldering picks, along with the alignment tools.  As with the hand tools, there's a whole drawer full of backups.  Even spare Bristol wrench kits – those odd set screws used by Hallicrafters on early equipment.  A fine example of the "exact right tool" concept.
As a side note – especially if you are under 40 – watch to see how the modern analog (which we'd guess will be Torx heads) is playing out in the Market's world.  Companies like Hallicrafters put on Bristol set screws because only professional radiomen (back in the day) knew about this secret sauce.
Today, you can't work on a 2-cycle engine without Torx, at least the 20 and 25's. And when you get messing to round at Inventor's Alley, you almost need a set of ball-end Allen Wrenches for each CNC or 3D machine.
Next thing you know, manufacturers will move back to other bad ideas – like use of reverse threads with no rational, other than hoarding repair revenue – motivation.
The Electronics Basic Tool List
So much for hand tools. The specific electronics repair goodies are a lot more fun.  Or, they used to be.  Until the Logitech MK270 with the dongle out of a fresh box told me neither the Mouse or Keyboard were supported devices. I put too much time into sorting that one out.  Several hours' worth of time.  Tracing out the driver versions, and blah, blah, blah…
Even then, the Amazon Basics wireless keyboard worked fine, but the mouse did not.  So a two-day delay of game getting that rolling.
With the computer finally breathing on its own, it was time to make an oscilloscope!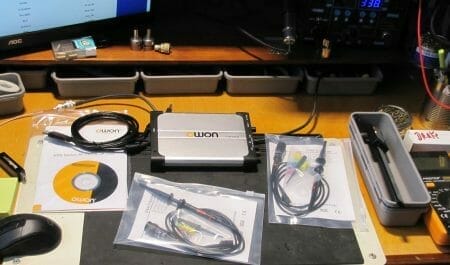 The reason for the computer-based scope is that it's big enough that I can see things at a glance.  Eye issues are a big deal with me, but so too is Making shit.
The answer was to get new-generation in-circuit testing gear, along with a high-visibility multi-meter.  And as a backup (the Owon DMM does capacitance already), both a DER and a Proster LCR (*inductance, capacitance, resistance) meters.
But there was one OTHER checklist – optics.  The computer, when not in the overgrown scope mode, provides for a handy USB port on the desktop. Which supports various handheld inspection optics and even boresights and such. You can read PDFs of schematics – no paper!
Almost looks inviting when it's all plugged in and in use: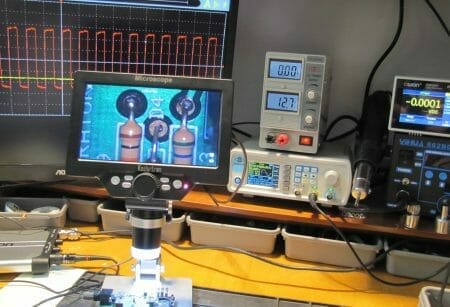 The big desoldering machine sits overhead on the frequency standard overhead. The soldering station does both SMT/SMD (left side) along with pencil soldering (right).
Where the spare part bottles sit left above, is where the contact cleaner and lubes went shortly after thinking that through. Along with Q-Tips and solvents plus some always useful glue.
Speaking of which, a hot glue gun is also really useful for a lot of electronic projects.  But mine lives out on the charging bench.  Early in the morning, if you enter the shop quietly, you can hear the lithium's chattering among themselves. They tell me things. Big, important things.
There's a small (2.8″ screen) housing coming for the vector network analyzer.  Either pop $70 on Amazon for an itsy-bitsy that fits in your shirt pocket or pay $500 to $1500 for a used large format machine on eBay.  I opted to roll with the times.
Would it be nice to have a tracking generator?  Maybe.  Or a full-up bench LCR meter?  Well, of course, silly!
But in the meanwhile, if the DER, Proster and this little under $20 gem can't get me in the ballpark of a defective component, then I'm too old to solder. On the other hand, it would be common courtesy to put backlighting in all these meters, but cant have it all, I guess.
The left side of the bench is a 2-foot by 4-foot worktable with pad on it.  To ensure plenty of room for equipment teardown. Goose arm lamp overhead there for old man eyes.
This Week's Workplan
I might visit the Dollar store this week. Once I made those "drawer pulls" on the 3D printers, it occurred to me that I could buy a dozen, or so, plastic dish pans of convenient size and make some very nice-looking storage units for the shop. Still too hot for outside construction projects.  The shop's only bearable after lunch sitting in front of the a/c unit at the Hobby Shop workbench.
The electronics bench, in the almost too cold office, is a lot more inviting.  It's where I'll be hooking up an SDR since every electronics bench "needs" a good general coverage radio receiver. I'd previously set low-loss coax (LMR240) from the antenna switching area up to the workbench.
I can't really think of too much else, other than sort out parts.  But that gets me to the last point I wanted to mention to you:
Prime Time Tool List
There are deals galore coming Tuesday when Amazon Prime Day shows up.
I've picked up most of the small parts in the shop (the curse of parts!) helped by collections of kitchen see-through (kind of) containers like this set.
Curse of Modern Makers:  200-years ago, a man was rich if he had a saw, hammer, a few (recycled) nails and enough time to use them.  Today, just for my electronics hobby, there are thousands of electronic components ranging from half the size of a grain of rice to 75-pound "heavy iron" high voltage transformers…  And that's ONE hobby.  Oddly, time to enjoy our heart-driven work is just as precious as ever.  Perhaps Progress is an illusion?  Whew.
Anything you need for your shop, this week is "prime time" to be fishing for it. I literally don't need anything.  But wants are unlimited, unlike time itself, which is getting more valuable by the moment.
Wait…do I need a centrifuge?  (My Amazon reviews are over here.)
Off to coffee on 3806 (lower sideband) on the 75-meter ham band.  See what's going on around the compass from us.  Always something interesting to kick around on the 75-meter ham bands after dark and to an hour, or so after dawn on weekends.
Last week's ShopTalk column is here, if you missed it.  It was a holiday, after all. I can't remember how many of them holidays I've misplaced over the years.
Write when you get rich (and send in "missing tool" ideas! What does the bench need?)
George@ure.net   ac7x