The Radio Detective is in for the summer heat.  We're in the a/c bubble until after Labor Day, so why not?
Last Sunday we introduced the newcomer to electronics. We elected to repair a simple vacuum tube voltmeter (VTVM) because there are no tuned circuits as you'd find in a radio.  A couple of tubes, a sensing bridge, a meter amplifier and a bunch of scaling resistors with a power supply.  Basic stuff. These are super solid, durable (to a point) precision tube type test equipment.
Resistors, capacitors, and a basic orientation to how schematics and block diagrams work was sketched.
As we wrapped up, the workplan for approaching the restoration was laid out.  Since then, we've completed the whole thing and we've got some notes to share along the way.
Working the Plan
Here's how the "best laid plans of mice and George" worked out.
We will have a list of squawks from the functional test.
The functional testing was straight forward.  Got a couple of standard value resistors from the parts bins.  These were reasonably close on the Ohm's measurement. But fresh battery voltages didn't agree with a known-good digital meter. One thing I'd forgotten about the HeathKit VTVM was it has an odd test probe design.
There's a lever around the probe tip.  Which you have to remember to twist into the right position or your readings won't make sense.  AC voltage and resistance measurements one way, DC voltage readings the other.
(RTFM means read the freaking manual if you're not familiar!)
To my surprise, the expected corroded grounds were all fairly secure and not as corroded as feared.  Turned into a 3-minute screwdriver testing period.
Replace the (likely) dried up capacitor in the power supply.
Before replacement of components, first do a simple measurement (especially on capacitors) to ensure there is really a problem to fix.  In this case, the capacitors were still good and within 10 percent of book values.
Part of me wanted to replace them anyway. But I don't have many "canned" capacitors on hand.  When I need something special, I check HayseedHamFest.com and they usually have something that will work. But they are on vacation until the 14th and I want this project buttoned up in short (no puns!) order.
Change the reference battery.
This was really cool. What I found inside the VTVM was no battery box but a "mystery circuit" that had not been in HeathKit's manual.  I'll walk you through what you're about to see here: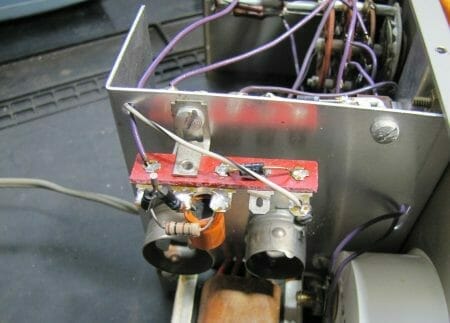 This is what makes Electronic Detective Work rewarding!  Because then you go hit the web and see who else has used this simple circuit on an HM-13.  Sure enough? YouTube contributor Bob Sumption has a dandy video about it:
Measured and it seemed to work. Again, other than warming what was (dull and ugly) a possibly cold solder joint, I try not to replace components that are still serviceable.
Test the 6AL5 and the 12AU7 tubes and note strength or replace as needed.
Easy-peasy on this:  Out comes the B&P old-school tube checker and everything was good.  The 6AL5 (the dual diode (7 pin base)) was 87 percent while the 12AU7 (dual triode (9 pin base)) was about 93 percent both sides.  A little DeOxIt on the pins and back in with the tube covers replaced.
Most people don't know this, but there's a little nib that sticks up from 7 and 9 pin metal tube bases.  This tells you by feel, where the "missing pin" for indexing is aligned.  Good thing to know when working in tight spaces with big oversized man-hands!
FaderLube all the pots and the switches, drop of gun oil on the switch shafts.
This was easy, although there was a good deal of turning the unit upside down, this way and that, to get the fluids where I wanted them.
Confirm function of the neon power indicator light.
With the unit's electronics in good order, the cover went back on and power was applied.  Sure enough, the light was working…
And measure the resistance of the test leads.
This is something I learned from bitter experience when very young.  Don't trust that your test equipment leads are good.  Like anything in motion for a long time, they do break.
Fortunately, these were in good repair.  About 0.73 ohm on the test lead and about 0.55 ohm on the ground lead.
Last part would be to open up the HeathKit assembly manual and confirm the calibration of the unit.
HeathKits are a joy to work on.  Because they take complicated things and write them in such a clear way, you'd almost have to be an idiot not to get something working.  Here's part of the alignment process to give you an idea.
OHMS ADJUSTMENT
( ) Set the FUNCTION switch to the OHMS position.
( ) Set the OHMS ADJ control for full scale (infinity).
( ) Set the probe tip to the AC / OHMS position (opposite side of the DC marking).
( ) Adjust the OHMS control for a full scale (INF) reading on the top scale.
( ) Short the probe tip and the alligator clip test lead together; this should cause a zero meter reading. If it does not, adjust the ZERO ADJ control (with the leads shorted) to zero the meter pointer. Then separate the leads and repeat the preceding step and this step until
no change in the meter readings.
Seriously, I am cheerleading the return of HeathKit products because they're just so damn much fun to build.
I did leave the book for the DC Calibration.  Because I was too lazy to take all the screws off for this part:
"DC CALIBRATION
( ) Insert the test lead phone plug into the input jack.
( ) Set the probe tip to the DC position.
( ) Set the FUNCTION switch to the DC+ position.
( ) Set the RANGE switch to the 1.5V position.
( ) Touch the tip of the probe to lug 1 on the rear wafer of the RANGE switch (blue wire).
That lug is inside and Ure is lazy.  Flip up to the +DC 15-volt scale.  Then get a fresh Amazon Basics 9-volt battery and measure it on the "known good" digital multimeter: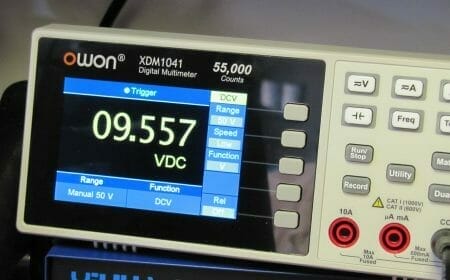 Now, knowing the 9-volt battery is really 9.557 volts, we then look back to the calibration steps:
( ) Adjust the DC CAL control [on the circuit board] until the meter needle falls directly over the small red dot on the meter face.
In our case, we set the meter to 9.557 volts.
I won't bore you with the A.C. calibration.  Except to say that the digital meter placed AC line voltage at 120.73 volts.  And with a tiny adjustment of the AC CAL control, the VTVM now agrees.
Service tag that and put it on the shelf ready to sell on eBay?
Sometimes of the year are better for selling ham radio gear than others.  I like to sell in the fall so as to hit the "long winter nights" electronics crowd.
Vacuum Tube Prices
The economy has gone "full circle" now for electronics hobbyists since the Major and I were getting our first soldering iron burns more than 60-years ago in Seattle.
Back then, as young soon-to-be ham radio whiz kids, it was fun to get the odd television chassis handed to us so we could scavenge for parts.  I'm here to tell you, I just bought a "scavenge" radio last week on eBay.
Found an old Motorola five-tubes radio on eBay complete with shipping for a Buy It Now of just $27.
Thing is, the tubes in this unit are of interest for an upcoming project (restoration of a Drake 2B and 2BQ combo).  The 12DT8 tube is for the FM portion of the radio. But Drakes always need 12BE6's and 12BA6's.  Now, toss in a tuning capacitor to salvage worth $15 bucks plus shipping on eBay.  Now put in a 4- or 5-inch permanent magnet speaker ($5-10 bucks) and by the time I was done, it looked like $60 worth of tubes and parts from a $27 outlay.
Pretty damn interesting what's happening with tube prices on eBay.  Electronics inflation is coming along as expected. Given they are more EMP resistant that silicon chips (in most cases) and they have a unique analog sound, there's a whole cult following on the web.  Focused on restoration not only of ham gear but things like classic Fender guitar amps and the like.
If the world hangs together, we see a case for common vacuum tubes outpacing long-term performance of simple commodities – maybe even gold and silver – because they are based on a serious value-add.
The New Office/Ham Shack Layout
Where is my office/ham shack headed?  For 8-hours a day – and as many as 14 – I sit in front of a 55″ UHD monitor.  That's my world – mostly.  But there is also a lot to be done with ham radio repair, Morse code operating, and that's even before we get into "special projects."
This was covered in Wednesday's Peoplenomics subscriber report.  Because so many of us in our "rocking chair years" have absolutely no interest in sitting around for the Grim Reaper to come calling.
The VERY real problem?  Some of us have been fortunate enough to save enough money over more than a half century of work to literally be able to afford anything.  Within reason, up to some budget number.
G2, now on his way back to a major server farm build-out, pointed this out to me:  "Dad, you have too many interests!  You gotta shed some!"
"Oh yeah?  Who sez so?"
The hardest part (in the PN report) was time and effort allocations before we all go to Life Reviews and into the After Realms.
The second hardest part has been deciding which equipment to leave at the main radio operating position.  For simple Morse code, the Drake 2B and matching Q multiplier can't be beat.  eHam reviews are spectacular. The transmitter paired with this is the Hallicrafters HT-40, but the VFO is another prize (hornswoggled from WmRR).  Together with a small electronic keyer, this will be the "basic, always get through, 75-watt Morse lash-up.
The second level up from the desk will be solid-state alley.  One of the Icom 761s, the Kenwood TS-590, and possibly the TenTec Jupiter. The HeathKit SB-220 linear will be switchable between 'em by swapping ALC and keying lines through a four-position stereo phono switch.  (Amplifier keying circuit and ALC line to the amplifier.)
Then the top shelf will be a Hallicrafters tube line up. Either the SX-117 (another of the best ham receivers ever made) with an HT-44 transmitter.  The Loudenboom amplifier, too. OR I may roll out one of the SR-150s. Ultimately, this will come down to a measurement-based shootout for 20-meter sensitivity.  Whichever one wins, will be augmented with outboard JPS DSP audio processing.
The existing Fond Memories station will remain, but only for a while.  It's the Gonset GSB-100 and the Johnson Thunderbolt amplifier.  Along with another Drake 2B/BQ combo.
Toss in a couple of SDRs and an ATS-25 and basic HF coms are golden.  Tge last pieces of the puzzle include special purpose radios . For chores like monitoring local emergency services.  A CB radio plus GMRS transceiver round out the tactical thinking.
Supporting this, I need to wire in the transfer switch and build a small "gas power equipment building. A column or three on that will be fun.
The problem is that every time I settle on a plan, my eye goes off catching another "sparkly" deal on eBay.  Just last week, there was an old Hallicrafters SSB transmitter/receiver pair listed for just under $1,000.  They looked phenomenal.  Since I already own them (plus the $1,000 companion linear amplifier) I find dopamine driving me into the click forest online to make sure it's still the best possible choice.
It's like in day-trading the stock market.  If you are not constantly questioning and rethinking your plan, you might not spot a bad decision early – when course changes into Future are least expensive.
Next Sunday we'll talk about some basic Shop Safety and delve lightly into recycling simple electronics.  We're going to rip apart a clock radio and get some useful parts from it.
Write when you get rich,
George@Ure.net