Only a couple of items on the list this morning (as having redeeming social value and economic exploits open to all:  The story about Personal Income and (nicely dovetailing) the Employment Cost Index.
A couple of data-backed axioms about money first, though:
You can only spend it once.
The US dollar is debt-saturated.  What cost $100 last year (2021) cost $3.65 in 1914 when the Banksters stole America's money.
There is one way to stop Inflation.  From this we know that stated convertibility (or paper to metals, for example) is the ONLY way to stop rampant, world-wrecking, global inflation.  (Ever here the money-changer story?)
Prices do NOT go up.  The purchasing power of money goes down.  Then it seems to take more.  What's been inserted is digital "theft."  Done with digits or processors doesn't matter a whit.
America's Lifestyle Quality is now NEGATIVE. Peak lifestyle occurred in 1964, or so.  Hadn't gone into national war mode, one income earner could support a family AND own a home AND do it all in 40-hours a week.
Biden is screwing the country promoting illegal immigration.  Promoting by revoking Title 42.  Screwing, because all the 20-teens immigration to Europe did was install a new religion for some minimal economic stimulus.  Crooked accounting runs in that leadership family.
OK, with the rose-colored glasses off, one last Reality before we sail on a sea of government spew:  Statista has a dandy one:  Chart: Is Life Better Or Worse Than 50 Years Ago? | Statista
The ass-kicker in it is when asked have we made things better in the last 50-years?

This compares with Vietnam where only 5 percent of people thought things were better than today.  Being in the midst of the War in Vietnam, though, what were you thinking?
Flip side of that with Italy, where the Statista says today 50 percent thought things were better 50 years ago, only 23 percent thought better today.  Not that this should surprise you either; getting in (financial and power-sharing) bed with the Megalomaniacal European Union could have no other outcome.  Layers of bureaucratic bullshit are like that.
NOW – at long last – We're ready for a swig (that is coffee, right?) and the latest chapter in the…
American Fairytale
My buddy the Major built a home about 38 years ago.  Modest, suburban home in a great area well-away from the Seattle Crazies.  Just got his property tax update and his home is valued at almost 8-times its original cost.
Same neighborhood, same HOA.  Well, milk was $1,17 a gallon while gas was $1.31 a gallon.
It's pretty clear when we talk, that neither he, nor I, have seen much economic change in our 70-year friendship.  Maybe that's OK, we both have government retirements from .mil and/or SSA.gov.  Trade-off.
But the point I get to is how the happy-talk government stats is that half a century on, neither the Major or me has become filthy rich.  Who HAS gotten rich?  Credit Card companies, Computer companies, Cell phone companies, highly processed food companies, developers, government retirement programs, and oh-yeah – illegal border jumpers.  Shall we toss in 13 new genders and climate change monetizer's, too?
That – from age 73 – is the long-term perspective on Quality of Life.
On a God is Laughing at Us note:  Not only are we more polarized than ever, but the gap between the Haves and Have-Not's is deepening.
The Rich have gotten richer.  The Poor poorer.
The government "swindle" here is simple:  If the Rich are getting Richer around the same rate as the Poor are getting poorer, then we must be averaging about the same.
"Personal income increased $107.2 billion, or 0.5 percent at a monthly rate, while consumer spending increased $185.0 billion, or 1.1 percent, in March. The increase in personal income primarily reflected an increase in compensation. The personal saving rate (that is, personal saving as a percentage of disposable personal income) was 6.2 percent in March, compared with 6.8 percent in February."
Laughable part here:  Incomes were up half a percent while spending was up how much?  1.1 percent?  So, help me God, people are stupid (statistically, nothing personal) incomes up a half and spending more than double that.  And we wonder why America is being renamed Loserville globally.
Employment Cost Index
As chance would have it, the Labor Employment Cost Data is also just out this morning.  At least (in theory) the ECI should roughly track personal income, let's lookie here and see what the ECI worked out.
"Compensation costs for civilian workers increased 1.4 percent, seasonally adjusted, for the 3-month period ending in March 2022, the U.S. Bureau of Labor Statistics reported today. Wages and salaries
increased 1.2 percent and benefit costs increased 1.8 percent from December 2021.
Compensation costs for civilian workers increased 4.5 percent for the 12-month period ending in March 2022 and increased 2.6 percent in March 2021. Wages and salaries increased 4.7 percent for the 12-month period ending in March 2022 and increased 2.7 percent for the 12-month period ending in March 2021. Benefit costs increased 4.1 percent over the year and increased 2.5 percent for the 12-month period ending in March 2021."
OK, now the conclusion:
Personal Income was up this month 0,5%.
The Employment Cost Index was up 1.4% for the month.
Someone has our money and it ain't us.  It's been turned into debt and yoked back on us through inflationary thievery.
Which is why a market decline ahead of Wednesday is an interesting bet.  Nothing like a market drop to "lobby the Fed" to hold in here on rates.
Biden Channeling Goebbels
Yes, that's right.  Slow Joe is playing the Josef Goebbels' Nazi media control card.  This as Democrats (who used language comparing Goebbels when they tried to stick the label on Trump) are now in an embarrassing position (if they had any shame) being double-standard self-wanking wokees: Elon Musk slams Biden's 'discomforting' 'Disinformation Governance Board' on Twitter.
Free speech for Marxists, the gender-lost, and the democrat Victim Pool, please.
Biden has thus managed to cross the line from Traitorous to Coup-leading by attempting to selectively revoke your Constitutional rights.
Bait and switch Bubba: Not Jan. 6.  NOW – right freaking now.
Richly:  Burnt-out Sanders is now channeling Jimmy Hoffa, maybe?  Or Dave Beck?  Bernie Sanders Wants Democrats to Make Unions Their Biggest Message.  The reason is the woke Marxist bullshit ain't playing with normy's.  Bernie the Bait Switcher and the herd of Marxist simplthizers.
Things to Be on Top Of
Who has told you this for how long?  Is crypto just one big Ponzi scheme?  Well, of course.  There are no barriers to entry for non-products, right?  Depends what you think of made-up numbers and storytellers, I guess.  Said the guy who never owned a wallet.
Get while the getting's good?  Investor Who Called Housing Top and Bottom Says It's Time to Sell.
Extra Dry Out West: Lake Mead water valve is exposed for the first time amid historic drought.  If you're a little slow, try this: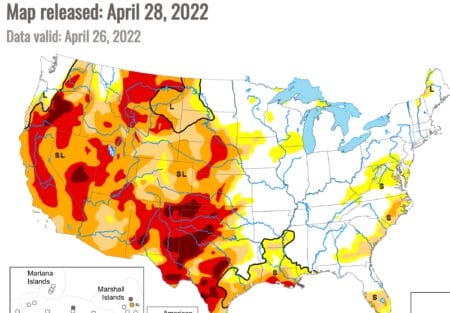 As we told you, when we put in our Garden  Grow Room:  Rain barrels
100-gallons may not sound like much, but it really does last a month – and it's like getting free water…
Meanwhile, if you aren't making at least some minimal effort on gardening SOMETHING (hell, anything) locally, you're too dumb to hang at this site.
Around the Ranch:
Ahead
Fed meeting next week is likely to weigh on markets.
Fajita Friday here in the Outback tonight.
Fish Fry Saturday up at the Elmwood Volunteer Fire Department this weekend.
New Book is in outlining stages – will debut (outline and maybe a few chapters) on Peoplenomics next Wed.  Hint:  QOL and Pomodoro's.
May 7-11 is Ukraine escalation risk window.
Market futures looked at the economic gibbersheet with little change.
Got rain coming in tonight (drought resistance luck here!) and continuing to Tuesday.  How to rescue an aging ladder on ShopTalk Sunday…
Write when you get rich,
George@Ure.net