Before we get into the nuts and bolts of this morning's two job reports (ADP and Challenger), I think there's some dandy prepping advice to be had in a read of Jamie Dimon says 'brace yourself' for an economic hurricane caused by the Fed and Ukraine war.
This entire attempt – at skipping a Depression – has been made based on creating so much money that, literally, prices can't go down. They can, however, collapse but that's a different matter.  Declines that are orderly pose no systemic risk.  When the herd panics?  That's a stampede.  There go the fences. Up, or down, you can get run over if not super careful.
The Fed's recent hikes have been necessitated by a bond-market damaging drop in bond yields.  Now, with the (scapegoat) Covid lockdown over, a Ukraine war to polarize and divide so Americans can't bitch about things (scapegoat 2), there's little to do except America getting back to work.  At some point, cheap rates were bound to be reversed at some point.
Your next good window to buy a home, may be 8-9 years ahead, assuming lobal economic cycles survive China's war on the U.S.  But you'll want to add to your home inspection a week-long radiation site survey.  (Who is this crank in the woods, huh?)
Papered-Over Collapse
We are there now – and aware business leaders – are already not only seeing trouble ahead, but they are planning evasive action.  Will preppers soon be labeled hoarders?  It's how the corporate-government alliance manages people – by managing their shames, differences, and resulting hate narratives.
But let's stick with the Money Illusion.
Fact is, the Federal Reserve (as we have explained before) simply "made up" $9-trillion worth of money.
Long ago, a colleague and I worked out that fiat money has a likely "cyclical failure rate" when residual purchasing power drops below 3-1/2 t0 5 percent, or so.  It's a little more complicated in that the time over which monetary debasement is spread out, the lower the effective "collapse bound" drops.
If your money dropped to only 3-percent of retained purchasing power over a year, you'd be in the streets demanding new government.  But, spread it out over 109-years (from 1913) and toss in a mishandled Depression in the 1930s to slow the pace, but you still get into that "erosion over time" exponent.
What would have cost $10-dollars in 1913 would set you back $296.15 today.  HOWEVER even this is misleading.  Because of the pernicious deficit spending contagion that will eventually collapse America spread from the Washington (central government) schemers to the state and local levels.  Think metastasize.
Here in our local small town, the state and local sales tax adds on 8.25%.
Which means, basis 1913, the ACTUAL (out the door cost) TODAY would be  $320.58.
Which reveals, when divided into the original $10-bucks, means the dollar is presently worth just $0.03119  or about 3.2 cents compared with pre-Fed, pre local tax increases.
This is not to say we're screwed. That should be obvious by now, or you need to get out more. Rather, regardless of what you think of Mr. Diamond (and JPM's metals market operations), he is still quite likely right on what's just ahead.
We live in a world where the corporations are giving us more Truth than the "nominally governmental" but really put up by the Bankster Class Fed.
The Fed money stocks report- so critical at monetary inflection points like this (it's their H.6 report) is carefully delayed to where it becomes useless for small market players.  You need to run for office and get on some of the banking and finance committee to get something closer to real-time information, we suspect.
Here's the joke behind the Fed:  While they manage (sit on) critical economic information that should – like the US Treasury Debt to the Penny – be updated every few days.
If you ran a manufacturing operation, and weren't told what sales for the month were on the first of the month, someone would get fired.  Instead, we got Joe and Jerome.
Of course, we may be the only one between 'em knows WTF ERP systems are all about? The Fed controls public information about what's back on us as tax chattel.
Lying through omission (and its half-brother delay) is still lying (mano y mano) in this part of Texas.
Two Job Reports
Both of which are worthy of thought.  First up is the ADP report:  Weaker than expected +128,000 for the month.  (*Bet me more people than that jumped the borders same month?)  Drilling down…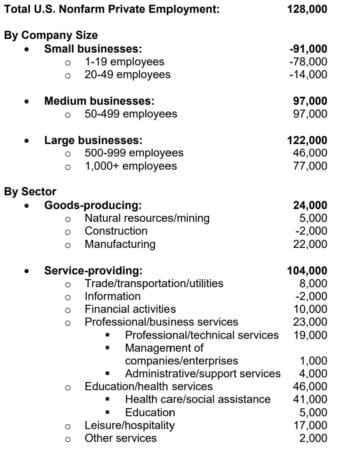 Earlier, the Challenger Job Cuts report was passed.  How's this for a reassuring headline?
May 2022 Challenger Report: Job Cuts Fall Overall, But Explode in Tech, Fintech, Construction | Challenger, Gray & Christmas, Inc. (challengergray.com)
Which is the economic background for this chapter of collapse to be played.
One for the road?  New federal UI filings:
Let's Play Alex
An early check of the satellite imagery from the National Hurricane Center shows the remnants of Agatha-Alex (number 1, red info) on the graphic, will be knocking on Houston's door (or maybe NOLA) this weekend.
So, 80 percent change of tropical cyclonic formation off Houston, follow?
Our second disturbance will soak south Florida, but good, this weekend.  But less than a 60% chance of developing, so wet, wetter, and wettest… Might want to skip the private jet to Puerto Plata in the DR to party this weekend.
(If you're a big-time follower of our ShopTalk Sunday home handy-bastard columns, this Alex is not to be confused with the DAP acrylic caulk product.)
Saber-Checks!
Our three "precursor wars" are almost set to light off for fall.
On the Russia Ukraine mess, Russia is still paranoid about invasion.  And not illogically if you follow NATO's new doctrine makes the alliance the new Third Reich (pravda.ru).
Plus we have "range creep" going on.  As you know, yesterday the spin was the US would give 70 km m rockets to Ukraine.  See the number overnight? UK to give Ukraine 80km-range MLR systems – defense secretary (ukrinform.net).  Either we have a math problem or this is amping up pressures on the Russians.  Do I hear 90 km?
Which, if they went first-use with even limited clean nukes, would STILL give the WHO and other Globalist World Shakedown artists an excuse for more lockdowns, limitations, social credit scoring…of the shit just runs crazy after that.  Round up people who said "tritium" in the past year and so on.
Be skeptical.  Soon come, mon.
Depp-ravity and Beyond
Johnny got dough.  Amber got less.  Does anyone really give a shit? Besides counsel?
Jumping Joe flash, it's a gas, gas, gas: OPEC+ alliance decides output amid record U.S. pump prices.  Triple A pegged gas at $4.715  and diesel at $5,556 .  (Brandon!  Brandon!  Brandon!)
Special Seattle note:  Once upon a time, the fate of Boeing was the fate of Seattle.  But with Amazon, MSFT, Adobe rentals, and all that, not so much.  Ever since Boeing's corporate offices skipped town for Chicago, we've been questioning their wisdom.  Here's some interesting Seattle content to cruise The Boeing Company [BA] fell -35.10% so far this year. What now?
We got out just in time.
Write when you get rich,
George@Ure.net