Got "3-large" laying around with no particular plans?  Something the spouse in the house doesn't know about ?
Pal, do I have a deal for you!  I just noticed this on Amazon this week for less than $3,000 and I want one!!!
(Smallest of details:  Why isn't clear to me, except I don't have one now…)
I had to admit, it's an impressive machine.  Because (I can't speak for you, but for me) I have the hardest time in the shop cutting precision cuts.  As I tell my children (who pay scant attention, except G2)…
"There's only a handful of shop operations.  Layout, cutting, finishing, assembly. Everyone will be weak on at least one of these skills.  I figured out (early on) that my weakness was on precision cutting.  Framing to within a 1/16th? All day long. No sweat. But figure out your weakness early enough so you have time in Life to "halve your weaknesses."
After 70-odd years, I have made it to a 32nd for many things.  But a 128th for doing things like an inlay in wood with veneer?  Not tonight, Josephine!
Part of me loves the tech involved in the Shaper Origin.  Great concept – making the CNC a jobsite tool.  But (Shhhh…pretend I didn't say this) "ISN'T THAT CHEATING???"
To me, there's always been something about a craftsman's hand work that is distinctive. It's either the "boxy design" or the tool marks, or the finish always comes out a certain way…
But THIS?  Why, it's an abomination to the fellow craft of shop injuries!  In fact, I hate the idea so much that if you go ahead and buy one of these and don't like it, I'll let you send it to me…free…a generous offer, or what?
Seriously? (Or close as we'll get)
I happened to be scanning two books this week (refresher).  One is And Suddenly the Inventor Appeared while the other is The Innovation Algorithm. From Genrich Altshuller's brilliant work on TRIZ – the Russian science of systematic invention.
When you see a new tool (like Origin Shaper) you can immediately understand the invention by realizing that it's almost like a conventional CNC machine (material subtractive, stationary location) evolving to (material subtractive, definable location). You get to slide it around a bit.
I'm always fascinated by the applications of TRIZ to shop equipment design.  Make it bigger, smaller, higher, shorter, hotter, colder, attach it differently… there are about 40-dimensions which can be tried and tested and many times that with mixed solutions.  Much of which is in my book The Millennial's Missing Manual because between TRIZ and an understanding that "Administrative processes rule the world" you can be inventive to phenomenal degree. Most people simply don't take the time to organize what they are seeing or taking in.
What I personally think will be the next big breakthrough in shop tools will be the blending of both additive and subtractive tools.  Take something like this Origin Shaper, for example.  How neat would it be to have a plug-in head that could flow 3D FDM material using the same machine?
Surmagine, if you will, being able to use an Origin-like tool in one mode to cut out a complex pattern (subtractive mode, eh?) and then go over it with the alt. print head and infill the voids to make perfect inlays! That would be some kind of neat.
Gene Roddenberry had a great deal of this covered with the Replicator and the Holodeck in Star Trek.  But we're getting very close.  Don't know if you have tinkered around with a 3D scanner with the Zephyr photogrammetry software package (take a look over here).
If you haven't opened your head to this stuff, the data flow in this design/replication process is not terribly complex *except for the code – I always talk like a marketing guy, lol.
Find an object you want to clone.
Place it on a rotating table.
Have two cameras take images as the table turns (stereo imagery).
Reduce the imagery to a surface model.
Export to .STL
Slice to .gcode.
Print on your Ender, CR-10, or whatever….
The printing of food will be coming along a similar path.  Take picture of a steak.   Photo translate to a solid object/.stl.  Print using proteins with flavors and driers in place of the cooling fans in the regular 3D print heads.  Add moisture, warm up, eat. (Barf!).
I think it's this "getting off the stuck line" with our ideas on tools that so fascinates me.  Ever since I saw a ShopSmith Mark V that could be rigged up do most all operations in a shop.  Similarly, the Portashops come up on eBay from time to time, as well.  These were the "luggable" version of what would be the larger Shopsmith's.  Not sure who got the "everything machine" idea first, though.
"Don't Do This!" of the Week
Such a graceful idea…it should have worked.
I decided to expand the feed port on an electric chipper.  Thinking that with a bigger port, I would be able to shove carefully sliced carboard into it and have instant free mulch for the garden.
No.
You can see the piece I sawed off. Didn't hurt the functionality of the chipper, with wood, which is slightly more forgiving now on crooked small limbs.  But it also tends to "spit back" more, so wearing the full-face mask is always a good idea.
But it made the lamest of efforts at actually shredding cardboard into something useful.  At one point, a 200 MPH 3×5 card sized piece of paper came flying out of the chute.  A bit of dust, but nowhere near as anxious about it.  Piss poor approach.
If you know of a good way to shred cardboard (mostly Amazon boxes with the tape and labels removed), sent it along.  I have thought about an electric leaf mulcher but don't want to spend a hundred and a half on one if it won't do any better.
Tried the high-powered document shredder in the office, but that was so slow it wasn't making sense for me.  Ideas are welcome.  (If you suggest a sprayer with diesel and put it all in place and light it off, we will refer you out for counseling. Even with the 3/4 inch of rain Saturday morning in the overnight, the duff out in the woods will still support a good-sized forest fire.  With son G2 off server-farming for Bill, no one on the property has a wildland red card presently…
More rain is promised this week.  Time to gas up the riding mower sooner than later.
Ham Radio Corner
Icom 761 (#1) is awaiting the arrival of a new (*to me) display board from eBay.  I will try (and let you know) how my efforts t to save the existing one go.  But as an incase…
One of the connectors was bad so whether I can nurture this one back to health is open to debate.  The other 761 has a power supply coming. so more a mechanical assembly issue.
If you dink with electronics much, and don't have one of those real fine wire strippers  (down to #30 AWG) take a look at these guys. Less than $7-bucks. If I can afford it, certainly you can, Big Spender!
You can see, looking at the logic board layer of the 761 (and notice the battery lower left) why with three such layers, I'm inclined to swap out boards rather than spend time additional time on component-level replacements.

Here's just one of the soldering challenges – see the dangly wires?  (Reader Hank will laugh his ass off – we all go there sometime…) but we know for sure and certain which wires were "Marginal" when we started…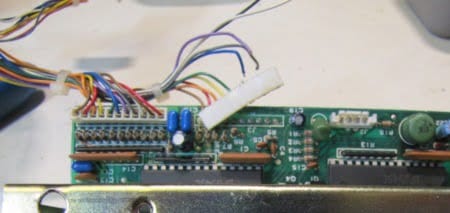 In electronics it's always a toss-up whether it's easier to fix something TOTALLY DEAD or something running intermittently. With the replacement display coming, I have the luxury of just waiting or pissing away time on this.
You may have had a similar experience?  Like the car with a carb/fool injection issue causing it to lose power and drop back to idle as soon as you're merging from Ventura onto the 101 with 8-million people honking behind you at the cattle light?
Antenna Adventures
Debate in my head is deafening. Whether to put up a ZS6BKW or another Off-Center Fed Dipole.
The ZS6BKW (write up on it here) is a more balanced antenna which means that RF into the computers and audio systems in the office (*from common mode currents on feedlines) should be a lot less.
While the BKW claims some gain on 20 meters (14 MHz) the Old School says the longer and higher the wire, the better the signal.  Thus, all else equal, the 90-something to 102-foot BKW ought to perform a little less well on lower bands like 40 and 80-meters.  Because the OCFD will be 140 feet.
Balun Designs builds a Hybrid, Dual Core, 3KW Balun for the OCFD.  The hybrid balun (another article to read) is really a 4:1 current balun back-to-back with a 1:1 to reduce feedline common mode.
I may put up both or focus on the real high payoff use of time which is dropping the tower down and figuring out what lightning did to the 3-element beam.
Always something to do outdoors.  And now that the heat seems to be breaking….
Write when you get rich,
George@Ure.net (ac7x)