While 115,000 (and likely more) Russian troops are pressing in on Ukraine, we are more concerned in the very short-term about Narrative Collapse.
You won't see this in the MSM *(because 5 companies own 90 percent of media and they're all hip-deep in the Big Swindle) – the Narrative Collapse has them scared shitless because it's starting to "Get Legs."
One example, which will likely be a template for the now abdicated US government, is likely seen in the UK police story: UK investigation into Downing Street Covid lockdown parties finds 'failures of leadership'. How many pols here in "the Colonies" have also failed to lead?  We are being swindled out of democracy and liberty in one two-year duration fraud.
You know "the narrative" is in trouble when stories like So long, Omicron: White House eyes next phase of pandemic begin to appear on Buyed 'Em backing snooze-sites.
Covid is Real, But…
As we have been saying for almost two years:  This is part-bioweapon (and maybe a test run) and part monetization.  Yes, it's real.  BUT is mRNA safe enough for humans?  It's still experimental and lawsuit-proof.  Which is fine with us – people have a right to make their own healthcare decisions.  Well, government doesn't allow that when comes to use of Cannabis, or large doses of Vitamin D3 (which was 'taken-out" of mainstream medicine for its ability to reduce arthritis and cure certain cancers (all in the lit.  Research PubMed.gov which is not corporate blocked YET).
Our Main concern about Covid has been the lack of financial transparency.  This where an orientation in financial forensics matters.  Everything from the Fauci role in funding illegal gain-of-function research to the monies paid to hospitals for creating the crisis.
Just up on Bitchute is this rather remarkable case: I woke up on a Covid vent after a car accident (My testimony) (bitchute.com).
Which could be dismissed as a one-off, nutjob, or whatever.  EXCEPT that we're seeing a pattern in the data.  Scroll down on the page above and read the similar-sounding case posted by Paphigliano.  Tells a very similar tale.  Copycat or real case?  WTH?
Not saying it's true, but I know a fellow who teaches post-grad forensic accounting who – with some accounting grad students – wouldn't find it too hard to get to the bottom of this swirling Coriolis.  That is, if Congress had not abdicated and the Socialists really took over – barbed wires, walls, and all on January 6th 2020.
See, that's what people outside of the News Industry fail to grok: New is all very much like the old fart joke:  "The fart the finder, the stink lays behind 'er…"  If it's in the news and it's not an Act of God, money put it there for someone's agenda!  (Repeat after me:  Everything's a Business Model.")
Job Farts
A Depression-era handbook of useful sayings, passed down in the Ure family since it was a gift (Christmas of '32) "Take it from Me" by Coleman Cox, give some phenomenal insight into lies. Very first entry in this book of common sense for stressful times:
"Another good thing about telling the Truth is you don't have to remember what you say."
Fortunately, we have a president with that "font module" already installed. (Yes, there were days when fonts lived on the printer. Not on the device…)
Biden – as a typical politician – seems ready to claim credit for Jobs data whenever it is good.  Example here was Jan 2022 data.  But, since the ADP data Wednesday showed a -803-thousand crater where job growth used to be, will Joe be as ready to step-up Friday when new federal numbers come out?
It will be what a poker-player would call a tell.  Frankly, I trust the ADP numbers as about as real as you'll get.  There are too few data collectors and too many statisticians in government, as we see it. Well, managers, too.
Besides the HUGE ADP miss Wednesday and the JOLTS report featuring 4.3 million job quitters by Labor's count, we see other signs of "Covid Recovery Narrative Collapse" in stories like China's coverage in U.S. private sector cuts 301,000 jobs in January amid Omicron surge-Xinhua (xinhuanet.com).
Just out is the Challenger Job Cuts report for January:
CHICAGO, February 3, 2022 – U.S.-based employers announced virtually the same number of job cuts in January as in December with 19,064, up .063% from the 19,052 announced one month prior. It is 76% lower than the 79,552 cuts announced in the same month in 2021, according to a report released Thursday from global outplacement and business and executive coaching firm Challenger, Gray & Christmas, Inc.
Of cuts announced in January, 5,757 cuts were due to companies shedding workers who refused to get vaccinated against COVID-19. That brings the total number of cuts due to vaccine refusal to 13,391 since June 2021, when Challenger first recorded job cuts for this reason.
"Many employers who implemented vaccine policies last year gave workers until early January to comply. Job cuts remain low, and companies are still hard-pressed to fill open positions. This is a lot of people to cut, particularly in Health Care, where workers are increasingly leaving while those who remain battle intensifying burnout," said Andrew Challenger, Senior Vice President of Challenger.
America's REAL Jobs Picture
At its peak, in the Labor Department data, the number of people employed in the US peaked in 2018 at 158.772 million.  The civilian labor force then was 164.633 million.  In other words, of the workforce number, 96.4 percent were working.
As of January, this year?  The workforce is down to 162.294 million and the number working was 155.975.  Here, the percent working pencils to 96.1%.
Bottom Line #1:  Even before what we expect could be another "shoe to drop on thre jobs narrative tomorrow" (depending on honesty in government, of course – a sketchy bet always), 3-10ths of one percent fewer people were working.
The problem?  The Civilian Workforce figure is suspect.  Here's why: December 2019 saw the US population at 328.3 million.  In January of 2022? 332.4 million.
Check this shit out because it matters: 4.1 million more people are in America (thanks border policy clowns!).  The Labor Force should be UP – but it went the other way.
This is just a "teaching moment" ahead of tomorrow's jobs report (color us skeptical going into it).
What we're seeing in stock futures (down) is likely because other people are going to figure out this disgraceful statistical charade will collapse.
At least, some of our office holding pricks (and prickettes) could have the decency to tell it straight:   Something like this would be refreshingly candid:
"We have open borders because we need to stimulate consumption of goods (and empire building in government) otherwise we would be in economic free-fall because we're really in a Depression that we're trying to paper-over here, which is why the Fed is being such good little paper-hangers…"
Some Americans will understand.  Others won't.  Those of us who do are pissed, though.  We want the fraudsters, inside traders, and sex perv's out of government.  Thank God elections might still work.
We'll see, huh?
Happy-talk Jobs Narrative 2
It's time to play Lying – Misleading Media!  Today, our contestant is New U.I. Filing Data:
Lying Media will quote the politically-driven Seasonally Adjusted (SA) numbers.  Ure's reality only does seasonal adjustments based on seasons (*like fall, winter, and so on) and prefers more honest real data.
The Liars Club will report "The four-week average dropped again this week" while the Truth in Accounting Squad report "While new claims declined this week to 257-thousand, the four-week average was up almost 40-thousand."
Let them who has math see.
Four Wave Down?
Green Light
Yeah – with the close yesterday, we are in a range that I told you about a couple of weeks back (and subscribers have been watching since December):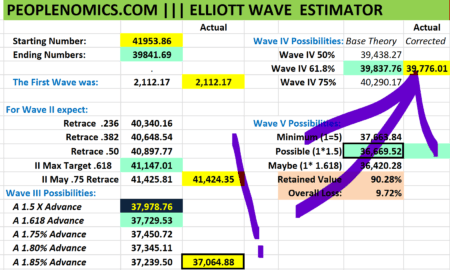 The fact that we have hit the Wave 4 ideal target range for this rally only matters to 70-something old farts running around in Scrooge McDuck suits, slurring something about "g.d. bulls…:"
S&P Futures are down almost 1 percent.  So the commercials will see how much they can hold the Dow up, though it may be seen as a tempting shorting opportunity if you're a real Bear.
Never advice, just sayin…
War Nerves
I keep pondering "How many cease-fire violations does it take before a de facto state of War exists.
Reason for asking?  Four ceasefire violations by occupiers recorded in JFO area (ukrinform.net).  Double yesterdays.  We'll see if there are eight tonight.
OTOH, it may be due to Facebook Owner Meta Set for $195 Billion Wipeout, Biggest in Market History.
Click by tomorrow for the answer.
I May Be Stupid for a Reason
More body fat linked to greater risk of cognitive decline, memory issues – Study Finds.
(Why are Elaine and the Cat both nodding with a knowing smile?)  Will my PCP email this via MyChart to me?  An unsettling feeling creeps in…
ATR:  Winter Storm Passing
Our Big Pipe onto the 'net is still down due to heavy cloud layering as Winter rolls through the Lone Star.  Reminds me, still no sign of our Starlink coming.  Elon?  Hey buddy…customer service…ever hear of it?
–
The new tool chest is getting ready for a fill-up.  Best way I could come up with to sort was to throw every tool I touch into a box.  At the end of a week, or three, the tools accumulating there will be the ones earning a place of honor.
–
Pot roast on tonight.  Nothing like a good pot roast and gravy when it's cold outside.
–
Zeus the Cat is refusing to go out.  We're afraid he may back up and explode.  Can't seem to figure out what the dishpans half full of kitty litter are all about. Tried all the usual answers to litter training.  Maybe he's just too old to learn new tricks at 16 or 17… I was.
Write when you get rich,
George@Ure.net