Super short and on point, since Roofing Crew #2 – the metal roofers – will have the long-planned replacement of the guest room done this morning.  We're trying to be "all ready for war."
So, with this in mind we will get to the job numbers in a second.  But first let's talk about making money…
The market, earlier, was nearly flat. Up a bit after jobs.
Ideally, we would like to see a small decline today, but then a major down trend beginning Tuesday, or so.  But in the present world, Tuesday might as well be next year.  Especially because we are on the brink of the hard down part of Wave 3 in this view: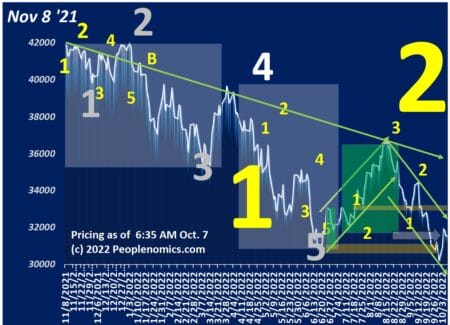 If we can't get a rally going after the employment numbers, then I may take a short position going into the weekend.  Not trading advice as nothing on this site is.  All pure entertainment, natch.
Still, can't think of much bigger entertainment than lobbing nukes around which looks possible this weekend based on headlines like:
But in a huge mental disconnect, I was noticing the headline about the Nobel Peace prizes just out (Activists of Belarus, Russia, Ukraine win Nobel Peace Prize) and I found myself asking "Since this could all go nuclear over the weekend, is the prize being awarded on "best efforts and not results"?
While this would certainly help explain why Barack Obama got one, it then wouldn't explain why you didn't get one.  Or me.
Military Affairs Take?
Our military affairs contributor and former brother of the oak leaf clusters (warhammer) sizes things up this way:
"Biden made what, for a sitting U.S. president, is an uncharacteristic public remark about the threat of nuclear conflict with Russia.
Nuclear 'Armageddon' risk highest since '62 crisis | AP
Did he discuss his view of the risks first with our key allies, especially those in Europe?  We have no indication that has occurred.  If the risk of nuclear war is so much higher, as the President alleges, then why are U.S. nuclear forces not sitting at a higher posture of readiness?  Finally, instead of making his claim at a political fundraiser, as he actually did, why didn't Biden hold an official press conference to carefully convey his concerns to all American people?
Since Biden's comments came at a Dem political campaign event, my hunch is Old Joe was just blabbering away to like-minded progressives, amping up political hype in order to raise donations for the mid-terms.  Problem is, the entire world is listening whenever nukes are part of the president's conversation.  Biden, in my opinion, has just seriously escalated the situation.
Not very strategic.  Not very presidential.  Not very wise."
EXCEPT as we have reported for several months now, the old Neocons – who have changed stripes and parties to Neoliberals – are spoiling for a winnable war.  The stan's and sands didn't work, so let's light up Russia.
What they ignore is Russians are every bit as clever and bright as they are.  Which means the two obvious (but neolibs in denial) are blowing up Poland's LNG transshipment point or doing a 100-mile high EMP over "annexed" territory as a taste of things to come.
The rest of Europe is even DUMBER than we feared.  As EU targets Russia in new sanctions package 1 (cryptopolitan.com).  Which is like taunting a criminal holding a gun on you who has just wounded one of your chums (Germany) and is about to kick you to the curb as winter approaches.  Really think the odds of keeping on living go up by telling the gunman to f*ck off will help?
Slowly disarming might be a play, but crackhead gunman on his birthday?  Check with the Hecklefish, but we're rolling toward slow-motion appeasement and pivots in here.  Not all Chamberlain like, more like a Bruce Lee or Jackie Chan move.
Key fighting point:  Always be working to the outcome and European sanctions are just another piss-off point for Putin now.
Ever notice how absolute neocon hubris is both traitorous usurpation governmental powers and dangerous to the world?  War crimes in our view.
When Ukraine busted Musk's chops for calling for talks?  We should have told Ukraine to take a flying you-know.
Speaking of Musk
This is cute: Twitter Trial Halted Until Oct. 28 for Elon Musk to Close Deal (tesmanian.com).  To buy Twitter.
So, if he closes before then, can he pull the lawsuit, so he doesn't – in effect – sue himself?
Mighty Muskly, I'd call it.  Design patterns reign supreme.  So do feedback loops.
Joe's Mega Vote Scam
Let's call it Dope-a-Dope.
Tossing people away – in some cases for life – for marijuana is a bit stupid in the extreme. Bad policy but great for federal crime fighting budgets.  Huge business there.  Civil Asset forfeitures scam and all that – with no due process.
But when I read Joe Biden to pardon everyone convicted on federal marijuana possession charges and the related 'Today we begin to right these wrongs' – US President Joe Biden announces HISTORIC cannabis reforms, it did get me to wondering how much of this comes as a moral issuance and how much of this was crass politics.
Say, you don't think this would make Hunter Biden safer in the Big House should things fall that way, do you?  Fears of only a weak wrist slap for scandal-scarred first son Hunter Biden. Not a fear at all Miranda Devine – dead-to-nuts certainty with Pops in the chair.  There is no equality for the ruling class brats, baby.
Doesn't change the law and despite presidential largess (which we see as trending only months before voting) DEA is still around, sniffing, and busting.  This is just a move that is popular a month before otherwise losing elections, and another one of the (becoming famous) Biden Decrees.
The Job Numbers
Going into this, Mr. Cynical was expecting a report that would puff up the headline number, but when we get down to the basics, wouldn't exceed total number working in late fall 2019 and early 2020.  How'd we do with the tea leaves?  Sorry. Decaf:
Total nonfarm payroll employment increased by 263,000 in September, and the unemployment rate edged down to 3.5 percent, the U.S. Bureau of Labor Statistics reported today. Notable job gains occurred in leisure and hospitality and in health care.
How'd they will it off?
Well, since you asked: Of the 263-thousand (purported) 431-thousand were simply estimated into existence in the CES Birth-Death Model. Right twice as many made up jobs, lol.   Without the estimated adders this would have been an employment pit out near La Brea somewhere.
Thanks to these jobs, on paper, we have finally gone just over breakeven with pre-covid data:
Whether the market can put on anything larger than a show rally remains to be seen.  Dow was up a bit after the numbers.
There is still that Putin Birthday today and the lingering question of will there be the candle phallus, and will it go boom?
Shorts
Explain this:  What is quantum entanglement? A physicist explains the science of Einstein's 'spooky action at a distance' (theconversation.com)
Let's register cutlery:  Las Vegas stabbings – Two dead and six injured after 'man stabs group of showgirls outside of casino on the strip' | The US Sun (the-sun.com)
"Checkmate my ass" Department: Chess 'cheat' goes through full body scan at US Championships – including his BUM .
Pretzel Logic files:  Border chief says GOP governors' migrant relocation campaign is stoking migration to U.S.  No.  Taking them all to Kam Harris's home is a dandy idea.
OK, off to get the roofers roofing.
Write when you get rich,
George@Ure.net