This morning's report features an air conditioning failure in the main house, so I'm just "cooling it" in the office today.  Funny how "Spidey sense" works.  It was just two weeks back air conditioning was on my mind.  To the point of ordering a new window unit for the office (this one).  Even went to far as to think about getting a new starting capacitor to "have on hand.
Sadly, I didn't do that.  And – based on the compressor not starting, it seems like yep – got to pay closer attention to "senses of future" when they come a knocking.
Why, I could write a whole column just on the importance of listening to your higher self.  But no, that's not the main focus of what we do around here.
More to the point, it's the hottest part of summer now, and unsurprisingly US Grid Operator PJM Declares Level One Emergency Amid Scorching Heat. Even with our solar, we still had a surprisingly large power bill last month – a reminder to me that those 80-foot-high trees shading the house were actually very useful energy conservation tools.  But then they began to split, it was time to go.  Sometimes there's just no winning move.
Other than move to Canada to avoid the heat, of course.
Post Fed – Rally?
As is becoming clear in our Aggregate Index work, the U.S. market may be making a last-ditch effort to set a marginally higher-high.
Futures this morning put our Aggregate Index at 39,305 and change while the Aggregate high last week was 39,290.  See how close things are?
Which gets us to the data that's flowing this morning.
GDP
We are huge fans of widget counting.  Because it's just so damn easy for governments to make up paper and just add zeroes. Notwithstanding the obfuscation via the printing press…
"Real gross domestic product (GDP) increased at an annual rate of 2.4 percent in the second quarter of 2023, according to the "advance" estimate. In the first quarter, real GDP increased 2.0 percent. The increase in the second quarter primarily reflected increases in consumer spending and business investment that were partly offset by a decrease in exports. Imports, which are a subtraction in the calculation of GDP, decreased."
The good news – and it comes into focus as a rising turnover in Money in the system (velocity at M2) is that things are getting "better."
Next Come Durable Goods
You're welcome to think of this in terms of "flywheel effect" of the economy.
Of course, durable goods require a labor force to make things.  Which segues right into the latest read for the week on new unemployment filings.
The last page of this report is always our favorite.  Because it shows which States are really hot and which States are really not.
This view of labor isn't the be-all, end-all.  There's the matter of international trade, too.  Because nothing those legal fictions (corporations) love more than offshoring as much as possible to least-cost manufacturing anywhere but in America…
With this, we'll see how the market digests things, but throw in a handful of good news out of Ukraine?
War and Pieces
After fears of Wagner eyeing Poland, and the Ukrainians pulling back forces, seems the balance has shifted again today.  Ukrainian forces advancing north and south of Bakhmut – General Staff (ukrinform.net).  Along with War update: Ukraine's Air Force launches 13 strikes on enemy targets.
Also, Ukraine grain exports are on the rocks. Zelenskiy Visits Dnipro As Russia Launches More Deadly Strikes On Ukraine down in the Odessa region.
On the other hand, there's a larger political game afoot here.  Russian media: Belarus has submitted a surprise application to join the BRICS! Which we point out because as the entire planet keeps eating its way out to the Petri dish walls, resources will continue to matter.  BRICS has lots of resources.  I think my worst global geopolitical outcome would be BRICS attracting more oil producers into their fold.
Related to BRICS?  What happens when Dollar Hegemony collapses in a heap?  'Rich Dad Poor Dad' Author Predicts USD Crash After This Crucial Coming Event.  Can you spell Global Depression?
Hold the Party!
One contrarian sign?  Bitcoin has not rallied with stocks and was trading around $29,500 earlier.
Two other notable crypto developments.  First is Singapore High Court Recognizes Crypto As Personal Property, Equates It To Fiat Money ? ZyCrypto.
The other?  Interesting note about presidential hopeful RFK Jr. Democratic Presidential Candidate Invests Significantly in Bitcoin for His Children – Cryptopolitan.
A further security note:  If you are an Apple fan and have a wallet, pay particular attention to 'Realst' macOS Malware Hijacks Cryptocurrency Wallets Via Fake Games | Extremetech.
Quippishly Ure's
California governor presidential bid positioning becomes apparent in this Exclusive: California Gov Gavin Newsom May Be Back Channeling in Actors, Writers Strikes Against Studios | Showbiz411.
Rumors are flying again (still) as to where this will be the day for a Trump indictment to be handed down: Trump teams prepare for possible Thursday grand jury vote. Meanwhile, the rest of the GOP is finding new and improved ways to attack Joe Biden's second run: McCarthy, House GOP tiptoe toward Biden impeachment inquiry.
ATR: ShopTalk Thursday
After a certain amount of whining in last Sunday's ShopTalk column – about the lack of industrial arts training in America, I've decided to do a two part report (Sunday, of course) on the process of repairing electronics.
I'm going to walk through repair (and the logic) of fixing an old vacuum tube voltmeter.
Been spending a fair bit of time at the workbench, lately.  In fact, yesterday's effort was resurrection of a Yaesu FRG-7 HF radio receiver.  Took it from totally DOA to working just dandy.  About 4-hours of bench time.
The lone problem remaining is the signal strength meter is not bouncing around like it should.  Which has me eyeing the blue capacitor circled in this picture: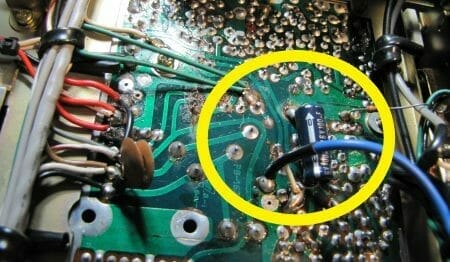 You're not seeing the humor of George's life, yet, are you?
Well, let me lay it out for you.  The problems of this radio were mainly what?
"Capacitors?"
Yes.  And the problem with the air conditioner?
"Oh I get it…Starting Capacitor…"
Exactly.  The Universe is telling me in no uncertain terms: Be Sure to Menion Mercury Rising. August 23 to September 14.  And since I've told you how often "I run three-weeks ahead of Mercury's rising…."
Seen a calendar?  Something about carrying capacity of World being hinted at?
Weird, just totally weird how my life stitches together.  Always on the verge of woo-woo.
Write when you get rich, or when the A/C is running again…
George@ure.net