This morning's "second cup brainchild" is some insight into how "Reality" is manifested at the macro level. The key aspect of which is how the GMC (global mass consciousness) is always, continuously, voting on the Future.
This harks back to the Schrödinger's Cat principle of quantum mechanics.  Which posits whether a cat, placed in a sealed container such that it faces exactly 50-50 odds of being alive when the container is opened, has its fate decided not by entirely randomness.  No, it's the Observer's expectations that create the cat's future.  (Useful additional reference reading here.)
Following the daily news flow is a practice that – like it or not – biases the audience of world events in a certain direction.
We have – a month from today – a worrisome possible future event (global war) to concern ourselves with.  Like the hapless lab cat, our future may be decided for us by Observer States we're not even aware of.  Future "reality" is thus biased to the extent of "news influences" which gets us teed up for this morning's first hole.
Was Wagner "Turned"?
We sensed something was "off" in the reporting of the Magner Group march toward Moscow.  It was too pat, too much media coordination, and it ended in a non-expected way.
In quantum terms, we were all set up to expect a "dead cat" outcome (Putin removal) but now, in fact the cat lives.  Russia-Ukraine latest: Belarus leader Lukashenko orders army to be at 'full combat readiness' – after Putin speech prompts speculation about next steps.
When you've been doing news off and on for more than half a century, it becomes clear that this is really only one-half of what aligns with the famous double slit experiment. That's where light will act like a wave in one circumstance but also like a particle.  All depending on expectations.
This alternate reality was already appearing around this time Monday with reports on Twitter that the CIA had effectively bought off Wagner.  iSource News (@isource_news) / Twitter goes about reporting "PUTIN'S RIGHT HAND MAN ALL BUT BLAMES CIA "The US enthusiastically supports regime change whenever it can benefit from the process," Russian Foreign Minister Sergey Lavrov has told RT."
In this "alternate reality" we see something vastly different than the American corporate media narrative:  Russia checking if Western agencies were involved in mutiny: foreign minister | Reuters.
In this alt. reality the claim is the Russians got $6-billion in gold over the weekend and that D.C. is in a frantic butt-covering finger-pointing festival.  Which makes it critical (to avoid a "surprise war" a month from now) for Biden to disavow any U.S. support for Wagner.
In this version of Schrödinger's News Event Forecasting is compounded by the presence of multiple Observers.  Consider China an Observer.  Another is supporters of Russia. Then we have NATO/EU, and toss in the North Americans as another block of "watchers."
My consigliere figures the timing for "surprise war" at the end of July is too quick.  "Things evolve much more slowly," he cautions.
And under "normal" event frameworks, I'd usually agree.  But, as I tried to state clearly in the Monday report,
"This is not a popular thing to consider, but IF we see a "smoking gun" story emerge about the U.S. being involved in the Wagner march toward Moscow, it might cause Vlad Putin to reach for nukes. Or shut down the web."
Does this tweet qualify?
We will keep inspecting this Reality Split and keep you updated on how it's evolving.  But, it should go without saying that the ultimate answer as to whether the Russian's got a semi of gold and Wagner conned the Agency may not be known until a big flash lights up.
Question will be "Who knew what, when?" Media Use Russia 'Coup' To Kick Biden Scandal Off Front Page (thefederalist.com)
SSDD,
Meantime, Back at the War
Ukraine continues to tout its successes in the war. Ukraine says it retakes another village from Russian forces – CGTN.  Being curious about the detail level, turns out the village has a population of 555 persons.
Woke War Continues
Two interesting data points to file away.
White House on online harassment of WSJ journalist who questioned PM Modi on minorities' rights.  Biden's speakspeople call the harassment "unacceptable."
Also, along the Woke War front today, we're seeing the payoff from social and mass marketing of gender-change to children advancing: Average age of gender dysphoria diagnosis has fallen from 31 to 26 – study.
If the nukes don't get us, monosexuality could. But, again, another Reality schism since we're eating resources at the edge of Petri dish Earth, already. My bet about the last order of fish and chips being served in my lifetime still seems about an even money wager.
eCONomics
Europe is being a little more candid in their handling of inflation than the Denyist Party's WiC (Warmonger in Chief) here.  ECB faces new phase of lingering inflation: Lagarde | Nasdaq
Futures were already pointing to a small blip up at the open today, but our Aggregate Index still looks dismal as of the Monday close:
Looks to us like Wave 2 – the long rally from fall 2022 lows – still has a "done, stick a fork in it" vibe to it.  We continue to worry that reports of a New Bull Market were totally bogus.  Well, except for the bull part.
Biden's Next Free Lunch
Given the eCONomy has only been kept alive by the printing press of virtual Fed dollars and an overseas war, the real problem (dating back to the book Report from Iron Mountain) is how do you spend enough money to keep America rolling?
Obviously, dueling causes (Woke, antifa, and all those White Supremacists who we can't seem to locate) will only get you just so far.  But give a Biden access to money?  Then the magic happens.  Biden allocates $42 billion to make high-speed Internet for all US by 2030.
Joe needs the help: Prosecutor told six he could not charge Hunter Biden outside Del. (nypost.com).
Our local power company is planning fiber on our poles here in two years.  Which may be in part a response to the Elon Musk's Starlink which provides one of our four "on-ramps" to the net out here in the sticks.
Butt Weight!
There's more!  Eli Lilly stuns doctors as obesity drug sparks 24% weight loss (proactiveinvestors.com).
The key pull quote to me was this part:
"Retatrutide, however, impersonates three different eating hormones: GLP-1, GIP, and glucagon rather than one or two for the rival treatments."
Seems there's a big move to people using hormone shots to control weight.  But I'm losing weight (14 pounds in the past two months) 'the old-fashioned way' simply not eating as much. No prescription necessary and no shots.
If I can keep up the pace, that pencils out to the potential loss of 80-some pounds. But, do I really want to drop to 142 pounds? Perhaps I should have listened to the grown-ups when I was younger: "Keep your mouth shut."
ATR: Ham Radio Sticker Shock – HRSS
Around the Ranch (ATR) we've long held a kind of mystical beliefs that our restorations of older, tube-type ham radio gear would someday be worth zillions.  Because, as everyone knows (sort of…) tube gear is far more resistant to EMP (electromagnetic pulses) than "squalid-state" equipment. Easy to work on, too. Bigger parts and a tube-type radio throws off a little heat during long winter nights listening for faraway places…
So, imagine my shock seeing this on eBay!
I had to pinch myself (and follow this listing closely!) because over on a shelf of equipment in the office there's the exact same radio – also in fully restored condition!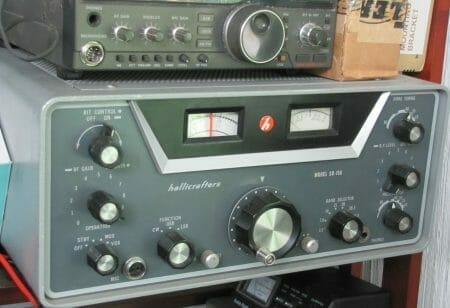 Do I think the eBay listing will actually sell at this price?  Please, don't spoil the buzz!
The SR-150 is a Jim Dandy radio. First radio to incorporate RIT (receiver incremental tuning) by some accounts.
No bids yet, but if you're a ham radio enthusiast, bookmark it here.  We might have to attend the big Texas ham gear meet in April of next year. What could be more fun than an appreciating hobby?  Are there "S-Line millionaires" in the offing?
Back shortly with the Housing data…
Write when you get rich,
George@Ure.net