The Radio Detective is back! 
A VTVM is what? Vacuum Tube Volt Meter. 
"But George, you idiot, I don't HAVE a VTVM!"
Totally get that.  But you see, it's a nice, simple, way to dabble your toes into things electronic.  Thing of this as two weekends of "easy learning" a few things about how electronics work, break, and how to fix it.
A VTVM is just about the simplest piece of gear on the shelf in the lab.  A power supply, a tube or two (or a field effect transistor in newer units).  A big easy to read meter.
This is the kind of Project we do when the new air conditioner has the Office nice and cool and it's hot as hell outside.  We'll do the generator shed and the new deck projects in a couple of weeks (future columns) when the weather lets off the Heat. I have probably bored you with the other indoor hobbies like CNC and 3D printing.  You might get a kick out of model-building, but a 40-inch-long sailing ship is a hell of a lot more than a single column's work.
Weather's is to blame (along with some of my natural laziness!). Working (I mean really turning to…) is not nearly as productive north of 80F outside. Above that is past my personal cut-off temperature. I believe in staying frosty.
Electronics indoors season has been fun:  2 weeks back, we did the overdose on SDR radios, and last week the Redneck Cooler, all in keeping with being "under air" till Hell shuts its open door in the South for the year.  October first, maybe.
So, About VTVMs Then…
It is the electrical instrument that got us (America including electronics and computer outfits) through the growth spurt in the 1940s, 1950s, and well into the 2000s.  They only measure only a handful of electrical parameters. But they do it extremely well.
They measure AC Voltage (in Volts of Alternating Current)
They measure DC Voltage (in Volts of Direct Current)
Then they measure Resistance (in Ohms)
To make volts, amps, and ohms reasonably comfortable to sort out,  let me use my "Water Analogy."
Volts is electronics' analogy to "water pressure."
Amps is the analogy to "water flow rate" (*as in gallons or liters per minute, right?)
Ohms are like the "friction losses" in the pipe.
Badda-bing! You just became an electronics technician!
Test Equipment is where you find "technical gourmets. They bandy about names like Tektronics, Fluke, Rhode & Schwarz, along with a host of others.
Somewhere, you may have run into, or seen, a classic Volt-Ohm Meter (VOM) like the old-fashioned Simpson and Tripplet meters, or the semi-clone from China I picked up last November. $39 and  change. These old-school analog meters usually also measure Current (in amperes) which most VTVMs do not.
The break point between using a VTVM or a VOM usually the amount of "circuit loading" the measurement induces. The big bullet proof Volt-Ohm-Meters are great for general shop work.  Especially for the simple stuff: How many volts at that electrical outlet?  Or, is this a good battery or not?  Maybe even "How small a wire can I get away with at this current flow?"
But, if for example, if you want to measure a very small voltages AND in very sensitive equipment?  You just crossed over into VTVM territory.
The VTVM doesn't put much "load" on a circuit when measuring.  Up in some cases more than a million Ohms of resistance for each volt.  Those VOM's make good measurements, but those meters can load-down the circuit under test.  In really touchy situations and close tolerances they can screw up any chance of a super-accurate reading.
We will get into specifics of how a VTVM operates in a minute. But, let's also look at the digital multimeters. DMMs. These use very sensitive and accurate electronics to measure (using software) things including voltage, current, resistance PLUS frequency, capacitance in Farads and even inductance (coil properties) in Henries.
My normal bench tool is a current generation Owon DMM on the bench.
For today's report aimed at an electronics orientation class, I grabbed an aging VTVM that I'd picked up – and noticing it wasn't working right. It's been sitting on the "I'll get to it" shelf for, um, since before we bought our airplane. 2012 maybe?
My object is to fix it up and (maybe) move it out.
How Electronics Break
Fortunately for process-map driven, compressed-learning, sigma males (like me or G2) Electronics fail in reasonably predictable ways. Let's go through the major suspects behind many electrical equipment failures:
Mechanical Breakage:  If you turn a switch on and off, 100,000 times, you are likely to get a failure.  (*stuff wears out).
Wires Break. Ditto if you twist a cord often enough, metal fatigue in the wiring will cause problems.  This is why during WW2, the military was very particular about using stranded wire rather than (easier to work) solid wire.  Solid didn't hold us as well in high vibration settings.  Aircraft, tanks, and what have you. (Many people don't appreciate all the learning we came into modernity learning the hard way on the way up.)
Dials and Knobs Wear Out:  Most of the knobs on equipment go to either a switch (we just mentioned they fail) or variable resistor. Others go to capacitors (for tuning some circuit or other) while the dials and other indicators fail with extended use, as well.  Not such a big deal NOW, but if you took a radio course in the late 1930s, there would be plenty of teaching passed on about how to "restring dial cords" and whatnot.
Dirty variable resistors cause old radio volume controls to sound "scratchy."  Called potentiometers, the knob fronts for a flat carbon arc resistor with connectors on each end.  Sliding along this is a small metal wiper that makes contact in different places inside the "pot."  Changes resistance this way, or that. When a "pot" is dirty (carbon oxidizes over decades of use) a film will build up (along with dust and such) causing the wiper not to make regular contact.  This is how "scratchy volume controls" arrived from long ago.
Tubes Wore Out:  Old school. This is mainly a circumstance of either a seal leak around the pins of a vacuum tube, too much mechanical shock, or simply wearing out from too many hours on them. In modern (solid-state) components, you don't see nearly as many failures.  Mostly, when they occur it is from a static spike or it's from another component failing. Still, I've seen early 2000s integrated circuits fail for no reason apparent to me.  But this is easily sorted out most of the time.
The BIGGEST problem is aging tube type equipment is Capacitors. A capacitor is two metal plates and they "hold an electrical charge."  But not for weeks or months like a battery (which also has plates).  Most capacitors are only required to hold a charge for a little while.  In some cases, a few millionths of a minute.

BIG SAFETY WARNING HERE: 

Big capacitors of very high quality WILL hold significant energy over time.  Like that one on the our heat pump that buggered out this week.  Enough energy is left in large capacitors to KILL YOU.  The way to avoid this is?  Always disconnect anything you're tinkering with from mains (AC) power.  Then use a screwdriver to absolute ensure the power filtering capacitors in all high voltage circuit have been shorted cross.  I remember being in a hurry to short out the power supply "caps" on a Collins 21E broadcast transmitter.  It zapped nearly an eighth of an inch off my favorite screwdriver! Sounded about like a 22. (short) round going off.
Never work with leather shoes on.  Leakage to ground is possible.  If in a chair, plastic casters and dry mat.  KEEP ONE HAND IN YOUR POCKET so as to never risk an accidental circuit completion across your chest. If you are not dead certain get some lineman gloves, too.  Must be present to live.  Find someone local to coach you.
There are other failures, but much less frequent. This includes resistor values changing over time (they do!) and also coils managing to open up (even rarer, short).
About here, you may come to realize that fixing any piece of electronics comes down to going through an organized repair process.
I showed you the view of my electronics workstation last week. This is where I fix things and tinker. (Time machine is in the other building.)
Like working on a car, the best mechanics seem to never get their hands dirty.  Same thing in electronics.  Clean as you go and there's a lot more satisfaction when something is placed back in first-class working order.
Electronics Troubleshooting Process
The first step is to get the piece of equipment.
Do you want it to work? Do you want to resell it in restored condition or at least "tested this far" condition?  Like an Actor, you always do a "first read" of a piece of gear while asking "What's My Motivation, here?"
Depends on your time, knowledge, and understanding who will buy a "pig in a poke" online.
I could likely sell this unit on eBay, as it sits. $50-$60 bucks? People will buy damn near anything these days including woke speak and Biden's spiels, lol. Simple fact is similar units in good working order can go for well over $100.  Could I use another $50 above the pig-in-poke "tested to power on only"? You betcha.  Besides, it's more fun than daytime TV on a hot day.  Gets the old noggin joggin.
Second is the Visual Inspection.
Three arrows to be aware of – and we'll cover these top-to-bottom.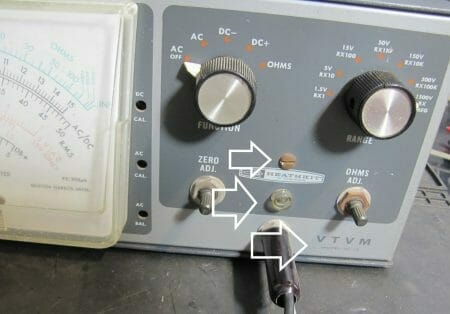 The top white arrow: points at a screw on the front panel.  It doesn't seem to have been moved in years.  To an old radio repairman this may be a flag when troubleshooting for this reason:  The chassis of older electronics acts as the power supply negative return path.  If the ground screws in this unit have corroded much, they can build up resistance and that will usually degrade performance. The little bit of rust is a hint at maybe ground problems lurk.
The Middle white arrow: points at a power indicator.  This is a small neon light that is supposed to come on when the unit is powered up.  This may seem like a really tiny nit. But, when you have used electronics tools for a living, you get to be fairly (to extremely) particular.  You don't turn out crappy work, do you?
The fact that the light is there means it better work when I'm done. We don't know yet if it works, yet, though.  Since notice we have not gotten to plug in and test yet.  We're still in "size-up" mode.
Also, on either side of this are two adjusting potentiometers.  They turn and they have wipers, so we can plan on several things already. In addition to the neon light check and a good cleaning, we've added Fader (Lube) F5 from the same folks who make DeOxIt. The Fader Lube seems to last longer when you're not using equipment as often. Not as aggressive as DeOxIt – depends on the and mood of the tech.
The Bottom Arrow: gives us the manufacturer's name (HeathKit) and the model number.  With this information jotted down, or memorized (VTVM Model IM-13), we go on to the next step in our process:
Third Step: Get the Manual
If you have any equipment (electronic or otherwise), it's not unreasonable to have an old computer with a big-ass hard drive on which you can store a collection of manuals for everything in your inventory.  As you would find, looking over my shoulder on the electronics bench computer, I have manuals I've collected over the years for almost everything in the inventory here.
Literally, I have an ungodly number of manuals.  Some of them come from the highly prized Boat Anchor Manual Archive (BAMA).  Others were whole catalogs of collected manuals. I likely have manuals on most HeathKit ever built and ditto Hallicrafters equipment, which is my favorite of all old-school gear to collect and work on. https://mods.dk is great, too. Oh, those clever Danes, huh?
You can also find manual collections on DVD or thumb drive on eBay for under $50 bucks. I just ordered the manuals for Yaesu ham equipment of a certain vintage from this guy.  Since I have a non-op Yaesu FRG-7, the owners manual and schematic diagram will be worth every big of $17 bucks.
4th: Read the Manual and Understand the Equipment
Sitting at the electronics bench computer, I opened up the manual for this HeathKit VTVM.  I already had a pretty good idea of what I'd be finding.  But I always look at the schematic before opening in order to get myself oriented to what goes on inside the box.
What is a Schematic?
A circuit diagram is a schematic. Schematics are based on standard symbols.  A tiny resistor (half the size of a grain of rice for in SMT boards) is the same symbol in a schematic as a HUGE power resistor that's 6-inches long.  Part of learning electronics is (over time) figuring out the corresponding parts between a diagram and the physical actuality of the equipment.
I figured inside this VTVM there would be a small high voltage power supply.  This is where we start to translate schematic diagram representations to visual expectations.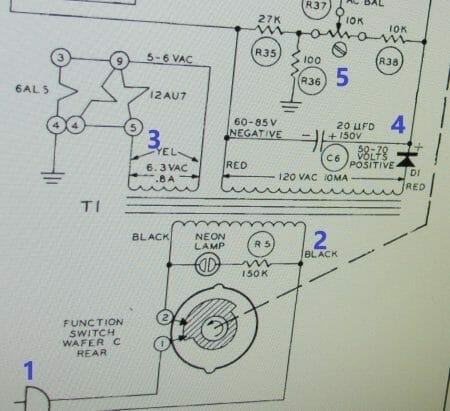 Capacitors with a flat plate and a curved one are generally flat is the (+) connection. The curved part goes to the (-) connection.  Capacitors with parallel plate (that are straight) are called nonpolarized and it doesn't matter which way you put them in. Both ways work.
This is a very common (low current, high voltage) power supply.  But since we know that capacitors (ESPECIALLY electrolytic power suppl filter caps) dry out and lose their capacitance over time, we MIGHT want to measure that capacitor when we get the unit opened up.
4(b): Basic VIVM Innards
The next part of the circuit flows from left to right, generally.  By convention, good schematic practice (when I am not scribbling on a yellow pad) is to go from the Antenna (or inputs in this case) on the Left of the schematic.  Then have the speaker on the Right side of the schematic for a Radio.  For a VTVM we would find that big analog meter off on the right somewhere.
How does it work?  Well, if you arrange four components in a diamond shape you have something called a bridge.  When one side of the bridge changes, the bridge becomes unbalanced.  Now, let's assume we were measuring a 9-volt battery.
The wiring on the left (switches to scale the voltage to the tube correctly) changes the very small current flowing through the dual-diode tube, a 6AL5.  From 60 decades of soldering, we remember this is a small 7-pin tube.
Not shown is the small battery – which drives the precision for the 6AL5 portion of things.  This is almost certainly dead.  We seem to remember when my buddy The Major built HIS HeathKit VTVM in 1966, that it had a 1.5-volt D battery, though it may have been a C cell.  *((Aging is a bitch when you can remember a battery size for sure and certain after 57-years!))
When the 6Al5 voltage is unbalanced the bias (a small voltage controlling a larger one) changes on the 12AU7 (medium gain dual triode with the other pint for heater power).
Simple, not terribly intimidating.
Now, we can do what?
5. Initial Function Testing & Work Plan
The great turn-on debate must be settled.  Many techs working on older equipment argue that they should all be started up slowly using a special variable power transformer (called a Variac if you care).  The story is this will give capacitors a chance to re-form to handle rated voltages.  Instead of going right to 120 VAC, these cowards (afraid of the possible smoke and maybe the odd flame flash or two from blowing up capacitors) insist the time is worth the effort.
My personal experience is if something is going to blow, might as well do it right now, and get on to fixing it.  My thinking in marginal equipment that has to be treated this gently has issues that should be fixed right away, rather than be put in service and maybe failing when really needed.
This argument has been going on over the ham  bands for at least 70 years, that I can attest to.
We'll just turn the damn thing on.  We're well stocked in fuses, too…
The Get Ready for this is to get some things (from the junque drawer)  to measure.  Assuming the VTVM works. Since it is supposed to measure Resistance?  Three resistors should work.  One low value, somewhere in the 33K to 100K range, and one up in the megohm range.  For voltage sources, a nine-volt battery and a couple of triple A batteries will work.  For measuring AC, we might plug the probe into a wall socket, though I don't try that kind of (wild-eyed shit) until the resistors read correctly and the batteries read right.
The "B" part of this is to make a table of what works and what doesn't.
Then (if some things work, others don't) we can already see how we'll be able to narrow in on the trouble source.
We'll go through the workplan in a future episode of The Radio Detective, but for now, we will "enter the equipment" knowing to expect:
We will have a list of squawks from the functional test.
Tightening of grounds.
Replace the (likely) dried up capacitor in the power supply.
Change the reference battery.
Test the 6AL5 and the 12AU7 tubes and note strength or replace as needed.+.
FaderLube all the pots and the switches, drop of gun oil on the switc h shafts.
Confirm function of the neon power indicator light.
And measure the resistance of the test leads.
Last part would be to open up the HeathKit assembly manual and confirm the calibration of the unit.
Finally, we will then turn on the gear, do another functional test.  If it passes, a tag will be prepared and it will go into the sell on eBay pile,  OR we will get back inside the unit to look for a specific problem that failed in functional testing.
As should be clear, I spend a bit of time on the front-end of restoring to operation.  It's part of the fun, don't you know?
In the next episode, we will do the Work Plan with a few pictures and enjoy the hell out of bench time.
Oh, yes, did I ever mention how much technical documentation I've written over the decades?  Makes my head spin just thinking about it! Mounds and piles, whole catalogs worth.  Which is why Urban is so easy to write…
Write when you get rich (or peace breaks out),
George@Ure.net