This being Rum Sunday and all, I've done a couple of reports recently on the use of drones in a prepping and survival situation.
In these, I have extoled the virtues of drones, even the cheapie $99 sort that I learned to fly on: an internet "deal" which worked out well.
With a drone, a prepper can easily (and quickly):
Hang ropes through high limbs of trees

Which can be used for bear-proof food caching and
Which can be used for off-ground hammocks and hammock-tents
Hiding from search teams

Drones can search out food sources over both water and ground.
Drones can "look ahead" on trails (limited to line of sight (LOS) and typically 1 km. or less with a cheap drone or 3-5 km. with a grownup priced drone.
What I haven't done is laid out a methodology for their use as HF  radio antenna launchers which I now have plenty of experience on.
Drones and Trees
Drones come in several "gimbal" configurations.  A cheap drone (mine, 2-axis) will not perform well in the wind.  This means you need to await calm winds.  Fortunately, the wind around here doesn't pipe-up until about 10 AM most days.  (We're in Wind Zone 2, while on the plains up northwest of us, (abilene) Wind Zones can run 4+.)
In these higher wind zones, the more expensive drones (which will hold their own in winds of modest size and remain stable) are the right tool.
The second factor in drones is flight time.
When you go shopping for drones (in normal applications) you will likely buy based on whether it has FPV (first-person view means pilot seat view), the resolution and range of the camera.  Anywhere from 720P resolution (barely single cam) good for under 1 km. of streaming range all the way up to 5G with 5 km. 4k streaming range plus pilot cam.  When you get into these, you're talking real money.
But we don't live forever, either, so WFT, right?
Dwell Time 
How many minutes of flight is either a HUGE deal (surveillance, camera work, range and so on), or it's a nothing-burger.
A cheap drone (Ure's choice) is maybe good for 12-15 minutes of flight time.
The higher-end drones have more flight time. 33 minutes depending on budget.
But, except for the ability to handle winds (which are always different aloft compared with ground-level) are not much of an advantage.
That's because a higher dwell time (on targets) means a higher battery weight.  For the installation of antennas (over the dead-to-nuts top of trees) its really all over in 5-minutes, or so, of flight-time.
Although a 650 MAH (milliamp hour) battery came with my drone (12-15 minutes) the optional, Amazon-sourced 1200 MAH battery is a good bit heavier.
If you aren't off the ground, and over the tree in 5-minutes, and the drone shut-down and being released on the far side of the tree, you better work on flying skills first.
Installations
Let me sequence you through one of the installations.  I decided that the long-end of Super-Antenna needed to be move from where OM2 (and son) got them last year (ladders and swinging pop bottles) up to the fly-over tree position now:
This end of the antenna went from "living in the blue box left" up to living in the blue box upper right.
Zooming in on the tree top, you can get an idea where things run from this:
Nothing warms a ham radio operators' heart more than having to use telephoto camera options to see the high end of their antennas!
But There Are Ugly Consequences
One of these is that the "typical" OCFD (*off-center fed dipole) antenna changes impedance as you raise over 40-feet, or so.  This is because the ground under antennas is part of the antenna system.  Ground has just so much resistance and the further the antenna is removed in the vertical axis, the more impedance changes.
So does the resonant frequency of the antenna, as well, as a result.
A (used) BuxCom 3 KW OCFD that flew fine direct into Coax from the top of the tower, changed to a much lower resonant frequency and required some retuning at the 50-foot level, in one of the other antennas.  Hand me the telephoto?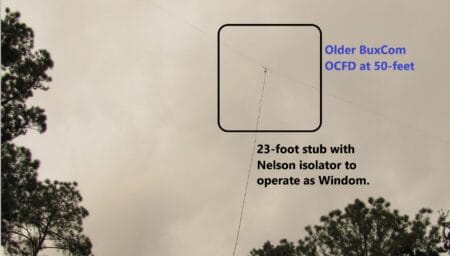 This antenna is almost a flawless match at 35-38 feet above ground, so you can see how the returning and tweaking figures into things at 60-feet plus.
A Useful Shop Made Tool
The key to employing a lifting drone for antennas and other "high work" is to make up a simple system to retrieve the carefully chosen lifting line.
For this purpose, I used a high quality 20-pound test woven fishing line. 200-yards of SpiderWire Stealth Braid Fishing Line is about $16-bucks on the Zon.
To make the line-winch, grab whatever seems handy from your hardware assortments.  An inch to inch-and-a-half bolt (3/16ths is fine or M-whatever).  Then a couple of washers, and a rubber grommet with another washer.
What you" fashion-up is a wrench adjustable dry clutch for your variable speed drill.  Like so:
You chuck up the bolt (Charles if you haven't worked with one before) and tighten down the nut holding compression on the fishing line spool.  This woven line shit is impossible to see, so don't lose track of the end!
To launch have your scantily clad assistant simply point the drill at the drone and the line will fall off the end just fine.
To rewind, simply hold the drill at right angles to the line and turn on the drill.  After a large rannygaboo of line balls up in your hand, either change the line to the other side of the drill or hit the reverse button.  Duh. It's guaranteed to tangle, lol.
Use care (as your assistant leaves, tired of holding your drink and being ignored) when you try to speed things up.  Fishing line rolling in at high speed is like owning your own, personal, paper cut machine.
Although even the paper cut wasn't bad.  Why, it brought me head-on into the idea of making a fishing line bandsaw for Styrofoam.
I'm too old to patent things anymore, so have at it.  I figure you ought to be able to get 63-inch loops of knotless fishing line made in Asia for less than a half penny per billion.
Off to a fine weekend of antenna tuning.  Whoo-hoo!
[Disclaimer:  Ham radio is not a hobby.  It's a disease.  Though less contagious than Covid.  Main spread-vector is math and geek genes.  But ham radio does come with several boxes of excuses which are usefully employed as "reasons" for new tool purchases.  Ham radio with higher power is useful to explain-away small fires in the shop.
On CW (Morse code) into the Yukon Territory on 20-meters, there was no difference between SuperAntenna (oriented east-west) and the Buxcom north-south.  Altitude though it a HUGE deal in antennas.
Just remember, an OCFD antenna with a 4:1 balun (balanced to unbalanced toroid coil lash-up) that matches perfectly at 40-feet, will need to be adjusted to a 6:1 balun up at 70-feet.  Because the impedance will rise from 200-ohms in the 35–40-foot range (a 4:1 impedance conversion off 50-0hm coax) to 300-ohms (or 6:1 off 50-ohm coax) at the 70-foot level.  You can model all this is EZ-NEC, depending on the severity of your radio contagion.
Height is always good (higher is better).  However, as the occult fairytales have it (in the ARRL Antenna Handbook), sometimes the additional altitude impedance change may not be favorable.  That's because take-off angles of radio signals (measured as elevation above the horizon) are generally lower, the higher you go.
See, high-angle isn't bad (the Church of Near Vertical Incident Skywaves meets on 80-meters most mornings for coffee).  They are the Prophets of Counterpoise and "keeping daytime take-off angles high."  My personal religion is the 10-Degree Inventists, who can't think of anything better than welding the horizon with big ERP numbers.
But to each, their own.  Is 20 open, yet?
And One News Comment
I don't usually  offer these on Sunday (blasphemy and all that), but here's the plan of the day:
Elaine and I will be doing rum shots today ahead of another splendid Sunday prime rib roast.  And playing in the recording studio will be Chicago's "Does Anybody Really Know What Time It is?"
The news item driving?  "Watches worth $2 million taken in downtown smash-and-grab as retail raiders strike again and again."
If you don't know what time it is?  Here's a hint.
Late.
Cue Bobby Hutcherson, next…then maybe some Herbie…yeah – Rum Sunday.  Amad rolls nice with it, too…
Write when you get rich,
George@Ure.net ac7x