Delightful email from back-up consigliere out in Century City overnight.  Sizing up the Thursday market action "Just vacuuming up the sucker money.  Dow erases 500 point loss, surges into huge gain in rollercoaster day.." With a link to Wall Street rollercoaster: Dow erases 500 point loss, surges into huge gain.
Running out the Bears to run, anyone?
With the pre-new release futures today, here's how the Elliott view came in: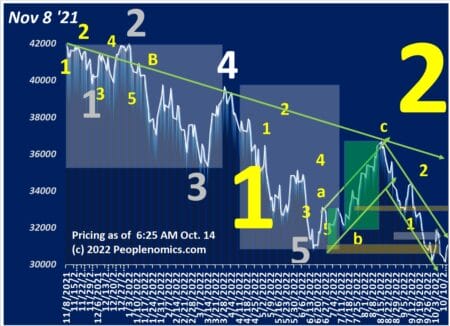 What a marvelous day, huh?  Ready for another?
Retail Stagnant
It's hard to keep a narcissistic, virtue-signaling, gender-confused, woke country down, ain't it?  (Or is IT?)
"U.S. retail and food services sales for September 2022 were $684.0 billion, virtually unchanged (+/-0.5 percent)* from the previous month."
Gotta say weaky-weak on the auto's is bad.
We have a lot of peripheral thinking to do on this one.  Starting with the weekly rails data out Wednesday:
"For this week, total U.S. weekly rail traffic was 494,413 carloads and intermodal units, down 2.4 percent compared with the same week last year.
Total carloads for the week ending October 8 were 232,930 carloads, down 2.8 percent compared with the same week in 2021, while U.S. weekly intermodal volume was 261,483 containers and trailers, down 2 percent compared to 2021."
The next GDP report won't be out for a couple of more weeks, but in the meantime, this is crack-up boom times.  but we'll know more in a couple of weeks when we'll get a reading on how fast the air is coming out of the Housing bubble.
Social Security Rethink
With the increase in Social Security of 8.7 percent, we think there's a golden field goal free for the taking if one of the two (*utterly contemptible and crooked) political parties were to offer a law that would state something like "The annual inflation adjustment for Social Security is net to recipients after Medicare and medical cost adjustments."
Because after a 14 percent hike in Medicare costs this year, looks like they could come down a shade more than five-dollars (!!!!!) in 2023.  Try not to spend it all at once.
---
On other note here:  I have a few friends who are debating whether to keep working another year OR take retirement right away in 2022.
The reason is that if your new benefit (working till March 2023 in one example) will be the same (or greater) than taking early retirement but then getting the 8.7 percent bump.
I'll let you know what my friends decide on, but hey!  If more work and no more money, that'd be pretty simple math in our book.
Euro Mess
As we turned in last night, we were pondering this one: Remember Credit Suisse Collapse Rumors? Swiss Bank Could Be Short $8B, Goldman Sachs Says.  Not surprising, but the US Fed has reportedly popped $6-billion of  to the Alps to help out.
Can financial engineering save the day, or is it just a stop gap?  Credit Suisse weighing offers for securitized product unit sale: report.
Europe is just a mess:  Thanks to Biden, Europe has a cold winter ahead, and with Vlad Putin off saber rattling (see this none-too reassuring headline: Kremlin officials warn of 'guaranteed escalation' to 'catastrophic World War 3' we have to wonder how fast and how far Europe could slide from here.
Meanwhile, the Moscow Times is reporting how U.S. Pushes Allies to Assemble Air Defenses for Ukraine.  So, not exactly the stuff of solid REM sleep, know what we mean?  Neither does Putin warns of famine, widespread social upheavals, especially in poorest countries.  Takes two to sanction, though and we're not exactly going into the court of world opinion with clean hands, you know?
Stay tuned. We can flash any time now.
Papering the Don
Yep – by the Don's early plight:  US House of Representatives' committee approves subpoenaing Trump for Jan. 6, 2021 events. Will he use this occasion to grandstand?  Or will an ego check drive a more reasoned response?  Inquiring minds.
Still, we don't see the point to any of this other than offering the democrat party a 24/7 free marketing channel to bash anyone.  I mean to the point of driving out rational people like Tulsi…
Then there's Joe Biden who is being constantly remarketed in stories like Why Joe Biden Paid Four Times Extra to Buy Tacos & Quesadillas at LA Food Stop.  Two ways to look at this:  Either A) Biden did something nice or B) Biden doesn't watch his own money, either.
Still, we give the guy a break.  Maybe his game is off because a little family problem is about to break.  As in How the White House Is Bracing for Potential Charges Against Hunter Biden.
Up and Coming
ChiCom party congress is up in a few days.  Useful backgrounder here: Factbox-How China's Communist Party Congress Works.
Someone went shopping – with billions:  The Kroger Co confirms plans to acquire US grocery rival Albertsons Companies Inc in $24.6 billion deal.  Paper or plastic?
"It's who's for dinner?"  Beyond Meat Faces More Troubles as It Slashes Forecasts, Cuts Jobs. So much for being a hamburger helper?
How governments take over corporations:  Apple gets fined $19 million in Brazil for selling iPhones without a charger | Mashable
Musk War.  We told you that the libcons put the bum's rush on Elon Musk for daring to wonder why there aren't some peace talks about Ukraine.  So, as Elon Musk is under federal investigations, Twitter says in court filing, we notice Elon Musk says SpaceX can't keep funding Starlink services to Ukraine – DCD.
ATR: Downscaling
Next week's chapter of my latest book (non-fiction side) gets into a discussion of "downscaling."  Which I mention because (again) I went to the dentist's office this week and they were shocked how little I'd aged.  (Basically, not at all.)
Although there are 20 specific actions anyone can do to live a longer life, few people do much about it, but one move is downscaling.  In other words, stop giving a rip what other people think, come up with your own plans, own your world, and only worry about money to the extent that it helps or slows your progress on goal.
Marvelous stress reduction.  And getting to be common around the fringes (and even the epicenter figures) in Hollywood.
The latest example coming in Mark Wahlberg left LA mansion for Nevada to give kids 'a better life'.  While going from a $90-million to a $16 million home may not exactly be what Downscaling is about, it's at least a step in the right direction.
I think Wahlberg may be waking up to the "Ure Line."  Which is drawn between where you own things or the things own you.
I did just enough TV and radio in Seattle that I don't envy Wahlberg's  decision process.  Known a lot of very, very rich people over the years and yet there comes a point where the money doesn't matter; it's the how free you are to conduct your own life-adventure that counts.  (Not entirely – you can still leave me your 930 turbo.)   Being recognized in a checkout line loses its glow real fast.
When people get to a certain place on the "fame" track, it becomes a burden.  Like the president can't go anywhere without Secret Service.  Which gets to "Is he really free?"
One of our long-term economic outlooks is that when the Depression settles in over America, how long before we replay the 1932 Lindberg kidnapping case?
People are just as crazy now as they were back when.  It would have been nice in the Roaring Twenties to have held a lot of fame and fortune.  Hell, Al Capone did it.  But comes a time – when a country heads into Depression that the crazies come out.
In such times, being an early adopter of a "downscaled life" and going to few public events including awards and such really begins to make sense.
Watch for downscalers – as people wise up to the risks posed by angry peasants and their digital pitchforks.  Wahlberg is demonstrating superior judgment, as we see it.  How smart is the rest of Tinsel Town?
But did he check the water supplies up in Nevada?
Write when you have those kind of problems,
George@Ure.net