Enough of Ure's long-winded scribbles. Standby to learn something.
Today, absent much economic data to drive the mania, we'll lay out the (simplified) Kondratiev War just ahead.  And explain why you are confused.  One step at a time.
There is a "War Cycle"
Socioeconomics is a not as "clean" as digital (on-off, high-low) logic.  It's analog because the "circuits" involve wetware between everyone's ears.
Notwithstanding, we can see evidence of a war cycle by analyzing the outbreak of wars and the 48 to 64-year economic longwave cycle popularized by Nicholas Kondratieff.
Typically, the K-Wave, as this is called, is comprised of five Juglar cycles.  Identified in 1852 by Clement Juglar, and also called the "fixed investment cycle" this is somewhat linked to the (generalized) 11-year Solar Cycle.  Five solar cycles, or 5 Juglar's and a K-Wave may be seen.
Over the course of the K-Wave, wars tend to cluster in the vicinity of cyclical highs and cyclical lows. Which only makes sense, when you think about it.
At the K-Wave high – say 1929 – we had a screaming economy in the U.S.  There was a bubble in two key technologies.
Automobiles driven by the ICE (internal combustion engine) were made by dozens of manufacturers.  Some of the 1920s deluxe choices – including the 1928 Falcon Knight Roadster – may be inspected here.
Electronics was also in full bloom.  Before manufacturers like Atwater-Kent disappeared, America went through a radio craze that kicked into high gear when KDKA went on the air in November 1920.
Are we in a few tech bubbles today?
Unfortunately, following a technology-driven peak, a bust often follows.  This was the Great Depression.  As we've explained many times over, the shortest way out of a Depression is a war.  Puts everyone to work.  War at Peaks (and shortly thereafter) and in troughs, or soon following.
Now to some examples:
The US Civil War began in 1861.
U.S. entry into World War 1917.
While this is a 56-year period, remember the actual fighting was well underway in Europe itself in 1914.  My consigliere recommends "The Guns of August" for a great mood-setter and easily absorbed deep history.
While we were both members of the University of Colorado Longwave discussion group in the late 1990s (when I penned a contributed paper for the World Congress of Sociology back in that period as a member of Research Committee 51), neither of us can claim exclusivity of thought on the war cycles topic.
An exhaustive treatment may be found in the collection "Kondratieff Waves, Warfare and World Security: Volume 5 NATO Security through Science Series: Human and Societal Dynamics."  Which is yours today for just $170 at Amazon.  Or, if your morality permits, sites like Semantic Scholar. where you can find more information about the book.
27-Year Half Cycle Wars
Kondratieff war appearances, having clustered once at the peak and again near the trough) have multiple opportunities to "make the numbers."  Economics provides some evidence of a 26-year war cycle.  Yeilding "possible war" zones at 28, 58, and 81-years.
Vietnam, it could be argued was – from the initial plantation raids by (then) North Vietnam in 1958.  The date can be argued, of course, because Vietnam generally was an unresolved pimple on the French backside of WW II post-war agreements.
The existence of these half-cycles also instructs us to look in the 81-year period.  Which, the bad news bear reminds, is THIS YEAR: 2022.
In 2001, a colleague and I discovered a "currency cycle" in the 83.5-year (idealized) range.  Which nicely fits with Kontradieff half-cycles.  The currency blows up when the non-debt , actual PPP, purchasing power of a currency –falls below 4-1/2 to 5-percent.
As of the latest Fed H.6 Money Stocks report, we are now at 3.6% purchasing power compared to the pre-Fed 1913 levels.
Laughably, history screams "You are ALL idiots.  You couldn't postpone gratification long enough to buy your future with savings? "
Shit happens when you sell your soul to the Devils of Interest.
The real world is driven by greed and solar cycles to a most uncomfortable degree.
The Secret Sauce of War
Just as soaking chicken for 8-10 hours (in buttermilk) prior to cooking is non-intuitive, so is sorting out economics and warfare.  This is because you have countries, technologies, and social structure.  All different.
To place where modern times are, we need to look at countries as nothing more than the "cooking pots."
What comes out of them varies, depending on the ingredients you begin with.
Improtantly, the ingredients of war can "land in any pot."
This is a critical difference in understanding the technical reasons why WW III is at hand and will involve the U.S., Russia, and China.  While the land masses of war seem to "rotate to the west" (in a north-up global projection), only the change of power relocates.
Just as Germany has an impulsive and angry leader in WW II (Hitler), we would not be surprised if the present analog wouldn't feature a mercurial personality.  Vlad Putin may fit this role.
Remember though, other "ingredients of war" may change.  Thus, the "two-fronts" paradigm moves west.  The U.S./NATO West must contend with Russia east and China west.
The position of the "west country" as technology leader may also roll.  In which case we could expect China to remain dominant in technology.  Which means all that remains are the conflicts to decide whether chips and drones are a decisive differentiator from the early-on Manhattan Project.
CERN might have fulfilled that role – inventing trans-dimensional material, room temperature superconductors, and time travel, but alas, they became (for a while) a failing scientific bureaucracy.  Which happens with "correctness" looses track of the fact there has to be a deliverable.
Extreme medical experiments also seem to roll out at this time in the cycle:  World War II had its Mengele, we have our Fauci.  Both personalities big on (human) experimentation.
Not all the ingredients are visible.  A high-level, celebrity type kidnapping is still on the dance card, or something that will similarly "rivet attention."  How close to the Charles Lindbergh kidnapping.  This was a major media event from March 1, 1932 until the Hauptman trial concluded in 1935.
Sure, we've had our "BPT" (big public trial) generalization of history partly filled by the Epstein/Maxwell drama.  Maybe in part by the emotions around the Smollett sentencing.  Where we were pleased to see Chicago's mayor on the right side of an issue, for a change: Jussie Smollett blasted by Chicago Mayor Lori Lightfoot after sentencing (nypost.com)
[Equality Sidebar:  If you thought 5-months of jail time and a total of $145,000 in fines was not enough, ask how you would sentence (roles exactly opposite including racial composition) a White perp of the same crime?  When the numbers are equal in your head, that's likely close to equality.  How would you, for example, sentence a White supremacist pulling the same con? Same profile and if straight?  Would five months be reasonable there?  The midpoint is?]
We often wonder to what degree the public focus on Donald Trump fulfills this media-driven echo.  Still, we're expecting the Big High Profile Event prior to nukes going off.
Now to the Puzzle Pieces
History is always looking to fit "next pieces of history" into at least many aspects of existing conditions.  Therefore, we look at economics and timelines with one-half the mind.
Then devote the other half of mind to "Future Puzzling" to test-fitting parts like these:
"Russian Forces Shell Another Ukraine City, Kyiv a 'Fortress' – The Moscow Times.
And WW II-like propaganda has continued to reveal itself.  In stories short-term like Russian State TV Show Goes Off Message, Criticizes War on Ukraine – The Moscow Times.  But also, more generally as evidenced by global falling confidence in media, especially the mainstream.
Nurem-what?
Following the WW II hostilities, the Nuremberg war crimes trials began within months and concluded October 1, 1946.
The nature of this puzzle piece goes like this:  Can a Trial beheld BEFORE the Major War?
Which is the ponder today as we hold Harris stops short of calling Russian atrocities "war crimes" (cnn.com) up to the light.  You see, earlier reports had her embracing a war crimes trial.  However now, that page, has been conveniently disappeared.
On the other hand, there is reason for things to turn higher, soon.  Because, the latest Google Trends run looks like war fever may be trying to break.

The big WW III spike was opening of 2020 when Covid was arriving.  Millions feared then that the pandemic was a precursor to WW III in a WW I rhyme off mustard gas.
Sometimes, in a reflective mood, it's hard to overlook that we live in a conflicted country, as well.  On the high ground, we present our founding statements.  Yet even now while speaking of war crimes current, we don't as a country remember well Hiroshima, Dresden, Nagasaki.
"Those who forget the lessons of history…" kind of thing.
On the lookout for nu-tech, will trans-dimensional materials (or enveloping plasmas) lead to an analogous break into future.  An advance look at after-war to come, such a break is predictable. Reprising, perhaps the German Me-62 jet – which first flew in 1941.  Jets have changed the world a bit, huh?
Markets Driving Lower
That is to say, in the longer-view.  Rally at the open today and a good run through the European Close before people head out for the weekend?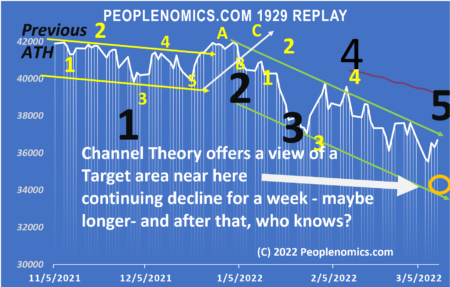 This is how it looked an hour from the opening using our Aggregate Index.  A kind of "index of indexes" (or indices if you prefer).
The headspace this morning is devoted to deep meditation (while watching the S&P, OBV, fast vs. slow Stochastic diffrerentials and the MACD.
What I'm trying to get a sense of is how our future will play out.
Right Now?
It might look like this:
Market higher through the close today (or close to it)
This may set up a strong decline Monday (carry through Tuesday.  Which is ahead of…
The Fed rate decision (+1/4-percent, but the orders to reduce Fed purchasing is like the split brakes on a Kubota – need to be applied evenly for a smooth result!)
On the other hand, might go:
Higher to the European close
Lower hard ahead of the weekend.
Carry through lower Monday
Rally ahead  of the Fed
Extreme disappointment at the Fed decision Wednesday. and down we go some more…
Remember our discussion this week of how future is like staring at bubbles in a bottle of something bubbly:  They get bigger as they come up to you.  Like the Future.  We're in the actual decisions about next week which are cast right now.  Just takes a little mind-orienting to learn to think that way.  But does marvels for returns.
I may just sit on the sidelines for a while having "made our nut" for the month.
I figure if you can make 5% on your stake for a month, then it may be time to leave the casino.  Since in our own coin purse the "gambling stakes" are up 7.8-percent for the month, (rate of 246-percent for the year) maybe it's time to go hit the buffet line and "recharge the luck" for a while.
We'll need it to burn off some of that tax-loss carryforward from previous learning sessions where I didn't leave the casino in time.
But it's like my handicapping teacher at the Frontier told me "It's not about the money, George.  Money is just how we keep score.  Denominations don't matter.  It's the ACTION…man, the ACTION…"
To the buffet line until this afternoon, then?  Maybe I will work on my next great website idea:  CompulsiveDayTraders.com…
Write when you get rich,
George@Ure.net