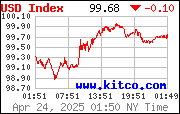 | Last Week | Peoplenomics | Library | Independence Journal |
| Site Disclaimer| Publisher's Note | Elliott Wave | Technorati Profile |
---
Military Footwork
In my view of things that are "driving" world events, things don't get much more important than food or oil. And, since the War in Iraq is more about oil than giving everyone who's a resident a purple finger, it's important to watch the price of oil, related commodities and military footwork globally.
With this in mind, and with my expectation that we're at some point headed for a "Manufacturers' Resource War", I read some of the headline this morning with some concern. Not like right now, skip breakfast, and go worry, more like, this doesn't sound like it moves us away from the potential for any future showdown....
One concern is that the Financial Times is reporting today that the US has growing concerns about the quantity of Chinese made arms that are showing up in Iraq. This doesn't come as any particular surprise - the Chinese have a 'left over' arms-building infrastructure that goes back to the Vietnam War days. Although the weapons have also been found in Afghanistan, I expect that problem has more to do with where international arms dealers can get their best prices. And you do know who the biggest global arms makers are, right? Yes, that'd be the USA...
Pakistan's Slide
As we expect to see attempts to remove president Musharraf to succeed later this year, it's interesting, having the libretto at hand from the web bot project: The headline today is that the "State of the state is not acceptable" says the country's minister for political affairs. Seems to me that Pakistan is a rich take-over target by the militant jihadists. Why? Not only does the country have good manufacturing capabilities, but remember Pakistan has nuclear weapons. If you were in India, I wouldn't need to remind you of that, or of the dangers a militant government could provoke in the region, especially Kashmir.
---
Another story to underscore the threat: "Islamic militants fire at Musharraf aircraft" headlines Britain's Times Online. They're only going to have so many failures and then the law of large numbers will catch up, it seems...
Depleting Resources
The Daily Mail is asking a highly pertinent question about this Live Aid to Save the Planet concert with the headline: "Live Aid is promoting green to save the planet - What planet are they on?" They go about a fine job of exposing what we'd call over coffee "environmental hypocrisy." Just more of those inconvenient truths, huh?
North Korean Oil
The first shipment of heavy oil to North Korea under the latest arms/nuke talks is scheduled for next week. What is that, something north of 1.7-million gallons or so at 7-pounds per gallon? Or, if it's bunker C, then perhaps 1.4-million gallons. I wish there was more detail on what kind of oil is in play here. Maybe I have been watching Monk too much.
Cheney's Big Problem
While the web bot predictions include another round of Dick Cheney's volatility later this summer or in the fall, we're busily watching the impeachment polls that are underway. Almost half of the country, says one poll, favor impeachment of George Bush and, not surprisingly, Dick Cheney's future is even less certain.
Rains Leaving?
Those record temps that are baking Lost Wages and are hooked on Phoenix, seem likely to head to our neck of the woods and points in the Northeast next week. The rains, at least for now, seem to be on the verge of leaving. I expect they'll be back, though.
In the meantime, our closest local reporting spot to the ranch is Tyler Texas, where it's now 44.17" of rain for the year to date. As our Houston Bureau noted in a pithy note this week: "When the droughts end in Texas, they tend to end with floods of Biblical proportions." Yes, so we've noticed. Two local discussion points about the weather here yesterday: The neighbor's pond, which he put in to try raising shrimp is now full. With all the talk about tainted seafood products from China, seems that a freshwater shrimp operation in the States might be a good idea.
The other thing was the washout of one of the roads leading to the ranch. What was normally a small creek turned into a raging torrent that undercut the road, caves in half of it, and has left an asphalt bridge that might support a human but wouldn't support a car.
Oh yes, and discussion about how various septic systems did in the 'gully-washers'. Our conventional system with an over-sized leech field did fine, but the anaerobic owners were just tickled pink with their prospects as that kind of system is less susceptible to ground saturation. This is a great time to own a septic company in North Texas, Oklahoma, and Kansas.
X Marks the Box
Looks like Microsoft will be spending more than $1-billion to bring their XBoxes up to snuff. The report doesn't seem to have hurt the stock much this week, though.
Now, if I just didn't have all the issues with Vista I've been having. XP SP-2 seems oh so much faster and reliable. And, before doing my roll-back to a restore set point on my new super laptop, I got my first BSOD - which is a 'blue screen of death' if you're not a techie type.
Goldman Threats
We read that Goldman Sachs has been getting threat notes from "A.Q. USA" according to a report out of the Philly News.
Speaking of Business News
See this? Oil is up to a 10-month high and there's a report that the Rupert Murdoch deal to buy the Wall St. Journal will come to pass next week.
Personal Agenda
I got the $600 pre-Revolution Cuban cigar out of the refrigerator - so it's safe. I have an appointment on my roof to run to, putting up an improved vertical antenna for ham radio use. Got one of the radios fired up on PSK and made a few contacts yesterday. Today, with a new antenna, and a second air conditioner in the office, should be even more fun...
For Peoplenomics subscribers, details about the trade I discussed last week are here. I entered the trade on Friday about 1-hour before the close.
Peoplenomics: Time to Take a Flyer?
This being a holiday week (and with that I expect some rally action into the 4th or just after) I'm once again drawn to the idea that indeed, the global marketplace may be back close to consumer debt saturation, as explained in this week's ChartPack (see: "Pondering My Shorts") and because of that, I'm drawn almost magnetically to looking at opening a trading account because I sense a low probability way to make a 20-50 times return. Frankly, it's so simple, I'm amazed that people aren't lining up outside brokerage firms to play it. The odds are nowhere near even 50-50, but they're also not as remote as Power Ball tickets. It also means having $500 dollars you can throw away and not care about because there's a very high chance that this will be a losing trade. This is not a trading recommendation. It's just something I'm considering in my personal account. With that disclaimer aside, let's talk about casinos, leverage, and house limits for a minute...
More for Subscribers How to Become a Subscriber
"No Incumbents in 2008" Bumper Sticker
To get your "No Incumbents in 2008" click here. They're just $5. And no, that would not keep Ron Paul from running for the White House - he is not an incumbent there - having never held that job before, got it?
Buzz
You might want to tell all your friends that you read UrbanSurvival or Independence Journal. That way, they'll marginalize you as a "nut job" and won't bother speaking to you about jobs, the economy, and such. Click here to warn them.
Be a "Third Worlder" Now!
Order our handy ebook "How to Live on $10,000 a year or less - and learn to live like a Third World person now. It's coming anyway, with big job layoffs this summer - and by ordering now, you can beat the rush...
---
Friday July 6, 2007
The Employment Report
I'm expecting to see a lot of happy-talk about the new employment report released by the Department of Labor this morning. It reads in part:
"Nonfarm payroll employment increased by 132,000 in June, and the unemploy- ment rate was unchanged at 4.5 percent, the Bureau of Labor Statistics of the U.S. Department of Labor reported today. Employment rose in several service- providing industries, while manufacturing employment continued to decline. Average hourly earnings rose by 6 cents, or 0.3 percent, over the month.

Unemployment (Household Survey Data)

The number of unemployed persons (6.9 million) was essentially unchanged in June, and the unemployment rate held at 4.5 percent. The jobless rate has ranged from 4.4 to 4.6 percent since September 2006. Over the month, the unemployment rates for adult men (4.1 percent), adult women (3.9 percent), teenagers (15.8 per- cent), whites (4.0 percent), blacks (8.5 percent), and Hispanics (5.7 percent) showed little or no change. The unemployment rate for Asians was 3.1 percent, not seasonally adjusted. (See tables A-1, A-2, and A-3.)

Total Employment and the Labor Force (Household Survey Data)

Both total employment (146.1 million) and the civilian labor force (153.1 million) were little changed in June. The employment-population ratio (63.1 percent) and the labor force participation rate (66.1 percent) also were about the same as in May. (See table A-1.)

Persons Not in the Labor Force (Household Survey Data)

In June, 1.5 million persons (not seasonally adjusted) were marginally attached to the labor force compared with 1.6 million a year earlier. These individuals wanted and were available to work and had looked for a job sometime during the prior 12 months. They were not counted as unemployed because they had not searched for work in the 4 weeks preceding the survey. Among the mar- ginally attached, there were 401,000 discouraged workers in June, down from 481,000 a year earlier. Discouraged workers were not currently looking for work specifically because they believed no jobs were available for them. The remain- ing 1.1 million persons marginally attached to the labor force in June had not searched for work in the 4 weeks preceding the survey for reasons such as school attendance and family responsibilities. "
Let me pop a cynical pill here and extract some pertinent facts:
As you read this report, remember that for statistical purposes people stop counting as 'unemployed' as soon as their benefits run out. It's just a presumption that people will somehow find a job or work that's not reported.
Next, when you look at Table A in the report, you'll see that American manufacturing lost another 18-thousand jobs, while the growth was in services, which was up 135,000 jobs. Almost half of that (59,000) was accounted for by health and education services. Food and drinking joints accounted for 35,000 new jobs. All of which means that more manufacturing jobs are going overseas while the shopkeeper economy continues to puff up beyond what one might argue are unsustainable levels, if people didn't continue to live beyond their means.
Alternative measures of labor under-utilization got worse: Moving from 7.9% to 8.5% from May to June, and only 2-10th's better than year ago levels. I call this the PhD Burger-flipper index.
Then there's the matter of the CES Birth-Death Model. This is where government statisticians get to "estimate" how many jobs they think were created during the month. In the case of this month, it's estimated that unprovable but statistically possible jobs increased 156,000. But wait! With a growth of 132,000 does that mean that without the CES estimation of jobs created that there would have been job losses? Yes, 'fraid so, but don't let me ruin the cheerleading 'good times are just ahead' reverie.
The cheerleading is likely to be in high gear today. Ah, here's a headline "Employers Boost Payrolls by 132,000" An up morning for the Dow almost certainly...
Hot or Wet?
If you have dry skin, you would have loved being here at the ranch last night. We were awakened four times overnight by the NOAA weather radio going off to advise us of the various flood producing rains tripping through our part of East Texas. This morning I found just a shade under 3 inches of rain in the gauge, and that's since I emptied it at 4 PM on Thursday. That, partner, is some serious rain. Not counting this morning's deluge, Tyler, Texas was over 41-inches of rain year-to-date.
Curiously, this latest batch of rain seems to be headed along toward Shreveport, and I keep coming back to the web bot project's discussion back in January of the Red River/Mississippi problems that were forecast. The Red River separates part of Texas from Oklahoma, and then comes down to Shreveport and off into the Mississippi basin. I'm not too worried about Shreveport, though. They are still down about one inch from normal rainfall. It's upstream and to the west where things have been soggy.
On the other side of the weather coin, we can't help but notice that Las Vegas hit 116 with an extraordinarily dry three percent humidity.
---
Although a few readers have been critical of our focus on weather and ag coverage of late, the impacts on the family budget are quickly approaching.
I've been saying for a long time that all these minor extremes (so far) of weather will not be good for agriculture prices. I'm apparently not alone in that view. Peter Brabeck, the head of the largest food producer in the world - Nestle - has been adding up pressures on agriculture and figures that food prices are set for a long term inflation. He's looking at supply and demand changes, including the rush into corn ethanol, which seems to have kicked up soybean prices a notch. And these forces go bouncing around the global supply chain.
There's not a tremendous amount you can do about such things. The prudent moves have been spelled out both here on UrbanSurvival and on our subscribers only newsletter Peoplenomics since before the internet bubble burst.
You may recall that I wrote a paper back in September of 1999 called "Death by Dot Coms: When Barriers to Entry Fail" In that paper I explained in easy-to-understand terms why the internet bubble was bound for trouble.
Today, I look at the "shortage meme" that the www.halfpasthuman.com web bot reports have identified (along with "restrictions on travel") and tell you as directly as I can: The food/shortages meme seems to have legs and you might consider getting a personal strategy ready to deal with it.
I've got Elaine thinking about a new ebook "Urban Survival in Urban Chaos" which will consider (among many topics) why people are so prone to buying ammunition instead of a good supply of sandbags, and to reiterate the need for stored food, water, a 'strategic retreat plan' and maybe some caching of goods along the way. No matter how much of a 'bunker' mentality evolves, as one reader notes, when the crap hits the fan, there are usually forces of officialdom that are anxious to take whatever plunder they can find. A true enough point and the reason why strategic retreat is a necessary part of personal planning for extreme socioeconomic upheaval that may be in our future.
The Wars
We don't have to look past Page One headlines in LameStream Media to find evidence of how human conflict plays out. In Nigeria, there's a low intensity conflict (LIC) with lots of Western mercenaries in play along with various kidnappers, extremists and guerrillas. One side is threatening to kill a 3-year old kidnapping victim, and the tensions in country have kept Nigerian oil prices high, along with global prices, as well.
---
Although a serious challenge to West-friendly president Musharraf seems to be in the cards for this fall, he's trying to crack down on some of the most radical of Islamists in his own country. The strategic problem remains that Musharraf is painted as pro-West and that makes opposition to his government a rather easy 'sell.'
---
And for even more lessons in how governments and people don't seem to be able to 'play nicely with one another' we can also look to the continuing conflict between Israel and the Palestinians in the West Bank.
---
All of the wars around the world, not to mention border conflicts like the Mexico border/drug running debacle which CONgress and the Bush administration have all failed to address (or hold the top brass of Border Patrol responsible for) has continued to victimize the American public, and the hard-working rank & file Border Patrol Agents who are really doing their best to enforce border security while higher-ups seem to have another agenda; namely pushing forward the integration of Canada, Mexico and the US into a major trade block which will become the North American Union.
Oh look, "Harsh US immigration rules force Microsoft to open shop in Canada" reads a headline.
The Cigar Adventure
Been really busy this morning, so an update on the "How to smoke a $600 cigar problem" in Saturday's report. This morning I spent the first half hour of the day trying to figure out why Vista would no longer recognize the wireless adapter in my new laptop. It recognized it when I hit the rack last night. Apparently, my computer lost part of it's mind overnight. Perhaps we share more traits than I thought...
---
Thursday July 5, 2007
A Chinese Market Crash
One of the things which Cliff & I talked about with George Noory on www.CoastToCoastAM.com last night was how the current release period, going on now through September 19th would be at least one-third economic in nature. Along with that, we're likely to see something of a jobs/employment collapse. I mentioned in the final hour of George Noory's show that there were huge doings in the Chinese stock market overnight - which dropped more than 5% in a crash that would be equivalent to about 800 Dow points down in a day had the events happened here instead of there.
Curiously, which the Chinese market seems to me to be huge news, the headlines in most of the conventional media seem to go toward the idea of a bit of a relief rally: We got through the Fourth of July holiday without a major terrorist attack in the US, plus there's some optimism about how manufacturing numbers will come in. Throw in a dose of merger and acquisition news and you've got a start, at least, which would be on the upside. But, as I said overnight, nothing would surprise me less than a 100-point drop today (maybe tomorrow) as optimism can only hang in there so long without some supporting facts to go along with it.
That Flood Meme
I won't bore you with another recitation of the outlook for weather woes. I will point to the cause of a landslide that hit southern Puebla state Mexico killing 40 was rain which weakened a hillside.
---
Not from the web bot project, but a simple projection of mine: If you combine floods with the loss of bees, you could construct a future with food shortages ahead. I see that Senator Boxer is trying to fund research into the bee die-off, but around here, bees are scarcer than free lunches.
---
A reader here in rain-soaked Texas offered this assessment of the C2C show and the weather:
"Enjoyed the show. Your and Cliff's sense of humor always seals the deal....... Of note during the extended rainy spell in Central Texas has been the introduction of the term "rain bomb" by teevee weathermen when describing events like the Marble Falls flood. Don't think NOAA has officially adopted the term, though....... One worry about hurricane seasons from now on may be the small hurricanes producing unexpectedly large storm surges due to global warming/rising sea levels. Saw that happen when Hurricane Claudette hit the old Indianola, Texas ghost town about four years ago. "
Just call me Evan.
In It For Oil
The headline "Australia admits it is in Iraq for oil" is refreshingly honest. Now, how come Australia gets to be honest and we don't?
Not only are they being honest about their motivation in the war, they're also saying (and this does sound like something of the stuff Cliff was mentioning last night about the military planning going on for sudden catastrophic climate change) that "Climate changer will 'change army's duties'. My thoughts: If we get into global food shortages, armies might be used for distribution, food protection, that kind of thing.
Terror, Inc.
25 people were killed in a karaoke bar explosion in China. Chinese leadership say they'll hunt them down...
---
Meantime, one of Osama bin Laden's cohorts is calling for "Muslims to Unite in Jihad".
Better Late Than...
A report out in the NY Times says about 25% of airline flights are late.
Cash Stash
The discovery of $150-million in cash in a mansion in Mexico has people pointing fingers. The usual: politics and drugs seems to be the play. But, while they're pointing fingers, how about sending a few million up this way, would yah?
Sleepy Time
A couple of new subscribers to Peoplenomics today will have to wait till this afternoon for access. After being up all night, I'm going to saw some zzz's first. Meantime, remember, Peoplenomics is the economic side of things. The web bot runs that I reference here are prepared by Cliff - sign up information is here. The baseline for the March 2008 focused report is out with part one expected any old time now...
High Class Problem
So there I was , minding my own business (*as usual) on Tuesday when the UPS driver shows up with two boxes for me. One is a piece of ham radio equipment, and the other was a bit of a mystery. Upon opening, it turned out to be a pre-Castro, 1940 hand-rolled Cuban cigar from my friend JB at www.ForthWealth.com. A conversation later, I ascertained that yes, it was the genuine article and yes, truly a "special event" cigar.
Oh-oh: What he's left me with is a bit of a problem: I don't normally smoke two-hundred-dollar cigars. My ceiling has been $5.00 in the past. So I don't exactly know how to proceed. Not that smoking is good for you, and all the other health disclaimers. I understand all those and don't smoke. But, there are exceptions. Once in a while on my sailboat I would have a small stogie (generally a rum-soaked crook) while sailing in a really crappy storm, and as a boy, my father, mindful of the dangers of cigarettes, kept me supplied with Optimo White Owl Tips (and Passport scotch) because cigarettes and running around with high school kids drinking beer and driving was far more dangerous than a cigar and scotch at home. (Enlightened parenting, eh?)
Problem I'm facing is: What would be the ideal setting to smoke this once-in-a-lifetime cigar? I don't know if it's after a dinner, after a movie, a special all-day kind of thing, or what. Click here if you have suggestions.. I can't picture smoking it while driving my tractor. Maybe after a good dinner with some brandy (cognac)?
One thing I have to get is a cigar cutter for this...even though I have a really sharp Case knife that's been in the family for years, investing a few bucks in a guillotine-style cutter seems like a minimal investment to do things right. Already have plenty of wood matches. Which brandy? See what I mean? This is a delightfully complicated problem.
Smoking is bad, but one cigar? The air out here is pure enough so that I won't even begin to catch up with city-dwellers. JB reports these taste almost like pipe tobacco. I'm honored to have received it, even though I'm exposing a woeful lack of knowledge about consumption of such high-end lifestyle things. It is, as a friend used to say, a 'high class problem'. For now, it's in the refrigerator in a small humidor while I figure out how to approach the problem.
---
Wednesday July 4, 2007
231 & Wet
The United States celebrates its 231st Independence Day with what's become the usual summer fare: A few concerts, BBQ's, rains continuing in Texas and into the record books in the Dallas area where one of our local prison farms is likely to be evacuated due to the rising Trinity River ("Major flooding of ranches...low areas...rural roads...and camps along the river is expected. The Coffield prison farm and ranch land will be well underwater. ") .
Toward the Texas southwest, flooding has arrived in Victoria County.
Further north, in Kansas, people in Coffeyville have a pollution mess on their hands as the rains have flooded a refinery, which is seeping oil into the runoff, and to make matters worse, this shutdown may ripple into gasoline and fuel shortages if it doesn't come back on line promptly.
The flooding in Europe has been a nightmare, too. We're reading in the British press about how the South Yorkshire flood refugees will have months of rebuilding ahead.
I don't mean to get worked up about the flooding - but as Cliff from www.halfpasthuman.com will explain when we're on the Coast to Coast AM show with George Noory tonight, starting in the second hour of the show [George does a news wrap-up and open line during the first hour, usually), there's a lot of imagery at the archetype level of society that hasn't been fulfilled yet, and which seems to indicate we are just seeing the front of floods. And, the key thing is that floods and droughts have long-term impacts on food prices...
---
I've been watching the plans for regional trading blocks develop around the world - part of the slow-motion so folks won't notice move toward a One World Government. We see a leading example in how Europe has implemented regional governance, after a fashion, but whether it has really worked, is debated even today, twenty-some years after the fact.
The US is moving toward a full integration with Mexico and Canada without so much as a vote of the People on the issue: The initiative which the 'second government' or power elite, all it what you will, are shoving down our throat is called SPP and you can read about that here. In my mind, the idea of integrating Mexico and Canada into the USA is to my thinking both treasonous and an insult to the people of Canada and Mexico, as both countries have many strengths on their own, one of which is not being the largest debtor nation in the world.
Congress and the corporate money-takers in the District of Corruption seem intend on shoving 'immigration reform' down our throats because it's all part and parcel of the 'urge to merge' and that, in turn, besides consolidating power and setting up an unelected system of governance where leaders are chosen from their peers - not We the People as the Framers intended, would allow for next year's rollout of the "Amero" as the North American Union" equivalent of the Euro...a slippery bankster's way to hijack the control of money from those who are supposed to be responsible for it.
That's Congress which is supposed to be responsible for money creation, at least according to the Constitution I've read, but clearly they abdicated when the banker-owned Federal Reserve was foisted on the Country in 1913. And that led to the income tax, despite the ban on direct capitation in the Founding documents against such a thing. In practice, that's what we got and we can thank the bankster's spawn for that. Griffin's "Creature from Jekyll Island: A second look at the Federal Reserve" is a must read for those who are being told the Federal Reserve is anything other than a banker-owned contracting outfit which runs money.
Not to be left out of the fray, although virtually uncovered by LameStreamMedia is the fact that a similar regional trading and economic idea to this US-Mexico-Canada integration has been floating around Africa of late. There, the current headline is "No Timetable set for African unity" but the discussion centers around a 'United States of Africa." Since we're the biggest debtor nation in the world, why not invite more folks into the debt pool?
Corps Rolling in Debt
Let's see here: Blackstone to buy Hilton for $26-billion, a 40% premium over its closing price on Monday.
Not much going on in the way of headlines today (yet), so let me put on my People's Economist hat for a moment and roll out the china board on this one.
The price is according to the report $26,000,000,000. The "Net income available to common shares on a trailing 12-month basis is what? $552,000,000 say the stats on Yahoo. So here's the math if you were actually intent on paying off the purchase from after-tax profits: 47 years!
It actually pays off faster than that because I'm sure someone will figure a way to expense the debt against taxes. So the payoff will actually be faster.
But, like the infomercial guy on TV says "But Wait! There's More!
A Hotel to Timeshare Trend
So, you're scratching your head and saying "Gee Mr., Renegade Economist, why would they do that? Why would someone pay toip dollar for a hotel chain?
Glad you asked. One of our sources in the Hotel Biz (not with the Hilton folks, though) explained the "new game" in the hotel business lately is to monetize the asset. What does that mean?
Suppose you have a hotel which has a cost of $200,000 for a room in construction costs. It's more for a brand new place with five stars, but less (a lot less) for older hotels, so we'll just use that $200,000 figure to explore things.
How do you monetize that room? Answer: Time share it! Sell the room to 40 "owners" at say $25,000 each and now you've gotten a million dollars! Five to one payoff. Too cheap? Then $35,000 from each of 40 owners is $1.4 million. (Is this a great country, or what?)
It gets better: In addition to the $1-million on the sale, there's about twice to three times more to be made in financing the time share over 20-years or longer! Pays for a hotel room and provides interest income. Oh, this is glorious! $2 to $3-million of inexpensive income for a hotel room. How you going to beat that? Yee haw!
Need a sales incentive? "You can sell your unused time back to the company." But, be sure and read the fine print about fees. No, you're unlikely as a buyer to profit on sold-back time, but what a deal for the sellers, huh?
Now, I'm not saying Blackstone has figured this out, or has any plans to timeshare anything, but with US consumers willing to buy timeshares, there's a lot of 'monetizing the assets" going on.
What do Elaine & I think of timeshares? Oh, ummm...we don't travel much, and when we do, I've penciled out that not having a monthly bill and paying for my choice of hotels really makes more sense. I'm death on debt. Although I'm sure it would be nice to say "We have a timeshare on Maui and we can trade for timeshares anywhere in the world..." Call us backwards, we like cash and no debt.
And the War is About....
Oil. So, when Iraqi legislation which would set up favorable oil deals for the West isn't moving forward at "pay piper, call tune" rates, it ends up with a lot of coverage. Latest headline I caught was "Iraqi Cabinet Moves Forward on Oil Measure." Six years into it, the plunder and booty is still not clear...
---
Another oil rig attack in Nigeria - may pressure crude up a bit.
---
Tuesday July 3, 2007
Drought, Famine
It seems paradoxical: While cities like Coffeyville, Kansas have been up to their eyeballs and rooftops with rain - in fact so much rain that a major refinery was closed there - the flip side of the "banding" of weather mentioned for more than a year in the linguistics forecasts from www.halfpasthuman.com, are the large portions of the globe that are experiencing drought.
You don't have to go very far from the Texas/Oklahoma/Kansas region to find it, either. All of North Carolina, for example, is experiencing some kind of drought. Northeast China has been in drought conditions, although forecasters are hoping something will break there this month. To put a little finer point on it, there are more than 40-million people in China impacted by either drought or floods, and I guess that could translate into pressure on the Chinese government to react quickly and reasonably; I'm sure the lessons of KatRita with the strong negative reaction to FEMA's performance (not to mention the possibly illegal gun confiscation by private security forces) in the USA disasters hasn't been lost on them.
Temps meantime are expected to hit upwards of 127 at Death Valley over the Fourth.
Elsewhere, there has been some rain (not to mention flooding) in parts of Australia, but the long drought there is continuing and that's likely to influence agricultural and economic outcomes into the foreseeable future.
Weather is generally not grist for The People's Economist, and that it's outside conventional bounds for economic discussion has been pointed out by one or two readers, but the key thing that is all economics is how supply and demand that results from even these modest departures from "normal" in weather impact prices. I'd point to the headlines out of Wisconsin this morning that "Retail Food Prices jump Five Percent in Second Quarter."
Just before the CPI report comes out, I usually do a few quick searches on "food prices" to get a sense of things. Other headlines are blaming the cost of fuel which is a pass-through. Another data point? How about the headline that "Consumers paying higher food prices as corn prices soar"? When the new CPI figures come out, I'll be eyeing the weather, the Kansas energy outlook with Coffeyville down, and the political winds in addition to the numbers released, which seldom bear much other anything other than a casual relationship with the reality of our family's checkbook, and I expect yours as well.
Hedonic adjustments are like a gift from God to those desperate to keep the "Prosperity is Just Around the Corner" crowd. Moreover, it's harder to spin rain gauge data.
Pardon Me?
The commutation of the Scooter Libby jail time is a sad joke. Convicted, and sentenced to jail time, the Decider steps in, and quick as Bob's-your-uncle, the real issues are back under the rug again. Or, are they?
The BBC has been surveying American papers for reaction - mixed. Predictably, the political "right" (which is mostly the "haves", as opposed to the "left" which is pushing the other side of the corporate agenda [e.g. immigration]) says "Bush does less pardoning than Clinton did!" Please, don't get me started on what a really poor idea another Clinton is - I'm against elitist family dynasties of any and all political stripes.
Just remember next time you see a report about how low the Bush ratings are - they didn't just happen. They happened because of a breach of voter trust. So whether it's caging black votes, bait and switching on Iraq, overt and excessive influence of neocons - it all plays a part: We elected a leader...and this is what we got instead. Pardon me...
Contemptible Occupants
Not that this needs much explaining, but when Patrick Leahy says contempt charges may be forthcoming against the White House, he really means the occupants, not the station itself.
A Defense Minister Resigns
The Defense Minister of Japan is out for saying that the atomic bombings of Hiroshima and Nagasaki in the Second World War 'could not be helped'. He is, of course, quite right. The US Government figured the number of soldiers (on both sides) that would be killed in a conventional continuation and conclusion of the war would have been many times greater than the A bomb losses, but to speak such sad truths is a no-no, so Fumio Kyuma is out.
Of course, the one policy fallout that was unanticipated by the US was that by massively attacking a general civilian population, the flavor of war changed. Not that the firestorms of Dresden weren't already a step in that direction, to be sure.
Today, we still see the echoes of such policies every time a terrorist targets non-governmental targets and goes for civilian body count. Speaking of which...
Plotting Doctors?
The would-be terror bombing in London, and the gasoline laden vehicle at Glasgow's airport may have been a plot hatched by a secret cell of doctors offers one report.
McCain's Budget Woes
OK, I read the stories about "McCain's campaign funds in crisis" and I ask myself: "Is there a lesson here?
How about this: If he can't handle his own campaign cash flow, "How would he do working with the banksters on the USA's budget?" It's more complicated, of course, although I look at the mega-bucks raised by some of the pols (who would continue to corporate/family dynasties, if you follow) and I use that 'fund raising' as a measure of how susceptible to corporate influence they'd be once in office. Access is paybacks, don'tcha know?
Trading:
A shorter day for markets today - and oil is back over $71. I expect the market to rally more today. 13,676.33 would do it, wouldn't it? Let me see if I can order up a 150-pijnt rally to bag the final All Time High...today or Thursday be OK with you?
I'm standing by for what I think might be the "short of a lifetime" this fall. The financial letter bombs like late payments rising for home equity loans will be arriving in mailboxes soon - along with ARM's resetting and such.
---
Monday July 2, 2007
The Fall Release Period
We can get a pretty good sense of at least how some of the fall release period will work out by reading two sets of headlines. The first has to do with flooding and the second has to do with the change of tactics by al Qaida/religious extremists who have now taken a shine to using car bombs outside the Middle East.
What Cliff and Igor at www.halfpasthuman.com are apparently seeing is more rains coming to the hard hit parts of Texas and Oklahoma. So while we've seen plenty of water, we're running more than double last year's rainfall here at the ranch in E. Texas, and year-to-date, we've had about as much rain here as Seattle has in a typical year - 36.99" here, versus 37.07" there. Oh, sure, you've got Ivar's and the Pike Place market, but stop pretending on the rain, huh?
Not too surprisingly, as I wrote a long time ago (January 13th to be presact), the linguistics fellows have been watching the Red River and Mississippi as well, so I take it the rains around and north of Dallas have perhaps finished up the Red River part (we hope), but now we've got the weather sort of sitting atop Kansas City.
One thing that would not surprise me in the least is to see the emergence of food impacts to come in slow-motion form as we get into the fall. As one of Cliff's subscribers to the web bot runs noted, the "driver" for the rainfall pattern change came up in the predictive linguistics back on April 22, 2006, when the ALTA Report said (in part, with exclusive permission) that we'd be seeing a 'banding' of weather in the country:
"Terra - Regular Irregularity Bands Redux, Spaceship Terra - Check Engine Warning Light, Furtive Hamsters Dance

Over the previous 2/two ALTA report series we have encountered a "banding" within the Terra entity. We have characterized the effect a "banding" as the entity has been suggesting that 'bands of extra seasonal' weather would extend down from the north pole to 'sit upon the shoulders' of the globe this year. These bands have been described as 'slicing' the north American continent into 3/three sections of roughly the 'eastern seaboard', the 'middle band extending between the Rockies to the west and the Appalachian range to the east', and the west coast from the Rockies to the Pacific.

A very similar effect was seen as developing both in the EU zone over to Russia, and the Asian continent. Much like the USofA, China will find itself 'divided into thirds' in so far as weather. Further, along with the north American continent, and the EU zone, Asia will have differing weather problems which will 'sit upon/beset' each region. In the case of each continent, 1/one third will have floods, 1/one third will have heat, and 1/one third will have 'lagging/slow weather storms/wind, and earthquakes/shakes'. Hmm. Know which one I get."
I don't suppose I have to remind you that China has just been hit with unseasonably early floods, and the flooding in Britain has been counterbalanced by the heat wave along the Med. And in the dry 'bands" we read headlines about Lake Tahoe fires and more recently the Utah Ashley National Forest being closed due to a wildfire. Banding might seem a fair description.
When you recall that one of our observations of how the technology seems to work out is that bigger events get more lead time than lesser events, it's possible that the rain/weather-banding will have more impact that an event of smaller scale, such as the Banda Aceh quake which popped up 4-months in advance. So, by year's end, I'm expecting that food will be on everyone's mind.
Then we have the change in terrorism's face to deal with. The US Government is worried that the intelligence information floating about now may have a similar 'flavor' to the intel that was about prior to 9/11. While UK officials are conducting raids to round up suspects, the car bomb of Glasgow's airport came too close to be thought of as coincidence, or so it seems... That's the problem with asymmetric/leveraged warfare. Not much but more vigilance and more sky marshals that can be done.
George & Vlad
George Bush (and family) are playing host to Vlad Putin at Kennebunkport Maine. Besides the down time, there's also talk about missiles, missile defenses and such. I figure Putin will sidestep anything of significance.
Linking Iran
Not that it should come as any surprise - there seems to be credibility building on reports that Iran is funneling aid to insurgents in Iraq.
---
A skeptic of these kinds of reports could accurately question whether the actions of one religious group are controlled by the government of Iran, but there's no doubt that they don't have the same distancing of powers, church & state, that we hold dear in the USA.
---
Meantime, Iran has been doing something very interesting in cobbling up a deal with Venezuela to build a joint petrochemical plant in southern Iran. Normally, the building of a methanol plant like this one described might not be a big deal, but the press is hot to link Hugo Chavez to Iran. Foreplay to the Manufacturer's Resource Wars to come...
Rate Fallout
I mentioned to you before the US Fed meeting last week, at which the rate was left unchanged at 5.25%, that one reason why the Fed had to at least consider and increase was that unless the US pays a competitive rate, 'hot money' will drop the buck and head for greener returns. Well, here we are not a week later and we see the headline that "Dollar drops against Euro on static US interest rates." Quick, feign surprise.
Taxing Freedom
We read with some trepidation that the City of New York is planning to ban casual filming in the city unless a person can get a permit and show a million dollar insurance policy. Maybe this is to put a lid on counter-paradigm film making, or maybe it's because such movie productions do cost the public a little something. Still, it's more nibbling around the edges of what had previously been well-defined Constitutionally protected rights. But what are those, anymore, eh?
DOJ Resignation
Another Department Justice official has thrown in the towel, this as Congress continues trying to get straight answers. Coincidental timing? You're welcome to believe what you want, I just put the facts down here...
Housing Ripples
We hear from a good source in the Pacific Northwest that a maker of industrial/construction lifting equipment in Redmond is closing several operations until August. A sign of slackening demand? Might be. The same source has also been watching prices in stores:
"Every Sunday the ads come in the newspaper. We do most of our shopping at Fred Meyer. In thee last 8-10 weeks, milk prices ON SALE have risen from 5 GALLONS for $10 to 3 GALLONS for $10!!!!!!!!!!!!!

You nailed it George....first gas prices, then food prices.....

Question: how will people be able to afford to heat their homes and buy gas and food if we have a butt kicking winter.....heating oil buying season starts in about 90 days..."
Answer: They wont: Squeeze regular folks, stir 'em up with some terror and roll out the Amero next spring as the answer when ends won't meet and the economy is toast. Think Hegelian dialectic.
CorpPharma's Vitamin Attack
There was a very interesting report out last week - don't know if you saw it - about how the FDA was looking at some 800-ages of rules that seem largely designed to put small vitamin/hfood supplement companies out of business. These are the same folks who watched tainted fish coming in from China for six years before getting off their self-contained seating devices. Now they 'got religion' about health foods. Why? Oh, I suppose because they work, sell well, and take money from corppharma's pocket...
Immigration - Department of "Duh"?
A report in the Houston Chronicle this weekend shows just how disconnected from reality politicians have become: "Politicians cite lack of trust in immigration bill's failure." Oh?
The Chronicle's Michelle Mittelstadt doesn't go as far as Lou Dobbs went in his Sunday show, demanding that we get some accountability from the people in Washington who are not enforcing current immigration laws. I have to agree with Dobbs on this one - there's no accountability - so why would the American public trust the politicians? It's a Government versus the people situation, as Dobbs described it. And, as I remind everyone willing to listen, both Spanish-speaking peoples and Anglos are all squatting on Native lands, so who arguing over who owns what turf on either side of the border is rather absurd.
The point is that Chronicle article beautifully underscores for me the disconnected nature of our so-called leadership in DC.
Hats Off To...
105-year old Jose Temprana has become a US citizen. Welcome to America. Please help us keep it.
---
---
News from Elliott Wave International
Write when you get rich,
George Ure, The People's Economist